Top 10 best banks in Nigeria 2023 [and their offerings]
Explore our meticulously curated list of the top 10 best banks in Nigeria for offline and online transactions to find the ideal institution for your online banking requirements.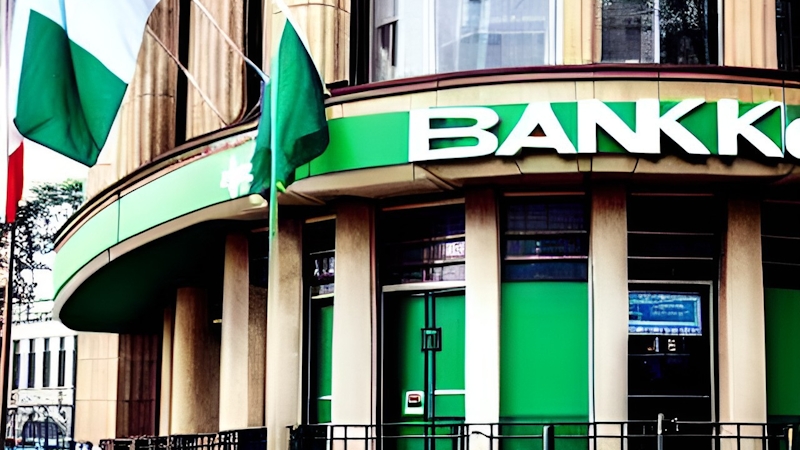 As one of Africa's largest economies, Nigeria stands out as a finance powerhouse on the continent. With a robust financial system and a large number of well-established institutions, Nigeria has established itself as a global leader in providing comprehensive banking services and promoting financial innovation. If you're searching for the best bank in Nigeria for hassle-free online transactions, welcome to the most comprehensive guide to the top 10 best banks Nigeria in 2023. 
Despite First Bank being the oldest bank in the country, a survey conducted by Agusto & Co., a Pan-African credit rating agency, awarded the multinational financial institution the lowest customer satisfaction rating among banks in Nigeria, Consequently, it does not appear on this list of Nigeria's top banks.
The country's banking industry has played a crucial role in fostering economic development, facilitating trade, and promoting financial inclusion for its extensive population.
Neobanks have emerged as formidable competitors to traditional commercial banks, dominating this list of best banks in Nigeria largely due to their advantages in terms of ease of registration and mobility.
Unlike commercial banks, neobanks offer a streamlined and digital-first account opening process, allowing customers to register quickly and conveniently through mobile apps or online platforms. This accessibility has attracted a significant number of users who value such convenience and efficiency. 
Furthermore, neobanks often provide innovative features like real-time notifications, personalised budgeting tools, and seamless international transactions, catering to the evolving needs of modern consumers. As a result, they have emerged as preferred options for individuals seeking a more flexible and user-friendly banking experience.
This article identifies the top financial institutions that have excelled at providing superior online banking experiences. On the basis of customer satisfaction and exceptional milestones and accomplishments, the best banks in Nigeria in 2023 are:
OPay, a neobank sponsored by Japan's SoftBank and licensed by the Central Bank of Nigeria, has established itself as not only a prominent mobile money wallet but also the best bank in Nigeria in 2023. The fintech platform is a subsidiary of the Opera Norway AS Group, which operates in a number of emergent markets in Asia, Africa, and Latin America.
Prior to its acquisition by Opera in 2018, the company was known as PayCom Nigeria Limited, a mobile money platform incubated since 2010 by Telnet (Nigeria) Limited. The parent corporation of OPay, Opera Group, is responsible for the development of the Opera web browser, Opera News, and Opera Ads.
As a result of the Nigeria Inter-Bank Settlement System plc (NIBSS) system collapse in early 2023, OPay experienced a surge in consumers during the scarcity of naira notes and electronic transaction failures. OPay initially began as a ride-hailing service called ORIDE.
Being the best bank in Nigeria, OPay announced a strategic partnership with Mastercard in May 2022, allowing their customers to make payments on global online platforms using Mastercard's secure virtual payment solution linked to their OPay wallet. In addition, they collaborated with Verve, Africa's foremost provider of payment cards and digital tokens, to introduce the OPay Instant Debit Card, which offers consumers convenient payment options.
OPay's services include simple and instant account establishment using a variety of national verification methods, including phone numbers, NINs (National Identification Numbers), and BVNs (Bank Verification Numbers), with welcome incentives also available to new users upon registration. It is the best bank for online transactions in Nigeria.
OPay enables users to manage all of their expenditures via a single app and provides free transfers and transaction incentives. In addition, they offer free debit cards with incentives, which enhances the overall banking experience.
As the best bank in Nigeria in 2023, OPay is NDIC-insured and has earned the trust of over 18 million users, solidifying its position as a dependable player in Nigeria's fintech landscape.
Access Bank, a Nigerian multinational commercial bank founded in 1989, has emerged as the best commercial bank in Nigeria in 2023. As part of the Access Bank Group, it has made strategic moves to strengthen its market position, culminating in the 2018 acquisition of Diamond Bank Plc and resulting in its metamorphosis into the largest bank in Africa by customer base and in Nigeria by assets.
To further enhance its structure, Access Bank converted to a holding company in March 2022, relisting its outstanding shares under a new parent company known as Access Holdings PLC.
Access Bank attained a significant milestone in June 2023 by introducing the Access Bank American Express® Gold Card and the metal Platinum® Card in an effort to further solidify its position as one of Nigeria's best banks.
This marked the introduction of the first American Express Cards to be issued in Nigeria, demonstrating the bank's dedication to providing its customers with exclusive financial solutions.
Despite its many accomplishments, Access Bank faced criticism in 2020 when it suspended the bank accounts of eight "End SARS" protestors raising concerns regarding the bank's dedication to upholding individual rights and free speech. 
Access Bank's financial performance has been exceptional, and in 2022, the bank disbursed the most consumer loans in Nigeria. In addition, the bank generated the highest interest income during that period, demonstrating its robust ability to generate revenue.
Access Bank's issuance of the continent's first corporate green bond exemplified its commitment to sustainable financing and environmental responsibility.
Thanks to its reputation for excellence, Access Bank secured the maximum value of client deposits in 2022, further solidifying its position as one of the best banks in Nigeria. During the first quarter of 2022, the bank also ranked second in account maintenance revenue.
Access Bank placed tenth among African banks and first among Nigerian banks on The Banker and Brand Finance's 2023 list of the world's top 500 banking brands. It ranked fourth among Nigerian institutions in 2017, followed by fifth in 2018, second in 2020, and third in 2021.
Agusto & Co., a Pan-African credit rating agency, identified Access Bank as the bank in Nigeria with the highest consumer satisfaction for digital banking services reflecting a dedication to offering personalised services through its Access More app.
The app provides a vast array of features, such as:
quick account opening,
personalised themes and colour schemes,
bespoke dashboards,
QR-based transfers,
investment services,
loans,
Dubai visa applications,
movie ticket purchases,
efficient bill payment,
foreign currency transfers,
airtime top-up,
cheque services,
card services and more.
By utilising cutting-edge technology, Access Bank strives to provide its clients with an exceptional banking experience.
Palmpay, a neobank launched in 2019, is a comprehensive financial software that integrates account establishment, money transfer, and bill payment into a single, user-friendly platform. A fully licenced and regulated Mobile Money Operator by the Central Bank of Nigeria, Palmpay is also insured by the NDIC to ensure the safety and dependability of its users, allowing it to rank as the third-best bank in Nigeria in 2023.
The fintech's comprehensive transfer capabilities, which allow users to experience over 90 free transfers per month and immediate transfers to over 500 financial institutions, are one of its most notable features. This makes money transfers swift and convenient.
The app also provides convenient services for purchasing airtime and data bundles, with a 20% discount on airtime purchases every Tuesday and a 10% discount on data bundle purchases every Friday.
With its Pay Shop feature, Palmpay extends its services beyond digital transactions, allowing users to make payments at over 100,000 local businesses. The ability to pay the precise sum and earn cashback rewards makes purchasing a rewarding experience.
Signing up for PalmPay is effortless, requiring only a phone number, and users can anticipate outstanding rewards and perks upon joining the platform.
The mobile wallet has acquired popularity among Millennials and Gen Z consumers, who are attracted to its low cost and digital-first banking approach.
During the naira banknotes scarcity and electronic transaction failures of early 2023, Palmpay experienced an influx of customers by leveraging its Mobile Money Operator licence and nationwide agency banking network. The company's success has been aided by its user-friendly app, immediate account creation, fee-free transfers, and cashback rewards.
In terms of financial inclusion, PalmPay has made substantial progress to become one of Nigeria's top institutions. Approximately 20% of their customer base reported that the bank was their first financial account, demonstrating the platform's contribution to Nigeria's financial inclusion goals, where a substantial portion of the population is unbanked.
Through its partnerships and certifications, PalmPay's commitment to security is evident. The company has partnered with organisations such as CBN and eTranzact to organise the FinTech CyberSecurity & Fraud Summit 2023.
Palmpay, as one of the best banks in Nigeria, is PCI DSS certified, ensuring safe transactions and protection from data theft and fraud. It is also compliant with the Nigeria Data Protection Regulation (NDPR) and maintains the highest information security standards, as confirmed by NITDA.
Branch, founded by Matt Flannery and Daniel Jung, provides a variety of banking services, including money transfers, rebate rewards, investment opportunities, and financing options. The company positions itself as not only the best loan app in Nigeria, but also one of the country's top banks.
Branch is the fourth best bank in Nigeria due in part to the pledge of 2% credit on all utility payments, including airtime, data, electricity, examinations, and cable TV. However, consumers should evaluate the overall value of cashback rewards and compare them to other cashback programmes on the market. Additionally, it is essential to confirm the cashback redemption procedure and any restrictions or limitations that may apply.
The annual interest rates for Branch's investment products, such as Fixed Investment and Flexi Investment, are 15% and 10%, respectively. 
Stanbic IBTC Holdings, founded in 1989 and a member of the Standard Bank Group, Africa's largest banking group by assets and revenues, maintains a prominent position in Nigeria's financial sector as the fifth-best bank.
Stanbic IBTC Holdings was formed as a result of the merger between Stanbic Bank Nigeria Limited and IBTC Chartered Bank Plc, which enabled the company to diversify its services and expand its reach across multiple industries, including banking and associated businesses.
In recent years, Stanbic IBTC Holdings as one of the best banks in Nigeria, has demonstrated remarkable expansion. The company's loan portfolios grew by 30.8% year-over-year in 2022, reaching an astounding N1.2 trillion by the end of the year, the highest growth rate among commercial banks.
Notably, Stanbic IBTC Holdings encountered legal consequences in 2018 when it was fined 1.8 billion naira for facilitating MTN with the illicit repatriation of $8,134,312,397.63. This incident raised questions about the bank's compliance with regulatory and ethical requirements.
Positively, Stanbic IBTC Trustees, a subsidiary of Stanbic IBTC Holdings, was awarded Africa's 'Best World Class Trustee of the Year' at the Africa Brands Congress Leadership Merit Awards in 2022.
Stanbic IBTC Holdings also played an important role in the implementation of the Pan African Payment and Settlement System (PAPSS) in Nigeria by completing the first inbound commercial transaction using this system and contributing to the advancement of seamless cross-border transactions on the African continent.
In addition, during the first half of 2022, Stanbic IBTC Holdings ranked among the institutions with the highest dollar inflows into the Nigerian economy, demonstrating the bank's ability to attract foreign investments and contribute to Nigeria's economic growth.
Having being named one of the seven WEF African technology firms of 2021 and winning the Neobank of the Year award at the 2021 BusinessDay BAFI Awards, Kuda, a fintech company founded in 2019 by Babs Ogundeyi and Musty Mustapha, has garnered prominence in the African technology startup ecosystem to become the sixth-best bank in Nigeria in 2023. 
Kuda's partnership with Visa to issue physical and virtual cards was a step in the right direction towards expanding its services and offering customers more payment options. The ability to transmit up to 25 free money transfers per month and receive free debit and credit alerts is a notable feature that saves users money.
However, it is necessary to critically evaluate Kuda's performance and customer experience, as despite its acclaim, the bank encountered significant technical issues in February and March 2023 that resulted in the temporary loss of customers' funds and rendered transactions impossible.
The option to establish a Kuda Username without an account number for unlimited free remittances within the Kuda community adds convenience and simplifies the payment process for users. In addition, the availability of a Kuda Visa card for retrieval or nationwide delivery, in addition to the option to construct a virtual Visa card for online payments, provides flexibility and accessibility.
The saving and budgeting features of Kuda, which can earn up to 15% annual interest, provide users with the means to effectively manage their finances. In addition, the seamless airtime purchase feature for major networks facilitates the daily lives of users.
Despite its ranking as one of Nigeria's best banks, it is essential to consider customer service, user experience, and the company's adherence to regulatory guidelines. The occurrence of technical issues resulting in the loss of customer funds raises questions about the company's dependability and crisis response.
7.
Fairmoney Microfinance Bank
Presenting itself as a convenient and comprehensive banking app for millions, FairMoney Microfinance Bank, a neobank founded in 2017 by Laurin Hainy, Matthieu Gendreau, and Nicolas Berthozat, is the seventh-best bank in Nigeria. 
The FairMoney MFB app enables users to manage their finances for both business and personal purposes on a single platform, while also providing safe and secure savings platforms where they can earn up to 18% annual interest. In addition, users have access to instant loans of up to NGN 3 million without the requirement of collateral, making the service accessible and convenient.
FairMoney MFB's ability to pay invoices without a service fee, thereby reducing users' out-of-pocket expenses, is a significant factor in its standing as one of the best banks in Nigeria. 
The app also provides the option to request a FairMoney MFB ATM card, which can be delivered nationwide and allows users to make 30 free bank transfers to Nigerian banks as well as receive a 3% discount when purchasing airtime and data.
As one of the best banks in Nigeria, FairMoney MFB offers high-interest savings products like FairSave and FairLock. FairSave offers a daily savings interest rate of 10% per year, allowing users to earn money on their savings. In contrast, FairLock is a fixed deposit savings product with interest rates of up to 18% per year, allowing users to reach their financial objectives more quickly.
The app also facilitates fast online and offline utility payments using the FairMoney MFB ATM card. Users are able to make online purchases, pay expenses without incurring transfer fees, and receive 2% compensation on card transactions.
8.
United Bank for Africa (UBA)
The United Bank for Africa Plc (UBA), a multinational pan-African financial services group operating since 1949 and the result of a merger between Standard Trust Bank and UBA in 2005, which was one of the largest mergers in the history of the Nigerian Stock Exchange and the first successful merger in Nigerian banking history, is the eighth-best bank in Nigeria.
UBA has received numerous honours and awards in the financial industry, including global recognition as the African Bank of the Year in 2021 by Banker Magazine and the Nigerian Bank of the Year award.
As one of the best banks in Nigeria, UBA has a large customer base, as evidenced by the fact that its high-value customer deposits ranked fourth in the industry in 2022. In 2019, it ranked second on The Banker and Brand Finance's list of the Top 500 Banking Brands.
A survey conducted by the Pan-African credit rating agency Agusto & Co. ranked UBA as the bank in Nigeria with the second-highest consumer satisfaction in digital banking services.
The institution has made significant contributions to the banking industry, including the establishment of Nigeria's first Cash Deposit ATMs and a partnership with MoneyGram to open Nigeria's first MoneyGram location.
In addition, UBA was the pioneer in introducing the Nigerian Government Bond Index and the First Visa Dual Currency Debit Card to Nigeria. 
With over 5 million consumers, the popularity of Chipper Cash, a Neobank founded in 2018 by Ham Serunjogi and Maijid Moujaled, has grown rapidly to position itself as a rapidly growing Fintech company in Africa and the ninth best bank in Nigeria, However, there are a few aspects that merit close scrutiny.
The ability to transmit and receive money without incurring transfer fees is one of Chipper Cash's key selling points, along with the option to purchase discounted airtime and data bundles and earn cashback. Another feature marketed by Chipper Cash is the capacity to pay expenses immediately and for free.
Bezos Expedition, Jeff Bezos's personal venture capital fund, has repeatedly invested  in Chipper Cash.
Fidelity Bank Plc., founded in 1988, is a commercial bank in Nigeria that has made notable strides in the banking industry. With the acquisition of FSB International Bank Plc and Manny Bank Plc in 2005, Fidelity Bank, founded in 1988, solidified its position as the 10th-best bank in Nigeria.
Fidelity Bank has demonstrated commendable growth, recording the second-highest increase among commercial banks in 2022, with its loan books increasing by 27.6%, from N1.66 trillion to an impressive N2.12 trillion.
In recognition of its efforts in serving small and medium-sized enterprises (SMEs), the Global Banking & Finance Review named Fidelity Bank the 2022 Best SME Bank in Nigeria, highlighting the bank's dedication to fostering the growth and development of a vital sector of the Nigerian economy.
Additionally, Fidelity Bank made strategic acquisitions in 2022, including Union Bank UK, demonstrating the bank's ambition to expand its reach, strengthen its international presence, and solidify its position as one of Nigeria's best banks.
The CEO of the bank received the Banker of the Year 2022 award at the 14th Leadership annual conference and awards ceremony, recognising his leadership and accomplishments.
The Nigerian-American Chamber of Commerce (NACC) presented Fidelity Bank with the Bilateral Trade Ambassador award to recognise the bank's contribution to facilitating trade and commerce between Nigeria and other nations.
Fidelity Bank's offerings, such as fund transfers, bill payments, mobile top-ups, and flight reservations, provide customers with convenience and accessibility. In 2017, Fidelity Bank ranked as the fourth-best bank in the retail market segment of Nigeria.