Enjoy the most rewarding experience with BIG 5 on 1xBit
The BIG 5 tournament is a promotional project on 1xBit where users stand a chance to win rewards in bitcoin.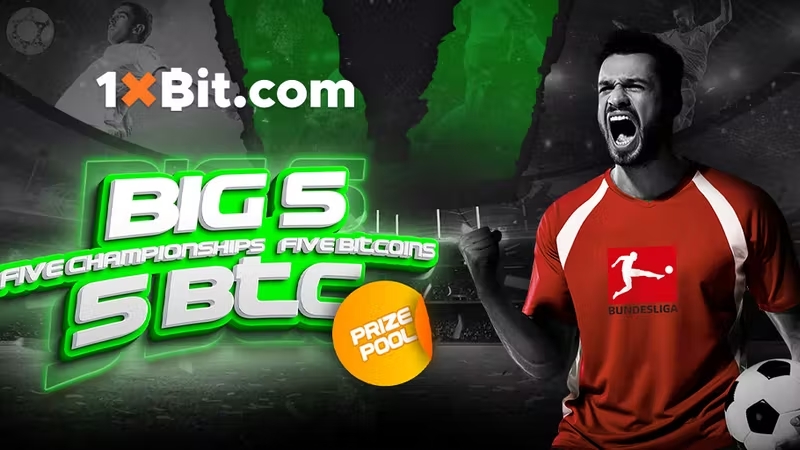 The world's biggest football leagues - EPL, Bundesliga, Serie A, La Liga, and Ligue 1 - now bring fans impressive crypto winnings! 
We are hurrying to announce the tournament's coming with one of the biggest prizes at stake on 1xBit - BIG 5. This event will offer mouthwatering prizes and maximum passion for football fans. If you're a lover of sports betting, this is one event that you'll want to look out for! 
The rules are quite simple: to take a part of the prize, users must place from 0.2 mBTC at odds of 1.5 and higher on any of the top 5 European leagues - EPL, Bundesliga, Serie A, La Liga, and Ligue 1. For each bet, there will be promotional tickets for users. Of course, the more you stake for the event, the more tickets you get and the higher your chances of becoming one of the winners.
And here's where the best part comes - prize drawings! First, monthly drawings: at the end of each month, 15 participants will emerge randomly, and the rewards will go as high as 15 mBTC. 
Prize draws will also take place at the end of the championships. Once the championships end, there will be another prize draw, where winners will be selected randomly and eligible to receive prizes of up to 50 mBTC. 
And then comes the most exciting final draw, which will take place after the promo ends, offering winners up to 500 mBTC to win. This draw is based on all the promo tickets received from the start of the event till the end.
Getting started with this event takes just a single click. Register on 1xBit or log in if you already have an account. Then head to the promo page and click on 'participate' to get started. Once you do that, you're in for the super draws that bring you exciting prizes!
1xBit has consistently brought you the best prizes that reward your passion for sports. If you do not have an account yet, don't worry.
Registering on 1xBit is fast and straightforward, and it is entirely anonymous, as the platform accepts only cryptocurrencies. Cryptocurrencies are not controlled by banks and leave no paper trails, meaning that you can bet and gamble without having anything tied to your financial activity.
You can place bets on European football matches with more than 35 cryptocurrencies, including Bitcoin, Ethereum, Litecoin, Monero, Zcash and many more.
Players get to use a multi-currency account not to be limited to gambling with one type of crypto. With no fees attached and fast payouts, you can quickly move your crypto funds to and from your sportsbook account without any issues.
If you just created an account on1xBit, you are eligible to receive a welcome bonus of up to 7 BTC for the first 4 deposits.
The tournament has already started; hurry up to join in!