How to write an application letter for a job in 2022
Are you looking for the right way to write an ideal application letter to land the best-suited job? You are in the right place. Read our article on how to write a job application in 2022 to land your dream job.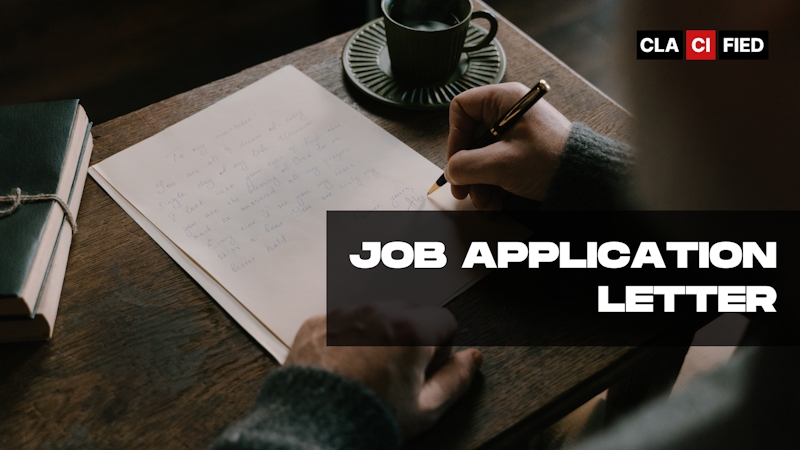 An application letter is a standalone document you submit to your potential employer to show an interest in a vacant job position. An application letter for a job paints a clear picture of your skills and genuine interest in a specific job to an employer. It contains more information about your professional skills and work experiences.
It is a separate document from a resume or CV that gives more information about your professional skills, work experience, and personal qualities. In other words, an application letter serves as a complement to a resume or CV.
To get a good job, you need to write an interesting application letter that will catch the attention of your potential employer and make them want to call you for an interview.
If you are applying for a job with or without experience, our article on how to write an application letter for a job in 2022 will help you on your way to success.
To write an ideal application letter or cover letter for a job in 2022, follow the procedures below:
1.
Write an informative header
Every ideal application letter starts with a header. The header of your application letter covers everything about your contacts, including your name, residential address, phone number, and email address.
You must include all of the above information in the header of your application letter. This gives the hiring manager information about you and a way to get in touch with you for an interview. Below your contact details, write the location and date of your letter.
In this digital age, some people send application letters via email. In that case, you can attach your name and contact information at the bottom of the email instead.
2.
Include the recruiter's details
After writing your contact details, you are to follow up with the name of the hiring manager, the position of the hiring manager, the company's name, and the company's address.
You can address the hiring manager by name if you know it, but if you don't, you can address them by title, such as "dear hiring manager" or "dear recruiter." But it's usually a good idea to look up the hiring manager's name so you can address them by name. This makes your application sound more personal. LinkedIn is a great professional space for obtaining such information.
3.
Write a proper introduction
A proper introduction in your application letter determines whether the reader will continue reading your application. Your choice of words in the opening of your application letter must pique the reader's interest so that they continue reading.
Express your interest in the job and mention where you heard about it. If you were referred by a company employee or someone with a high profile, make sure to include their name.
4.
Explain why you are the best candidate for the job
In another paragraph, tell the hiring manager how your skills make you a good fit for the job. Talk about the company's problems and how you would help fix them. This will show the recruiter that you are genuinely interested in their company and have conducted in-depth research about them.
Elaborate more on your key qualifications and what you have accomplished in the past few years. Include your position and job experience with your previous company.
Keep in mind that an ideal application letter should show potential employers why you should work for them or why you are the best candidate for the job. It must set you apart from the hundreds of other applicants for the same position.
5.
Write what motivates you to join the company
Every future employer wants to know why you want to join them and what interests you in their projects. They want to know you will be ready to work with them for a long time.
Your potential recruiter would want to hear about your passion for the job that made you apply for it and what you intend to achieve with them in the future. You could also briefly talk about your personality.
6.
Show your eagerness to advance in the hiring process
Focus on discussing the job rather than expressing gratitude. You could conclude by expressing your eagerness to discuss further the company's project, which requires your expertise.
Focusing on the job would make the hiring manager understand you have a lot more to say about the job.
7.
Add a formal closing salutation
At the end of your application letter, in your salutation, close it formally using words like "thank you, best regards, kind regards, respectfully yours, with best regards, and sincerely."
What makes a good application letter?
To write an application letter that will make you stand out among other applicants, you must pay attention to the way you structure your writing. What makes an application letter stand out is its ability to:
Demonstrate your interest in the role you are applying for
Highlight your key strengths
Show the positive impacts you've made in your previous roles
Show your passion for the company
Communicate what you plan to achieve if given the position
More tips for writing a good application letter
A well-written application letter takes little time to be recognized among others. When writing an application letter, there are tips that can help you gain the attention of the hiring manager, such as:
1.
Pay attention to job openings
Have you applied for a hundred jobs and not been called in for an interview? Maybe you are applying for the wrong job.
Every job vacancy requires specific skills, which you must confirm before applying. Only send a job application letter to companies that require a skill you are familiar with.
2.
Research the company
You should research the company you are applying to before writing an application letter. In your application letter, let the hiring manager know you are familiar with their company, how their project aligns with your dream, and how you intend to contribute to their growth.
Every company has flaws or issues they are tackling, and each hiring manager wants to know how you can help them improve in those areas. In your application letter, you could talk about a time when you faced similar problems and how you dealt with them.
Also, research the name of the company's hiring manager for which you are applying for a position.
3.
Keep it brief
When writing an application letter, keep it to two pages or less. Make your cover letter as brief as possible. A hiring manager may have a hundred application letters to review and only need to spend a little time on them.
4.
Proofread your application letter
Proofread your application letter to catch any mistakes after you have finished writing it. Proofreading entails checking for misspellings and places where punctuation marks must be added.
Check to see if your sentences are well-structured, then refine them to a standard level.
Application letter template
Follow our application letter template below to guide you in creating an ideal application letter.
1.
Heading
Your Name
Your Address
Your Phone number
Your Email Address
Date
Location
2.
Details and salutation of hiring manager
Name of the hiring manager
Hiring manager's title
Company name
Company address
Dear (Name of the hiring manager),
3.
Body of the application letter
Paragraph 1: Introduction
Paragraph 2: Description of your key qualification and abilities
Paragraph 3: State your motivation
Paragraph 4: End your application letter strongly to help you move to the next chapter of the hiring process.
4.
Closing
Close formally with a closing remark that goes like this
"Sincerely,
Your surname and first name."