Amber Heard net worth 2022, biography, and marriage with Johnny Depp
Amber Heard's life is no fairytale, as her recent defamation battle with her ex-husband has weighed heavily on her net worth in 2022.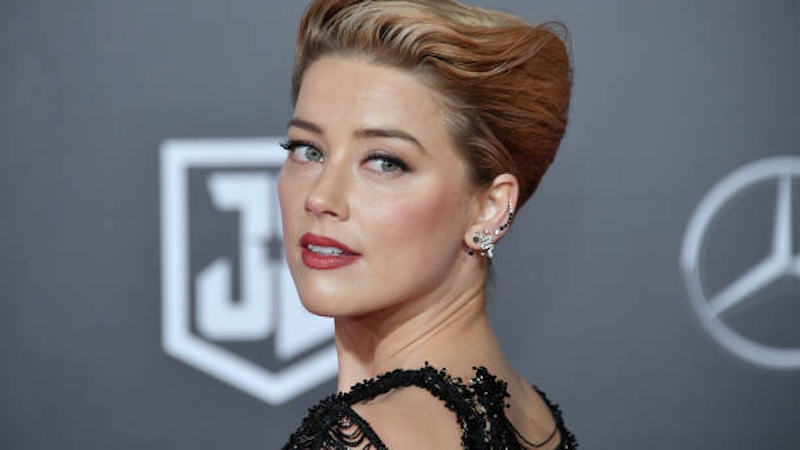 American actress, Amber Heard is popular for her character in Aquaman-Mera and her conflict with her ex-husband, Johnny Depp.
The Hollywood film industry is worth about $95.45 billion. So, it is unsurprising that the vast majority of American actress Amber Heard's net worth in 2022 resulted from her role in the movie "Aquaman" for which she was paid a whopping $5 million.
The latest defamation case between Amber Heard and her ex-husband, Johnny Depp, got people all over the world interested in how much the American actress is worth.
Amber Heard's net worth is a ripple effect of her career trajectory over the years in Hollywood. Starting as a model, the actress is popular for her roles in the films: "Never Back Down," "The Stepfather," "The Ward," "Drive Angry," "Syrup," and "3 Days to Kill."
In 2011, Amber Heard starred in "The Rum Diary," where she played Chenault and met actor and ex-husband Johhny Depp.
Although her biggest career hallmark is the film Aquaman, Amber Heard's net worth of $8 million in 2022 is proof of her work ethic and professionalism in one of the world's most admired film industries, Hollywood.
In this article, Clacified fishes out details of Amber Heard's net worth and career antics that have positioned her for financial success.
Amber Heard net worth 2022
Amber Heard's net worth in 2022 is estimated at $8 million. The American actress's net worth of $8 million is nothing compared to her ex-husband Johnny Depp's, who is worth $150 million.
However, if Amber Heard had won the defamation case, she would have gotten $100 million in compensation from the court.
Amber Heard's career in Hollywood faltered during the trial, but the 36-year-old will appear in the Aquaman film in 2023.
The American actress, Amber Heard was born on April 22, 1986, to David Clinton and Patricia Page in Austin, Texas. Heard spent her early childhood in Austin, along with her two sisters.
Amber Heard quit high school when she was 16 and moved to Los Angeles to start her acting career. She later obtained a home study diploma in acting and has become one of the most popular faces in Hollywood.
As you read further, you will learn more about the American actress, Amber Heard, her career and legal battle with husband, Johnny Depp.
Amber Heard profile summary

Full name

Amber Laura Heard

Date of birth

April 22, 1986

Age

36 years old

Place of birth

Austin, Texas

Parents

David Clinton Heard and Patricia Page

Education

Diploma

Occupation

Actress

Years active

2003–present

Relationship status

Divorced

Spouse/Partner

Johnny Depp (2015-2017)

Tasya van Ree (2008–2012

Children

1

Net worth

$8 million
Amber Heard's acting career
Amber Heard, who grew up in a conservative Christian family, dropped out of Catholic school to pursue her dream of becoming a Hollywood actress. She moved to Los Angeles to get a diploma in acting.
Amber Heard got her start in acting and entertainment by appearing in two music videos: "There Goes My Life" by Kenny Chesney and "I Wasn't Prepared" by Eisley.
Amber Heard also appeared on the television series Jack & Bobby (2004), The Mountain, and The O.C. (2005). The road was not always easy for 36-year-old Amber Heard. She finally made her film debut in the sports drama Friday Night Lights (2004), followed by brief supporting roles in films Drop Dead Sexy (2005), etc.
Amber Heard got her first breakthrough role in the horror film "All the Boys Love Mandy Lane," which premiered at the 2006 Toronto International Film Festival.
The actress's career rose after the 2006 horror movie role. In 2008, Heard received mainstream recognition for her roles in Judd Apatow's stoner comedy, Pineapple Express and Never Back Down, which was about martial arts.
In 2011, she featured alongside Nicolas Cage in the supernatural action thriller Drive Angry. Sadly, the film received negative reviews and was a commercial failure.
Amber Heard went ahead to starr in NBC's The Playboy Club, but after poor reviews and ratings, the series was canceled after only three episodes.
In the comedy-drama film The Rum Diary, Amber Heard was then cast as the main character's love interest, played by Johnny Depp. It was here that the romance began.
Amber Heard joined the D.C. Extended Universe as Mera for the movie "Aquaman" in 2017. In the movie, Amber Heard co-starred with the lead character, Jason Momoa, Nicole Kidman, and Willem Dafoe.
Heard was featured in Zack Synder's Justice League in 2021 and will appear as Mera in the Aquaman sequel, Aquaman and the Lost Kingdom, which is set for release in 2023. All her work in these films earned the 36-year-old American actress Amber Heard her net worth in 2022.
Amber Heard has also gotten big endorsement deals, such as a 2011 ad campaign for the fashion brand Guess, which have added to her net worth. She was appointed as the global ambassador for cosmetics giant L'Oreal Paris in 2017.
Despite her theatrical prowess, Amber Heard's personal life hit the rocks in 2017, and in 2022, she and her ex-husband, Johnny Depp, announced the news of their divorce after a defamation court battle. Of course, the raging court back and forth caused a slight dent in Amber Heard's net worth in 2022.
Amber Heard and ex-husband Johnny Depp/getty images
Amber Heard's legal battle with Johnny Depp
Amber Heard had her own fair share of Hollywood competition. But after meeting on the set of "The Rum Diary," Amber and the Pirates of the Caribbean actor Johnny Depp dated from 2011 until they married in February 2015.
However, in May 2016, Amber Heard filed for divorce from Johnny Depp. Amber Heard and Johnny Depp's divorce was finalized in January 2017. Amber went on to obtain a temporary restraining order against Johnny, stating in court that he had verbally and physically abused her regularly while under the influence of drugs or alcohol.
Following their court settlement in 2017, Amber Heard requested $50,000 per month as spousal support from Depp based on her "marital lifestyle," but her attorney later retracted that request.
TMZ News reported that Depp and Heard reached a $7 million settlement in the divorce. Depp paid a fraction to the Children's Hospital of Los Angeles in Heard's name.
In 2018, Amber Heard published an essay for the Washington Post on domestic abuse. Jonny Depp sued Heard for $50 million in a defamation lawsuit over the op-ed in 2019.
Amber Heard then countersued her ex-husband for $100 million. Although the article did not mention Johnny by name, his lawyers debated that it sought to portray him as an abuser, thus ruining his Hollywood career.
Her divorce settlement awarded Heard $7 million, which she claimed would be donated to two different charities: The Children's Hospital of Los Angeles and the American Civil Liberties Union (ACLU).
In Amber Heard's 2022 defamation trial with Depp, evidence provided in court showed that only a portion of the money had been paid.
According to ACLU, it had only received $1.3 million of the pledged $3.5 million. "Amber personally provided 350,000, while $100,000 came from Depp."
On June 1, 2022, the verdict was reached. Johnny Depp won the defamation case against Heard, with a jury awarding him $15 million.
He was guilty of one charge, and the judge reduced Depp's punitive damages award from $5 million to $350,000. The jury awarded Amber Heard $2 million in compensatory damages.