Annie Idibia breaks down in tears as she recounts marriage to 2Face.
Annie Idibia says she met the singer first but yet her first child is his fifth child.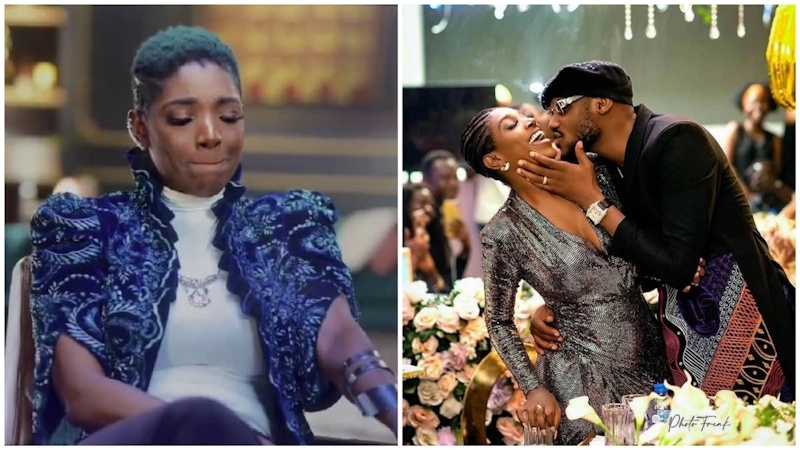 Trending on Twitter is a video of Nollywood actress Annie Idibia in tears as she opens up on controversial celebrity marriage to 2Face Idibia.
The mum of two features in the Netflix Young, Famous and African reality show with husband 2Face.
However, since Annie's teary-eyed video hit the internet, it has been buzzing with fans and followers' reactions.
According to Annie, when speaking with other cast members, she recounted how her husband and music legend, 2Face Idibia had other children before they had their first child together.
With pain in her eyes and voice, Annie disclosed, she had been subjected to many humiliations and embarrassment and would always question how 2face made the same mistake twice.
"When you meet someone, then you know them first, and then you wake up to different people are having babies for him, and then he has five different kids with other women, my first child is his fifth, and I met him before everybody," she said.
The 37-year-old added that she had moved past the hurt and decided that she had forever to spend with him to make up for all the bad experiences and hurt.
Although Annie and 2Face have been married since May 2012 with two daughters, Isabella and Olivia, the music star has several children from other women.
The singer has two sons, Nino and Zion, with his first baby mama, Sumbo Ajaba. Idibia and Pero Adeniyi have three children, Ehi, Justin and the youngest of them all Innocent.
Annie accused 2Face of having an affair with his second baby mama Pero Osayemi.
Annie's recent outburst has generated a lot of mixed conversations online, with users blaming Annie for venturing into the marriage despite 2Face's baby mama history. Others have implied that Annie moves on and enjoys her marriage to the legendary singer.
This is not the first time Annie will trend for her public outburst regarding her marriage to 2Face Idibia. Last year in a heated online battle, Annie repeatedly accused the singer of running away with Pero Osaiyemi(2Face's second baby mama).
Pero has three children for the singer. 
Annie Idibia dragged the African Queen hitmaker in a series of captions and audio recordings. According to the mother of two, 2Face was having an affair with Pero based in the US.
In response to the allegations, 2face's younger brother Charles Idibia washed Annie's dirty linen in public by speaking on her attitude to his elder brother
Annie later apologized for her outburst in 2021 in a long caption posted on social media.
Following Annie Idibia's latest viral video, Pero put up a video post of her kids in an elevator.
"Me i get Sense I get GOD, I come 1st, I don boss, Plenty talk , Plenty noise, Aye ole f'eni t'omo way(life is not hard for those who know the way)……… Obirin mewa"(Ten women in one). She captioned the video.
Fans have come out to say that Pero's new post may be a jab at Annie Idibia.