Chinenye Nnebe biography: Age, husband, son, twin sister
Chinenye Nnebe, one of the newest faces in the Nollywood industry, is famous for her role in the "Dry" movie. Here is a coverage of the biography of Chinenye Nnebe, her age, her husband, and info on her alleged twin sister.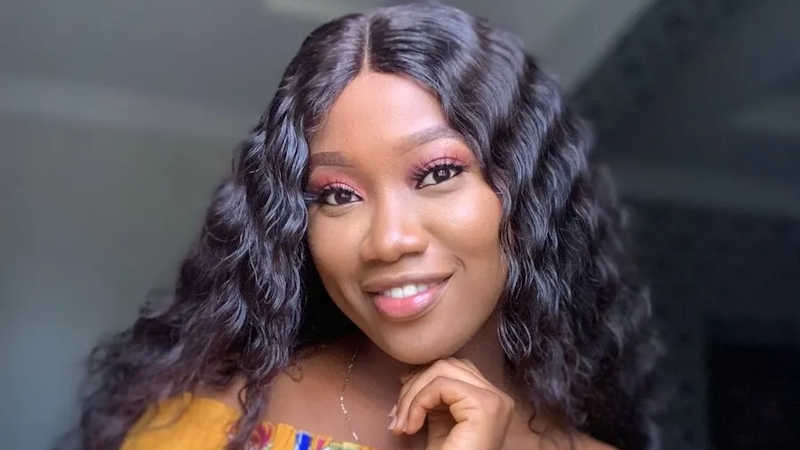 Taking a cue from the richest actresses in Nigeria, particularly Genevieve Nnaji, who has made a name for herself in the industry - One can say that Nollywood actress Chinenye Nnebe is on the right path to success. The brand influencer, model, and actress is famous for her role in the movie "Dry."
Chinenye Nnebe is also the daughter of movie producer, director, and one of Nigeria's leading set decorators and costumier, Uche Nancy. So, It is no wonder that this apple, Chinenye Nnebe, did not fall far from the tree.
This article delves deep into the life of the young Nollywood actress Chinenye Nnebe from her biography to other personal details.
Chinenye Nnebe - biography
Nollywood actress and model Chinenye Nnebe was born on April 5, 1997, in Asaba, Delta State, to her now-divorced parents, Mr. Nnebe and Uche Nancy.
The young actress attended St Augustine College before proceeding to Ghana for her University education. In June 2019, Chinenye Nnebe graduated from Zenith University, Accra, with a degree in Business Administration.
Below is a brief biography profile summary based on the early life, relationship, and husband of the beautiful actress, Chinenye Nnebe
Chinenye Nnebe's profile summary

| Name | Chinenye Nnebe |
| --- | --- |
| Date of birth | April 5, 1997 |
| Age | 25 (2022) |
| Place of birth | Asaba, Delta State |
| Tribe | Igbo |
| Residence | Asaba, Delta |
| Occupation | Actress, model, and brand influencer |
| Religion | Christian |
| Parents | Mr Nnebe and Uche Nancy-Divorced |
| Siblings | 3 |
| Qualifications | Bachelors Degree (Business Administration) from the Zenith University College, Ghana. |
| Relationship Status/ husband | Unmarried, status unknown |
Although Chinenye Nnebe had an early start in her acting career in 2000 at age 3 - she did not become prominent until her role in the hit movie, "Dry" under the tutelage of her mother, where she played the role of young Zara. The movie earned her the African Magic movies award as the most promising actress in 2017.
Chinenye Nnebe has also been featured in several Nollywood productions, including World of lust, More than sisters Voice of a Mother, and others.
The 25-year-old actress has worked alongside others like Mercy Johnson, Regina Daniels, Stephanie Okereke, Sonia Uche, etc. In her career as an actress, brand influencer, and model, Chinenye Nnebe has worked with Nigerian brands such as Jenny Glow Beauty Products, Sonia Hair extension, Omah's World, and Ammievals Gallery.
Chinenye Nnebe also entered the business world by being the founder of an online clothing store, Shop with Chinny.
However, for a young woman with a successful streak, Chinenye Nnebe has not been immune to the usual industry rumors about her love life, marriage, and husband.
Chinenye Nnebe - relationship status
At age 25, actress Chinenye Nnebe is currently single, has never been married, and does not have a husband yet. Chinenye Nnebe's single motherhood journey probed her marital status and the existence of an "estranged husband."
It largely fueled rumors about her many relationships; there were rumors about her alleged relationship with Somadina Adinma, a colleague in the industry; Chinenye Nnebe refuted such claims saying that they were good friends and nothing more.
Nevertheless, rumors about her relationship with actor Jerry Williams also sprung up. This time, Jerry Williams, in an interview with MC Charlene, clarified that he and Chinenye Nnebe just had good chemistry on set, nothing more.
Chinenye Nnebe had a son born on April 25, 2019, at age 23, during her school days. But the actress has withheld details on the paternity of her child. Chinenye's son, popularly known as Cutemeeky, is also a child actor.
Chinenye Nnebe, her mother and 3 siblings.
Uche Nancy - Chinenye Nnebe's mother
Nollywood actress and model Chinenye Nnebe is the daughter of an award-winning costumier, Uche Nancy. Chinenye Nnebe is the last of Uche Nancy's four daughters - Sonia, Ijeoma, and Chinanu Nnebe.
Uche Nancy divorced their father and her ex-husband, Mr. Nnebe, when her daughters were still young. According to reports, Uche Nancy got married at the age of 16. The mother of four and costumier has managed to keep this aspect of her life undercover; thus, very little is known about her marriage and ex-husband.
Uche Nancy, the proud mother of four girls, never drops the chance to flaunt her daughters, always describing them as her backbone and source of joy.
Due to the striking resemblance between her actress daughter, Chinenye, and Ijeoma, Nnebe- the siblings have often been mistaken for twin sisters.
Chinenye Nnebe and her alleged twin sister
The Nollywood actress Chinenye Nnebe does not have a twin sister. However, Chinenye Nnebe only closely resembles her elder sister, Ijeoma Nnebe, aka pretty Oma. The siblings have been referred to as twin sisters for a long time.