Destiny Etiko net worth 2023
This article delves into Destiny Etiko's net worth, her diverse ventures, and the controversies surrounding her, shedding light on her journey to success in the entertainment industry.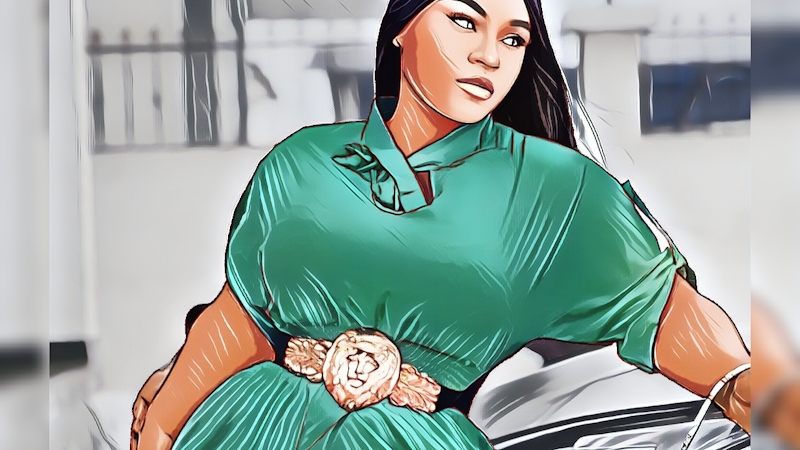 With her rising prominence and marketability within Nollywood marked by various ventures, brand endorsements, and smart investments, Destiny Etiko has achieved significant financial success that has amassed her an estimated net worth of 470 million NGN as of 2023.
However, questions surrounding the sources of her income and allegations of controversy have also arisen. 
Beyond her acting prowess, Destiny's financial might has also garnered attention, making her one of the notable names when it comes to net worth in the Nigerian film industry.
Destiny Etiko's journey to this level of success has been characterised by a combination of factors. 
Firstly, her breakthrough role in the Nollywood blockbuster film "Idemili" played a crucial role in catapulting her into the spotlight.
This movie showcased her talent and acting prowess, earning her recognition and praise from both audiences and critics alike.
The success of "Idemili" not only contributed to her popularity but also opened doors to new opportunities in the industry.
In addition to her acting career, Destiny Etiko has also capitalised on her fame by securing numerous brand endorsements. 
She has become a sought-after ambassador for notable brands, leveraging her popularity to promote their products or services in  endorsement deals that have not only provided financial gains but have also enhanced her public image and expanded her reach to a wider audience.
Furthermore, Destiny's substantial net worth of 470 million NGN can be attributed to her smart investments.
While specific details about her investments are not readily available, it is evident that she has made astute decisions that have contributed to her growing wealth.
The house Destiny Etiko gifted her mom for her 2018 birthday
Destiny Etiko has made significant acquisitions and investments that reflect her growing wealth and penchant for luxury. In 2018, she celebrated her mother's birthday by gifting her a house and a Toyota Camry, showcasing her generosity and financial capacity at the time. 
Destiny Etiko's mom in her Toyota Camry
Additionally, Destiny's unnamed boyfriend gifted her a Toyota Venza for her own birthday in the same year, adding to her collection of luxury vehicles and bolstering her net worth.
The following year, in 2019, Destiny received a Mercedes Benz GLK 350 as a birthday gift from an undisclosed man, further expanding her fleet of high-end cars and highlighting her affinity for luxurious automobiles.
By 2020, Destiny Etiko's net worth had already reached 150 million NGN, indicating a financial stability and growing wealth. However, she continued to invest in her assets and made a notable acquisition in 2021. 
To celebrate her 32nd birthday, Destiny Etiko purchased a mansion in Coal City, Enugu State, marking a significant milestone in her life and career.
Destiny Etiko's house in Enugu
With three mansions to her name, these acquisitions not only symbolise Destiny Etiko's financial prosperity but also served as a grand celebration of her achievements.
Apart from her real estate investments and luxury vehicles, Destiny's love for high-end items is evident in her accessory choices.
Destiny Etiko's most recent house in Enugu
She owns a Christian Dior handbag worth $3000, showcasing her taste for luxury brands and fashionable accessories.
In terms of her vehicle collection, Destiny Etiko has displayed a penchant for luxury SUVs. As of 2020, she possessed a fourth-generation Lexus RX and subsequently acquired a Toyota Land Cruiser Prado in early 2021.
Later that same year, she purchased a Lexus RX350 2016, further expanding her collection, before acquiring a luxurious Lexus LX570 Supersports SUV to celebrate her 2022 birthday. Adding this four high-end automobiles to her Toyota Venza from 2018 leaves Destiny Etiko with a total of five cars in her ever expanding garage.
Her choices indicate a desire for luxury and a penchant for investing in assets that hold value and enhance her lifestyle. 
Endorsement deals and ambassadorial contracts
Destiny Etiko's rising prominence and marketability in the Nigerian entertainment industry have led her to venture into various brand ambassadorial roles, solidifying her position as one of the most marketable faces in Nollywood.
These endorsement deals have not only contributed to her net worth but have also enhanced her public image and expanded her reach to a wider audience.
In 2019, Destiny became the brand ambassador for hair extension brand Kesie_virgin hair, in a partnership that further solidified her presence in the fashion and beauty industry, as she represented the brand's products and promoted their quality and appeal.
In 2021, Destiny bagged an ambassadorial deal with the jewellery company ingoliment_gold. This collaboration allowed her to showcase exquisite jewellery pieces and enhanced her association with luxury and elegance.
The following year, in 2022, Destiny became a brand influencer for leading digital payment platform, Quickteller, in an endorsement contract that positioned her as a figure trusted to endorse secure and efficient online transactions.
By associating with Quickteller, Destiny showcased her versatility as an influencer and demonstrated her ability to adapt to evolving technology trends.
Destiny Etiko's brand ambassadorship extends beyond the fashion and digital industries. She was named one of the brand ambassadors for Kubanah Whisky, a premium brand of MP MasterPiece Ltd. As of 2023, she is brand ambassador for alcoholic beverage, D General. 
In addition to her success as an actress and brand ambassador, Destiny Etiko has also demonstrated her philanthropic endeavours.
She established the Destiny Etiko Foundation (DEF), a non-profit organisation dedicated to alleviating the suffering of people living in poverty and destitution. 
Through DEF, she has reached out to individuals in various localities, providing assistance and support to those in need. This philanthropic initiative showcases her compassion and commitment to making a positive impact in society.
Furthermore, Destiny Etiko's success extends beyond the entertainment industry. She was named the ambassador for Goonite Hygiene Products FZE, a N36 billion firm located in Ibeju-Lekki, Lagos. In this role, she represents the company's hygiene products, including Besense Sanitary Pads and Labrace Baby diapers. 
With her over 5-million strong following on Instagram, Destiny Etiko also sources significant income and augments her net worth from social media influencer marketing. 
Destiny Etiko's true source of income
Despite her substantial net worth of 470 million NGN, Destiny Etiko has faced controversy and allegations surrounding the source of her income.
While she has made a name for herself in the Nigerian film industry, questions have been raised about the extent to which her net worth can be solely attributed to her acting career.
One striking detail is the fact that Destiny Etiko has not played major roles in the highest-grossing movies of all time, with her most significant appearance to date being a bit-part role in the 2021 film "The Ghost and the Tout Too."
Not being involved in Nigeria's top cinema blockbusters suggests that Destiny Etiko's net worth may come from sources outside of the film industry.
Destiny has primarily appeared in low-budget home videos, which typically have a restricted earning potential of under 500,000 NGN.
This information, corroborated by a self-styled Instagram microblogger, further highlights the limitations of her income from acting alone.
Therefore, it is reasonable to assume that she has diversified her income streams and ventured into various sectors and investments to accumulate her substantial net worth.
Endorsements, brand partnerships, entrepreneurial ventures, and wise investments have likely supplemented Destiny's income, with these additional revenue streams, combined with her popularity and marketability likely to have contributed to her financial success.
While they certainly contribute to her overall wealth, they may not fully account for Destiny Etiko's net worth of 470 million NGN.
Amidst her financial accomplishments, accusations have circulated suggesting that Destiny Etiko engages in intimate relationships with prominent individuals for financial gain.
However, Destiny has consistently denied these allegations on her social media platforms and in interviews.
It is worth noting that she has not pursued legal actions against those making these claims, which may either indicate that she considers them baseless or unsubstantiated, or she doesn't want to ignite the embers of these claims.
It is important to approach these allegations with caution, as they remain unproven and speculative. It is crucial to respect the principle of innocence until proven guilty and not jump to conclusions without concrete evidence.
Destiny Etiko net worth: Greater than Nollywood
Destiny Etiko's financial success and controversies have shaped her journey in the Nigerian entertainment industry. With a net worth of 470 million NGN, her diverse ventures, brand endorsements, and smart investments have contributed to her rising prominence. 
While questions surrounding the sources of her income and allegations of controversy persist, Destiny's achievements underscore her talent, hard work, and marketability in Nollywood. 
As she continues to navigate her career, her financial accomplishments solidify her position as a prominent figure in the Nigerian entertainment landscape.