Latest Naija music in 2022 (Download)
Nigerian music has been topping music charts globally, and these latest Naija songs could be the next top-rated songs on streaming charts in 2022.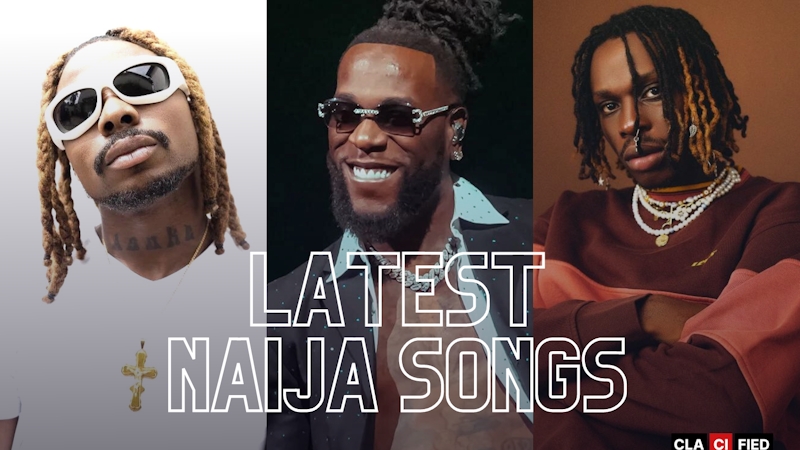 Every day new music is churned out by Nigerian artists, so if you are looking for the latest Nigerian songs today, Clacified gives all the juice.
From Ololade Asake to Wizkid, Davido, and Burna Boy-who recently released another album, "Love Damini" in 2022, the list is endless on the number of latest music that has been released in Nigeria.
A couple of Nigerian songs on Apple and Spotify streaming platforms have topped the trends in the last 8 months of 2022; these top trending Naija songs have been used at parties and largely celebrated.
If you are trying to stay abreast of the Nigerian music scene from new releases to album launches, this article collates the latest Nigerian songs, their release date, and the airwaves it has received
Here are the latest Naija songs in 2022, from the week's top trending to the newest songs on the block.
1.
Native Sound System – Stuck on You Ft. Ayra Starr, Dap The Contract, LMBSKN
Recovering from his "Peru'' sensation that hit international airstream with a remix version with Ed Sheeran, Fireboy DML released Bandana, his third studio project, in anticipation of his forthcoming project, Playboy.
Fireboy DML collaborates with electric performer and PALAZZO crooner, Asake to deliver a peculiar rhythm. This song tops the hot hits Naija playlist on Spotify. Bandana was released on July 13, 2022.
2.
Overloading - Mavins Crayon, Ayra Starr, LADIPOE, Magixx & Boy Spyce(OVERDOSE)
Overdose by Mavin records has become a worldwide hit since its release on May 13, 2022. The song features top Nigerian artists such as Ayra Starr, Ladipoe, Crayon, Magixx, and the Mavin's latest signee Boy Syce.
Overdose has quickly made its mark on all digital streaming platforms. Mavin's record's latest hit song boasts over 600,000 streams. Right now, this song is the official anthem of the year.
3.
Finesse - Pheelz X BNXN
Music producer, Pheelz outdid himself on this song, Finesse with BNXN, formerly known as Buju. Finesse takes its listeners on a journey of carefree vibes and reckless abandon while cruising on its slinky beat and gentle guitar strings. Perhaps it's BNXN's lullaby vocals or the anthem-like chorus that puts the most worried heart to rest.
According to Rolling Stone, "Finesse is endlessly catchy and is the sixth most shazamed song worldwide as of March 18, 2022''.
4.
Different Size - Burna Boy ft. Victony
'Different Size' puts its listener in a good mood, all thanks to Burna Boy featuring Victony- Borrowing the amapiano sound beat of King Vinchi. The self-acclaimed African giant Burna makes his mark as one of Nigeria's most influential artists.
This new single is off Burna Boy's EP "Love, Damini'' and its bouncy beat is club-rave-worthy.
Fireboy DML outshines himself as he releases ''Ashawo'' an intro for his August 5 launch of Playboy EP. The groovy, smooth beat will leave you nodding to its beat. Although Ashawo has a "Jealous'' ring to it- it has a unique chorus that brims with easy lyrics.
This song is club, birthday, and party-worthy; Fireboy DML is undoubtedly a record-breaking artist.
6.
Propeller - JAE5 ft. Dave X BNXN
British-Ghanian record producer, Jae5 dropped "Propeller" on July 28. Featuring artists Dave and BNXN, the three-minute song has an unusual beat that any listener will recognise in their sleep. The song opens with BNXN delivering its catchy hook.
Propeller is for the easy-going, hard-core personalities looking for a song to put you in your feelings and cruise in your thoughts.
7.
It's Plenty - Burna Boy
Burna Boy wins many hearts with this dynamic combo of high life and danceable electronic beat. The sound "It's Plenty" has been described as a refreshing deviation from the norm with nuances of percussive and electronic vibrations. It's Plenty is from Burna Boy's latest Naija EP, Love, Damini.
This is also a tremendous smash single that you wouldn't want to overlook if you are a lover of great music.
8.
PALAZZO - DJ SPINALL ft. Asake
Talented disc jockey and songwriter DJ Spinall unleashed a new song titled "Palazzo". With YBNL signee, Asake's input Palazzo takes on a life of its own. The song, which has a choir-like chorus, draws the listener into the world of its unique beat and leaves you drunk with morale and good vibes.
9.
Bad Girl (feat. Wande Coal and Victony)
Bad Girl is an amapiano beat genre of music released on July 29, 2022, by DJ Tunez, featuring Victony and Wande Coal. The gentle groovy beat serenades the listener with calm vibes and late-night party energy.
This song is great for a sexy all-night event or hangout party to put everyone in the right mood.
10.
Machala - Carterefe ft. Berri-Tiga
Machala by Carter Efe, a Nigerian comedian, is an instant favourite for anyone who listens to it. The contagious memory sticking chorus ''Machala'' will get you on your feet with your dancing shoes.
Crash any party with this sound and watch everyone go wild with excitement as they storm the dance floor. This is one of the new anthems of Nigerian fans.