5 Female Nigerian artists that abandoned their music
We take a look at rappers like Sasha P, Eva, whose temporary breaks translated into permanent disappearances from the music industry in Nigeria.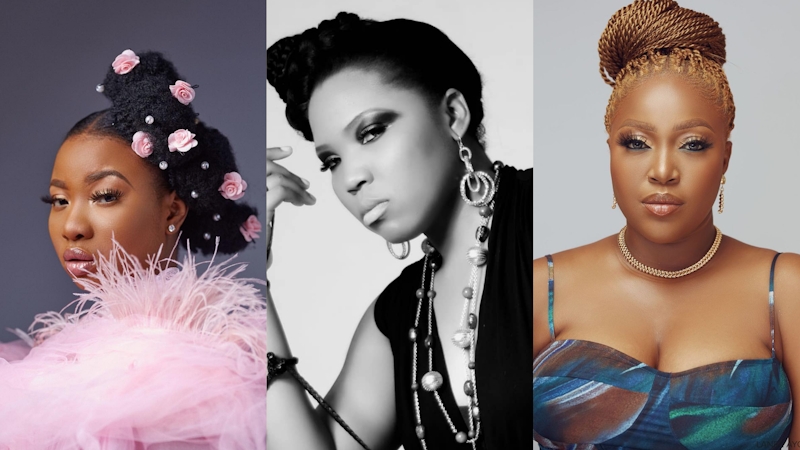 Becoming a famous artist means many things from more money, tours and more public interference in your life. As well as inconceivable narratives of what your life is as a celebrity making it a dream job for many aspiring stars
However, when some of our favourite rappers reach the ladder of success and then either chicken out while others divide to embark on an entirely new career.
Many of these Nigerian artists abandoned the music industry for varying reasons from pressure to continue dropping hits to industry bullying and getting blacklisted.
Below are 5 Nigerian female artists who ended up stepping away from the spotlight to venture into other careers.
Sasha P is a pioneers of female hip pop and rap culture in Nigerian music
Anthonia Yetunde Alabi popularly known as Sasha P dominated the airwaves, from Radio to TV, as her music enjoyed airplay across the stations.
Rap in Nigeria at the time was considered a male industry but Sasha P broke into the circle and began to thrive as her sound became the prominent anthem in clubs.
It was Sasha's growing prevalence in rap music and Nigerian hip-pop that earned her the self acclaimed title, first lady of Nigeria hip-hop.
Sasha's influence and access at a time when it was unusual to for a woman to rule paved way for other female rappers and musicians in Nigerian hip-hop.
With hit it singles, Emi Le Gan and Adara, the dark skinned rapper earned her place as one of the industry's finest female talents.
At the World Music Awards in 2008, she became the first Nigerian female artist to perform and two years later, Sasha made history as the first Nigerian to win the Best Female Artiste award at MTV Africa Music Awards (MAMA) and Women in Entertainment Awards, UK in 2009 for her hit single Adara.
However, Sasha took a big break from music to focus on her clothing line Eclectic by Sasha, ever since nothing has been heard concerning Sasha's P music.
Weird MC is a British Nigerian rapper who quit music after a major life crisis
When Ijoya was released by Nigerian-British rapper, Shola Idowu, otherwise known as Weird MC, clubs and parties went gaga.
Maybe it was the animated video or the talking drum but no one heard the Ijoya anthem and did not dance.
Weird MC definitely arrived without warning to change the course of rap in the industry.
One of Africa's most popular female rappers and one of few Nigerian female artistes associated with afrobeat. Weird MC was popular for infusing the Yoruba language in her English lyrics and became famous in 2006 after the success of her monster hit, Ijoya, a single off her second album by the same title.
Ijoya earned her an Award for Musical Excellence in Nigeria (AMEN) for Most Popular Song and a Channel O Music Video Award for Best Special Effect. 
Later on the tomboyish afrobeat rapper and singer released other singles such as Allen Avenue, Palava and Moving On. 
Although things weren't all rosy for Weird MC as In various interviews she spoke on being discriminated against by her male counterparts.
In the middle of her fame and fortune, Weird MC took a spontaneous break from music.
The rapper left the country and her career to start a new life in the UK. During an interview with Premium Times she says she left because she wanted a break. Weird MC also revealed that the loss of a dear friend triggered her decision to leave everything behind. She further explained that she had found Jesus and was going to focus on other aspects of entertainment. Weird MC recently featured in a movie production in England is also the presenter of Da Gatekeeper series.
Kel is a burst of talent who exited the music scene faster than anyone thought.
Kelechi Ohia, better known as Kel, stormed the music scene in 2008 with her debut single Waa Wa Alright.
The talented rapper quickly became a music sensation dominating airwaves with other hit singles,You Too Fine and Turn By Turn, which featured Wizkid. 
Everything looked good for the rapper until she started having issues with her record label, Capital Hill Music owned by renowned video director, Clarence Peters. After her departure from Capital Hill Music, the award-winning rapper's music suffered the hit and went down hill from there.
Musically, Kel has since moved on to other things. She is the CEO of Keke's Good Eats, an online restaurant.
Eva Alordiah left music to focus on her life.
Elohor Eva Alordiah, Eva was one of the most listened to female rappers in the country as of 2010-2012. 
In fact she was on par with music stars like the P-Square before she dumped music in 2016 and moved to Ghana. 
The 32-year-old, who arrived with her debut EP GiGo in 2011: a nine track album, was a breath of fresh air. The talented rapper Eva was so good at her craft that she garnered several awards including one Nigeria Entertainment Award from 4 nominations, one Eloy Award, and one YEM award from 2 nominations. 
An industrious rapper with a slice of independence Eva is the owner of makeupByOrsela, a company that specializes in Makeup services.
At the peak of her rap career, Eva released her debut studio album, 1960 in September 2016. 
After its release, the beautiful rapper took a backseat from music production. Five years after her abrupt exit, Eva revealed her reason for exciting the music scene to a fan. According to the rapper she wanted to get back to the core of her essence. Talented rappers like Eva showed great potential but threw in the towel too quickly.
Mocheddah is a Nigerian rapper who left the industry after being bullied by previous record label Kinghthouse.
If you hear the name Modupe-Oreoluwa Oyeyemi, it might not bring a bell but when you hear Mo'Cheddah, it sure rings a bell.
A promising young artist Mocheddah stormed the music scene with a promotional single, If You Want Me in 2009.
The single was quickly followed by her debut studio album, Franchise Celebrity, while signed to Knighthouse Entertainment in 2010.
Two years after Mocheddah left Knighthouse in February 2012 and established her own label, Cheddah Music, under which she released some songs, two of which earned her awards – Herself, which got her an MTV Africa Music awards as Best New Artist in 2010 and a Channel O Music Video Awards as Best Female Video for the single, If You Want Me. Mo'Cheddah.
Basking in the fame and fortune that comes with the spotlight, Cheddah decided to take a break from music to clear her head.
On her return in 2014 Mocheddah signed with Cobhams Asuquo and released 'Destinambari' but things weren't the same anymore as fans had moved on to other artists.
By 2015 Mocheddah had lapsed into depression and that was when she spoke up. The pretty rapper revealed that she faced a lot of hostility after she left previous label, Knighthouse. According to her, they began to badmouth her which gradually led to her being blacklisted in the industry and influenced the decline of her popularity and music.
She also revealed that it was at that point that she became very depressed and contemplated suicide.
After struggling to remain relevant, the now 32year old rapper left the industry and got married to her boyfriend of 10 years, Prince Bukunyi Olateru-Olagbegi, otherwise known as BK, in a private ceremony in Lagos, Nigeria.
The couple welcomed their child last year.