Jim Iyke: net worth, biography, controversies, fraud allegations
Is Jim Iyke Nigeria's richest actor? Discover Jim Iyke's net worth, biography, controversies, and fraud allegations in this exposé.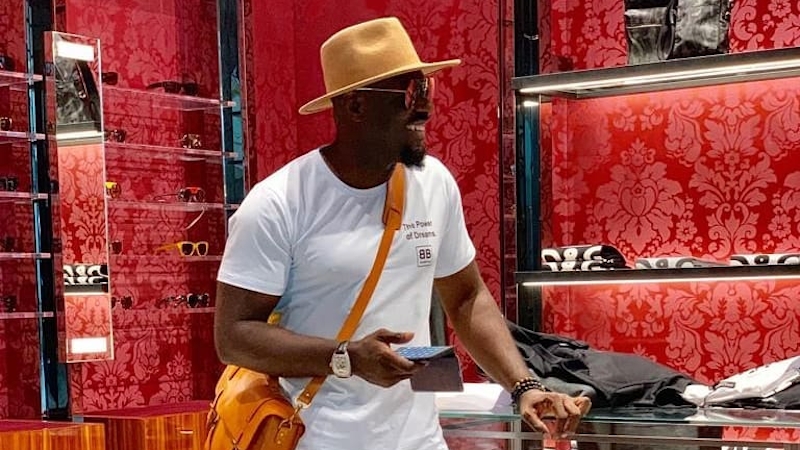 When addressing the "best Nigerian actor" debate, actor, film and music producer, model, and entrepreneur, Jim Iyke, will likely be the first name that comes to mind. This article explores Jim Iyke's net worth, biography, wife, and children in minute depth.
Having been involved in several affairs in his very long career, Jim Iyke is undoubtedly the Bad Boy of Nollywood, not just behind the cameras but in his personal life. Who is Jim Iyke's wife? Is Jim Iyke married to Nadia Buari? Does Jim Iyke have a child? These questions are comprehensively examined in this article. 
Jim Iyke profile

Birth name

James Ikechukwu Esomugha

Date of birth

25 September, 1976

Net worth

$30 million

Source of wealth

Entertainment, Endorsements, Fashion, Business,

Wife

Divorced

Ex-wife

Dana Kinduryte

Children

Harvis Chidubem and two others

Place of birth

Libreville, Gabon

State of origin

Ogwugwu village, Enugu Agidi town, Anambra State

Primary School

undetermined

Secondary school

Federal Government College, Kwali

University

University of Jos

Father

Mr. Stephen Okolue.

Mother

Mrs. Ngozi Gladys Okelue Esomugha

Siblings

7

First movie

Prisoner
Birthplace, state of origin and siblings
James Ikechukwu Esomugha was born in Libreville, Gabon, on September 25, 1976, to a family of seven in which he stood out as the only male. Jim Iyke, a contraction of this name, is a native of Ogwugwu village, Enugu Agidi town, Anambra State, through his parents, Mr. and Mrs. Stephen Okolue.
Early life and education
Jim Iyke's elementary education started in Gabon, but due to his family's repeated relocations, he spent his formative years traversing Nigeria. He attended secondary school in Abuja at Federal Government College, Kwali.
Jim Iyke had to move a third time to attend the University of Jos, where he obtained a certificate in banking and finance and a Bachelor of Science in Philosophy.
Foray into acting
Following his graduation, Jim Iyke moved to Lagos, a city renowned for unearthing stars, where he lived with his family.
Like many other television stars, Iyke began his film career by persistently auditioning for jobs in Surulere. But his decision to pursue acting in the early 2000s sparked a family dispute.
His parents, Mr. and Mrs. Stephen Okolue, later booted him out owing to the stereotypes connected with performers at the time.
Standing by his decision, Iyke resigned from his position as a banker to pursue a career in the then emerging Nigerian film industry.
Jim Iyke claimed that his breakthrough role was in the film Prisoner, for which he received his first paycheck of 20,000 NGN. By 2003, he had gained rockstar status and was hired by Encomium to host the highly regarded 2003 Reel Awards.
Nollywood ban
In 2004, the Nigeria Actors Guild banned Jim Iyke and roughly ten other actors, including Ramsey Nouah, Richard Mofe Damijo, Nkem Owoh, Genevieve Nnaji, Rita Dominic, and Desmond Elliot, from appearing on television for a year for demanding excessively high fees.
Jim Iyke was the highest-paid and most in-demand Nigerian actor at the time, having appeared in over 60 films, including sequels, between 2003 and 2004. He was also known as "Nollywood's Bad Boy" because of his recurring roles in criminal, thriller, and romantic dramas.
Acting career
Iyke made a long-awaited comeback to the film industry by starring in Moses Inwang's financially successful drama Stalker. In addition, Nse Ikpe Etim, Caroline Danjuma, and Ayo Makun appeared in the film.
The film's popularity prompted Moses Inwang to cast Iyke in his 2017 comedy film American Driver, which became one of Nigeria's highest-grossing films. He was cast with Ayo Makun, Emma Nyra, Nadia Buari, and Nse Ikpe Etim for the second time.
In 2018, Jim Iyke was cast in two of the ten highest-grossing Nigerian films of all time, the record-breaking Merry Men: Yoruba Demons and its sequel Merry Men 2.
In response to an interview query regarding why he appeared in less than ten big films between 2010 and 2014, Iyke said that he did not find the business "challenging" but rather "too easy and perpetual."
Jim Iyke has an estimated net worth of $30 million and is the wealthiest actor in Nigeria. Iyke was the highest-paid and most sought-after Nigerian actor in the 2000s, acting in an annual average of 60 films.
By 2007, Jim Iyke was participating in an average of 30 films per year and earning up to 3 million NGN per script.
Iyke expanded into movie production and music in 2009 to bolster his net worth, launching Untamed Productions and Untamed Records. Who Am I, his first album, included features by 2face, Timaya, and 9ice, and was produced by Puffy T.
Untamed Production has since produced several films, the most popular being the comedic film 2 Dollaz, an attempted sequel to the 2001 film 1 Dollar.
The film, which starred Jim Iyke, Mercy Johnson, Sam Loco Efe, and Ebere Okaro, was both critically and commercially unsuccessful. Other films are Perfect Choice, Ebony, Good Evening, and Shades of White.
Later, he evaluated the music initiative as a failure, explaining that he "tested my luck" by leaving his comfort zone.
In 2012, Jim Iyke appeared in the highest-grossing film of the year, Obi Emelonye's thriller Last Flight to Abuja, which further burgeoned his net worth. Anthony Monjaro starred with Omotola Jalade Ekeinde, Hakeem Kae-Kazim, Jide Kosoko, and Uru Eke.
Jim Iyke launched a reality television series in 2013 titled Jim Iyke: Unscripted, which was recorded in locations around the globe by iFactory Live and broadcast on Africa Magic.
According to Jim Iyke, the reality show's primary objective was to give viewers "unrestricted access" into his personal life, which contradicted his claims to despise fame and notoriety.
Jim Iyke also has a luxury mansion in Abuja, where he is primarily based.
Endorsements
Jim Iyke was offered a multimillion-naira endorsement contract in 2018 to model and represent the fashion firm Wear It All Men's Luxury Brand.
In 2009, the telecom giant Globacom awarded him an ambassadorial contract worth around 10 million NGN a year. At the time, Jim Iyke was the most highly compensated ambassador for Glo.
Although Glo declined to renew the ambassadorial contract a few years later, Virgin Atlantic granted him an endorsement agreement for around 100 million NGN in today's market.
Business ventures
In July 2015, Jim Iyke founded Burgeon Global, a water bottling firm headquartered in Abuja, Nigeria.
Iyke has branched into some of the highest paying jobs available in Nigeria, including oil and gas, auto dealership, modelling, a water bottling firm, real estate, event management, and fashion with his Untamed Clothing fashion brand, making him one of Nollywood's most successful products. 
Jim Iyke has revealed that he has "about 125 pairs of sunglasses and around 200 pairs of shoes and sneakers."
In his garage, Jim Iyke, renowned for life in the fast lane, has an astounding collection of luxury vehicles, including a Plymouth Prowler Convertible and a Camaro SS Convertible.
Jim Iyke wife and children
Do you know Jim Iyke once had a secret wedding and is father to three children from three different women? To get privy to undisclosed details about Jim Iyke's intimate life including his wife, children and baby mamas, follow this link.
Jim Iyke awards and achievements
At the Vanguard 2008 awards, Iyke was voted "Nollywood's Sexiest Actor" by fans, ahead of heavyweights such as Richard Mofe-Damijo, Desmond Elliot, Ramsey Nouah, Mike Ezuruonye, and Emeka Ike.
Iyke received nearly 2,000 more votes than his closest competitor, Desmond Elliot. He asserted boldly that he would have been quite disheartened to lose to any actor of his generation, such as Desmond or Emeka.
In an interview later that year, Iyke praised himself as the hardest working guy in the nation and the most sought-after face in the business, with Ghanaians Van Vicker and Nadia Buhari.
Despite his growing popularity in front of the camera, Jim Iyke was frequently overlooked at major award shows and ceremonies, with no nominations commensurate with his celebrity status.
He received his first recorded award recognition in 2009 when he was nominated for Best Actor at the inaugural Nigeria Entertainment Awards, but lost to Desmond Elliot.
In 2011, Jim Iyke made his debut appearance at the African Movie Academy Awards, which he hosted with actress Nse Ikpe Etim for the seventh edition. However, many criticized his performance, describing him as "confused and clueless."
Jim Iyke won the Actor of the Decade award at a Screen Nation-hosted event in 2012, afterwhich, he called out the African Movie Academy Awards, dubbed the African Oscars, since he had never been nominated for this honor.
In the same year, the United Nations designated Jim Iyke as an ambassador for disadvantaged children.
The Independent National Electoral Commission (INEC) introduced Jim Iyke and other celebrities as youth ambassadors prior to the 2015 elections.
In 2008, Jim Iyke was involved in a scandalous adultery triangle with actor Emeka Ike and a married American lady. The well-documented issue reportedly developed into a physical altercation between the two stars, fracturing their tight connection.
In 2011, at a ceremony in Abuja, the two performers buried the hatchet and reunited, signalling the white flag with a brotherly embrace. It is believed that Segun Arinze arbitrated the peacemaking.
Jim Iyke was hounded by security personnel in Katsina in May 2009 after he could not reach an agreement with the production crew on a film. According to reports, Jim Iyke was threatened with a pistol to complete his contractual obligations. 
A few weeks later, the same procedures had to be taken in Asaba, where Iyke was detained for fleeing a film set to do other jobs.
Jim Iyke was criticised a few months after the release of his music album because he had not fulfilled his vow to donate the majority of the album's revenues to two charity houses.
Additional evidence indicated that he diverted funds intended for his charitable institutions into his own pockets.
In 2011, Iyke defied government regulations by driving in Abuja with tinted windows, a prohibited characteristic in the federation. This insubordination was handled by police officers who arrested and compelled the actor amidst protests to remove the infringement. 
In 2017, Jim Iyke was criticised and had to apologise for a photo he posted online showing him urinating by the roadside.
The Police Command detained him on August 27, 2018, at Murtala Muhammed Airport for refusing and striking a Dana Airlines employee who persisted in searching him before he boarded his aircraft. The actor missed his flight as a result of the ensuing altercation.
Jim Iyke and Uche Maduagwu
Jim Iyke attacked Uche Maduagwu in 2021 for questioning his source of wealth in a stunt that was rehearsed and paid for.
It was revealed in 2022 that Jim Iyke paid Uche Maduagwu a total of 4.8 million NGN for the staged fight to promote his comeback film, Bad Comments. 
Moses Inwang, in his account, "directed" the fight.
Jim Iyke and the Synagogue Church of All Nations
On Sunday, September 29th, 2013, Jim Iyke was in the headlines again, but this time under horrifying circumstances, when a video surfaced showing him being exorcised by a minister at the Synagogue Church of All Nations in Ikotun, Lagos.
He had attended the church in hopes of secretly treating his ill mother but was instead invited to a public exorcism on the allegations that his inability to marry was a supernatural occurrence.
In subsequent interviews, he disclosed that the preacher had hypnotized and used him to generate viral publicity using his celebrity status.
Popular director Charles Novia and the president of the Actors Guild of Nigeria, Segun Arinze, criticized the event. Shortly afterwards, Iyke sadly lost his 67-year-old mother. 
Jim Iyke Fraud allegations
Jim Iyke was charged with trying to defraud Hajiya Habiba of N15 million and was prosecuted in an Abuja Magistrate Court.
Jim Iyke apologized for the incident and requested an out-of-court settlement with his accuser in 2010, but he was compelled to repay the whole amount in 2017.
A few weeks after flaunting a Plymouth Prowler Convertible and a Camaro SS Convertible, it was rumored that Iyke was eluding capture by the alleged true owners.
Following persistent entanglements and scandals, Globacom opted not to renew the actor's endorsement deal when it ended in 2011 because he had run his course.
Austin Nnaemeka, CEO of ride-hailing company Mr. Taxi, labeled Jim Iyke a fraud in October 2018 after he posed as the platform's owner when he was just an ambassador.
13 facts about Jim Iyke's private life
Iyke stated in one of his interviews that he had kissed over 200 females over his extended career.
Jim Iyke has close relationships with the actor Mike Ezuruonye and singer Timaya.
Jim Iyke is a martial arts expert, holding a black belt in Taekwondo.
Jim Iyke's mother Mrs. Ngozi Gladys Okelue Esomugha, died on March 30, 2014, at the age of 67, following a protracted battle with sickness. To immortalize her, Iyke inscribed "Gladys Forever" on his right arm as his first tattoo.
Jim Iyke was at the heart of the Ebola outbreak in Liberia, which at the time had killed at least 600 people. He posted a photo of himself in a first-class airport lounge in Liberia on July 30, 2014, after cutting short a business trip to Monrovia to facilitate a departure from the nation after the outbreak of the Ebola virus, Attached to the photo was the statement, "Not ashamed to admit this scares the Jesus outta me. #Ebola."
Jim Iyke was injured in an automobile accident in Abuja in 2006, hours before a benefit event for his charitable organization, and was hospitalized as a result. He was able to attend and deliver a speech at the event, during which he complained of "severe aches."
Jim Iyke's grandmother, Felicia Obikelu, who resided in his native state of Anambra, passed away in April 2010.
Jim Iyke and fellow actress Emma Ehumadu escaped a horrific automobile accident while filming a robbery scenario for a movie in 2014. Jim Iyke, the driver of the vehicle, escaped with minor injuries, although his passenger was hospitalized.
His family resides in Abuja, the capital city of Nigeria, where he has a multimillion-naira mansion.
Iyke describes himself as a shy individual with few friends. He acknowledged having a short fuse and said in 2018 that he had been attending anger management sessions.
Yul Edochie, a prominent actor in modern-day Nollywood, cited Jim Iyke as the inspiration for his acting career.
Jim Iyke has also said publicly that he "has never gotten along with Charles Novia because we have always been at odds."
Iyke has been praised for his fashion sense, with Omotola Jalade-Ekeinde naming him "Nollywood's best-dressed actor."
Jim Iyke has featured in about 200 movies, with the most notable being: 
Gabriel Moses' One Dollar,
Afam Okereke's Beyonce & Rihanna,
Chico Ejiro's Deadly Kiss,
Moses Inwang's Stalker,
Ayo Makun's Merry Men,
Moses Inwang's American Driver,
Afe Olumowe's When Love Comes Around,
 Chinaza Onuzo's The Set Up, 
Aguila Njamah's Heartbeats,
Tarila Thompson Virgins Night Out, and
 Toyin Abraham's Seven and a Half Dates.
He has co-starred with several television stars including:
Omotola Jalade-Ekeinde, 
Emeka Ike, 
Ramsey Nouah, 
Rita Dominic, 
Mercy Johnson, 
Pete Edochie,
Ini Edo, 
Adesua Etomi-Wellington, 
Mike Ezuruonye, 
Patience Ozokwor, 
Van Vicker, 
John Dumelo, 
Genevieve Nnaji, 
Uche Jombo, 
Nadia Buhari, and 
Van Vicker.
Jim Iyke is well-known as a philanthropist who established the Jim lyke Foundation for Children with Special Needs. The charity assumes the financial burdens of children requiring surgery.