John Cena net worth 2023
Explore John Cena's incredible journey from struggling beginnings to a net worth of $80 million, driven by wrestling, films, and philanthropy.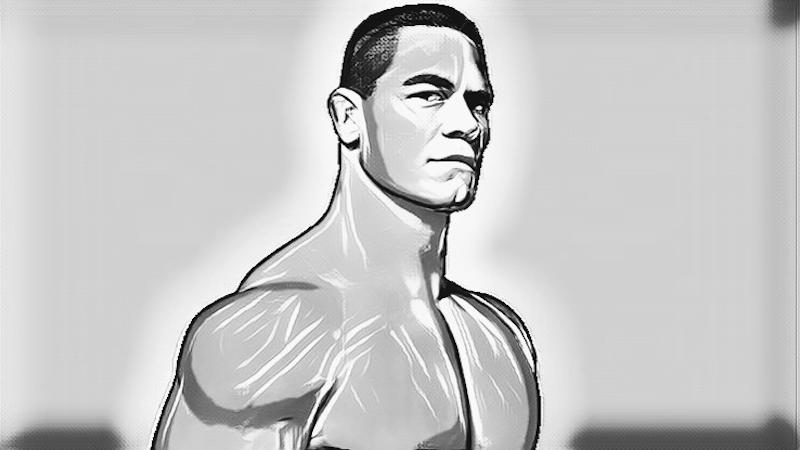 John Cena, whose net worth in 2023 surpasses $80 million (according to Forbes), undeniably stands out as one of the most prominent professional wrestlers of the current generation. Over the span of his remarkable 18-year full-time career, Cena has not only attained widespread fame but has also amassed substantial wealth that positions him in an elite pantheon alongside some of the world's richest actors and the globe's wealthiest footballers. 
At the age of over 46, John Cena has achieved a diverse range of accomplishments: he ventured into bodybuilding, clinched the WWE championship an astounding 16 times, produced a platinum-selling rap album, and currently thrives in Hollywood with his acting career, notably as the lead character in the successful HBO series "Peacemaker." 
What truly characterises John Cena's career is not solely the substantial financial gains it has yielded, but also his remarkable versatility and multi-faceted involvement outside the wrestling ring. 
Throughout his professional journey, Cena delved into various arenas, including sports and the arts, excelling in acting and music. This multifaceted approach enabled him to amass substantial wealth, firmly establishing his place among the world's wealthiest individuals. His renown extends beyond the wrestling arena to the realm of Hollywood films.
As of now, John Cena boasts a net worth of $80 million and currently operates as a part-time WWE wrestler, contributing to the Raw and SmackDown brands. The world champion has garnered this impressive net worth through his endeavors as a wrestler, actor, rapper, and media personality. 
Reports indicate that Cena's net worth in 2016 amounted to $35 million, with an annual income of $9 million. In 2017, Cena's earnings reached $8 million, positioning him as the second-highest paid wrestler, behind only Brock Lesnar, who earned $12 million.
John Cena source of wealth
While Cena's annual income can fluctuate, estimates suggest it falls in the range of $10 to $15 million per year. This income primarily derives from his contracts with WWE, as well as his involvement in films and other projects. 
Wrestling
Throughout his career, John Cena has achieved remarkable success and financial prosperity, particularly during his tenure as a professional wrestler in WWE. 
His popularity and exceptional performance within the wrestling arena enabled him to accumulate substantial income through various means, including a base salary, bonuses from the sales of merchandise featuring his likeness, and participation in special events.
Cena's journey in WWE began in 2000 when the organisation was still known as WWF, and even though his first match resulted in a loss, he swiftly became one of the most beloved figures in the wrestling industry. 
Prior to his WWE debut, he initiated his professional wrestling career with Ultimate Pro Wrestling (UPW) in 1999, setting the stage for his ascent to stardom.
Upon joining WWE in 2001, Cena embarked on a highly successful wrestling career, solidifying his status as one of the most famous and accomplished professional wrestlers in the industry. 
Over the course of his impressive 18-year full-time career, Cena secured an impressive 25 championships, including 13 WWE Championships and the WWE World Heavyweight Championship three times. 
Notably, he became champion in 2004 by defeating the Big Show, clinched his first WWE Championship in 2005, and attained world heavyweight champion status in 2009. 
John Cena is the sole fighter to win the World Championship an astonishing 13 times, making him one of the highest-paid athletes in WWE history, consistently securing substantial contracts each season.
Although the precise figures are not officially disclosed due to WWE's privacy policies, it is estimated that Cena's earnings from salaries alone throughout his career approach nearly $50 million. 
In the 2020 season, he was believed to have earned approximately $8.5 million, underlining his financial success and enduring prominence in the wrestling world.
At some point, John Felix Anthony Cena Jr. commanded an impressive annual salary of approximately $10 million, positioning him as the top-earning wrestler in WWE, surpassing even Brock Lesnar, known as the 'Beast Incarnate'. 
In addition to his regular wrestling commitments, Cena's earnings receive significant boosts from his appearances at various events and promotions. 
Depending on the significance of the event and his role in it, Cena is estimated to earn a substantial sum ranging from $500,000 to $1 million for a single appearance.
Cena's illustrious career is further highlighted by his achievements within the wrestling world. He holds the distinction of being a five-time US National Champion and a three-time recipient of the Superstar of the Year Slammy Award, bestowed upon him in 2009, 2010, and 2012. 
The bulk of John Cena's wealth has been amassed through his highly successful wrestling career. Even today, he maintains an active contract as a part-time WWE performer. 
While his earlier daily appearances came with a staggering $10 million price tag, his current annual salary has scaled down to $6.5 million. This reduction can be attributed to his reduced frequency in WWE appearances, where he may appear only once or twice a year to engage with fans.
Within the confines of sports and entertainment, Cena's financial standing places him among the most prosperous individuals. Nevertheless, his fortune does not ascend to the heights of some of the wealthiest footballers, such as Cristiano Ronaldo or Lionel Messi, whose immense wealth stems from lucrative contracts and high-profile advertising deals in the world of soccer.
Television
John Cena's foray into the world of Hollywood has significantly contributed to his burgeoning net worth, which has surged from $60 to $80 million in recent times. 
His acting career began in earnest with his debut film "The Marine" in 2006, which proved to be a lucrative endeavour, grossing $22.2 million. Notably, the film made an impressive $7 million in its first week and $18.7 million over ten weeks, further bolstered by approximately $30 million in DVD sales within the initial twelve weeks.
Cena's journey in the film industry continued to be marked by success. His roles in movies such as "12 Rounds" (grossing $29.672 million), "Trainwreck" ($140.8 million), "Sisters " ($105 million), "Daddy's Home" ($242.8 million), and "Daddy's Home 2" ($180.4 million) added substantial figures to his financial portfolio. In 2017, Cena even lent his voice to the animated film "Ferdinand."
In 2021, Cena made a remarkable impact in the world of cinema, starring in two notable films. He played a pivotal role as The Peacemaker in James Gunn's superhero film "The Suicide Squad," establishing himself as one of the standout stars. Additionally, he embraced the role of a formidable antagonist in "F9," the ninth instalment of the Fast & Furious saga, alongside Vin Diesel and another wealthy wrestler-turned-actor, Dwayne Johnson. 
Parallel to his wrestling career, Cena's acting journey has evolved significantly, commencing with his uncredited appearance in "Ready to Rumble" in 2000 and extending to 2023, where several films feature his name: "F9," "Barbie," "Vacation Friends," "Fast X," and "Freelance."
Notably, Cena's salary for his role in "The Suicide Squad" reached $7 million, positioning him as the third-highest earner in the cast, trailing only Margot Robbie, the undisputed star of the first installment, who earned $10 million, and Idris Elba, who secured $8 million.
While his appearance in "The Suicide Squad" was in a supporting role, it nevertheless yielded substantial financial gains. The exact earnings for his role in "Peacemaker" remain undisclosed, but it can be reasonably assumed that they are in line with the figures from his film work.
Cena's films have consistently demonstrated their box office appeal, with an average gross of approximately $52,308,260, further establishing his presence and financial success in the realm of Hollywood.
John Cena has indisputably established himself as a versatile entertainer, showcasing his talents not only in the wrestling ring and on the big screen but also on television. He currently serves as the host of the program "Are You Smarter Than a Fifth Grader?" on Nickelodeon, further expanding his presence in the entertainment industry. Furthermore, Cena has made noteworthy appearances in various television shows, including "Jimmy Kimmel Live," "Late Night with Conan O'Brien," "Extreme Makeover: Home Edition," and "Saturday Night Live," among others.
While Cena's success in Hollywood is undeniable, his fortune still doesn't reach the staggering levels of the world's wealthiest actors, such as Tom Cruise and Tyler Perry, who have managed to amass fortunes reaching into the hundreds of millions of dollars over the course of their careers.
Investments
In addition to his accomplishments in the fields of television and film, Cena has proven his mettle as a businessman. He has ventured into entrepreneurship with the launch of his own clothing line, known as "Elbow Grease." 
Apart from real estate, Cena's investments extend to his collection of Girard Perregaux BMX Laureato watches, each valued at $6,395, showcasing his appreciation for luxury timepieces.
Endorsements
Regarding endorsements, Cena boasts lucrative multi-million dollar contracts with several prominent brands, including Gold's Gym, Gillette, YJ Stinger, Subway, Capri Sun, and Fruity Pebbles. 
It's estimated that his endorsement deals alone have contributed an additional $5 million to his net worth. Noteworthy among these contracts is that signed with YJ Stinger energy drink, which serves as his primary sponsor.
Music
Cena's foray into the music industry has also played a role in augmenting his net worth. His 2005 debut album, "You Can't See Me," was met with a warm reception from the public and even achieved a peak position at number 15 on the US Billboard 200 chart. 
"You Can't See Me" achieved gold record status, selling more than 150,000 copies, as recognized by the Recording Industry Association of America.
In 2014, Cena collaborated with rapper Wiz Khalifa, featuring on two songs, "All Day" and "Change." Notably, Cena's WWE theme song was both written and sung by him, underscoring his musical talents and contributions within the wrestling world.
In terms of real estate, John Cena's primary residence is located in Tampa, Florida, within the exclusive Nature's Reserve private community in Land O' Lakes. 
He initially acquired this stunning mansion in January 2005 for a sum of $525,000, and over the years, he has undertaken a series of renovations and expansions, further enhancing its appeal. 
The property spans approximately 350 square metres and is known for its impressive features, including an indoor pool, a kitchen adorned with ivy, a spacious gym, a downstairs piano, and an expansive balcony. Cena previously shared this residence with his ex-fiancée, Nikki Bella.
As of today, this remarkable property is valued at a substantial $3.4 million, reflecting the significant investment and improvements Cena has made.
Additionally, Cena owns a colonial-style home situated in Mission Hill, in the San Diego area. This property boasts an infinity pool, a complete outdoor kitchen, and a range of luxurious amenities. 
Cena purchased this house for $3.4 million, underlining his penchant for high-end real estate.
Furthermore, Cena possesses a $437,300 mansion located in New Westbury, further diversifying his real estate portfolio. 
John Cena's affinity for automobiles is abundantly clear, as he possesses an extensive and diverse collection of cars, each reflecting his distinct tastes and preferences. 
Among his impressive fleet, Cena owns a luxurious Maserati with a starting price of $73,050 and a Lamborghini Countach, valued at $575,000. His collection also includes the Honda Sports EV concept and the rare Laraki Epitome car.
Cena's automotive interests span a broad spectrum, encompassing solid and iconic vehicles such as the 2006 Rolls Royce Phantom, as well as sports cars with rich traditions like the Ferrari 599, of which he boasts two, with an estimated cost of around $275,000 each. 
However, it's in his garage where the true breadth of his passion for automobiles becomes evident. Collector models like the '66 Dodge Hemi Charger, a 1969 AMC AMX, Dodge Daytona, 1970 AMC Rebel Machine, COPO Chevrolet Camaro, Ford Mustang Cougar Eliminator, and the intriguingly named InCENArator, among many others, contribute to the allure of his collection, with his vehicles collectively valued at around half a million dollars.
For long-distance travel, Cena prefers the comfort and convenience of private jets, ensuring a seamless journey. 
When he's on tour for work, he takes his own bus, meticulously equipped with all the amenities necessary to make it feel like a home away from home.
However, Cena's love for cars did lead to legal issues in December 2017 when Ford took legal action against him. The lawsuit centred around his sale of a custom Ford GT sports car, which Ford alleged was in violation of a contract he had signed with the company. 
Ford claimed that Cena was chosen from thousands of applicants to purchase the Ford GT and had agreed to own the car for at least two years. 
According to Ford, Cena's unauthorised resale of the vehicle resulted in significant profits, leading to losses and damages for Ford, including harm to their brand's value, ambassadorial activities, and customer goodwill. 
As a result, Ford sought to recover the profits Cena had earned from the sale of the car.
John Cena's philanthropic endeavors are as remarkable as his wrestling and entertainment career. Beyond the corridors of wrestling, he is well-known for his profound generosity, actively participating in various charity events, with a particular focus on the non-profit organization Make-A-Wish Foundation. 
Cena's contributions to Make-A-Wish Foundation are truly exceptional, as he has granted over 500 wishes to children facing life-threatening illnesses. In 2011, he made a substantial donation of $9 million to the Make-A-Wish Humanitarian Foundation, further underscoring his commitment to this noble cause. 
Additionally, in 2013, Cena donated $4.5 million, continuing his steadfast support for the organisation and setting an all-time charity record.
Cena's philanthropic efforts extend to raising awareness for important causes, such as Breast Cancer Awareness Month, which he actively promoted in September and October 2012 in collaboration with Susan G. Komen, further showcasing his dedication to making a positive impact in the community.
His contributions to charity were also recognized in 2009 when he received the Chris Greicius Celebrity Award.
How did John Cena become so wealthy?
John Cena's journey to immense wealth is a tale of determination and perseverance. In 1998, he obtained his bachelor's degree in exercise physiology and decided to embark on a career in bodybuilding. 
However, while pursuing his dreams, he faced the reality of making ends meet by working as a limo driver. This job, as Cena revealed during an interview with Seth Meyers, was exceedingly demanding. 
Unfortunately, persistent issues with punctuality, with delays of up to three hours, ultimately led to his termination from this job.
During an interview on Kevin Hart's show, "Hart to Heart," Cena opened up about the profound challenges he encountered before achieving fame and financial success. He shared the hardships he endured, including a period where he survived on donated pizza and even experienced homelessness. Cena's family, initially supportive of his endeavours, eventually withdrew their support while still expecting him to attain success.
After completing his university education, Cena ventured from his native Massachusetts to Los Angeles in search of a career aligned with his fitness-related degree. 
However, he faced a series of rejections due to his lack of experience and professional connections, making it a challenging road to establish himself in the field.
As Cena recounted, his move to Los Angeles was motivated by the desire to apply his knowledge in exercise physiology and kinesiology, rather than seeking a career in entertainment. 
Throughout this tumultuous period, Cena's determination shone through. He persevered, even sleeping in the back of his 1991 Lincoln Continental car and relying on donated pizza to sustain himself. 
This incredible journey from hardship to the pinnacle of success is a testament to Cena's unwavering commitment and resilience in the face of adversity.
In a previous interview with The Sun, John Cena revealed that during a challenging period in his life, he secured a part-time job at a gym. This job not only provided him with the means to cover his basic expenses but also allowed him the dignity of daily showers. 
He described this phase of his life as "uncomfortable," yet it served as a turning point that prompted him to reassess his aspirations and find a new path for survival. 
His motivation to avoid returning to Massachusetts with a sense of failure, as his family had feared, became a powerful driving force.
Reflecting on this chapter of his life, Cena expressed gratitude for the difficulties he faced, as they were, in his words, "my choice to go through difficult times." This choice ultimately shaped his character and resilience.
In 2000, Cena made a pivotal decision to enroll in the Ultimate Pro Wrestling school. His dedication and hard work paid off when he made his WWE debut in 2002. 
This significant turning point marked the inception of his future success as a professional wrestler. His auspicious debut in the ring catapulted him to become one of the most famous, beloved, and highly compensated wrestlers on American television. It also paved the way for his transition into a successful career as a presenter and professional actor.
Upon signing with WWE, Cena ventured into the film industry, making his appearance in the movie "Ready to Rumble." In 2006, he starred in "The Marine," which impressively doubled its initial estimated $15 million investment.
As Cena continued to rise in both the world of wrestling and entertainment, his financial prosperity also soared. 
By 2013, he was already earning an annual salary of $1.7 million, in addition to up to $5 million from sponsorships, according to The Richest. In 2014, his income reached $2.7 million with WWE.
One of the landmark moments in Cena's career was his iconic wrestling match with Dwayne "The Rock" Johnson, which set viewing records in the United States in 2012. 
Beyond the wrestling ring, Cena became a hero to many children who idolized him in his role as a wrestler and later transitioned to the silver screen with roles in box office hits such as "The Suicide Squad," "Dad's War 1 and 2," "Fast and Furious 9," and "Fast and Furious 10." Most recently, he starred alongside Dua Lipa in "Barbie."
These transformative events, as Cena recounted on "Hart to Heart" with Kevin Hart, were essentially a series of "accidents" that helped him rebuild his life from the ground up after experiencing periods of homelessness during his youth. 
Cena characterized his entire existence as a result of these fortuitous events, acknowledging the role they played in shaping his extraordinary journey.