Kemi Adetiba: Biography, net worth, husband, and movie career
Sassy, boss lady video maker, Nigerian director Kemi Adetiba is not called "Bruce Lee of Visuals' for nothing.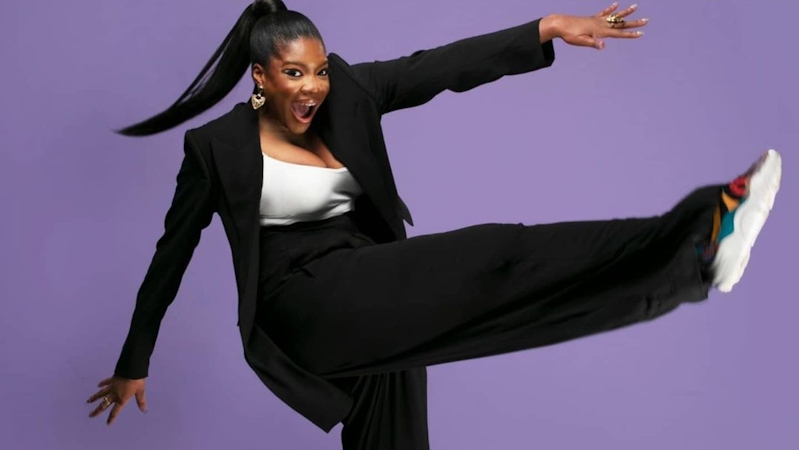 Nigerian filmmaker, television director, and music video director, Kemi Adetiba has become a force to be reckoned with in the Nollywood industry.
 Popular for her blockbuster political thriller "King of Boys" Kemi Adetiba has a knack for creating masterpieces from her input on the 2016 movie"Wedding Party", which entered the highest-grossing movie list that year.
The record was only broken by Funke Akindele's "Omo Ghetto: The saga".
Regardless Kemi Adetiba possesses an eagle eye for creative productions, this is what has influenced the quality of her work with Nigerian celebrity artists like Olamide of YBNL on visuals for " Anifowose," Wizkid's "Tease Me/Bad Guys".
Kemi Adetiba's works have appeared on Channel O, MTV Base, Soundcity TV, BET, and Netflix
However, to understand the versatility of this unusual filmmaker, Kemi Adetiba, let's take a deep dive into the biography, personal life, health, career decisions, her husband, marriage, and achievements that have cemented Kemi Adetiba as an authority in the Nollywood film industry.
Kemi Adetiba's biography, age, and profile
Nigerian filmmaker Kemi Adetiba was born on January 8, 1980, to Ekiti father  Dele Adetiba, and Efik mother, Mayen Adetiba. Her father, Dele Adetiba, was Nigeria's iconic sports broadcaster, a veteran in the advertising and broadcast industry.
Her mother Mayeni Adetiba is an engineer and actor who happens to be the first female civil engineer to be elected into the Executive Committee of the Nigerian Society of Engineers.
Kemi comes from a rich background of successful parents in their respective fields.
Young Kemi Adetiba started her media journey as a child where she featured in two national television commercials for the detergent brand OMO, trudging her father's broadcasting path of her father, Dele Adetiba. Kemi Adetiba is 42 years old as of 2022.
She attended Atlantic Hall High School, and the University of Lagos with a law degree and was called to Bar at Nigeria Law School.
However, Kemi had a different career path in mind as she decided to go into the media space.
Kemi Adetiba's was formerly an on-air personality
She started professionally as a radio presenter with Rhythm 93.7 FM and became the voice behind two nationally syndicated hit shows: Soul'd Out and Sunday at the Seaside.
Kemi began anonymously posting personal remixes online on various applications such as Spotify and Soundcloud under the username and tag 'hule'.
Gradually Kemi Adetiba proceeded to make a transition from being a voice on radio to getting on television by producing and presenting several shows on Mnet, which includes Studio 53, and Temptation Nigeria which she presented alongside Ikponmwosa Osakioduwa. 
Kemi was also a presenter on Soundcity TV and hosted all three seasons of  Maltina Dance.
Subsequently, Adetiba decided to take the game a notch higher and enrolled in the New York Film Academy to learn about visual production, this decision marked a turnaround for Kemi.
Her short film Across a Bloodied Ocean was screened at the 2009 Pan African Film Festival and National Black Arts Festival.
By September 8, 2016, Kemi Adetiba's first feature film as director, 'The Wedding Party' premiered, at the Toronto International Film Festival (TIFF), as the opening film of the City-to-City Spotlight.
It also premiered on 26 November 2016 at Eko Hotel and Suites in Lagos. The film quickly went viral and became the highest-grossing Nigerian film with a whopping ₦453,000,000. The record was broken in 2017 by its sequel 'The Wedding Party 2.'
In 2017 Kemi launched her show ' King Woman' an interview-based series about Nigeria's most powerful women of all time.
Presenting the show King Women, Kemi interviewed her mother Mayen Adetiba, Chigul, Taiwo Ajai-Lycett, Jumoke Adenowo, Adesua Onyenokwe, TY Bello, and Tara Durotoye.
The following year, 2018 Kemi Adetiba released her most famous work of art 'King of Boys' starring veteran actress Sola Sobowale in the lead role.
The movie focuses on power tussle and stars rappers Illbliss and Reminisce in their movie debut roles.
King of Boys was produced, written, and directed by Kemi Adetiba and Kemi Adetiba visuals.  It was listed as one of the top 10 movies of 2018 and grossed a total of N245 million naira.
The award-winning director crowned her masterpiece film with a seven-part series on Netflix as its sequel 'The return of the King'. In the light of Kemi's beautiful achievements the filmmaker at 42 recently walked down the aisle.
Kemi Adetiba is married to her beau Oscar Heman- Ackah
Kemi Adetiba got engaged to the love of her life, Ghanian music executive Oscar Heman-Ackah on the 28th of January, 2022 while she was on vacation in Ghana family and a few friends and colleagues of hers were in attendance.
Although she didn't announce it till February 9  on Wednesday when she shared a video and pictures of the moment her man, Oscar, popped the forever question.
On April 23rd, 2022, Kemi Adetiba finally got married to Oscar Heman-Ackah whom she has been engaged to earlier, she officially tied the knot in a star-studded wedding ceremony. Which had in attendance Sola Sobowale, Hilda Dokunbo, Ini Edo, Mercy Eke, Adesua Etomi, Banky Wellington, and others.
Recall that the entertainment mogul donned a  'satellite gele' on her wedding day which stirred reactions. According to Adetiba she simply wanted to stand out as the tallest person in the room because of her gele.
Adding that she wanted to be regarded as the 'King of Brides'.
The occasion had the filmmaker dazzle in three different outfits for the wedding ceremony with her handsome husband by her side. At 42 years old, Kemi Adetiba's wedding with the #Undeniablyyours hashtag had fans swooning at how the delectable filmmaker snagged Oscar Heman Ackah.
Who is Kemi Adetiba's husband, Oscar Heman-Ackah?
Kemi Adetiba's husband, Oscar Heman- Ackah is a Ghanian Nigerian music executive and creative entrepreneur. He is the chief executive officer of Soltracka productions, creative marketing, advertising, media agency, music label, and production company.
According to reports Oscar has worked with famous brands and multi-national companies by creating jingles and adverts. As a music producer.
His portfolio spans the likes of Simi, Omawumi, 2baba, Praiz, Adekunle Gold, Darey Art-Alade, and hosts of other musical acts.
Oscar Heman-Ackah was born to the founder and Senior Pastor of Rainbow Christian Assembly, Apostle Dave Heman-Ackah, and his wife Pastor Rhoda Heman-Ackah.
Apostle Dave Heman-Ackah is from Ghana while his wife hails from Delta state, making Oscar a Ghanaian Nigerian. Oscar's creative skills in the industry pair nicely with his wife, Kemi Adetiba's path in movie production.
Apart from her husband, Oscar, Kemi had always emphasized that everyone in her family was in the creative space but in a different sphere. Especially her brothers who have each picked a path in the Nigerian creative industry.
Kemi Adetiba's Awards and recognition
Her works speak of her talent and prowess in visual productions. This has earned Kemi Adetib a seat at the table of awards and recognition. She has won  several awards, which includes the following.
• Best Female Video for the song "Ekundayo" by TY Bello at the Soundcity TV Music Video Awardsk.
•Best Female Video for the song "Today na Today" by Omawumi at the 2010 Nigeria Entertainment Awards. 
• Nominated for Best Music Video Director of the Year at The Headies 2014.
•Won the City People Entertainment Award for Best Music Video Director Of The Year (2015)
•On-Air-Personality of the Year award by The Future Nigeria Awards (nominated for five years)
•The HNWOTY Award for Woman of the Year in Film and Television (2017)
•2021 African Entertainment Awards USA, for Best African Movie(King of Boys)
Kemi Adetiba Illness and surgery
Kemi Adetiba Illness and surgery
During the trailers and posters of the highly anticipated 'Return of the King' sequel to King of Boys;   Kemi took to her Instagram page to narrate her near-death experience six months before shooting the film.
She stated that she had to move to the set straight from the hospital. Further explaining that a lot of tears and sacrifice had gone into the production of the movie.
Also in 2015, the video director Kemi Adetiba shared the story of her fibroid surgery. Initially, she had kept it secret but opened up about the surgery after a fan of hers reached out to her to ask about her battle with fibroid.
"I battled with an extreme case of Fibroids in secret for many years.
 When I say extreme, I mean EXTREME. From being rushed to the ER where the intense PAIN wouldn't even allow me cry, to being dangerously close to death.........."
Kemi Adetiba revealed that she was only speaking out about it to encourage other women battling the same issues with fibroid.
The legendary media personality Kemi Adetiba  is one of the most influential in Nigeria with an estimated net-worth of about $1,000,000.
Especially with a number of exceptional  movies that have received enormous sales, and popularity not excluding several endorsement deals and businesses as well.