Who is mummy GO? Profile of controversial preacher of rapture and hell
Evangelist Funmilayo Adebayo, aka Mummy G.O, is a viral sensation that broke the net a few months ago with her outlandish religious view of hell and heaven.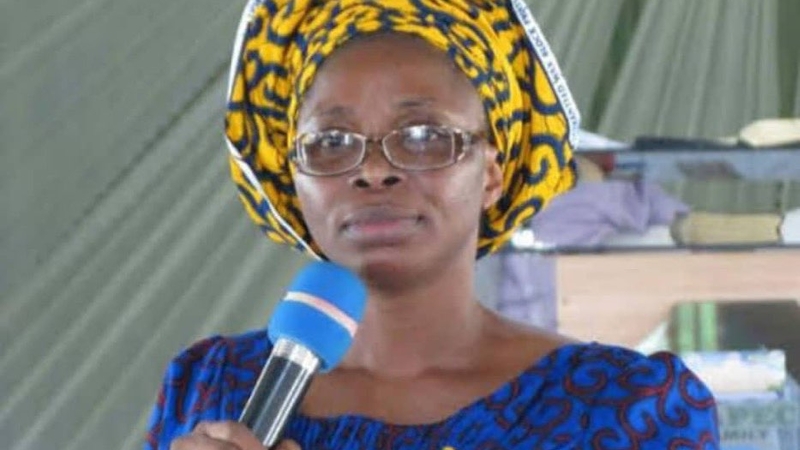 If you are active on social media, you must have wondered, "Who is Mummy G.O., the new trending name on the internet?" This article gives you all the information you need about who Mummy G.O. is, her background, ministry, and preaching.
Mummy GG.O.became a trending sensation last year and well into January when her photographs went viral in memes on social media platforms including WhatsApp, Twitter, Instagram, Facebook, and TikTok.
Mummy GG.O.is now a popular figure on most social media platforms for those still wondering who Mummy GG.O.is. Some of her controversial videos have been captured by @dramatic_people on Instagram, a top social media handle in Nigeria.
Gradually, as Mummy GG.O.'s videos gained traction and organic shares, she soon became a famous personality. Let's go deeper into the life of Mummy GG.O., her biography, and her rise to social media prominence.
Mummy GO is a Nigerian evangelist and pastor. Mummy G.O.'s full name is Evangelist Funmilayo Adebayo. She is popular for her controversial sermons about hell and the end of time. Mummy G.O. was born on June 15, 1967.
Mummy GO is the founder of Rapture Proclaimer Evangelical Church of God. She also owns REPEG, an institution that teaches theology to potential evangelists.
Despite Mummy's G.O.'s fame and prestigious position today, she was very poor years ago before her breakthrough in the ministry.
According to Mummy G.O., she would go to the bus stop in Ifo, Ogun State, to beg for alms before feeding herself and buying a battery for her megaphone to preach the gospel of Christ and print tracts.
She also depended on paltry wages, doing menial jobs for people. "I needed to do this to raise money to do my evangelism," said Evangelist Adebayo (Mummy G O). Evangelist Funmilayo described her period of poverty as the price of living a sinful life before her conversion to Christianity.
"These were the prices that I had to pay for all the havoc I wreaked when I was in the world," she said.
Mummy G.O.'s conversion to Christianity
Evangelist Funmilayo Adebayo (Mummy G.O.) released several videos online to narrate her life and journey before meeting Jesus.
According to the evangelist, she was going to hell to carry out an assignment. Suddenly, somebody shouted her name twice, "Funmilayo" she was shocked because she believed that nobody knew her real (earthly) name.
She said, "When I heard the name the third time, and I turned to rebuke the person, I saw a very handsome, huge, awesome, and attractive personality. Then, I sensed that Jesus Christ must have been calling my name. I also remember that we were taught about him during our training in the kingdom of darkness.
The name they call him there is "Son of the Owner." Nobody dares call him by his real name (Jesus) because the name is so strong and mighty that it shakes the kingdom to its roots. Based on how he was described as the most handsome, I was sure that the personality I saw was indeed Jesus.
When I became bold and turned to face Him, I asked: "What can I do for you?" Who are you?" He replied, "I need you," and I replied that I was going on a mission. He said that He knew I was going on a mission.
Immediately He said this, my body was on fire, and I surrendered and said: "I will go with you, I will be with you." I also told Him to "send me; I will go for you." But later, I made bold to tell him:
A servant cannot serve two masters. I have my own master. You know your people, and your people know you. Why then are you coming for me?" But He said to me: "I own both you and your master. Heaven and earth belong to me. I own everything."
When I looked into His eyes, they were glittering like a burning fire and light that are incomparable with any other fire and light. They were so bright that I almost got blinded.
Since then, my eyes are still not normal. I can't see properly, and I can't even read a signboard or use glasses. I can only manage to read my Bible", Evangelist Funmilayo claimed while speaking to members of her church.
Mummy GO's Church is Rapture Proclaimer Evangelistic Church (RAPEC). Evangelist Funmilayo Adebayo preaches and ministers there every Sunday.
The church headquarters address is 31 Adeyefa Street, Iyana Ipaja, Lagos.
Some news platforms in Nigeria decided to carry out onsite investigations into RAPEC and its members.
According to Saturday Tribune  RAPEC (Mummy GO's church), it was described by some residents of the area where the church is located as a "sanctuary of God", which is accessible only to worshippers that are willing to abide by the church rules.
For the members, the watchword is restraint, as there is no atonement for sin. It is simply going against the rules, or going to hellfire!
From viral videos on social media of Mummy G.O's preaching, the church does not allow the use of jewelry, attachment, and makeup. Also, barbing skin for men is prohibited; it is a sin in RAPEC.
Funmilayo Adebayo's (Mummy G.O.) preaching
Mummy G.O.'s preachings are laced with conspiracy theories about vaccines, technology, and beauty products. That explains why many people ask the probing question, "Who is Mummy G.O."?
Armed with judgmental references to her acclaimed past life in the spirit realm, Mummy G.O. dishes out fire and brimstone of practices that qualify people for hellfire.
Many have disagreed with Evangelist Funmilayo Adebayo's preachings, calling them "false doctrines," while others have seen the preachings as "a desperate attempt for fame."
For example, in one of her viral messages, the clergywoman said break dancing originated from the land of the dead.
"Where did break dancing generate from? Michael Jackson. He got power from the dead land. What is the land of the dead? Skeleton. Skeleton is not for the living. If you breakdance, you're telling God you're dead," she said.
In one of several memes, the woman said boys who give girls money in 2022 would be "giving away their glory."
In another, the clergywoman claimed the US-based company, Walt Disney, projects the number 666 in the design of its name — with 666 being the biblical mark of the Antichrist as widely held by Christians.
On the COVID-19 vaccine, the Evangelist said that those who take the vaccine should never anticipate heaven.
Evangelist Funmilayo Adebayo (Mummy G.O.)further said if you remove the "o" from Hello, it becomes Hell, and so it is a language of sin, and that makeup is a sin.
Online users reacted to Mummy G.O.'s controversial quotes and sermons as "hypocritical" and said the Evangelist was looking for attention.
However, in her interview with BBC pidgin, it's obvious that the 54year old passionately believes in what she preaches.
"Yes [I said women who do makeup would go to hellfire] because go to other religion, even the Muslim there is something we call modest. I have traveled to many Muslim countries; you would never see any Muslim women wear anything that would open their bodies.
Based on Mummy G.O.'s standard of holiness, many would wonder if she had ever been married before.
Funmilayo Adebayo's (Mummy G. O) husband
According to Evangelist Funmilayo Adebayo, in one of her videos, she spoke about marrying her ex-boyfriend from the days when she was still in the world. Mummy GO was allegedly married to her first husband, but they are no longer together.
The clergywoman has a son, Samuel, who has constantly come forward to defend his mother from the press.
Evangelist Funmilayo Adebayo's photo with a microphone has been captured in several hilarious and controversial memes and quotes on social media.
Parody accounts have also emerged for the lady evangelist on Instagram.
Some individuals have turned her audio into trending sounds on Tik Tok,  with comedians and celebrity stars imitating Funmilayo Adebayo.
Stars like Don Jazzy and Maraji have produced or imitated one of her outlandish videos on the internet.
Many come up with different memes of Mummy G O and attach her pictures with personally fabricated controversial quotes.
The Evangelist's son, Samuel, speaking to the Punch, said his mother was "not bothered" about the memes circulating on social media.
Samuel also advised social media users not to take his mother's comments personally but to feel free to ignore or accept any of her sermons that align with their belief system.
It seems like Mummy G.O's new celebrity status is paying off, as she is on vacation outside Nigeria.
Recently, Evangelist Funmilayo Adebayo shared a video of herself having a swell time in Dubai.
Clothed in a white bathroom robe, Mummy G.O did a mini-tour of the lodge where she was staying.
Squealing with excitement throughout the video recording, the evangelist's trip has spurred reactions from the public.
Some netizens teased her about going to hell for enjoying herself and using technology.
Social media commentator Reno Omokri reacted to the viral video.
"Who would ever have believed that Mummy GO will be prancing around a hotel suite in a bathing robe and showing off like BBNaija housemates? The old Mummy GO would have declared such "worldly" behaviour as a straight ticket to hell. Enjoy Dubai Funmi, but make you avoid hell," he wrote.
Organizations and individuals have continued to use Mummy G.O's pictures to create funny and marketing memes.