Sola Sobowale: Biography, net worth of veteran Nollywood actress
Sola Sobowale is one of Nollywood's most influential veteran actresses. With a career spanning more than three decades, Sola Sobowale is a force in the Nollywood industry.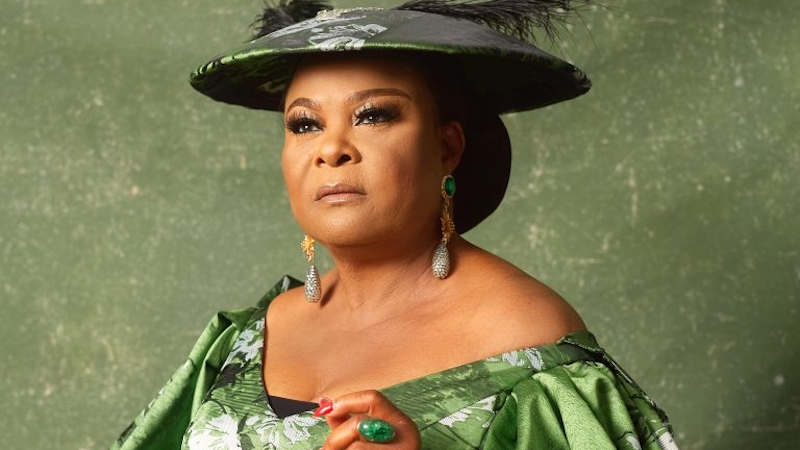 Nollywood star actress Sola Sobowale has become a household name. With her 40-year career log the Nigerian actress, movie producer, screenwriter, and director has proved that hard work and talent are enviable skills.
The 'Wedding party' actress, Sola Sobowale has always accredited her success in the Nollywood industry to God. Her role in movies has been a source of inspiration to many young upcoming actors, recently her career reinventing role in 'King of Boys' produced and written by Kemi Adetiba, launched the veteran actress into another dimension of her career.
Ever since the release of KOB(King of Boys) in 2018, Sola Sobowale has been tagged 'Oba'.
The Nigerian veteran actress, Sola Sobowale is a force to be reckoned with and is one of Nollywood's most influential actresses.
This article would cover Sola Sobowale's biography, her career, marriage, education, and her net worth in 2022.
Early days of Sola Sobowale
Sola Sobowale's early life
Sola Sobowale was born on December 26, 1965, in Ondo State to Joseph and Esther Olagookun. 
Her father was a retired principal and her mother, was a former headmistress. After her primary and secondary education, she got admitted to the University of Ibadan to study Music. But, along the line her passion for acting made her decide to finish with Theatre Arts.
However, after her university conviction, things did not go as planned for Sola.
Sola Sobowale's acting career
Sola's acting career was not a smooth ride at the beginning. First, she got into the industry with the help of her brother-in-law, Tunji Oyelana where she made her acting debut in the movie Sura the tailor.
Tunji Oyelana played a critical role in Sola's acting career, he also enrolled her in the University. Oyelana doubled as a lecturer, singer, and actor.
At first, Sola's parents were against her acting but Oyelana was able to convince her parents that was a noble profession and not an avenue to become wayward. Fortunately, Sola's parents gave their consent.
Before stardom, Sola Sobowale had roles in The Village Headmaster, Mirror in the Sun, and the Yoruba film, Asewo To Re Mecca.
Sola Sobowale joined acting through numerous roles in movies produced by Awada Kerikeri Group under the leadership of Adebayo Salami.
Sola Sobowale on movie set for Kunle Afolayan's 'Anikulapo' movie
Over the years, Sola has scripted, co-scripted, directed, and produced several Nigerian films including Ohun Oko Somida, a 2010 Nigerian film that stars Adebayo Salami.
She starred in Dangerous Twins, a 2004 Nigerian drama film produced by Tade Ogidan, written and directed by Niji Akanni. She also featured in Family on Fire produced and directed by Tade Ogidan.
Sola Sobowale hit a jackpot when she got her role in Super Story as Toyin Tomato.
However, since her big come back, the veteran actress has metamorphosed from Toyin Tomato to Eniola Salami and now Laburu, a lead character she played in Kemi Adetiba's 'King of Boys',
Anyone would be amazed at the radical rebrand that Sola Sobowale's acting career has experienced in 6 years following her absence to travel to the UK and take care of her children and husband.
Many fans have wondered how the name Toyin Tomato became Sobowale's stage name at the beginning of her Nollywood acting career.
Why is Sola Sobowale called Toyin Tomato?
Sola Sobowale aka Toyin Tomato
Toyin Tomato is a name she got from her years of acting in Wale Adenuga's "Super Story" in 2001, after gracing the screen for several years.
Meanwhile the same stage name "Toyin Tomato'' is also accredited to Yoruba actress Toyin Adegbola for her role in the movie, 'Asewo to re Mecca.'
Generally, when Nollywood actors take on a role and deliver it professionally, fans make it a mental note to associate the character and the actress as one person.
After the major hit in Sola Sobowale's career that made her the cynosure of fans, producers, and filmmakers the veteran actress took a 15-year hiatus.
Speaking with the Guardian Lifestyle, Sola explained she left being an actress to take care of her children. As much as she values her job as an actor, for her, family comes first.
"The moment you have children, then you must be ready to take full responsibility. Education is something that is of priority to me, and that is the legacy you can give to your children."
In another interview with Premium Times, the 'Wedding Party' actress Sola Sobowale revealed her inability to juggle between acting and family.
"I couldn't do two things at a time, meaning I couldn't face my career and carry out my responsibility as a mother. So, I had to sacrifice one for the other.
 I have got five children so I had to take care of them. I left Nigeria 15 years ago, took them with me, and gave them the best education. There are now graduates and gainfully employed."
Sola Sobowale, her husband, Dotun Sobowale and her twin daughters
Sola Sobowale's husband, children
Sola Sobowale's husband is Oludotun Sobowale, and he was the former corporate executive director of EKO Hospital, before relocating to England, and they are blessed with Taiwo Sobowale and Kehinde Sobowale, and three boys. 
The actress and her husband have a total of five children. According to the veteran actress one of her daughters, Taiwo starred in the series, 'Everyday People', "but she is no longer into acting."
" My children only feature in all the movies I produced from 15 years till date. My twin daughters also write all my movie scripts."
Sola explained that today her children are accomplished individuals with thriving careers in accounting, advertising, business management, and engineering. 
Ever since her return 6 years ago, the 56-year-old Nollywood veteran actress has dazzled fans with her dynamic acting experience from Mo Abudu's 2016 'The Wedding Party' which broke box office record as a highest-grossing movie; to Kemi Adetiba's 2018 'King of Boys' and 2021, 7 part series, 'Return of the King'
Sola Sobowale's reinvented acting career has endeared her to leading brands in Nigeria to get endorsements.
Sola Sobowale is an ambassador for Unity bank
Sola Sobowale's Endorsements
She also landed an endorsement deal with BSTAN Homes, a real estate and property design, construction and development company in Nigeria in 2017.
The Nollywood actress bagged a deal with Middlechase, an award-winning property development company in December 2021.
Signed, Sealed and Delivered. Another year of continued partnership with @Middlechase #wearefamily the actress announced the deal on Instagram.
Sola Sobiwale is also a brand Ambassador for the Telecommunication Giant in Nigeria Globacom. She is the brand ambassador for Mouka foams, Unity Bank etc
Sola Sobowale's net worth
 Sola Sobowale's endeavours as a filmmaker have earned her a substantial amount to become one of the richest actresses in Nigeria. Her successful career is also credited to several other endorsement deals. Her net worth is estimated to be about $600,000, 
She acted in both Nollywood English movies and also Nollywood Yoruba movies, she earns between ₦500,000 to ₦1,500,000 per movie role as an A-list actress in the industry depending on the role.