Tems biography and life of the BET award winner
Essence crooner and winner of the Best International Act at the BET Awards 2022, this article will discuss Tems biography and music career in 2022.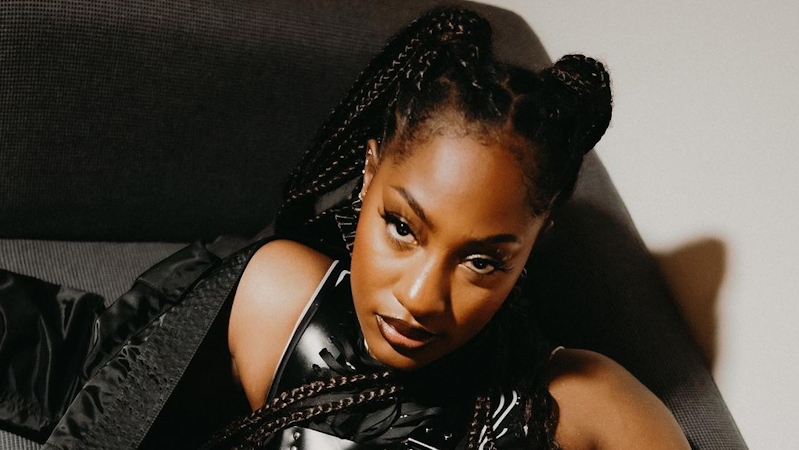 When Nigerian singer and songwriter Temilade Openiyi, aka Tems, teamed up with Wizkid on his song "Essence" in October 2020, her distinguished style set her apart from artists within the dominating Afrobeat genre.
Recognized for her alternative music style and alto textured voice, Tems biography leaped when she ventured into the industry in 2018 with "Mr. Rebel," a song that won the hearts of many Nigerians. Her fans have since taken up the 'Rebel gang' title.
Despite being signed with many different music labels in September 2021, Tems was signed to RCA Records and released her second EP, 'If Orange Was a Place,' which reached the top ten on the Billboard World Albums chart.
Tems has maintained her distinctive skill to stand out among the crowd, earning her the record title of the first Nigerian female to bag the BET awards in 2022. In this article, Clacified delves into the 26-year-old, Tems biography, personal life, and her emergence into the Nigerian music industry.
Temilade Openiyi is a Nigerian singer, songwriter, and producer.
Tems Biography and Profile

Real name

Temilade Openiyi

Stage name

Tems

Date of birth

11 June 1995 (age 27)

Nationality

Nigerian

Religion

Christian

Genre

RnB

Afrobeats

State of origin

Oyo State

Tribe

Yoruba

Relationship status

Single

Instagram name

Tems baby

Height

5''7

Record label

Reset Industries, Human Music Records

Qualification

Economics (BA)
Tem's early life and career
Temilade Openiyi was born in Lagos and moved to the UK with her British-Nigerian dad and Nigerian mum. After her parent's divorce, at age 5, she returned to Nigeria and later finished at Dowen College in Lagos.
According to Tems, she was a lone ranger; it gave birth to her finding solitude in music at the tender age of 11.
In an interview, she said, "I used to write poems a lot – I'll just sit down and write things I'm feeling, and it'll come out so poetic, even if I'm just talking about breakfast," she laughs. "So then I just started writing songs, at around 11. Some were about me not having friends and some about my classmates saying I was weird."
Tems, as can be seen through her music, has a melancholy nature and has expressed her style primarily influenced by – Kate Nash, Lauryn Hill, Lil' Kim, Paramore, OutKast, and Green Day.
The "Try me" crooner had great help from her music teacher, who taught her to play the piano. According to Tems, she had believed her voice was too heavy for a girl, but as her teacher helped refine her sound, she began to envisage a career in music and finally took the bold step when she turned 20. 
In 2013, she released her first EP, "Time Swap EP," it didn't do very well in popularity, but Tems kept pushing tills he struck gold with "Mr. Rebel." The song recorded a whopping  200,000 views on YouTube. By 2018 her album "Illumination" was born.
It didn't take long before she released another single, "Lookup Lookup," a widely accepted song that received massive airplay.
Tems raised the bar after releasing her viral single, "Try me"- this song shot her into the limelight. It was released in August 2019 and had over 10 million views on Youtube alone.
During the 2020 pandemic, Tems collaborated with DJ Khalid in a single titled "Know Your Worth" it also featured Nigerian 30BG star, Davido, and Disclosure and made it to Barack Obama's playlist for summer 2020.
Tems also made her debut extended play, For Broken Ears. Tems produced the EP, and the single "Damages" was her follow-up hit to "Try Me," 'Damages' peaked at number one on the Nigerian Apple Music chart.
Despite her celebrity status, Tems has had her share of setbacks and problems.
Tems and Omah lay were arrested in December by officers of the Uganda police for flouting Covid-19 guidelines. The arrest occurred briefly after their Saturday night rendition at The Big Brunch, a concert held at Speke Resort, Kampala.
According to reports, the show was sold out, the first music show in Uganda since the COVID-19 lockdown rules imposed by President Museveni.
Tems said she was imprisoned with roughly 50 women, some with their children, and many detained arbitrarily due to domestic disputes. "No human being should be in that condition," she says. 
Tems is the first Nigerian female to win a BET awards in 2022
Although Tems music had enjoyed some recognition, she began her first US headline show at the globally recognized SOB in New York.
But we can arguably say that Tems mainstream recognition grew after her feature on Wizkid's "Essence." 
Wizkid's interview with a UK channel said he learned about her after listening to her hit single, "Try Me." 
After that, they performed together at his show, and thus their music power relationship began. The symbiotic relationship between Wizkid and Tems has earned them Grammy nominations and the best song of the year lists, like TIME Magazine and Rolling Stone.
Many fans believe the " Mr. Rebel singer's relationship with Wizkid gave birth to her collaboration with Canadian rapper Drake on his Certified Lover Boy album(CLB)
Tems also got the opportunity to meet up with America's A-list celebrity Rihanna at her Savage Xfinity showcase in Los Angeles. According to a viral video, the music stars were seen having a chat, exchanging hugs and pleasantries, and they were visibly thrilled to meet each other finally.
During an interview with The Dotty Show, Tems talked about the song-making process of  "Essence." The music star said she could have done better, but Wizkid and other producers in the studio in Ghana believed the verses were good to go.
Using Wizkid's words while describing Tems input on the song " we made magic''. So it was no wonder when Wizkid performed on stage with the alternative RnB singer at the O2 arena. The summer "Essence" song is called thrilled fans and stars alike.
Wizkid, who was caught up in the euphoria of their performance, attempted to lift Tems on stage. But the 26-year-old politely pushed his hands away. The incident generated reactions, with some fans rating Wizkid's action as unprofessional and disrespectful.
However, Tems issued a statement describing her relationship with Wizkid as platonic and sibling-like; she explained they were both humans and be treated as such.
Tems relationship with Wizkid has put her on the global radar, which has helped her get a few endorsement deals recently.
The "Crazy Tings" singer has earned her mark globally, and it wasn't a surprise when Tommy Hilfiger made her their brand ambassador.
Tems expressed her enthusiasm with a confirmation post on her Instagram page. "Don't trip; it's TEMS x @tommyjeans For Spring 2022! It's a good day #tommyjeans", she wrote on IG.
Tems spontaneity and unique music sound also endeared her to the international sporting company Reebok.
The singer got an endorsement deal with the brand less than two months after she got the deal with Tommy Hilfiger.
The sportswear brand announced the deal on Monday, January 7, via a campaign tagged "Life is Not a Spectator Sport. "
According to the campaign director and Senior Director of Marketing Creative & Design at Reebok, Jide Osifeso, the campaign aimed to motivate consumers to follow their passions, celebrate their individuality, and become active participants in the world around them.
Tems also bagged a partnership deal with Coca-Cola to take African music to the next stage.
The beverage brand Coca-Cola also partnered with an international record label, Universal Music Group, and its artists.
The campaign is called Conductor and will be premiered on Coke Studio.
Apart from bagging endorsement deals, she also receives awards and nominations.
Tems award and nominations
Following the success of her music, Tems has bagged several awards and nominations globally.
The Mr. Rebel singer bagged the Headies 2019 award for Best Vocal Performance (Female) and Best Alternative Song. She was also a recipient of the City People Music Award nomination for Next Rated Artiste (Female); in 2020, she won the Net Honours for Most Played Alternative Song(Damages) and Best Female Artist in Western Africa(Herself).
In 2021, she earned two US top 40 entries on the Billboard Hot 100, with her collaboration with Drake on the song "Fountains" from his album Certified Lover Boy.
Her feature on the Wizkid single "Essence" boosted the song to reach the top ten following a remix with Justin Bieber and earned her a number one spot on BBC 1Xtra Airplay Chart.
Essence earned her first career entry on Billboard Hot 100 at number 9. Thanks to the collaboration, Tems won a Soul Train Music Award with Wizkid for Best Collaboration and two NAACP Image Awards. They were ranked number one on the Billboard Next Big Sound chart and five on the Billboard Emerging Artist chart. In October, Billboard named Tems as RnB rookie of the month.
The song Essence from the 2020 'Made in Lagos" album clinched the All Africa Music Awards for Song of the Year. Tems, alongside Wizkid, also received AAMA nominations for Best Artist, Duo, or Group in African RnB & Soul and Breakout Artist of the Year (Damages). The duo went on to win Best African Collaboration in 2020. Tems bagged a Grammy award nomination for her feature on the song 'Essence' with Wizkid.
Other awards and nominations include:
2021-African Entertainment Awards USA
Best Female(nominated)
Artist of the Year   
Best Female Artist – Central/West Africa    (Nominated)
Won Best Collaboration    "Essence"(Wizkid featuring Tems)
Won Best Video(Essence)   
Won Song of the Year(Essence)
2022-BET Awards
(Essence)Justin Bieber, Wizkid, and Tems won Best Collaboration
Tems won Best International Act
Tems has been nominated for Best R&B Album and Best Female Artiste (If Orange Was a Place)
Tems and Wizkid (Essence) have been nominated for Best collaboration.
Tems' music has earned several deals and honorariums from concerts that have boosted her net worth. Clacified has a separate article that addresses the net worth of Tems in 2022.