Nollywood Actresses: 5 new faces taking giant strides
Clacified, highlights some of Nollywood's newest females giving the industry a face lift with award winning performances and elegant fashion style.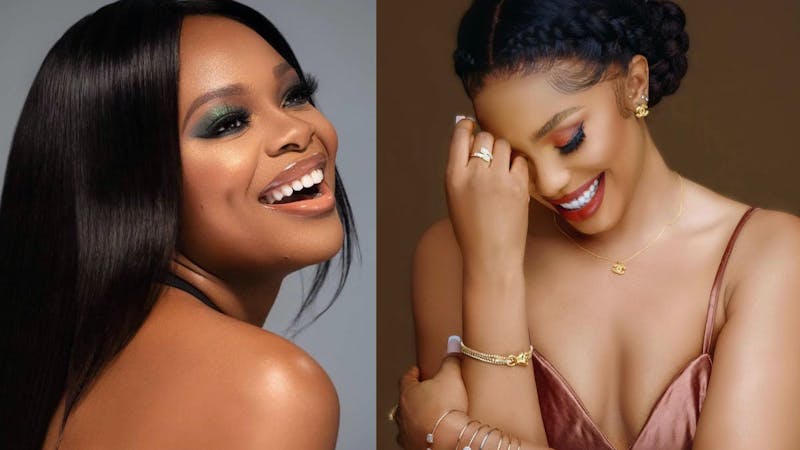 Meet Nollywood's up-and-coming actors who have stolen the hearts of not only fans but made it atop filmmakers and directors' wish lists. Some of these Nollywood actresses have been in the field for 6-7 years now.
These 5 rising stars are rewriting the Nollywood film narrative and breaking the stereotypes, some of them are fronting their shows, portraying uncommon yet relatable characters, and driving the acting profession to another level worthy of recognition.
While this mix of fresh face shape has been in the movie business for quite some time, they recently landed their big break after years of pushing for recognition.
Sharon Ooja/instagram/sharonooja
1.
Sharon Ooja
Gaining popularity for her role as Shalewa in the web series, Skinny Girls in Transit, Sharon Ooja is one Nollywood actress no one saw coming.
In no time, Sharon was playing the lead role for the wave-making film "Oloture," a role that she says "emotionally drained" her and made her lose 3kg, according to her interview with Pulse.
Ooja's acting prowess has put her on a steady pedestal of nationwide acclaim as she continues to grace the screen for movies like Bling Lagosians, Moms at War, Who's the Boss, Still Falling, Coming From Insanity, Kemi Adetiba's  King of Boys and Kambili, The Whole 30 Yards Etc.
Sharon officially started acting in 2013. Seven years later she was named by the entertainment website as a top female celebrity of 2020 and a Nollywood actress to look out for in 2021, Sharon, an indigene of Benue State and a Mass Communication graduate.
Bisola Aiyeola/instagram/iambisola
2.
Bisola Aiyeola
After becoming famous for being a one-time Big Brother Nigeria first runner-up in 2017, Bisola Aiyeola was ready to take on the role of an actress in no time.
Characterized by her funny attitude, Bisola thrilled fans after her role in "Sugar Rush," where she starred alongside Bimbo Ademoye and Adesua Etomi Wellington.
Although Bisola has become one of the most sought after actresses, her acting journey began in 2006 according to her, but Big Brother Naija(2017) put her in the spotlight.
In anothne y,ear Aiyeola had become a  recipient of the 2018 AMVCA TrailBlazer award. Following up with appearances in over 15 leading Nollywood fi, including Picture Perfect, PayDay, Chief Daddy, Gold Statue, Bling Lagosians, Dwindle, and This Lady Called Life, Aiyeola has shown remarkable growth and consistency.
Achieving a major milestone in 2020, Aiyeola decided to push herself as she announced the co-production of the film 'Introducing The Kujus' under Temple Management. This feat made her debut as a movie producer.
 Bisola also participated in the 2008 edition of MTN Project Fame, where she came 5th and went ahead to put out music such as; Controlla,' 'Heartbroken,' 'Lucia,' and 'Good Old Day.'
Zainab Balogun/instagram/zainabbalogun
3.
Zainab Balogun
If you remember the event planner from one of Nigeria's highest-grossing movies, "The Wedding Party," you must have met the talented Zainab Balogun. The award-winning Nollywood actress has also featured in Ebony Life's "The Royal Hibiscus Hotel," "God Calling,"  and Sylvia.
A woman in a class of her own, Zainab Balogun is an eloquent TV host and co-founder of The J-ist TV, an online entertainment web series that highlights African culture and a range of topical issues.
Making steady strides even before breaking into the Nollywood industry, Zainab had tried her hands at modeling, and like a star, she has been featured on many campaigns for several brands.
Zainab, who is a graduate of the University of Kent in Medway, where she received a Bachelor of Law degree (LLB), has appeared in several shows, including BBC One's Material Girl, a 2012 Bollywood movie Cocktail, the Charlatans by Ashley Waters, and a 2011 appearance in Christopher Nolan's film The Dark Knight Rises.
The delectable Zainab Balogun co-hosts and produces The Spot, the channel's leading talk show, with Lamide Akintobi for Ebony Life TV, owned by Mo Abudu. Balogun is also a presenter and associate producer on Jumia TV, a teleshopping show.
4.
Bimbo Ademoye
Bimbo Ademoye is one face her audience cannot forget in a hurry. Maybe it's her ability to embody every character she plays or her relatable personality, either way, Bimbo Ademoye is one screen goddess that Nollywood is lucky to have on the team.
The recent winner of the Prize in acting at the Future Awards Africa ceremony 2022 was also nominated for Best Actress in a Comedy/TV series at the Africa Magic Viewers Choice Awards in 2018, for her role in the film Backup Wife (2017)
According to Bimbo Ademoye in an interview with The Daily Independent newspaper, she said that her acting career began in 2014 when she was cast in the short film Where Talent Lies. The film received accolades from the Africa International Film Festival.
The curvy actress Bimbo Ademoye also starred in Sugar Rush alongside Bisola Aiyeola and Adesua Etomi Wellington.
Earning her spot in the Nollywood Hall of Fame as a newcomer Bimbo was nominated for Revelation of the Year, Best New Actress, and Best Upcoming Actress at the 2018 City People Movie Awards.
She has also received two individual nominations at 2018 Best of Nollywood Awards for her role in Personal Assistant, winning the award for Best Actress in a Supporting Role and getting a nomination for Best Kiss in a Movie
Jemima Osunde/Instagram/jemimaosunde
5.
Jemima Osunde
Playing Leila in the popular web series "Shuga" was the turning point for 19-year-old Jemima at the time. The now 25year old further expanded her acting portfolio after starring in Netflix Lionheart as a personal assistant to Adaeze(Genevieve Nnaji).
Jemima's drive to deliver excellently in all her roles paved the way for her nomination at the 15th Africa Movie Academy Awards for her performance in The Delivery Boy as the  Best Actress in a Leading Role category (2018).
That same year she starred alongside Linda Ejiofor in the second series of NdaniTV's Rumour Has It?
In 2020, she was in the cast of Quam's Money, a follow-up to the 2018 film she starred in, New Money. The follow-up story follows what happens when a security guard (Quam) suddenly becomes a multi-millionaire. The new cast was led by Falz, Toni Tones, Blossom Chukwujekwu, Nse Ikpe-Etim, and Osunde Jemima.