Top 15 Countries with the most beautiful women in the world
In a contest of collating the top 15 countries with the most beautiful women, Clacified looks at countries with the most beauty pageant winners, supermodels, actresses and recognition.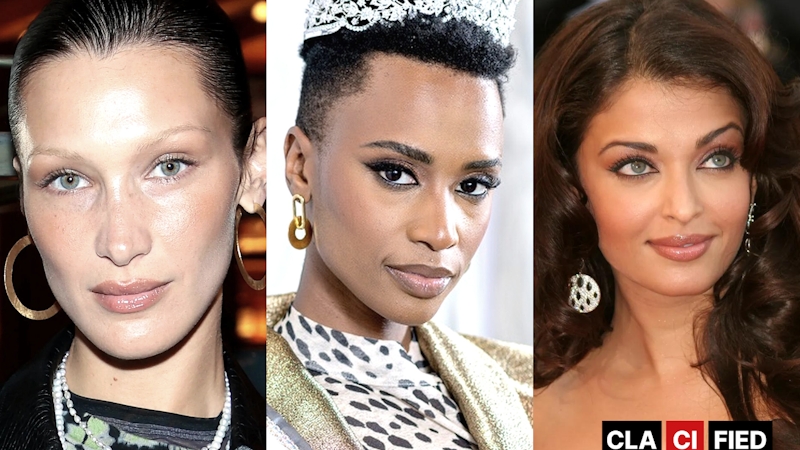 The concept of beauty is a function of the beholders' perception; every woman is considered attractive in her own right.
Nevertheless, certain women have stood against the tide of perception and broken the laws of subjective attractiveness with facial features chiselled to perfection and body shapes that were simply irresistible.
While this train of thought may seem biased toward physical attractiveness, beauty standards have created a template for what is generally accepted as beauty.
Although these standards are a tad bit unrealistic, but science, fashion magazine, and music have paved have propagated the gospel of what beauty should look like.
Perhaps this may sound unfair, but certain women are honoured with the badge of beauty, all thanks to genetics. So, how do we find out which country has more beautiful women than other countries?
We will find the countries with the most beautiful girls in the world by analysing the winners of beauty pageants in years.
Some of these countries have been privileged winners of beauty pageants, producing some of the most popular supermodels and celebrities.
Regarding international beauty pageants for women, Miss World, Miss Universe, Miss Earth, and Miss International are the four most important pageants. They are also called the big four in these competitions.
Clacified will also take a loose pick at the world's most popular supermodels. Grab a seat as Clacified unveils the top 15 countries with the most beautiful women in the world.
The plateau mass of land is home to one of the world's most beautiful women. South African women are popular for their chiseled features, high cheekbones, slender necks, and hourglass figures.
Mostly sexually appealing and considered "sexy," South African beauties carry an unusual grace in their endeavours.
You can pick them out in a room if they are present. Also, according to international beauty pageants, the Miss Universe title has been won by South Africa three times.
The most beautiful woman in the world right now, 2022, is from South Africa. The supermodel Zozibini Tunzi has crowned Miss Universe in 2019
The United Kingdom is another country with the most beautiful women in the world. Women in this country have peculiar facial features pleasing to the eye.
The UK has one of the most popular supermodels in the world, Naomi Campbell and many others who have raised the banner for beauty standards even higher.
It is also the home of some of the world's biggest beauty pageants.
Ethiopia has one of the world's most captivating beauties. Ethiopian women are known for their olive brown skin, the mass of silky hair, and piercing eyes. Although they look like their Egyptian neighbours, these women have an ancient beauty aura around them.
Ethiopian women generally have model-like structures and slender faces to go along. They are categorized as some of the most beautiful women in Africa.
Models like Yordanos Teshager, Liya Kebede, Israel Avtau, and Mela Yante are; perfect examples of impeccable mind-blowing Ethiopian beauties.
Yordanos Teshager, Ethiopian model
When it comes to gorgeous women in the world, Mexico is home to some of the most beautiful women. Asides from its penchant for fresh, attractive women who have been privileged winners of beauty pageants, Mexico has a thriving cultural heritage from a thriving cultural heritage.
Beauty pageant winner and model, Alma Andrea Meza who was crowned Miss Universe 2020 is a beautiful example of the beauty standards for the Mexican woman.
In the Mexican city of beauty, women enjoy more freedom to pursue careers, unlike in most Latin American countries. Another interesting fact about these physically appealing women is that they dress up in the latest fashion and wear pretty accessories.
They are popular for their striking features; being of mixed descent, Mexicans have angular structured faces and a prominent forehead. Apart from that, there are no common physical details or features to associate with them.
Australia boasts some of the most beautiful women in the world with flawless bodies. These women with models and Miss Universe winners, such as Jennifer Hawkins, an Australian blonde with a stunning figure, further accentuate the country's portfolio of beautiful women worldwide.
Almost all Australian beauties are blessed with stunning bodies, and Erin McNaught is a gorgeous example; the hot girl beauty queen has some sensational curves that will turn heads.
McNaught's physical appearance is the reality for many women in the country.
Canada is not just filled with gorgeous females but has become a destination. It is considered as one of the best countries for Nigerians to migrate or relocate to with the most beautiful land and wonderful tourist attractions. It is popularly known for having some of the most beautiful females in the world.
According to facts Natalie Glebova, beauty queen and Miss Universe 2005 was popularly known at the time as the world's most beautiful woman.
No doubt, Canada takes the front seat in beauty contests, from politicians to actresses, Canadian ladies are gorgeous and sexy.
Generally, they are prim and proper with good education and a sophisticated personality- Canadian women are a healthy dose of beauty, brains, and poise.
No wonder they are easily the most preferred women in a room full of other women, their delicate features and endearing complexion can give any man butterflies in his belly.
Hollywood Ukrainian actress, Mila Kunis
Ukrainian women possess the world's most exotic beauties. These women are elegant and undeniably sophisticated. Ukrainian women are undoubtedly eye-catching with strong athletic bodies built and toned from regular exercise.
They have strong, unique features that leave a long trail of stares and admiration. It's the only explanation for Mila Kunis's level of gorgeousness.
Italian women are popualar for their distinctive characteristics and sultry body. These women are one of the most beautiful creatures in the world. Italian women have intense eyes that can trap anyone in their spell- olive skin, dark hair, a Roman nose, and soft, plump lips.
Italian actress and beauty pageant winner Miriam Leone strikes a beautiful balance of talent and physical attractiveness. Many of these women are naturally endowed and don't often resort to cosmetic procedures to enhance beauty or sexual appeal.
Monica Bellucci and Sophi Loren are also winning examples of gorgeous women of Italy. Monica tops the list of the most beautiful Italian woman for her career in fashion modeling for Dolce & Gabbana. Companies like Dior also employed her services as a model.
7.
United States of America
The United States of America is not the world's foremost superpower but one of the top 10 richest countries in the world-also U.S.A hosts one of the world's largest storehouses of the most beautiful women. America has breathtaking beauties who will let your jaw drop at their appearance.
These women have strong-willed confidence, as seen in their iconic Hollywood actresses and music stars. Especially with angelic beauties like Cameron Diaz, who doubles as a model and actress and has the "best legs" in the industry. The country also has the beautiful and legendary Angelina Jones, Megan Fox, Jennifer Aniston and Julia Roberts.
America has emerged winner of about four international beauty pageants and has gained fifteen victories.
Hollywood American actress, Angelina Jones
For the past 10 years, Indian women have been top-ranked in international beauty contests; these women shine beyond Bollywood and appear more often in Western movies.
Indian beauties have also developed great reputations on the catwalks of fashion shows and the pages of fashion magazines worldwide. Their mysterious goddess-like beauty has won the hearts of many p
Lakshmi Menon is the first Indian top model and muse of prestigious luxury brands. Others like Vaishali follow in line, and Aishwarya Rai Bachchan ( Miss world of 1994 and actress)
Miss Universe pageant Harnaaz Sandhu has also been crowned the most beautiful woman in the universe. Gorgeous Indian women are popular for their smooth dark skin, silky, luscious hair, and mysterious beauty.
Their passion for belly dancing, nose rings, and body jewelry gives them an enchanting aura. Indian Women traditionally wear saris and are capable of stealing your heart.
They have a very polite nature, but the one thing that is common among them is their beauty. Their skin tone, hair texture, and eye shape are some of the things that make them stand out.
Russia is one of the most popular countries in the world that can coldly claim to have uniquely beautiful women. Interestingly, Russian women appeal to people across the world. With their heavy Russian accent and sharp facial characteristics, Russian women, do not joke with their beauty treatments.
It is normal in Western society to remember Maria Sharapova and Anna Kournikova when the thought of beautiful Russian women comes to mind.
The country is ethnically vast, and the beauty standard may vary. For example, the European part of Russia may consider the blue-eyed, blond-haired girl drop-dead gorgeous, while the Eastern part may acknowledge brown eyes and darker hair as the deal!
Russian women are also quite fashionable in appearance. Thus making them look classy at all times.
Beautiful women from Russia have won three major international titles, Miss World 1992 and Miss Universe 2002, although later dethroned and Miss World 2008.
The Philippines dominate as the country with the most beautiful women in the world and is one of the largest hubs of world beauty queen winners.
In the world today, Filipinos remain devoted fans of the art of pageantry. And with the country's "beauty queens" raking in international awards left and right, it's no brainer that Filipino women have one of the most alluring looks that can melt any heart in their gaze.
The Philippines holds several titles and have garnered the top crown 15 times: four for Miss Earth, six for Miss International, one for Miss World, and three glorious coronations on the Miss Universe stage.
With beautiful damsels like actress Kim Chiu and Catriona Gray, the list is endless for the numerous beauties in the country.
Colombian dancer, Shakira
Brazil arguably has a set of the most beautiful women the world has ever seen. The visual image of a Brazilian woman is quite stereotypical. You see a tanned beauty who spends most of her time doing dances at Carnival.
One striking thing about Brazilian hot girls is that they feel proud of their bodies and allow themselves some good rest regularly. But that's just the tip of the iceberg. These women also have strong teeth and a happy smile for every occasion.
Regardless of their body type, girls opt for short shorts and short tight tops, though it's not a rule. The craze for a perfect body like these girls is what gave rise to the Brazilian butt lift cosmetic surgery that celebrities are embracing around the world.
The procedure's origins, as its name suggests, are in Brazil, where cosmetic surgery has a storied background, largely due to the country's history of eugenics. BBL is named after a Brazilian surgeon who first pioneered the technique of augmenting the buttocks using a patient's own fat, which is taken from other areas.
In fact in the conservative Nigerian society, there are celebrities who did cosmetic surgery to look hot and achieve the hourglass figure
Models and beauty Queens have set the bar very high for young girls. Monalisa Alcântara, and Gustavo Gianetti is winning ladies in the Brazilian beauty space.
Please note
Eugenics is the scientifically erroneous and immoral theory of "racial improvement" and "planned breeding," which gained popularity during the early 20th century. It aims to reduce human suffering by "breeding out" disease, disabilities, and so-called undesirable characteristics from the human population
Colombian girls can be pretty captivating due to their physical features and diverse genetic mix of races. Iconic singer and dancer Shakira gives a sneak peek into Colombian women's ageless and enchanting beauty.
They are easily voted as the most beautiful women in the world, especially for their fascinating figures, which they pay considerable attention to, enhancing their natural beauty, which makes them stand out.
Colombian girls are famous worldwide for their beauty-their skin is tanned, and their hair is dark and rich. Ethnic diversity is the major contributor to these stunning beauties. Colombia is also known as 'The Hotness Capital of the World'.
This is because they are mostly Spanish-influenced, though they are a combination of Amerindians, Europeans, and Africans Colombians have a healthy and sultry appearance that will leave mouths gaping in admiration.
With beauty queens like Ariadna Gutiérrez Arévalo- a gorgeous Colombian beauty queen who stunned everyone with her charm and charisma at the Miss Universe 2015 pageant and Eileen Roca Colombia will always get the badge for beauty.
Who is the most beautiful girl in the world
South African beauty Zozibini Tunzi is the most beautiful girl in the world based on her title of Miss Universe, 2019. The tall, dark and slender beauty is the third woman from South Africa to win the title and the first black woman since Angolan Leila Lopes was crowned Miss Universe 2011. Zozibini's crowning represents every African woman, including Kenyans, Ghanaians, and Nigerians.
Although there are unpopular opinions that some of the richest actresses in Nigeria be included in this list. However, only countries with the highest number of pageant wins were highlighted in this article.
Who is the most beautiful woman in the world ever?
According to a recent scientific study by renowned cosmetic surgeon Julian De Silva, supermodel Bella Hadid has been named the most beautiful woman in the world. The surgeon used the "Golden Ratio theory", a "divine proportion" theorized in Ancient Greece and then used during the Renaissance by esteemed artists to create perfect works of art.
The cosmetic surgeon used this set of rules to reveal which women are mathematically close to physical perfection. The surgeon collected data on ten participants, and among the data collected, Bella Hadid ranked highest with a result of 94.35% of symmetry.