Top 10 richest musicians in Nigeria
The Nigerian music industry is one of the fastest-growing industries in Africa. Here is a list of the top 10 richest Nigerian musicians ranked according to their net worth, awards, and investments.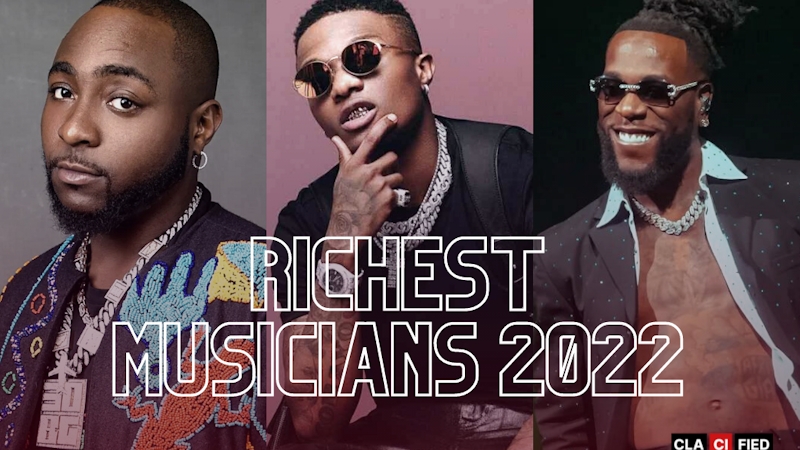 Nigeria's music industry has been on a global streaming spree as one of the fastest-growing industries nationwide, with notable musicians ranked among the richest musicians in Africa. The industry has produced some of Africa's richest and most treasured artists and musicians.
Riding on the pedestal of worldwide popularity, the Afro Beats genre inspired by Nigerian musicians has affected the general perception of music in Africa and globally.
Are you in need of quick cash? Check out our list of best instant loan apps in Nigeria that lend up to 5 million nairas.
The industry's success can be attributed to the strides of top Nigerian musicians such as Wizkid, Don Jazzy, Tuface Idibia, Davido, and others. These artists above have also produced some of the best trending songs in Nigeria.
This article captures the top 10 richest musicians in Nigeria in 2022, their net worths, assets, and cars.
Top 10 richest Nigerian musicians in 2022

| Rank | Artist | Net worth |
| --- | --- | --- |
| 1 | Wizkid | $30 million |
| 2 | Davido | $21 million |
| 3 | Don Jazzy | $20 million |
| 4 | Burnaboy | $20 million |
| 5 | Tuface | $18 million |
| 6 | Psquare | $16 million |
| 7 | Olamide | $15 million |
| 8 | Phyno | $12 million |
| 9 | Timaya | $11.4 million |
| 10 | Asa | $10.5 million |
1.
Wizkid - $30 million in net worth
Wizkid is the richest musician in Nigeria, with an estimated net worth of $30 million. The afrobeat singer tops our list of the richest musicians in Nigeria in 2022.
Wizkid's net worth is estimated at $30 million in 2022. The afrobeat singer and father of two is the first Nigerian to have sold out the 02 arenas UK three days in a row.
Since the debut album Holla at your boy, Wizkid has broken many music records on the national and international levels.
By taking a closer look at Wizkid's strides throughout 2022, his rise to the top spot of the richest musicians in Nigeria would not be a surprise. Wizkid's "Made in Lagos" album, produced in 2020, garnered positive feedback in 2021 and 2022. The song "Essence" from the track featured alte singer Tems and Justin Bieber. Essence has thus topped the chart of United States Afrobeats songs of 2022 on the billboard chart.
On November 21, 2022, Wizkid and Tems bagged awards at the American Music Awards. Wizkid won the Favourite Afrobeat Artist category,
According to Apple Music, one of the biggest streaming giants around, Wizkid is "a representative for not only the sounds of Lagos but Afrobeats as a whole.
Labelled as the most streamed Nigerian musician in the world and the richest musician in Nigeria, Wizkid's success is truly a global phenomenon - whose influence and others have recast Nigeria into a global music epicentre.
Wizkid's recent album featuring Ayra Starr, More Love, Less Ego, was released on November 11, 2022. His song with Ayra Starr, 2 Sugar, has been topping the list on Apple Music and other streaming platforms.
Wizkid has a luxurious mansion in Surulere worth about N13 million and another in the United States, Los Angeles, specifically. Among Wizkid's car collections are:
BMW X6 crossover (₦8.7 million)
Porsche Panamera (~₦50.8 million)
Lamborghini Urus (₦80 million)
Used Mercedes Benz G63 AMG (₦55 million – ₦65 million)
2.
Davido-Net worth is $29 million
Nigerian-American David Adeleke is the 2nd richest musician in Nigerian 2022, with a heavy net worth estimate of $29 million.
Davido was also recognised as an Afrobeats superstar by FORBES in 2020.
The 30-year-old singer has worked his way up through hit singles and earned his place in the music industry with 'Fall,' 'Assurance,' 'If,' and 'Dami Duro.
Davido's hit singles for 2022 are "Stand Strong and "Electricity", which have garnered massive airplay and reviews.
For each of his videos on Youtube, Davido records an average of 20 million views. As the son of one of Nigeria's wealthiest men, Chief Adeleke, Davido is signed to Sony Records, a label that has housed Tiwa Savage, Tekno, and others.
Davido bears the tag of best-selling music artist in Africa and worldwide.  Davido performed at the closing ceremony of the World Cup in Qatar 2022. He was joined by other music stars from across the globe.
Since his rise to fame, Davido has won multiple awards, including BET and MTV awards. He receives several endorsements from MTN, PUMA and Guinness Nigeria as brand ambassadors.
Davido owns two known luxurious homes; his home in Banana Island, Lagos, which costs a reported
Rolls Royce Cullinan 2019 (₦350 Million)
Bentley Bentayga (₦108 Million)
Bentley Continental GT (₦95 Million)
Range Rover SV Autobiography (₦98 Million)
Land Cruiser Toyota (₦30 Million)
David charges nothing less than 10 million per show, according to reports. His primary source of income is music and endorsements, which earns him a networth of $ 40 million.
3.
Don Jazzy-Net worth is $20 million
Micheal Collins Ajereh, aka Don Jazzy, is the 3rd richest musician in Nigeria. The ace producer, label record owner, and singer has mapped out his path in the music industry and established himself as an authority.
Don Jazzy was named the fourth richest African musician and number one in Nigeria as of 2017. Don Jazzy is also worth $20 million in 2022.
His wealth was amassed from his music which gained speed Mo-hits records-a company he co-founded with Oladapo Daniel Oyebanjo, popularly known as Dbanj. 
But after a while, Don Jazzy and Dbanj parted ways, thus giving rise to the birth of Mavin records in 2012. Mavin Records is solely owned by Don Jazzy and has made a name with Ayra Starr, Rema, Crayon, Ladipoe, Magixx, Korede Bello, Johnny Drille, and others. These Mavin artists have become the rave of 2022.
With the support of Don Jazzy, the crew recently put out "Won Da Mo", which currently tops Apple music.
Don Jazzy has been a recipient of awards (Producer of the year for the song titled over the moon),
Based on Don Jazzy's richest musician in Nigeria status, the Mavins CEO has a vested interest in luxury cars and houses.
2016 Cadillac Escalade(N40 million)
Bentley Continental Flying Spur(N90 million-N120 million)
Range Rover Sports(N67million -N80million)
Porsche 911 Carrera(N₦1.9million - ₦68million)
4.
Burna Boy-Net worth of $20 million
Damini Ebunoluwa Ogulu, aka Burna Boy, is Nigeria's 4th richest musician, with a networth of $20 million in 2022. He was one of the richest musicians in Nigeria through the 2021 and 2020 lists.
The Grammy award-winning singer, rapper, songwriter, and dancer is one of the forerunners of the Afrobeat genre across the globe. Burna Boy rose to fame in 2012 after he released 'Like to Party' from his debut album L.I.F.E.
Burna Boy has had a good year so far. His 2022 album "Love Damini" has beat its way to the trending music album of the year. The track 'Last Last" is part of America rapper, Jay Z's favourite songs of 2022. Burna boy's Last Last is also on the top list of most streamed songs. The song is also the most searched term on Google search engine.
According to Spotify, Burna Boy's track 'It's Plenty' was announced as the most streamed song on Spotify 2022 edition of Wrapped.
Between 2019 and 2022, Burna Boy won Best International Act at the 2019 BET Awards and was announced as an Apple Music Up, Next artist. At the 2020 Vodafone Ghana Music Awards, he was honoured as African Artist of the year.
Burna's album Twice as Tall was nominated for the same category at the 63rd Annual Grammy Awards. He is the first Nigerian with successive Grammy nominations.
In 2021 Burna Boy made history as he received the Best World Music Album at the 63rd Annual Grammy Awards-marking him as the first Nigerian solo artist to bag the award.
In April, Burna Boy sold out Madison Square. Burna boy's success made him the first Nigerian music artist to headline a sold-out concert in Madison Square Garden in New York, USA.
According to reports, the concert tickets for an estimated $80 on an average of $2250. Burna Boy reportedly cashed out with N3 billion naira from the show. Thus adding more to Burna boy's richest musician status.
Burna Boy's house and cars
According to reports, Burna Boy purchased an 8-bedroom exotic mansion at Lekki in Lagos. The singer also owns luxury cars, including;
Burna Boy Range Rover Autobiography(N26 million-N38 million)
2022 Lamborghini Urus Novitec Edition( N332million)
Burna Boy 2013 Ferrari 458 Italia(N120 million)
Burna Boy Rolls-Royce Dawn Convertible(N125 million)
5.
Tuface Idibia-Net worth is $18 million
Innocent Ujah Idibia, aka 2Baba, 2Face, is the 5th richest musician in Nigeria, with an estimated net worth of $18 million as of 2022.
He was also on our 2021 list of Nigeria's top 10 richest musicians. An indigene of Benue State, 2Face has become one of Nigeria's legendary Afropop artists.
Veteran singer, 2Face began his career with the Plantashun Boiz group. It was not long before he went solo.
The African Queen singer was signed to Kenni's Music, and it was there he released his first music album, 'African Queen.'
In 2022 2Face has made a few strides in music and charity.
The music legend, 2face, donated a multimillion-naira music studio to the School of Music of Obafemi Awolowo University, OAU, Ile Ife, Osun State, in 2022.
On October 11, 2022, President Mohammed Buhari recognised the contributions of 2Face, Burna boy, Teni and others to the music industry. 2Face was honoured with Member of the Order of the Niger, MON national awards by the president.
In January, 2Baba also premiered his single, "Smile", produced by Jerry Sheika and video directed by Ryan Jonathan. The song is dedicated to his wife, Annie Idibia-Macaulay.
African Queen shone the spotlight on 2Face in 2004. Since then, 2Face has consistently made his mark in the industry with other hits such as 'Amaka,' 'Oyi,' etc.
He is also a recipient of several awards, including; the MTV Music Awards, Headies, and BET Awards.
As one of the top 10 richest musicians in Nigeria-2Face owns luxury mansions in Lagos; Ikeja, Festac, Lagos Island, and the US.
The 'Amaka' singer does an excellent job of not blowing his trumpet on the fleet of cars he owns.
2Face Idibia owns a Ferrari Coupe, Toyota Land Cruiser, and Chevrolet Corvette Coupe. The cars cost a total of  (~₦142milion- ₦177 million)
6.
Psquare-Networth is $16 million
Peter and Paul Okoye have an estimated net worth of $16 million combined. The twin artists went viral after they established the group, Psquare.
Born November 1981 in Jos, Plateau State, Psquare released debut album "Last Nite," in 2003.
P-square had a thriving career as they charged up to 15 million naira for a show. PSquare's career was at a fast pace till their controversial split happened in 2016.
After they split up, they dropped their group name and picked up Mr P and Rudeboy.
Their ugly split was influenced by Jude Okoye, their elder brother, aka Engees. Reports said Jude was caught in the crossfire of the beef between Paul and Peter and was sacked.
Six years after the cold war, PSquare reunited last year to do a song together- Jaiye(Ihe Geme). They have planned performances in celebration of the festive season in 2022.
Mr P owns a tastefully furnished apartment in Banana Island Lagos, and it is worth N1.5 billion naira. He also owns an expensive fleet of cars, including:
Range Rover(₦50 million-₦82 million)
G Wagon(N70 million-N180 million)
Dodge Challenger(N8 million-N36 million)
Porsche 718 Cayman(N36 Million-N62 Million)
Rudeboy owns an expensive property in Parkview Estate, Ikoyi Lagos, Nigeria. He also has several cars, including:
Bentley Bentayga(N80 million-N170 million)
Mercedes-Benz GLE43 AMG 4MATIC Coupe(N36 million-N90 million)
Lamborghini Aventador Roadster(₦140 million – ₦282 million)
Lamborghini Huracan(₦80 million – ₦120 million)
7.
Olamide-Net worth is $15 million
Olamide Adedeji, aka Baddo Sneh, tops the list as the 7th richest Nigerian musician in 2022.
Olamide is worth $ 15 million, according to reports and was born on March 15th, 1989.
Popularly recognised for his Yoruba rap genre and street hip-pop style, Olamide started out with Coded Tunes label.
Currently, the president of YBNL Nation, producing artists like Asake, Fireboy DML, Jayboi, and others-Olamide, boasts 10 albums to his name and over 40 Eps. He has also bagged several awards in the Nigerian music industry; Best Indigenous Artist and Album of the year.
In 2021, Olamide was featured on the fast-rising singer, Portable's 'Zazoo Zeh.' Of course, the song was a viral hit.
Olamide also hinted that his next body of work might be his last. He said he's putting on the finishing touches to make it "the best." After 'Unruly,' the rapper noted that he would drop only singles in the future.
However, Olamide's biggest hit in the last year was his feature on Portable's Zazu Zeh single.
Olamide owns two luxurious mansions in Lekki and Bariga, Lagos. His garage is also filled with expensive  cars, including:
Range Rover Sports (#15 million)
Mercedes-Benz G Wagon (~₦23 million)
Range Rover Sports V8 (₦84 million - ₦90 million)
Toyota Venza (#6 million)
Rolls-Royce Phantom (~₦204 million)
8.
Phyno-Net worth is $12 million
Azubuike Nelson, aka Phyno, is Nigeria's 8th richest musician, with an estimated net worth of $12 million in 2022. Talk about a musician who chose a different path. Phyno was on his way to be a medical doctor but dumped the ambition to become one of the leading rappers in the music industry.
Beginning his career in 2003, Phyno has touched base with music production and everything in between. Like Olamide Baddo, Phyno raps in Igbo(an indigenous language common to Nigerians from the East)
Fortunately, both rappers are buddies.
Phyno is a recipient of awards, including the best song of the year award and the best collaboration.
Phyno has collaborated with Flavour on 'Doings' and a team-up with DJ Kaywise to deliver viral hit song, 'Highway', in 2020.
At the end of  2020, Phyno released his song's official video, 'For The Money,' featuring Perruzi.
Phyno also dabbled into the Nollywood industry when he appeared in Genevieve Nnaji's 'Lionheart' in 2018. He bagged endorsement deals with Nairabet, Nigeria breweries, Airtel Telecommunications, and others. Phyno recently released his single "Current" with singer Tekno.
Phyno owns a multi-million-naira flat duplex at Chevron Drive. The apartment reportedly cost about ₦170 million and has 3 bedrooms.
Phyno reportedly owns a ₦70m luxury house in Enugu - his hometown. He also owns a flashy list of cars.
Bentley Continental GT(₦73.7 million)
Rolls Royce Phantom(₦170 million)
Toyota Avalon(₦13 million)
Range Rover sport(₦90 million)
9.
Timaya-Net worth is $11.4million
Inetim Timaya Odom, famously known as Timaya or "plantain boy," was born on the 15th of August, 1980. 
On Clacified's list, he is the 9th richest Nigerian musician with a net worth of $11.4 million.
Timaya first started with a music group called 'Dem Mama Soldiers. In 2007 he released 'True Story". True Story was closely followed by other big hits like 'Gift and Grace' released in 2008, and De Rebirth, his third album.
Timaya is the CEO of the DM record label. On the record label, King Perry. Runtown and Patoranking are artists signed under him.
Timaya currently owns a ₦250 million mansion at Lekki, Lagos State. The singer never fails to show off, especially with his viral Mercedes G-Wagon cars in different colours, which once went viral on social media.
No doubt Timaya has an enviable care collection including;
Mercedes-Benz GLE (₦20 million - ₦22 million)
Bentley Continental GT (~₦76 million)
Lexus LX570 2015 (₦29,000,000 - ₦39,000,000)
Mercedes-Benz G55 AMG (₦60 million - ₦85 million)
10.
Asa- Networth of $10.5million
Asa Bukola Elemide, aka Asa, is a Nigerian/French musician who came into the limelight with her debut single, "Eye Adaba."
Her album "Asa" made her the winner of the French Constantin Award in 2008, from among ten singers judged by a jury of 19 music industry experts in Paris.
Asa has won several awards, including a nomination for "Best R&B/Pop Album," "Best Alternative Song," "Best Vocal Performance (Female)," and "Best Recording of the Year" at the 2015 Headies.
After a brief hiatus, Asa returned with her new album "V" in 2022. Asa lives a quiet life and has kept her business private, so her cars and houses are unknown.
Right now, Asa is reportedly worth $10.5 million.