Latest top trending Naija songs
The afrobeat genre has showcased Nigerian music on a global stage. That brings us to this live list of the top trending songs in Naija music of the year.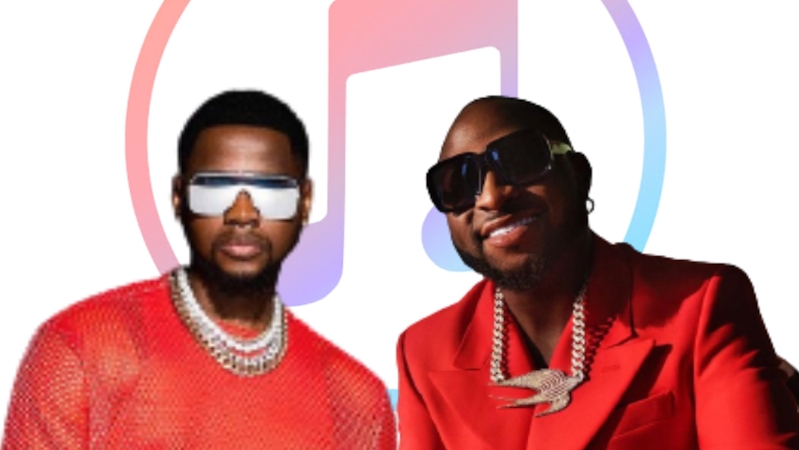 Without batting an eyelid, anyone would agree that Nigerian pop artists dominate the music conversations in sub-Saharan Africa, with groundbreaking streaming numbers and major collaborations with international counterparts.
With the inauguration of an Afrobeats-dedicated segment on America's Billboard Charts, music has evolved into one of the highest-paying jobs in Nigeria. More Nigerian records now stand a greater chance to tilt toward global relevance.
On the ride to global music acclaim and continental recognition, Afrobeat leads the pack with its unusual emo pulses, street vibes, amapiano, and hip hop.
2022 was a rollercoaster year with many new trending songs released by Niaja artists over the past months. Right now, the trending Nigerian songs in the industry have spiced up the music year with promises of even better sounds in 2023.
These latest Naija songs are the trending songs, the pulse of the vibes in clubs, birthday parties, friendly hangouts, and homes.
Ahead of the curve, Clacified updates you with some of the year's most popular, trending, and viral Naija songs. Find out the top trending songs in Nigeria right now, according to Apple Music, Spotify, and other streaming giants!
Released on November 29, 2022- Soso by Omah Lay is Clacified fourth trending Naija song, according to Apple streaming data.
'Soso' is Afro-fusion artist Omah Lay's most popular track off his debut album 'Boy Alone.' The heartfelt rendition is a blend of a sad and groovy rhythm. If you are looking for a therapeutic sound to start the year on a cool note-then, this song, Soso by Omah Lay, is for you.
2.
Abracadabra - Rexxie, Naira Marley
Abracadabra by Rexxie featuring Naira Marley and Skibbii is topping the charts as the 2nd latest Naija trending song.
Nigerian record producer and disc jockey, Rexxie has stormed his audience with the sensational record. Adding flavour to the hit track, Rexxie features the musical vibes and abilities of Naira Marley, Marlian Music CEO, and Nigerian singer, Skiibii.
Listen and enjoy!
Asiwaju by Ruger is our 3rd most trending Naija song in 2023. Ruger's rapid ascent in the Nigerian music industry shows the growing need for Gen Z music genres. At 23, Ruger hooks his audience with "Asiwaju".
The repeated beat reverberates in the ears, causing a feel-good sensation. Produced by Kuku Beats, the guitar melodies and toe-tapping syncopated drums underpin Ruger's cascading flow. Ruger's "Asiwaju is the top trending song on Apple music.
Personal by Zinoleesky is the 4th latest trending Naija song in 2023. The Marlian music signee, Zinoleesky uses the chorus to unleash his gratitude to God.
Released in 2022 and produced by Baby beat, Zinoleesky's song, Personal, is the perfect song for a new year sober reflection for individuals. As "Personal" by Zinoleesky tops the Apple chart at the no.2 spot, enjoy this groovy rhythm.
The song captivates with a fusion of afrobeats, amapiano and electronic music. The track details the struggles and wins of Amapiano trailblazer, Zinoleesky.
Zinoleesky's "Personal" is topping the charts as the trending song on streaming platforms
5.
RTID ( Rich Till I Die) - Kizz Daniel
Nigerian sensational musician, Kizz Daniel, comes through with his first track of 2023. The 5th latest top-trending Naija song, "Rich Till I Die" by Kizz Daniel, comes with mind-blowing lyrics and rhythms.
Produced by Reward Beatz and Blaise Beatz, this song will thrill your ears and keep you grinding to its beat.
Xtra Cool, from the stables of Young Jonn, is our 6th most trending Naija song in 2023. Young Jonn, popularly known as the wicked producer, unveiled Xtra Cool on (the date). The song unleashes a unique feel-good vibe that impresses the listeners.
The talented artist Young Jonn mixes the perfect blend of Afrobeat music with mind-blowing lyrics and rhythms and makes the trending music of 2022. Xtra Cool tails behind the remix of "Dada," which features one hugely influential Nigerian Afro-pop singer, Davido.
7.
Last Time - Zinoleeky feat Omah lay
Last Time by Zinoleeky feat Omah lay is the 7th trending Naija music based on streaming data from Apple Music and Spotify. From the stables of Zinoleesky's "Grit & Lust " EP album, Omah Lay creates a masterpiece with his verse.
The combo of both musicians in the song adds a rich flavour of talent and skills. Based on the mid-tempo of the afrobeat song, the year is on to a great start.
8.
Minz – WO WO (Remix) ft. BNXN & Blaqbonez
Featuring award-winning, BNXN and Blaqbonez, Minz's Wo Wo is the 8th trending song on Clacified's list of latest songs.
The song was produced by talented music producers, Jeune Lio and Mike Bgrz.
From the stables of Cameroonian-American singer, Libianca's song "People" is the 9th latest trending song in Nigeria on Clacified's list.
The soulful, gentle sound narrates the mental state of a young woman who is depressed. If you are looking for a song to put you in a sombre mood. Listen to "People".
10.
Chance Na Ham - Seyi Vibez
Chance (Na Ham), by Seyi Vibez, ranks on our top 10 trending Naija songs. The single is off his album, Billion Dollar Baby.
The Nigerian song maker Seyi Vibez's Chance (Na Ham) is a fusion of Afro-pop and the Amapiano genre. Of course, the song has an Asake vibe, but, SeyiVibes manages to infuse a bit of his personality into the song. Listen for free and enjoy yourself.
In a nutshell, if you are looking for a song on replay that is trending right now in 2023, then this is the one!
Ranking at the 11th trending Naija music based on the Apple music chart, 'Para Boi" by Seyi Vibez is a solid blend of rhythm and lyrics.
Released this year, 2023, the song is off his extended playlist christened Memory Card. The song follows T his previously published album extension, "Billion Dollar Baby 2.0 Album."
12.
Won Da Mo - Mavins(feat. Crayon...Ayra Starr, Johnny Drille)
Won Da Mo tops the billboard in our list as the 12th top trending Naija song in 2023. Talk about a rave-worthy song of the year! Won Da Mo by Mavin records is a follow-up on "Overdose." Won Da Mo is the second single from Mavin's forthcoming all-star compilation album.
The Afropop dancehall success is on the top 10 charts for Apple Music, Spotify, and boomplay in December 2022. Released on November 9, 2022, Won Da Mo generated over 95,000 views on YouTube less than 48 hours after release. It is one of the biggest songs on streaming platforms at the moment.
With inputs from the Mavin record artists," Won Da Mo" tops Clacified's list of top trending Naija songs in 2023.
Asake's Terminator is the 13th latest trending Naija song on the Clacified list.
Terminator has received massive airplay on streaming platforms. Ololade Asake, the man of the moment and YBNL buzzing artist, entertains his fans with the song, TERMINATOR.
Known for dropping the latest trending Naija music in 2022, the song "Terminator" arrives after the huge success of his 2022 debut hit Single and EP.
Throughout the smashing hit, Ololade tantalizes his audience with a harmonious combination of Yoruba and Fuji tunes.
For a Nigerian artist whose stage name is drenched in Oriki (Yoruba praise poetry), Asake leaves his listeners with thought-provoking lyrics that add unique flavour to his rhythm and melody.
No doubt this new song, TERMINATOR, will excite your eardrums. Magicstick produces it5. Dull-Asake.
Joeboy thrills fans with "Body & Soul", which ranks as the 14th trending Naija song in 2023. The emPawa record artist, Joeboy also serves this hit track as a follow-up to "Live Your Life," his previous release.
Finally, if you are a fan of Joeboy, this track will blow your mind.
Afrobeat singer and YBNL newcomer, Asake dropped another banger that has left fans swooning- Joha is the 15th trending Naija song on Clacified's list.
His new single 'Joha' cements his affiliations with indigenous African music. Asake's Joha contends for the top trending Naija music in 2022.
Joha is a recorded song off Asake's new album "Mr Money With The Vibe", the first debut album after the scintillating "Olalade Asake" EP.
Asake released his debut studio album "Mr Money With The Vibe" in 2022 and received great airplay on all streaming platforms.
Mr Money With The Vibe is a curated body of work album which is highly expected; it features vocals from Nigerian and Grammy award-winning singer Burna Boy and American rapper and singer Russell James Vitale, known as Russ.
The combination of the vocals on the song "Joha" has pulled it to the top songs on the Apple music platform.
Alone by Burna Boy is one of the theme songs of Marvel Studios' Black Panther: Wakanda Forever. Produced by P.Priime and Ludwig Göransson- the sad, melancholic music by Burna Boy establishes him as the African giant.
Burna Boy's vocals can be heard wafting slowly throughout the song like a poetic rendition. This song will touch you deeply spiritually as you reminisce about life.
17.
T.Y.E & BNXN fka Buju - Omo Elewa
No doubt the mix of powerful composer Tye and talented vocalist BNXN delivers this beautiful song-Omo Elewa.
Omo Elewa, which means "beautiful child," is chorused throughout the song as BNXN, aka Buju entices with words and soft lyrics. This song should be on your playlist if you are an ardent music lover.
Last Last from the stables of Burna boy is on our list of top trending Naija song of 2023. It is a song about popular heartbreak slang, "Breakfast".
Last Last is one of Burna Boy's biggest songs in 2022. It was recently named the most searched term on Google search queries.
The track is from his latest album, "Love Damini".
19.
Philo - Bella Shmurda X Omah Lay
Produced by Krizbeatz and released in 2022, Philo by Bella Shmurda and Omah Lay is our 13th trending Naija song.
The melodic tune embedded in this track draws in the listener's heart and soul to its melody. Bella Shmurda never disappoints with creating mega sounds to entertain his youth following.
Adding the vocal prowess of Omah Lay gives all it needs. Enjoy and listen to Philo- a single off the Hypertension album.
Wizkid's "Bad to me" ranks on the trending Naija song this year. Nigerian Afrobeat star boy, Wizkid employs a mixture of afrobeat sound and Amapiano to deliver this magical sound.
The slow club-like tempo will leave you bopping your head in no time. No need to say much. Listen to this mega sound and say thank you later.