Latest classy ankara long gown styles for ladies 2022
Staying on top of fashion ankara trends is a chore, that's why Clacified has created a list of the latest classy ankara long gown styles 2022.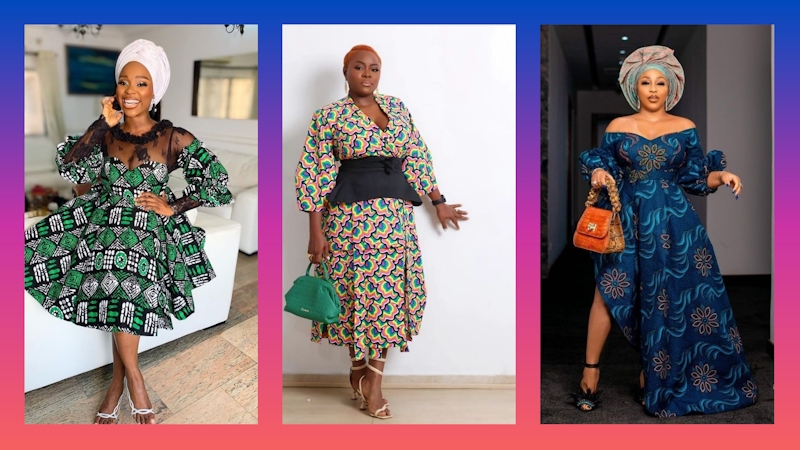 African women and gorgeous, classy ankara long gown styles are fashion inspirations for ladies around the globe. If you are a woman and you are African, then you will love beautiful Ankara long gown styles. The latest ankara gown styles are fast becoming trendy due to contemporary styles being recreated with ankara.
Brides and wedding guests are bold enough to dazzle in ankara gown styles that fit the bill for gorgeous, attractive, and stylish . The ankara fabric is multifaceted and can be designed or styled to suit your fashion needs.
You can decide to have a Cinderella-cut ankara long gown or jump in with an edgy design for bold statements. Here are the latest ankara long gown fashion styles for a bolder look at any occasion:
1.
Open-sleeve train ankara style
BBNaija Alex Unusual stuns in this beautiful Ankara long gown. The train mermaid cut adds a classy elegance, while the open sleeves are all shades of gorgeous and stylish. You should definitely try this one.
2.
Ruffle long-sleeve with V-neck
Add some extra frills to these classy ruffled hand sleeves with a V-neck cut. Dazzle in style with this lovely ankara long gown. V-necks are have changers to achieve elegant fashion statements. If you don't have a piece of this in your wardrobe, now is the time to add it to your fashion bucket list.
3.
One hand side ruffle ankara long gown
Stand pit like a boss in a chic ankara long gown style. The one-hand sleeves and side ruffles add a mystery hint to your outfit. You can style this outfit with pencil heels and a clutch bag.
4.
Off shoulder drape ankara long gown
Unleash your inner Cinderella with this gorgeous off-shoulder ankara ensemble. Looking chic has never been an easy job, but this style gives you a gentle touch of a fashionista on a platter of gold. Finish up with a dangling neckpiece and earrings.
5.
Simple razor cut ankara long gown style
Nollywood actress, Lillian Afegbai is a style inspiration for ankara long gown styles for ladies. The simple cut of this style around the cleavage area nails the statement. Simple ankara long gown styles have always been a classy choice. Pair them up with shiny sandal heels and any bag of your choice.
6.
Layered tube ankara long gown style
Tube ankara long gown styles always make a bold statement. Win the room over in this layered tube ankara long gown styles. The details at the bottom add extra ginger to this fashion-style recipe. Pair up with a stunning neckpiece in gold or silver.
7.
Simple ankara long gown
Less is always more. Try out this simple, classy ankara long gown style for ladies and watch eyes stare in admiration. If you have a gorgeous figure, then this style will do all the talking.
8.
Simple butterfly sleeve ankara long gown
Add character and a hint of rich aunty vibes in simple butterfly sleeves ankara style. The style is casual and chic, perfect for a hangout or brunch with your favourite girls.
9.
Slash cape sleeves with high slit ankara long gown
Fashion is identity, and the above ankara long gown is a blend of all the right things. The cape-slash sleeves give off a regal appearance, and the stylish opening at the back rounds off the look. This style is suitable for any occasion, including weddings.
10.
Turtle neck cap sleeves
Go for this simple turtleneck ankara long gown style for ladies. It is a great style for conservative ladies who prefer simple, detailed ankara long gown statements.
11.
V neck front slit ankara long gown
Live on the edge with this beautiful ankara long gown style. The plunging neckline and sexy thigh slit draw the attention you need. The overall look gives off stylish queen vibes.
12.
Goddess ruffles tube ankara long gown
A mixture of style and rhythm, this goddess-like ankara long gown style screams royalty. The tube's princess cut details draw attention to the details. Try this cute style and dazzle on any occasion.
13.
Cap sleeves with cape ankara long gown style
Match up with the latest trending ankara long gown styles. This style inspiration is a great wedding guest outfit or bridal ankara style that you cannot afford not to own.
14.
Drape ankara long gown
Talk about draping and fashionable; stun in this new fashion statement any day, any time. The drape ankara long gown style is fast becoming a trend in the ankara fashion world.