Michelle Obama's biography and net worth 2022
Michelle Obama is the wife of Barack Obama, former U.S president, and has made her mark with advocacy and outreach. Here we take a look at the biography of Michelle Obama.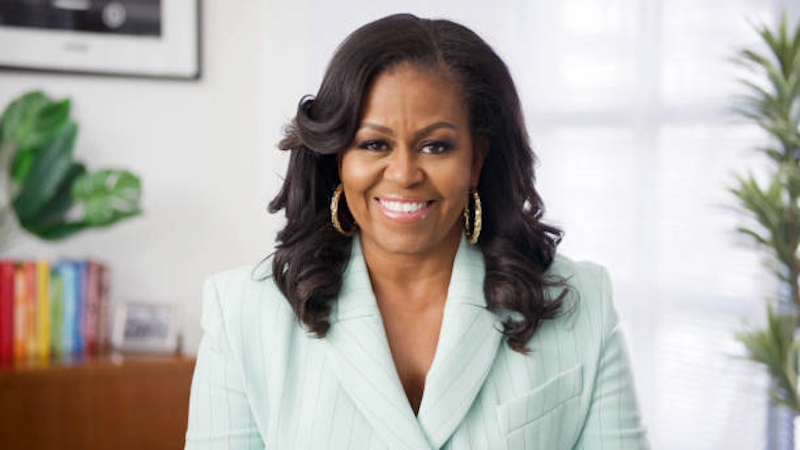 Michelle Lavaughn Obama, lawyer, author, and first African American First Lady of the 44th president of America (Barack Obama), is a force to remember.
Michelle's life work transcends her duty and role as a leader or a visionary. Her advocacy and initiative for healthy households, international service members and their families, higher education, and international adolescent girls' education.
Clacified delves into the biography of the life and times of Michelle Obama as one of the world's most charismatic First Lady.
Michelle Obama Biography

Full name

Michelle Lavaughn Robinson

Date of birth

January 17, 1964

Age

58

Nationality

African American

Parents

Frasier Robinson III and Marian Shields

Birthplace

Chicago, Illinois, U.S.

Spouse

Barack Obama

Occupation

Author, Lawyer, advocate, philantropist

Children

Malia and Sasha Obama

Relatives

Obama family (by marriage)

Craig Robinson (brother)

Education

Princeton University

Harvard University

Religion

Christian

Party

Democratic Party
Michelle, Barack Obama and their two daughters Malia and Sasha/getty images
Early life & Education of Michelle Obama
Born on January 17, 1964, in DeYoung to parents Frasier Robinson III and Marian Shields- Michelle Robinson, Obama grew up in Chicago's South Shore neighborhood with her older brother Craig.
In her book "Becoming," Young Michelle said she attended Chicago Public Schools and quickly joined gifted classes in elementary school. By 1981, Michelle graduated salutatorian from Whitney Young High School.
Michelle had always looked up to her brother, so when it was time to pick a university, Craig's choice influenced her decision to go to Princeton University in New Jersey.
Four years later, in 1985, she graduated with a Bachelor of Arts degree, majoring in Sociology with a minor in African-American Studies. This informed her scholarly senior thesis: "Princeton-Educated Blacks and the Black Community."
In 1988, Mrs. Obama got her law degree from the prestigious Harvard Law School. Shortly after her Harvard graduation, she joined the Chicago corporate-law firm of Sidley & Austin, where her focus was in entertainment law, and was finally appointed advisor to summer associate Barack Obama. 
She resigned from Sidley & Austin in 1993 and worked for the city of Chicago's Department of Planning and later the national service organization Public Allies-where she met the man of her dreams, Barack Obama.
Barack Obama and Michelle Robinson's love story blossomed, and in 1992 at Chicago's Trinity United Church of Christ, they walked down the aisle. The couple has two gorgeous daughters, Malia and Natasha "Sasha."
Ambitious and a go-getter, Mrs. Obama accepted the Associate Dean of Students position at the University of Chicago in 1996. She also served as director of the University Community Student Center in 2002.
Michelle and her husband, Barack Obama
Michelle Obama supports Barack's Campaign
In 2008 Barack Obama announced his candidacy for the Democratic presidential nomination, and without flinching, Michelle took a prominent role in his campaign. 
She took leave from her position at the University of Chicago to commit fully to campaigning while still maintaining time to care for their children. 
A skilled speaker, she went all out for her husband during the long Democratic primary race, and by June 2008, Barack was finally hitched on as the party's presumptive nominee. 
Michelle Obama was popular for humanity in openness on the campaign trail and in interviews—she often humanized her husband by discussing his faults and implored observers not to "deify him"—endearing her to many. 
However, critics have a few nips in the bud with her statements during her husband's campaign.
For instance, while campaigning in Wisconsin in February 2008, Michelle Obama said, "for the first time in my adult lifetime, I am proud of my country." She had to explain her statement later—saying that she meant she was impressed that Americans were eagerly engaging in the political process during the 2008 election.
Following that little episode, Michelle continued to play an active role in her husband's campaign. 
Nicknamed "the closer" by campaign aides- Michelle's persuasiveness is second to none as she rallied uncommitted voters to attend.
 Barack Obama, Michelle's husband, was elected 44th president of the United States, defeating Arizona Sen. John McCain; he took office on January 20, 2009, and was reelected in 2012.
Michelle Obama as First Lady
Michelle Obama as First Lady (2009-2017)
After President Obama's ascension to the post of President of the United States of America, Mrs. Obama launched multiple initiatives like the Let's Move initiative, which targeted childhood obesity by encouraging kids to participate in physical activity and revamped US school lunches to include more nutritious food options.
To encourage healthy meal planning at home and help Americans learn about where their food comes from, Mrs. Obama planted a vegetable garden on the grounds of the White House in 2009—the first since Eleanor Roosevelt's Victory Garden during World War II. 
The harvested vegetables were collected and prepared in the White House kitchen and provided to Miriam's Kitchen, a local organization serving the homeless community in Washington, DC.
In 2012, Mrs. Obama documented all her experience establishing the White House kitchen garden and published her first book, American Grown: The Story of the White House Kitchen Garden and Gardens Across America 2012.
Expanding her educational goals to the international level, the Let Girls Learn program drew together resources from the US Department of State, US Agency for International Development, Peace Corps, Millennium Challenge Corporation, and US President's Emergency Fund for AIDS Relief (PEPFAR) to empower young girls across the world to secure a quality education.
Fueled by charity and passion, Michelle Obama took a bold step to lend her voice in advocating for the release of the Chibok girls in 2014.
The plight of more than 250 schoolgirls kidnapped by Islamist militants in Nigeria was a sad tale of misery and fear. Michelle describes one as an "unconscionable act" committed "by a terrorist group determined to keep these girls from getting an education – grown men attempting to snuff out the aspirations of young girls."
The former First Lady's outburst led to her bringing back our girls' hashtag campaign.
Michelle Obama is an author
Michelle Obama had always been ambitious, even before she assumed the position of America's First Lady.
This explains her public sector position in the Chicago city government as Assistant to the Mayor and Assistant Commissioner of Planning and Development in 1991. Two years later, in 1993, Michelle became executive director for the Chicago office of Public Allies, a non-profit organization( encouraging young people to work on social issues).
A trailblazer, her work of four years and her fundraising record remained unbeatable twelve years after she resigned from the company.
By 1996, Michelle was the Associate Dean of Student Services at the University of Chicago. Fast forward to 2002, she started working for the University of Chicago Hospitals, initially as executive director for community affairs and, starting May 2005, as vice president for Community and External Affairs.
She held the University of Chicago Hospitals position during the primary campaign of 2008 and went part-time to spend time with her daughters to support her husband's election. After a while, she put the job on hold to devote time to her family and her husband's career.
According to Obama's 2006 income tax return, Michelle's income was $273,618 from the University of Chicago Hospitals, while her husband was $157,082 from the United States Senate. In total, the couple's income culminated in $991,296, including $51,200 she earned as a member of the board of directors of TreeHouse Foods, ad investments, and royalties from his books.
Last year, 2021, the former first lady hinted that she was "moving toward retirement." Although she continues to be active in political campaigns, Michelle said she is taking a back seat to spending more time with her husband.
Michelle Obama's net worth
Over the past years, Michelle Obama has authored over 9 successful books through which she receives royalties each year. In the past 12 months, Michelle Obama has earned over 15 Million dollars through such royalties. Throughout her lifetime, Michelle Obama has earned over $40 million in royalties to date.
Spotify also sealed a three-year deal with Michelle Obama for 15 Million dollars for her podcast channel. This means that for all her podcasts on Spotify, Michelle Obama will earn up to $5 million each year. In 2022, Michelle Obama will be worth a whopping $70 million.