List of countries Nigerians can travel to without visa
You wish to travel out, but you have considered the amount, time and processes involved in getting a visa, here are lists of free visa countries for you as far as you have your valid Nigerian passport.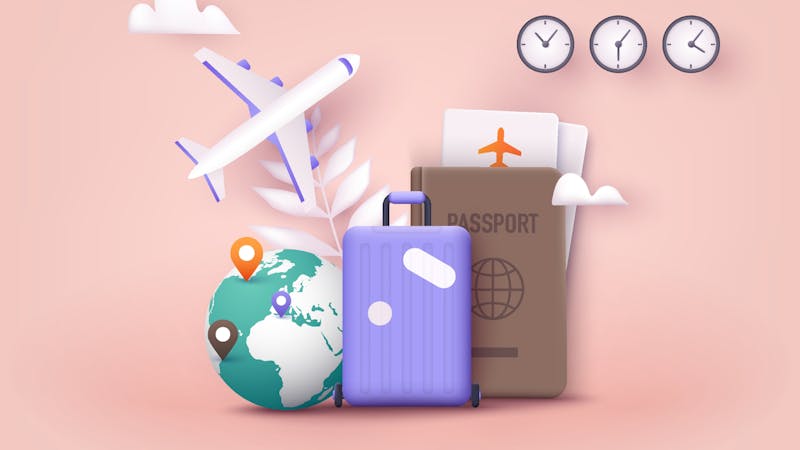 If you want to travel out of Nigeria but worried about how to get a visa, you might want to check out this article for a list of countries you can travel to without a visa.
The advent of technology has made some things easier and some others difficult. Travelling out of one's country to another country is part of the difficulties that one encounters in today's world as a result of rapid growth in technology.
It is now a norm and rule in some countries not to welcome an individual without a passport and appropriate visa documentation. A visa is like a permit to enter into a country for a specific time, and it is issued by the country you wish to visit.
Before the citizen of a particular country can leave his or her country to another one, he or she must provide a passport.
A passport is not an easy document to get in some countries. In a country like Nigeria, the cost of a passport is relatively expensive and getting a visa when travelling has posed as one of the most difficulties Nigerians who wish to travel out encounter.
The processes involved in getting a visa can be tiring. However, considering Nigeria's situation at the current time, many wish to leave the country in search of a greener pasture and peace and relaxation.
If you wish to travel out, but you have considered the amount, time and processes involved in getting a visa, here are lists of free visa countries for you as far as you have your valid Nigerian passport.
Barbados
Barbadoes, is one of the countries Nigerians can travel to without visa
Barbados is one of the countries you can travel to without a visa. It is a beautiful country which is located on the eastern parts of the Caribbean islands.
It is surrounded by beaches and can also boast of caves and other interesting tourist attractions to be explored.
Barbados has a population of 284 000 and is abound with natural beauty, crystal-clear waters and amazing beaches.
Top attractions include Carlisle Bay in Bridgetown, Harrison's Cave in Saint Thomas Parish and Dover Beach in St. Lawrence Gap.
Barbados experiences a wonderful climate, with warm temperatures all year, and plenty of sunny days. The best time to visit would be between April and September, which is during the island's off-peak season.
Though there are sometimes threats of hurricanes in the summer months (June to August), this Caribbean destination is fortunate enough to experience good weather during this time.
Peak season falls between December and March, and flights and accommodation are more expensive during this time. You will also find out that the beaches and tourist attractions will be more crowded.
When travelling to Barbados, you won't need a visa as a Nigerian citizen, all you would need for your travel is a valid passport and travel tickets.
The visitors are equally required to have sufficient funds to cover their stay as well as a return ticket.
Georgia
Georgia is the only European country which offers Nigerians visa on arrival, and it is also categorized as a visa-free country because the visa is only issued on arrival into the country. Georgia is one of the countries to travel to without a visa.
Mauritius
A beach side in Mauritius, one of the visa-free countries for Nigerians
Situated in East Africa is the charming Indian Ocean island nation – Mauritius. Mauritius is one of the countries to travel to without a visa.
It includes over 1.2 million residents and is known for its picturesque beaches, reefs and lagoons. Mauritius offers you gorgeous nature, international influences and exceptional wildlife.
Popular attractions include Seven Coloured Earths in Riviere Noire, Île aux Cerfs island and L'Aventure du Sucrem.
Mauritius offer Nigerians, visa-free stay for a duration of 90 days in the country.
Gambia
Gambia, which is an African country is also a visa-free country for Nigerians
The Gambia is an overlooked African holiday destination, but it has much to offer in the way of its palm-fringed beaches, nature reserves, bird watching, culture and history.
The intriguing capital city of Banjul has an alluring charm with its captivating history, golden beaches and aromatic markets.
Situated on St. Mary's Island, the city bristles with character as you wander between the faded colonial buildings in Old Town, see the traditional knitting houses made of bamboo and bargain your way through the famous Albert Market.
Nigerian passport holders are allowed a period of 90 days of free visa entry into Gambia, but you will be expected to produce a return ticket.
Iran
Situated off the coast of the Persian Gulf is the charming nation of Iran. With a population of more than 79 million residents.
Iran is the second-largest country of the Middle East. Iran offers you diverse landscapes, majestic architecture and exceptional culture. Nigerians are allowed to visit Iran without a visa and stay for some days.
The most popular time to visit Iran is during spring (March-May). The temperatures around this time are the most comfortable, drawing numerous visitors to the cities of this Middle East nation.
If you can handle the crowds, be prepared to book well in advance and pay higher hotel rates (prices go up and availability goes down in April).
Skip the crowds by visiting Iran during summer (June – October) and winter (November – February). Summer brings the highest temperatures and minimises the crowd.
Hot weather may mean it can get uncomfortable with a headscarf, but you can enjoy lower hotel rates (especially when compared to the period between March and May). September and October bring slightly lower temperatures, making it the perfect time for some outdoor activities.
Seychelles
Seychelles has a lot of scenic beaches and great relaxations spots. It is one of the visa-free countries for Nigerians to travel to
Seychelles is a gorgeous archipelago in East Africa, in the Indian Ocean. This nation, including over 92,000 residents, is famously known as an alluring coastal holiday destination.
Seychelles offers you scenic beaches, thrilling outdoor activities and exceptional cuisine. It is one of the visa-free countries which means you can visit this beautiful country without a visa.
The lush greenery you will find in Seychelles is due to the country's tropical climate and generally humid conditions, with hot weather and varying volumes of rain throughout the year.
The summer (June – September) and the winter (December – March) are the most popular times to visit.
Seychelles is a visa-free country, but intending visitors to Seychelles are advised to apply for a 1-month extendable visa before arrival into the country.
Bangladesh
Bangladesh located in the Asian continent is another non-African country which allows visa-free entry for Nigerians, but a Visa is issued on arrival for a period of 30 days.
Bangladesh is busy and loud, and also serene and peaceful – an overall wonderful destination for an adventurous traveller.
The landscapes and beaches are untouched and wondrous, and you're guaranteed to meet locals who will embrace your soul. This beautiful country has a population of 161 million.
The best time to visit Bangladesh is during the dry season, which falls between late-October to March. During this time, the weather is also a lot cooler and pleasing for visitors, as daytime temperatures range between 24°C and 30°C.
Madagascar
A beautiful landscape of Madagscar; Nigerians can travel to this country without visa
Madagascar is an island country located in the Indian Ocean, off the coast of south-east Africa.
Madagascar has a population of more than 24 million people. Madagascar is an adventure island with otherworldly, diverse attractions, which leaves you feeling incredibly appreciative of nature's miracles.
The best time to visit genuinely depends on which part you'll be visiting.
During the dry season, the north is hot and humid, and the south is dry. June and July is the perfect time for watching baby lemurs as well as humpback whales on Ile Sainte-Marie.
During November and December, the rains begin to return to Antananarivo, the north and the central highlands of Madagascar.
Madagascar allows Nigerians to get Visa on arrival in Madagascar for a duration of 90 days.
Sri Lanka
Sri Lanka is a country known for its tea plantations, exotic wildlife and glorious beaches. It is a destination that calls to adventurous travellers. With 20 million residents, Sri Lanka is a country as vast and culturally diverse as it is beautiful.
Sri Lanka experiences an equatorial climate which means lovely warm days all year.
However, it does have two monsoon seasons, so depending on where in the country you want to visit, you might want to check the weather updates as the rainfall can be somewhat unpredictable.
Monsoon in the south-western region occurs between May and July, and in the north-east region between October and January.
Though it is fairly hot over most of the country, the northern regions such as Kandy and Nuwara can get quite chilly in the evenings, with temperatures averaging 15°C. For wildlife viewing, the best time to go is between November and April.
Nigerian Passport holders travelling to Sri Lanka will need an "Electronic Travel Authorization" that will enable their stay in the country which allows a 30 days stay without a visa.
Dominican Republic
The Dominican Republic is a sovereign state in the Greater Antilles archipelago in the Caribbean Region.
With a population of approximately 10 million people, it is one of the most diverse countries boasting incredible mountain scenery and captivating colonial architecture.
The Dominican Republic primarily has a tropical climate and sees little variation in temperature throughout the year.
The amount of rainfall determines the change of season in the country. Summer (May to October) is also referred to as the rainy season.
The month of May experiences the highest capacity of rain. Tourists should take note of the hurricane season which occurs during the touristic low season (beginning of June – end of November).
The high season occurs from December 15 to April 15, when most outdoor activities are taking place.
This Caribbean country offers Nigerians Free Entry Visa for 21 days, and it is one of the non-African countries, you can gain access to without a visa, but you must show your return ticket.