2023: Did Wike endorse Peter Obi for President?
Nyesom Wike's reported support for Peter Obi might also be a case of "my enemy's enemy is my friend."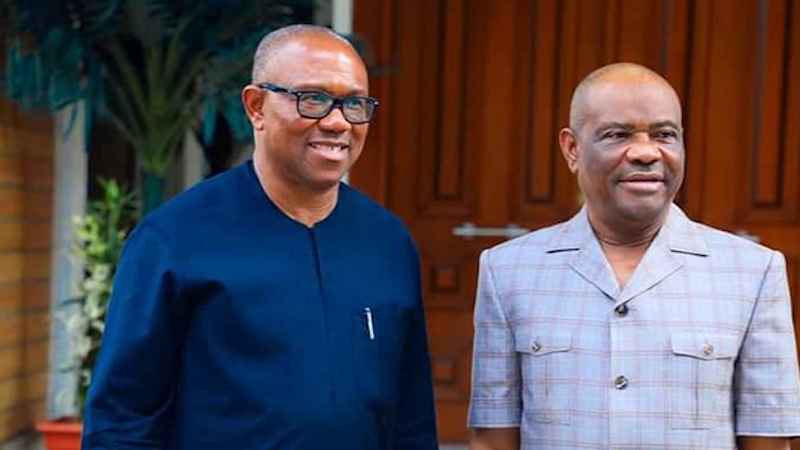 In the news making rounds across the nation, Rivers State Governor Nyesom Wike openly pledged his support for Labour Party Presidential Candidate Peter Obi.
However, the big question remains: Is this an endorsement? Did Governor Wike endorse Peter Obi as president in the coming 2023 election?
Nyesom Wike, a Peoples Democratic Party presidential aspirant who lost the party's flag bearer after coasting 237 votes to Atiku Abubakar, who garnered 371 votes, has become a torn in the flesh of the major opposition party.
Following the conclusion of the party's primaries held on May 28, 2022, at the MKO Abiola National Stadium, Abuja, Wike, and his party had been at loggerheads over an alleged breach of contract and promise.
The Rivers State Frontman had accused the party's flag bearer, Atiku Abubakar, the national chairman, Iyorchia Ayu and other major party stakeholders of conniving to surcharge him.
Wike alleged that he accepted the outcome of the presidential primaries because he was promised that the party's national chairman would be zoned to the south.
Atiku Abubakar, Nyesom Wike, Iyorchia Ayu
What happened at the PDP primaries?
The People's Democratic Party primaries, like every other party primary in the nation, had their hiccups. With four heavyweights, Nyesom Wike, Atiku Abubakar, Aminu Tambuwal, and Bukola Saraki, lobbying to become the party standard bearer, it was obvious that protocols would be broken and compromises would be made.
Out of the 14 aspirants lobbying to become the PDP standard bearer in the 2023 presidential elections, a few stepped down for their preferred candidate on deal day, as is customary in most primaries across different parties.
Of the few that bowed out of the PDP presidential primary race, Sokoto State Governor, Aminu Waziri Tambuwal, CFR, changed the election tide.
The House of Representatives Speaker declared his support for Atiku, charging his electorate to transfer their votes to Atiku in order to "close ranks in the party and as one of the leaders in this party."
"And not only that, I have appealed to my supporters to take this in good stride and, for national unity and patriotism—not only that, but those who are delegates here—should vote for Alhaji Atiku Abubakar," Tambuwal had said.
This unexpected move by Tambuwal thwarted the victory plans of the Rivers State Governor. He had taken the lead in the election as the party faithful thought it was right for a southern-Igbo man to become Nigeria's next president.
Wike, however, accepted the outcome of the primaries after claiming that Tambuwal's withdrawal was late and should not have been considered per the protocol of the party during presidential primary elections.
The Rivers helmspersons accepted the outcome of the primaries based on the promise that the national chairman would be zoned to the south since the presidential candidate had emerged from the north.
However, the party made a U-turn and decided that the national chairman cannot step down until after the 2023 election is concluded, saying he must complete his tenure and that it is against the party's constitution to install another chairman.
The party also maintained that if the national chairman, Ayu, steps down, his deputy, Iliya Damagun, will take over the reigns of affairs per the party's constitution, which makes Wike's National Chairman's aspiration a good thing with the wrong timing.
In his defense, Wike maintained that constitution or not; the party must uphold the agreement made to him, as he argues that the party faulted its constitution by electing a northerner as its presidential candidate.
He further stated that if the party could negotiate its way into having a northern presidential candidate while a northern national chairman was still on-seat, it could tilt its constitution to meet his demands.
Among many other accusations leveled against his party, Wike accused Ayu of corruption and alleged that his refusal to leave the position was due to his corrupt practices.
Howbeit, Ayu has debunked the allegations, stating that he remains a faithful member of the party and has never spent party funds without observing due protocol.
Running mate slot: Atiku boycotts Wike
Wike expected the party to give him the running mate position after denying him the national chairman and flag bearer positions.
However, Wike was boycotted, and his Delta State counterpart, Ifeanyi Okowa, was chosen against the National Working Committee recommendation, which voted in favor of Wike.
Defending his action, Atiku said he couldn't work with Wike, so he opted for Okowa.
Dele Momodu, a former presidential aspirant and journalist turned politician, revealed on Channels Television that Wike never wanted to be Atiku's running mate.
Modmodu explained that Atiku had approached the Rivers State Governor, requesting that they run a joint ticket, but Wike declined, stating that he wanted to compete for the presidential ticket of the party.
While speculations of Wike's desire to be Atiku's running mate are still largely unsubstantiated, choosing Wike would have salvaged the interval crisis reducing the chances of the PDP winning the 2023 presidential elections.
G5-Governors and their demands
Governor Seyi Makinde, Nyesom Wike, Samuel Ortom, Okezie Ikpeazu, Ifeanyi Ugwuanyi
Angry Wike took a bite at his party and formed a team of aggrieved governors who disagreed with Atiku's choice as the presidential candidate of the PDP.
Wike and the other 4 governors, Seyi Makinde of Oyo State, Samuel Ortom of Benue State, Okezie Ikpeazu of Abia State, and Ifeanyi Ugwuanyi of Enugu State, formed the G-5 Governors.
The G-5 Governors, in their resolution, said they stand for equity, justice, and fairness, which they say must first be reflected in their party before it could be replicated at the national level by their principal, whose mantra for the 2023 election is "The Unifier."
Wike and his G-5 fighting army had vowed not to work for Atiku come 2023 unless the party fulfills their initial agreement of zoning the party's national chairman to the South.
Not just the G-5 Governors, some PDP stakeholders, and chieftains also support Wike's cause, adding that for the party to reclaim its lost mandate in the coming 2023 elections, it must first settle the scuffle that has led to discord in the party.
Atiku has been silent on the decisions taken against him by the G-5 Governors, but his spokesperson, Former Lawmaker Dino Melaye has argued that the governors would not work against Atiku, as they risk losing elections in their various states.
However, Wike dislodged the idea of losing his state if he didn't support Atiku's presidential ambition, stating that his influence in Rivers could be used at will.
Further kicking out Melaye's election permutations, Wike claimed PDP would win the governorship and all other elective positions in Rivers but maintained that Atiku would lose as he vowed to work against him.
Although the PDP has made several appeals to the G-5 Governors, they have been futile, as they refused to accept any appeal unless the party zoned the national chairman to the south.
To quell the G-5 army rage, the National Working Committee proposed that Wike accepts Ayu's resignation after the 2023 elections; however, the G-5 mocked the appeal, insisting 'agreement is agreement.'
The inability of his party to come to terms with the condition of the G-5 governors led to Wike endorsing non-PDP members in some states for elective positions in the coming 2023 elections.
Aside from endorsing and pledging support, Wike had also been inviting non-PDP politicians to his state to commission several projects, a jab he's throwing at his party for breaching their agreement.
Datti-Baba Ahmed, Nyesom Wike, Peter Obi
Wike subtly endorses Peter Obi
In his last commissioning, Wike pledged 'logistical' support to the Labour Party presidential candidate, Peter Obi, to aid his campaign as he lobbies to become president.
Though Wike did not officially endorse Peter Obi, he did say, "Each time you want to campaign in the state, let me know, and all the logistic support we will give you."
Throwing a subtle hand of endorsement on Peter Obi, Wike, during the commissioning of the Oroworukwo flyover in Port Harcourt, said, "As a person, you have all the characteristics to lead this country; nobody can deny that."
"All I pray for is for God to give you the strength and wisdom to continue to move from one step to the other," he added.
Peter Obi is not the first non-PDP member that Wike would be heralding amongst those contesting elective positions in the coming 2023 elections.
Wike had boycotted his party's governorship candidate in Lagos State, Abdul-Azeez Olajide Adediran, popularly known as Jandor, and prayed for Lagos State Governor Babajide Sanwo-Olu's success in his second bid for office.
Wike did not officially endorse Peter Obi as his preferred presidential candidate; he, however, did prayed that he succeeds in becoming Nigeria's first Igbo president since independence.
He also promises to provide logistical support for his campaign when needed, especially in Rivers State.
Since Wike and his G-5 army had vowed to work against Atiku in their various state, and he promised to give Obi logistical support when campaigning in his state. It would be safe to say that Wike has thrown his weight behind Obi, even though he has not made any official statement to this effect.
However, the Rivers State Governor says he's still open for reconciliation if the party is ready to fulfill his demands and hand him the party's national chairman.