Who is Yevgeny Prigozhin and the Wagner Group? Why have they turned against Putin?
The situation involving Yevgeny Prigozhin and the Wagner Group continues to unfold, with tensions escalating and potential implications for both domestic and international security.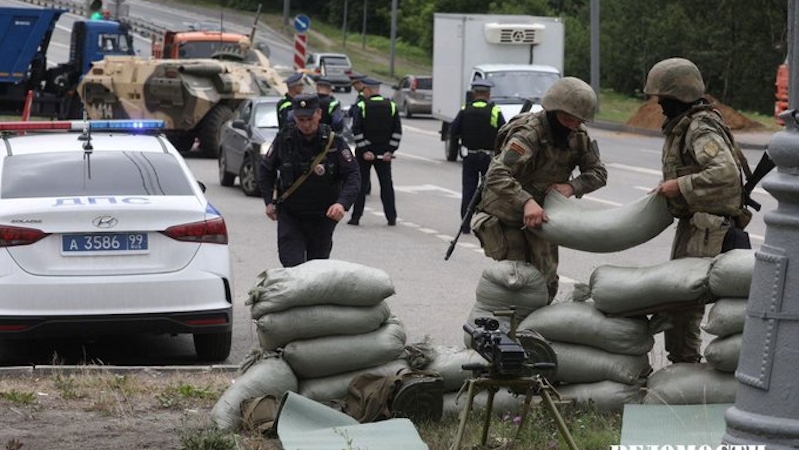 Yevgeny Prigozhin, the founder of the Wagner Group, has engaged in a public conflict with the authorities of the Russian Federation, resulting in the implementation of a CTO (Counter-Terrorism Operation) regime in several regions of Russia and the reinforcement of security measures. In this exposè, Clacified provides detailed insights into the insurrection led by Wagner.
Who is Yevgeny Prigozhin?
Yevgeny Prigozhin is a Russian entrepreneur who serves as the head of the Concord group of companies. He established the Wagner Group, which operates as a mercenary organisation involved in military engagements across Africa, Syria, Ukraine, and other parts of the world.
While Prigozhin's operations have been closely linked to the Russian Ministry of Defense, they are officially considered non-state entities.
Prigozhin's background reveals that he was born on June 1, 1961, in St. Petersburg. He attended a sports boarding school and, at the age of 18, received a suspended sentence for theft. 
Later, at the age of 20, he was sentenced to 13 years in prison for crimes such as theft, robbery, fraud, and involving minors in criminal activities.
He was eventually pardoned in 1988 and left the colony-settlement in 1990. Prigozhin briefly pursued studies at the Leningrad Chemical-Pharmaceutical Institute but did not complete his degree.
Since 1990, Prigozhin has been involved in various business ventures, including the establishment of a hot dog chain in St. Petersburg, followed by a chain of supermarkets. 
In 1996, he opened an elite restaurant called "Staraya Customs," where he earned his first million dollars by the end of the year. 
Notably, the New Island floating restaurant, opened by Prigozhin in the spring of 1998, hosted a dinner between Russian and French Presidents Vladimir Putin and Jacques Chirac in 2001.
Subsequently, Prigozhin gained attention as "Putin's chef" when the restaurant also received a visit from US President George W. Bush in May 2002. In a recent interview, Prigozhin refuted this nickname.
What does Wagner Group do?
Private military companies, or PMCs, exist in numerous countries worldwide and are typically hired to protect important assets or participate in armed conflicts. 
PMC Wagner, on its official website, states that it provides three main services: 
Special Forces, 
artillery, and 
assault groups. 
The assault groups of PMC Wagner claim to be capable of establishing law and order in any state.
Is Wagner public or private?
The Wagner Group, also known as PMC Wagner, is a private military company with no clear legal status. Although it operates as a paramilitary organisation involved in armed conflicts, it is not officially affiliated with the Russian Ministry of Defense or any other state entity. The group has faced various sanctions.
What's the connection between Wagner Group and Putin?
Regarding Putin's connection with the Russian Ministry of Defense and the Wagner Group, it was in 2014 that the Ukrainian special services first mentioned the presence of the Wagner Group in the Donbass region, with its fighters being identified. 
The leader of the Wagner Group at that time was Dmitry Utkin, who had the call sign "Wagner" and was previously associated with the Russian GRU special forces. In 2017, it was revealed that Utkin was heading Prigozhin's restaurant business.
Prigozhin initially denied any affiliation with the Wagner Group, even going as far as filing a lawsuit against Alexei Venediktov, editor-in-chief of Ekho Moskvy, for referring to him as the "owner" of the organisation during a radio broadcast.
However, in August 2022, Prigozhin won the case but admitted the following month that he was indeed in charge of the Wagner Group. He explained his earlier denial as an attempt to protect other members of the organisation.
Wagner Group and the Ukraine war
Prigozhin has been evasive when questioned about the sources of funding for the PMCs, often responding with statements such as "Wagner is financed from money raised from the sale of tears and suffering of Western democracies." 
The size of the Wagner Group was estimated in December 2022 to be around 50,000 mercenaries, with the United States estimating that over $100 million is spent monthly to support Wagner's operations in Ukraine.
It is known that Prigozhin recruited prisoners to participate in military operations in Ukraine. As of the end of March 2023, Prigozhin revealed that more than 5,000 prisoners had been pardoned and released after their contracts with the paramilitary organisation ended. 
He claimed that less than 0.5 percent of these fighters returned to prison after their involvement in battles. In February 2023, Prigozhin announced that he would no longer recruit prisoners into the ranks of the PMCs.
How many Wagner mercenaries have been killed?
In an interview with media technologist Konstantin Dolgov, Yevgeny Prigozhin disclosed that approximately 20,000 mercenaries from PMC Wagner had been killed throughout the war in Ukraine. 
Notably, around half of these casualties were recruited prisoners. Prigozhin explained that he had initially selected 50,000 prisoners, and approximately 20 percent of them had perished during the operations. 
Another 20 percent had sustained injuries that rendered them incapable of carrying out combat missions for extended periods.
Why has Wagner Group revolted against Russia?
Prigozhin has been openly critical of Russian Defense Minister Sergei Shoigu, accusing him of "mediocre management." According to reports from the Russian service of the BBC, the conflict between Prigozhin and Moscow became public on May 17. 
This came after the Wagner Group allegedly encountered Russian military personnel engaged in mining roads in the settlements of Opytnoye and Ozaryanovka, located south of Bakhmut.
Small arms fire was reportedly directed at the Wagner Group from positions held by the Ministry of Defense during their mine-clearing operation in the Semigorye region.
Prigozhin's press service stated that the incident resulted in one of their service vehicles being disabled by a direct hit to the engine. However, no personnel were injured. 
The Wagner fighters disembarked, dispersed, and took retaliatory measures to eliminate the aggression and detain those responsible, according to Prigozhin's press service. 
Later, a video was released by Prigozhin's press service showing his fighters capturing Roman Venevitin, a lieutenant colonel in the Russian army, who had allegedly fired at one of the PMC vehicles. 
In the video, Venevitin admitted to his actions, claiming personal enmity as the motive. Journalists noted visible marks on his face, suggesting that he had been subjected to physical abuse prior to the recording.
Prigozhin publicly criticised the Ministry of Defense in a video message, accusing them of deceiving the public and the president by fabricating a story about Ukraine's aggression and their alleged plans to attack Russia with NATO's support. 
He argued that the so-called special operation was initiated for entirely different reasons. Prigozhin further claimed that instead of achieving the goal of "demilitarising Ukraine," declared in February 2022, the Kremlin's actions had inadvertently bolstered the Ukrainian army, making it one of the strongest in the world. 
He attributed this outcome to the Ukrainian military's high level of organisation, training, intelligence, and diverse weaponry.
On May 4, Prigozhin made a public appearance alongside several dead mercenaries, demanding that the Russian Ministry of Defense provide ammunition to the Wagner Group.
The following day, he announced plans to withdraw the Wagner Group from Bakhmut on May 10 due to insufficient ammunition and heavy losses. 
Finally, on June 23, the Wagner Group declared an armed rebellion, with Prigozhin alleging that Russian troops had launched rocket attacks on his forces, and vowing to embark on a "march of justice." 
Russian authorities refuted these claims, stating that the information regarding missile strikes did not correspond to reality and was an act of misinformation.
In response to Prigozhin's statements and actions, the Federal Security Service (FSB) initiated a criminal case against Prigozhin for leading an armed rebellion, which is a crime punishable by imprisonment for a term of 12 to 20 years. 
On June 24, armed personnel purportedly affiliated with Yevgeny Prigozhin's Wagner Group appeared in the Russian city of Rostov-on-Don and the surrounding region. 
Reports indicated that a convoy of military equipment entered the city from Aksai, resulting in the imposition of a lockdown in certain neighbourhoods of the city centre.
Vasily Golubev, the Governor of the Rostov region, urged citizens to refrain from travelling to the city centre and to remain indoors. 
Media outlets and Telegram channels circulated a video allegedly featuring Yevgeny Prigozhin at the headquarters of the Southern Military District in Rostov-on-Don. 
In the video, Prigozhin declared, "We have arrived here. We want to get the Chief of the General Staff and Shoigu. While they are gone, we are here, blocking the city of Rostov and going to Moscow."
The compensation offered to those interested in joining the ranks of the PMC Wagner was made public in 2022. It included monthly salaries ranging from 240,000 to 300,000 rubles, along with bonuses ranging from 150,000 to 700,000 rubles.
Additionally, social benefits were provided, such as a payment of 3 million rubles in case of injury and 5 million rubles to relatives in the event of death. 
Destroying enemy equipment or personnel would result in additional payments ranging from 50,000 to 300,000 rubles.
Is Rostov in Russia or Ukraine?
Rostov-on-Don, the first hostage of the Wagner Group, is a city located in southern Russia that serves as the administrative centre of the Rostov Region and the Southern Federal District. While situated near the Ukrainian ethno-cultural region of Donshchyna, Rostov-on-Don is within Russian territory.