Femi Otedola Net Worth, Biography and Family History
Here is a detailed information on Femi Otedola's net worth and biography. Femi Otedola is a Nigerian business mogul. Femi Otedola's net worth is currently estimated at $1.8 billion, according to Forbes records.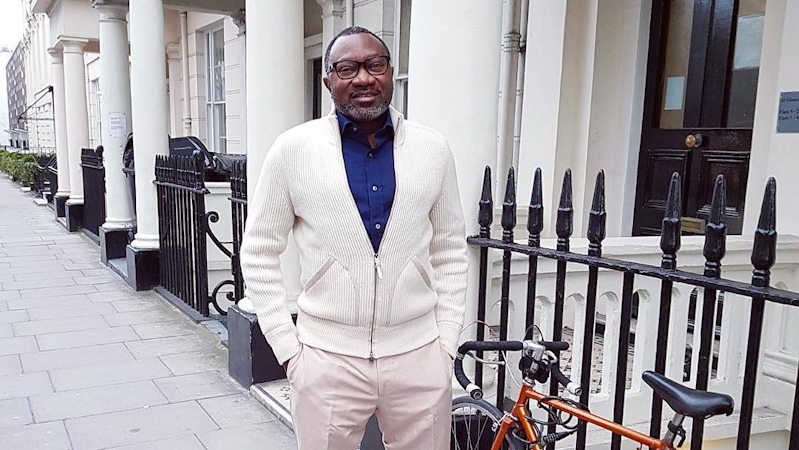 Here is detailed information on Femi Otedola's net worth and biography. Femi Otedola is a Nigerian business mogul. Femi Otedola's net worth is currently estimated at $1.8 billion, according to Forbes records.
Ascertaining the actual net worth of Femi Otedola is difficult because he has investments in different businesses. However, Forbes estimated Femi's net worth at $1.8b in 2016.
Femi Otedola is a Nigerian businessman, a philanthropist, a former chief executive officer of Forte Oil Plc, and an importer of fuel products. Femi Otedola is the father of the popular Nigerian DJ, DJ Cuppy.
Femi Otedola's net worth is currently valued at $1.8 billion, according to Forbes records.
Femi Otedola was born in Ibadan on the 4th of November, 1962, to Michael Otedola and Lady Doja. Femi's father, Sir Michael Otedola, was a one-time Lagos State Governor who served from 1992 to 1993.
Otedola is the founder of Zenon Petroleum and Gas Ltd. and owns several other businesses across shipping, real estate, and finance. He has recently invested in power generation as part of the liberalization of the sector in Nigeria.
Femi Otedola, also known as a fitness buff, spends at least one hour in the gym daily.
Femi Otedola with his three daughters, Tolani, Florence (DJ Cuppy), and Femi Otedola as kids.
Femi Otedola has four children from two women:
Tolani Otedola
Florence Ifeoluwa
Elizabeth Temi, and
Fewa
Femi Otedola's first daughter, Tolani Otedola, is the only child of Femi's first ex-lover, Olayinka Odukoya.
It was alleged that after the birth of Tolani Otedola, Femi's mother had refused her son to marry Tolani's mother, Olayinka. Femi Otedola later left Olayinka and got married to Nana Otedola.
Fewa, the son of Femi Otedola, was diagnosed with an autism disorder at birth.
Florence Otedola, aka DJ Cuppy, is a DJ, music producer, and tourism ambassador for Nigeria. She was also the official disc jockey during the May 2015 inauguration of Nigeria's President Muhammadu Buhari.
DJ Cuppy's younger sister, Temi Elizabeth, is a style blogger and aspiring designer. Otedola has homes in Lagos, Abuja, Dubai, London, and New York City. Recently, there are reports she made her acting debut in Kunle Afolayan's upcoming movie, "Citation."
Tolani Otedola is a singer and songwriter. Unlike the other two sisters, she likes to keep a low profile.
Nigerian Business tycoon, Femi Otedola chilling with his wife, Nana Otedola.
From L-R; Fewa, Tolani, Temi, Femi and Florence Otedola.
Femi Otedola's 3 Ferrari Portofino Gifts to his Daughters
Femi Otedola gifted 3 brand new Ferrari Portofino cars to his three daughters on the same day. The Otedolas set the Nigerian internet ablaze on that very day, with many Nigerians short of words on Twitter.
Clacified reported that each of those three exotic cars is worth 84,323,750.00 Naira ($218,750),
Brand new Ferrari Portofino cars bought by Femi Otedola for his three daughters.
Femi Otedola is an industrious Nigerian, and he owns a good number of companies in Nigeria. Below is a list of Otedola's companies:
Zenon Petroleum and Gas
Forte Oil
CentreForce Limited
Geregu Power Plc
Zenon Petroleum and Gas
Femi Otedola set up Zenon Petroleum and Gas Limited, a petroleum product marketing and distribution company, in 2003.
In 2004, he invested N15 billion in downstream infrastructure development; thus, by 2005, Zenon controlled a major share of the Nigerian diesel market.
Zenon supplied fuel to most of the major manufacturers in the country, including Dangote Group, Cadbury, Coca-Cola, Nigerian Breweries, MTN, Unilever, Nestle, and Guinness.
The year 2005 was a crucial year for Otedola's company, Zenon. Through his company, Zenon, he acquired a 28.7 percent stake in African Petroleum, one of Nigeria's largest fuel marketers.
In December 2007, he acquired a further 29.3 percent of African Petroleum for N40 billion; this acquisition gave him a controlling stake in the company (58 percent)
Zenon also invested across the financial sector, becoming the largest shareholder in several Nigerian banks, including Zenith Bank and United Bank for Africa (UBA). As well as diesel, Zenon also became an important player in the kerosene market.
The Hiccup: During one of his interviews, Otedola said
I had about 93 percent of the diesel market at my fingertips. Suddenly, oil prices collapsed, and I had over one million tons of diesel on the high seas, and the price dropped from $146 to $34.
Forte Oil
In December 2010, African Petroleum rebranded, changing its name to Forte Oil PLC. Otedola carried out a restructuring of the business, focusing on technology and improving corporate governance. Forte Oil returned to profitability in 2012.
In 2013, as part of the Federal Government's push to liberalize Nigeria's ailing power sector, Otedola financed 57% of Forte Oil subsidiary Amperion Ltd, which acquired the 414 MW Geregu Power Plant for $132 million.
Femi Otedola of Nigeria was the controlling shareholder of publicly traded Forte Oil, an oil marketing and power generation company.
Originally a Nigerian subsidiary of British Petroleum (BP), Forte Oil has over 500 gas stations across the country. It owns oil storage depots and manufactures its own line of engine oils.
In 2013, Otedola led the company to purchase a government-owned stake in a gas-fired power plant in Kogi State (North-Central Nigeria).
In September 2015, Swiss commodities giant Mercuria said it would acquire a 17% stake in Forte Oil for $200 million; as of late February 2016, the transaction is not yet complete.
In June 2019, Femi Otedola completed his divestment from Forte Oil Plc after receiving full payment for the sale of the company to Prudent Energy Services Ltd.
Mr. Otedola shared this on his Instagram profile, confirming a deal that has been in works for months.
In March 2009, Otedola became the second Nigerian after Aliko Dangote to appear on Forbes' list of dollar-denominated billionaires, with an estimated net worth of $1.2 billion.
He made the Forbes list after he was appointed chairman and chief executive of Africa Petroleum through the acquisition of a controlling stake in the business.
From Forte Oil to Geregu
Geregu was purchased in 2013 during the power sector privatization under Amperion Power Distribution Company Limited, a subsidiary of Forte Oil Plc.
After the acquisition, $94 million was initially invested in the power plant. In 2018, another $350 million was pumped into the plant.
Note
Femi Otedola is a shareholder in various companies within and outside Nigeria.
Femi Otedola with his daughters, Tolani, Temi and Dj Cuppy on a vacation
Femi Otedola and Scandals
In 2012, Zenon was among several companies named in a report into an alleged fuel subsidy scam. According to the report, Zenon owed the government $1.4 million.
It was further reported that Farouk Lawan, the Nigerian legislator who compiled the report, had been filmed collecting $500,000 of $3 million from Femi Otedola to remove Zenon from the list.
It subsequently emerged that Otedola had previously reported Lawan's harassment and demands for bribes to the State Security Service, who had orchestrated a sting operation.
Lawan was charged with corruption in February 2013.
Otedola was named in another controversy in December 2016; two Toronto-based sisters, Jyoti and Kiran Matharoo, reportedly tried to extort him by cyberbullying and blackmail, claiming they had evidence of Otedola cheating on his wife that they would post on a notorious sex-scandal website.
Otedola disputed the event as false.
Femi Otedola as a Philanthropist
One of the many philanthropic gestures of Femi Otedola is his donation towards the completion of the Numerical Ecumenical Centre in 2005.
He also donates to Michael Otedola's University scheme, which has helped over 1,000 students. Zenon reportedly donated N200 million from the university's scheme fund in 2005.
To ensure a crime-free Lagos, Femi gave an N200 million donation to the State Security Trust Fund in 2007. He extended his donation to Otedola College of Primary Education by giving the school N100 million in 2007.
Femi Otedola with his wife, Nana Otedola and two daughters (DJ Cuppy and Temi Otedola).
The Faculty of Agriculture at the University of Port-Harcourt was also a beneficiary of Femi Otedola's philanthropy when he donated N80 million to the faculty.
In 2018, Femi Otedola, the chief launcher of Augustine University Fundraising and Founders Day, pledged to build a fully furnished engineering faculty for the university worth N500 million.
He also donated NGN 5 billion (approximately $14 million) to the Save the Children Fund through his daughter, DJ Cuppy's Foundation, to support various intervention programmes for destitute children in Nigeria's northeast region.
Femi Otedola fulfilled his pledge of 25,000 dollars to the Super Eagles in the match against Algeria in the 2019 AFCON.