Japan stage stunning comeback to defeat Germany in major upset
Germany have been handed a shocking defeat in their opening match of the 2022 Qatar World Cup by underdogd, Japan, after a superb second-half comeback.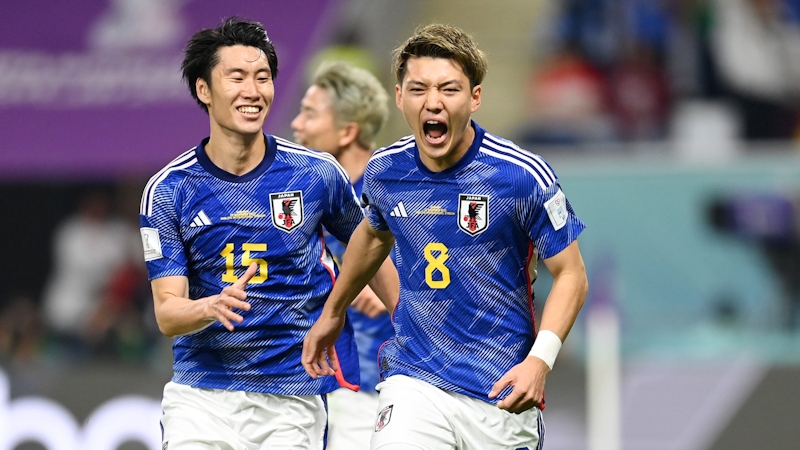 The German national team suffered their first defeat in the 2022 Qatar World Cup, falling 2-1 to Japan in an unexpected comeback.
Midfielder Ilkay Gündogan of Manchester City, successfully converted a penalty kick in the 33rd minute to give the DFB team the lead.
The German national team came within a whisker of doubling their lead during the first-half extra time when Chelsea's Kai Havertz tapped home a cross but was ruled offside after a VAR check.
The DFB Team failed to double their lead in the second half despite several chances, including an Ilkay Gündogan shot that struck the crossbar, and Serge Gnabry's fine header that was saved by Japan's goalkeeper Shuichi Gonda.
Germany teenager Jamal Musiala left in anguish after their 2-1 defeat to Japan in the 2022 World Cup
Japan came close to equalising the score in the 72nd minute, but Germany goalkeeper Manuel Neuer denied them the opportunity to celebrate their first goal of the Qatar 2022 FIFA World Cup tournament.
Two minutes later, Japan got the better of Germany when Freiburg's winger Ritsu Doan converted Manuel Neuer's palmed cross in the 16-yard box.
In the 83rd minute, Japan took the lead after forward Takuma Asano calmly controlled and converted a long pass from their defensive half, handing Germany their first defeat in the Qatar World Cup tournament.
Germany becomes the second tournament favourite to be defeated in the 2022 Qatar World Cup, following Lionel Messi's Argentina, who were defeated by underdog Saudi Arabia by a similar scoreline.
The defeat drops Germany to third place in Group E of the 2022 World Cup and hands Germany head coach Hansi Flick his second defeat since taking over on May 25, 2021.
On Sunday, November 27, Germany will face a much stronger opponent, Spain, who opened their 2022 Qatar World Cup tournament with a 7-0 victory over Costa Rica. Hansi Flick will hope for a victory against La Roja.