Kylian Mbappé net worth 2023
Discover Kylian Mbappé's staggering net worth and salary, from multimillion-euro contracts to a luxury car collection and a Paris mansion.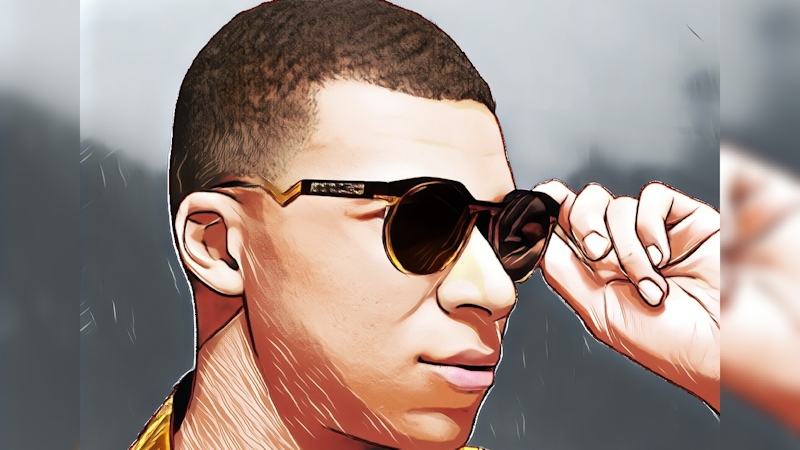 Kylian Mbappé, the 2018 World Cup champion and 2022 World Cup runner-up, holds the esteemed position of being the fourth-favourite personality among the French. From gracing the front page of Time magazine in October 2018 to receiving coverage in the New York Times in September 2022, Mbappé, a football sensation, maintains direct contact with and is lauded by the President of the Republic. With a staggering net worth of $140 million (€128 million) that positions him among the world's richest footballers, Kylian Mbappé has ascended to the leadership role at PSG, steadily solidifying his influence within the club.
Renowned as one of the most influential players in global football, Mbappé wields the power to express his views on coaching choices and impact the sporting direction and transfers of the Parisian club. 
Despite this, he has explicitly stated his commitment to not surpassing his responsibilities as a player. However, the summer of 2023 witnessed the departure of several South American players from the ranks of the capital club, with many of Mbappé's friends, such as Ousmane Dembélé and Randal Kolo Muani, joining Luis Enrique's team.
Notably, Kylian Mbappé stands as one of the highest-paid footballers in the world, with the possibility of a further increase in remuneration and net worth should he choose to honour the third-year option outlined in his contract with Paris Saint-Germain. This distinction also extends to being the highest-paid footballer in Europe, emphasising his financial prowess and status within the footballing landscape.
Named captain of the French team by Didier Deschamps, Kylian Mbappé not only dazzles with his talent and precocity but has also evolved into a brand in his own right. 
With a dedicated website, he attracts sponsors willing to invest millions to associate with him and leverage his image. As an entrepreneur, the young footballer ventures into selling caps adorned with his initials.In addition to his involvement in football, Mbappé exhibits philanthropic qualities through the donation of his French team bonuses to a charitable association and maintaining a connection with his hometown, Bondy, in Seine-Saint-Denis.
In addition to financial gains, Mbappé enjoys perks such as rent coverage, concierge services, and a personal driver. Furthermore, he is entitled to VIP places at the Parc des Princes for his loved ones.
Since his  contract extension with PSG, Mbappé has experienced a financial windfall that has aided in boosting his net worth to 140 million dollars (128 million euros). 
Notably, he receives an ethics bonus, amounting to 259,080 euros gross in 2018, for acknowledging the supporters at the end of matches. 
This ethical gesture is not exclusive to Mbappé but extends to all PSG players, proportionate to their salaries, as a way of recognizing the club's fans.
In his previous contract, Mbappé had negotiated a Ballon d'Or bonus of 1.1 million euros gross upon joining PSG, as revealed in the biography "Phénomène" by journalist Arnaud Hermant.
When PSG acquired Mbappé from AS Monaco for 145 million euros in 2017, the centre forward secured a substantial signing bonus of 11 million euros, equivalent to 5 million net.
In May 2018, at the age of 19, Mbappé launched his own website, kylianmbappe.com, at Nike's headquarters in the 8th arrondissement of Paris. Expressing his motivation, he stated, "I created this website to be in contact with my fans. Their support is important. If I am what I am, it's thanks to my fans." 
The website not only provides information about the player's background but also dedicates sections to sponsors and his personal cap brand, featuring his initials — "KM."
Kylian Mbappé salary 2023
Kylian Mbappé, in 2022, inked what Le Parisien hails as "the largest contract ever signed by an athlete in the world." His meteoric rise in earnings reached its pinnacle in the 2022-2023 season when Forbes bestowed upon him the title of the highest-paid footballer globally. 
Fast forward to 2024, and Mbappé retains his status as the fourth highest-paid athlete globally, trailing only Cristiano Ronaldo, Lionel Messi, and Neymar.
The contractual arrangement between the 2018 world champion and Paris Saint-Germain spans two years, concluding in June 2024. Notably, the contract includes an option for a third year, a decision entrusted to the discretion of the 23-year-old player, as reported by Le Parisien, drawing on sources close to the negotiation. 
In explicit terms, Mbappé's annual salary stands at a staggering 72 million euros or 78.8 million dollars gross, equivalent to 6 million euros gross per month (or 2.7 million net after taxes). This formidable figure is further complemented by a signing bonus amounting to 180 million euros, guaranteed and payable in three instalments.
Breaking it down further, on a daily basis (assuming 30 days in a month), his salary amounts to nearly 200,000 euros. To put Mbappé's monthly earnings into perspective, the funds he accrues in a single month could sustain the Eredivisie football club RKC Waalwijk comfortably for three entire years.
Zooming in on a per-minute basis, Mbappé's salary stands at 137 euros. This substantial remuneration positions him as the highest-paid footballer in Ligue 1 and even the athlete with the most lucrative salary in Europe.
In totality, should Mbappé maintain his association with PSG until 2025, the cumulative earnings would reach an astonishing 630 million euros gross, translating to 282 million euros net. Remarkably, Mbappé's salary constitutes a quarter of PSG's budget, underscoring the magnitude of his financial impact on the club. This figure surpasses the already historic contract inked by Lionel Messi with FC Barcelona (2017-2021), amounting to 555 million euros gross over four years, as reported by the Spanish daily El Mundo.
With this contractual commitment, PSG President Nasser El-Khelaïfi emphatically affirmed that the club was retaining "the best player in the world." 
The aforementioned details constitute the primary portion of the player's income, however, when considering ancillary income, Mbappé, as a shrewd entrepreneur of his own image, commands significant advertising revenues, albeit falling slightly behind the likes of Messi, Neymar, and Cristiano Ronaldo. 
Remarkably, despite being under the age of 25, Mbappé has secured robust and lucrative sponsorships, contributing approximately 20 million dollars before taxes for the season, equivalent in euros.
In addition to his club-related earnings, Mbappé receives compensation for his involvement with the French national team, amounting to approximately €20,000 per selection. 
Noteworthy is the altruistic aspect of his contributions, as the young striker allocates all these national team bonuses to charitable causes, including the €350,000 earmarked following the triumph in the 2018 World Cup.
Additionally, a loyalty bonus of €70 million is slated to augment this astronomical sum at the end of the summer if Mbappé chooses to remain at PSG. Notably, this loyalty bonus is set to increase by 10 million euros for each subsequent season that the forward continues with the club.
How PSG manages to afford Mbappé's salary despite FFP regulations
Kylian Mbappé's substantial annual salary prompts the question of how Paris Saint-Germain navigates the financial landscape, especially considering the constraints imposed by Financial Fair Play (FFP) regulations. While football clubs operate within budgetary constraints, PSG's financial prowess outstrips that of many other clubs, enabling them to sustain such high-profile salaries.
Several key factors contribute to PSG's ability to finance footballers' salaries, including Mbappé's. Notably, the investments from the Qatar Sports Investments (QSI) fund play a pivotal role, despite ongoing efforts to secure a buyer for the club. 
Additionally, PSG leverages the lucrative signing of partnerships and commercial agreements, further bolstering their financial stability. 
One of the primary sources of revenue is broadcasting rights, a substantial income stream for the club. Furthermore, player transfers, such as the potential sale of a star like Mbappé, represent a significant avenue for PSG to replenish its coffers.
Sporting success is a linchpin in the financial equation, offering multifaceted benefits. Achieving success on the field enhances the club's visibility, attracting a larger fan base and increasing subscriber numbers. 
This heightened visibility, in turn, facilitates the formation of new partnerships with sponsors who bring additional financial resources to the table. 
Moreover, successful performances can unlock monetary rewards, exemplified by events like the World Cup, where clubs stand to gain financial incentives based on their achievements.
Kylian Mbappé endorsements and sponsors
Kylian Mbappé is notably attuned to the sanctity of his personal brand, adhering to certain principles that guide his choices in collaborations. Specifically, he abstains from affiliations with certain advertisers, such as fast-food chains or bookmakers, aligning his endorsements with his values.
A significant collaboration in Mbappé's repertoire includes his solo covers for a series of FIFA games, showcasing a robust relationship with EA Sports that persisted until his contract concluded. Despite being a highly sought-after figure for major brands, Mbappé and his team prioritise contracts that align with a sense of purpose. Reflecting on the surge in post-World Cup requests, Mbappé's lawyer, Me Delphine Verheyden, conveyed in April 2019 to AFP that the volume had been intense, subsiding to a weekly occurrence.
In a noteworthy turn of events in 2022, the French number 10 garnered attention by declining participation in marketing operations linked to the sponsors of the France national team, as reported by L'Equipe. 
This incident underscored the scrupulous management of Kylian Mbappé's career, with both the player and his entourage meticulously safeguarding his image from inception to conclusion.
Beyond his playing contract, Mbappé's financial portfolio is enriched by revenues stemming from various advertising contracts, including partnerships with Nike, Hublot, EA Sport, Dior, Oakley, and others, as highlighted by Le Parisien. 
According to Forbes, these sponsorship deals contribute a substantial 18 million dollars in revenue through the diverse array of partnerships. 
Panini
In August 2022, Panini America, a subsidiary of the Panini group, officially announced the establishment of an exclusive autograph and souvenir contract with Kylian Mbappé. This enduring sponsorship agreement spans several years and grants aficionados of collectible stickers the unique opportunity to possess autographed cards featuring the talented native of Bondy, along with a diverse range of memorabilia. 
Beyond the industry of collectibles, Mbappé is set to actively engage in the company's communication and marketing initiatives, participating in forthcoming event activations.
Renowned as the exclusive partner for FIFA World Cup collectible cards, the Panini group, through its subsidiary Panini America, strategically partnered with Kylian Mbappé in anticipation of the monumental football event in 2022. 
The inaugural stickers bearing the signature of PSG's number 7 were unveiled by Panini America in their upcoming product, "National Treasures FIFA Road To The World Cup Soccer," hitting the shelves in September 2022.
Further enriching the collaboration, the first batch of autographed souvenirs, including items such as balls, jerseys, and photos by Kylian Mbappé, became exclusively available through Panini Authentic starting at the end of October. 
Sorare
In late June 2022, Kylian Mbappé entered into a long-term partnership with Sorare, a burgeoning French company recognized for its fantasy football game centred on NFT collector's cards. Joining a prestigious roster of athletes in the French capital, Mbappé aligned himself with the likes of Serena Williams, Gérard Piqué, Rio Ferdinand, and fellow Frenchman Antoine Griezmann.
Founded in 2018 by Nicolas Julia and Adrien Montfort, Sorare specialises in fantasy football and provides enthusiasts with the opportunity to acquire digital cards (NFT) of football players, engaging in online competitions. 
In a remarkable feat in 2021, the startup secured the largest fundraising round in the history of French Tech, amassing $680 million. 
With a user base of 1.8 million globally, Sorare currently holds a valuation of $4.3 billion.
Despite its success, Sorare's speculative nature drew attention when Mbappé, known for his discerning approach to sponsorships, became its ambassador. This move prompted criticism on social media, as Mbappé, renowned for his careful selection of brand associations, had previously declined partnerships with certain entities, including sports betting sites affiliated with the French Team.
Sorare, essentially a modern iteration of Panini albums, operates on a speculative model, where digital cards are exchanged. 
Kylian Mbappé's investment in Sorare marks his inaugural foray into the ever-evolving domain of Web3. Already a celebrated figure within the Sorare fantasy football game, Mbappé's unique card garnered considerable attention in May 2022 when it was acquired for approximately 416,000 euros by an individual identified as "Team Bambi." The footballer shared this noteworthy event on his Instagram story, where he boasted a staggering following of over 70 million people at the time.
Underpinning this partnership is Sorare's commitment to supporting Mbappé's philanthropic association, Inspired By KM (IBKM), which is dedicated to developing educational projects with the aim of assisting "disadvantaged young people in discovering the opportunities offered by Web3 technology." 
Specifically, Sorare pledges to contribute by providing training, conferences, materials, and a specialised diploma for the youth engaged with IBKM. 
In a further philanthropic gesture, Sorare will auction a distinctive Kylian Mbappé card, with the proceeds directed towards the charity's initiatives.
Nike
Based on insider reports, Kylian Mbappé is poised to ascend as the favoured muse for Nike, marking a significant evolution in his long standing partnership with the sportswear giant. Having been in collaboration with Nike since his professional debut, the French international is on track to assume the mantle of the brand's premier global ambassador, a role currently held by Cristiano Ronaldo.
Mbappé initially inked a deal with Nike in 2017 and opted to renew the contract in 2019 amid fervent interest from major brands vying for his endorsement. Nike, in a bold move, secured the football prodigy for a substantial 10-year commitment, translating to a market value of 140 million pounds over the decade. This equates to an annual endorsement sum of 16.8 million euros for the talent hailing from Bondy.
However, it's noteworthy that, according to figures published by Forbes, Mbappé disclosed earning "only" $14 million in sponsorship in 2021. This figure, although ostensibly comprehensive, covers the entirety of his sponsorship contracts, including deals with Nike, EA Sports, Hublot, and Dior.
Sportune points out that Mbappé ranks just below the podium in the global football advertising contracts hierarchy. In this ranking, Cristiano Ronaldo secures third place with an annual sum of 18 million euros from Nike. Lionel Messi follows closely with a negotiated amount of 21.6 million euros with Adidas. Topping the list is Neymar, who claims the pinnacle with a staggering 27.6 million euros annually from Puma.
Following his affiliation with Nike, Kylian Mbappé expanded his portfolio of sponsors to include Hublot, the renowned luxury watchmaker, for which the PSG and French national team striker assumed the role of ambassador. In this capacity, Mbappé succeeds the sprint champion Usain Bolt and shares the poster with the legendary Pelé, whom he holds in high regard.
Hublot stands as Mbappé's premier major sponsor after Nike, signalling another significant addition to his endorsement repertoire. Securing a personality of Mbappé's calibre undoubtedly incurred a substantial cost for the brand. 
Although the exact duration of the contract remains undisclosed, sources suggest that the partnership with Hublot translates to an annual earning of nearly one million euros for the Paris Saint-Germain player.
Hublot, a notable player in the football ecosystem, holds influential associations with FIFA, Juventus Turin, Chelsea, and Benfica. 
Having commenced its association with PSG in September 2021, extending until 2023, Kylian Mbappé was subsequently appointed as the new global ambassador for the luxury house Dior in December 2021.
In this role, the PSG star will be the representative face for Dior's men's collections, crafted under the artistic direction of Kim Jones, and the iconic men's fragrance Sauvage. 
While the specific duration of this partnership remains undisclosed by the brand, it signifies a significant collaboration between Mbappé and the renowned French fashion house.
Notably, Mbappé's ties with Dior date back to 2018, following the French national team's triumph at the World Cup in Russia. 
Since then, the Parisian footballer has consistently adorned outfits from the distinguished French brand at various off-field events.
Furthermore, Kylian Mbappé assumes the role of ambassador for the Sauvage perfume, a prestigious position previously held by luminaries such as Alain Delon, Johnny Hallyday, Zinédine Zidane (in 1999), and, more recently, the American actor Johnny Depp. 
This strategic partnership underscores Mbappé's burgeoning influence not only in the realm of football but also in the broader spectrum of fashion and fragrance, aligning him with a distinguished lineage of personalities associated with the iconic Sauvage perfume.
Oakley
In a swift succession of brand affiliations, Kylian Mbappé, after securing appointment as the global ambassador for the luxury brand Dior and extending his influence to both men's fashion and the iconic Sauvage Dior perfume, unveiled a fresh partnership with the American eyewear brand Oakley. The announcement of this collaboration came less than a month after Mbappé's association with Dior.
Taking to his Instagram account, where he commands a substantial following of 64.5 million subscribers at the time, the PSG striker shared a one-minute clip specially crafted for the occasion, introducing and promoting his partnership with Oakley. 
EA Sports
In 2022, following in the footsteps of football legends Cristiano Ronaldo and Lionel Messi, PSG's Kylian Mbappé assumed the prestigious role of the global cover athlete for FIFA 22, a position he continued from the previous FIFA 21 edition. 
Mbappé stood as the sole figure on the cover, not only for the French edition but for the international release of the football game developed by EA Sports. 
While the exact financial details of the contract between the American brand and Kylian Mbappé remain undisclosed, Le Parisien notes that it brings in "several millions" for the Parisian player.
Remarkably, in 2023, Mbappé achieved another milestone by becoming the first player to consecutively grace the cover of the game for two years. This time, sharing the spotlight with Sam Lerr, the Chelsea player of Australian origin.
However, for the EA FC 24 edition, Mbappé experienced a notable shift as EA Sports opted not to renew his contract. This decision was influenced by PSG's requirement to nominate players for the official EA FC 24 marketing material. 
The selection process led to the inclusion of players like Lee Kang-In, Marco Asensio, and Marquinhos, marking a departure from Mbappé's prominent presence in the game's marketing materials.
In a surprising turn, Erling Haaland took the cover position, with Mbappé notably absent.
Kylian Mbappé's earning from Instagram
Leveraging the substantial marketing influence of Kylian Mbappé, who boasts a massive following of over 110 million people on Instagram, brands find a lucrative avenue for promotion.
The French striker wields significant marketing power through social media, ranking among the most-followed personalities in France on Instagram. 
Nevertheless, there is still a considerable gap when compared to the 492 million and 217 million subscribers of ex-teammates Lionel Messi and Neymar or the astounding 568 million followers of his icon Cristiano Ronaldo.
Kylian Mbappé's impact is not merely confined to his extensive following; it translates into tangible earnings. With an impressive rate of €980,000 per post, he stands as the highest earner among Instagram influencers in France. 
To illustrate the potential, if Mbappé were to share just one sponsored post each month, it could generate an additional income of €11.7 million annually. Scaling this up to a weekly frequency, he could potentially amass an astonishing €51,100,000 per year through sponsored posts alone. 
Kylian Mbappé resides in one of the most opulent neighbourhoods of Paris, where he has made his home for the past four years—a private mansion he acquired in 2017 for a sum of 8.5 million euros, a place that radiates his evident affection, as showcased in his Instagram posts.
His dwelling, situated in the 16th arrondissement of Paris, spans a generous 600 square metres and offers a picturesque view of the Eiffel Tower. According to Le Parisien, the PSG striker made this move in 2017, occupying a two-story apartment that he rents. 
Nestled in the heart of the city of love, it boasts proximity to the Parc des Princes, accessible within minutes by car, and features a spacious 200-square-metre roof terrace complete with an open-air jacuzzi. 
Prior to settling into this luxurious abode, Kylian Mbappé temporarily resided at the renowned 5-star hotel, Royal Monceau, located in the 8th arrondissement of Paris, a stone's throw away from the Arc de Triomphe. 
While the purchase price of his current residence may seem substantial, it's noteworthy that PSG compensates Mbappé with an additional monthly allowance of 30,000 euros, covering various expenses such as rent and facilitating amenities like a concierge or driver.
Situated in Neuilly-sur-Seine, an exclusive enclave frequented by fellow celebrities, the mansion embodies tranquillity while maintaining proximity to the bustling city centre. 
Rumour has it that Lionel Messi is also contemplating acquiring a residence in this coveted area. At the outset of his football career, Mbappé initially chose an apartment near the Eiffel Tower. However, he later opted for a house with a garden in a residential setting, prioritising privacy and a serene environment.
Contrary to popular belief, Kylian Mbappé did not spend a single euro to reside in his lavish apartment. 
In addition to receiving a monthly income exceeding 6 million euros,Mbappé enjoys the privilege of living rent-free in an expansive luxury apartment, as it is his club that assumes the responsibility for his accommodation.
Mbappé's remarkable house boasts incredible features such as panoramic views of not just the Eiffel Tower, but the Champs de Mars.
While Kylian Mbappé typically guards his privacy, glimpses into his living spaces are occasionally shared on his social media platforms. These snapshots provide a glimpse into the apartment's decor, offering viewers a broader sense of its aesthetic. 
Although he hasn't conducted a comprehensive "house tour" like some of his peers, it is known that the property spans three floors and a basement, covering an expansive 850 square metres. 
Notably, the residence includes a garden, contributing to its overall spacious and well-appointed ambiance.
Kylian Mbappé's residence is generously equipped with twelve bedrooms, allowing ample space to comfortably accommodate his parents and siblings.
Football stars lead lives immersed in glamour, jetting between cities worldwide for matches and sporting extravaganzas, and Kylian Mbappé is certainly no exception. The luxuriant life he leads, enriched by fame and success, grants him access to a plethora of remarkable opportunities, chief among them being the acquisition of an impressive array of luxury cars.
Kylian Mbappé has transformed his passion for opulent automobiles into a pursuit of excellence, assembling an extraordinary collection that bears witness to his discerning taste for both beauty and performance. 
Ranging from dynamic sports coupes to sumptuous luxury sedans and the most refined convertibles, Mbappé's car collection stands as an outdoor museum, a manifestation of his personality and aspirations. 
For him, these cars transcend mere collectibles; they are, above all, works of art that narrate stories and embody a profound passion. 
The collection emerges from dedicated and patient exploration, allowing Kylian Mbappé to amass the most exclusive models from the world's most prestigious brands.
In the forthcoming lines, Clacified invite you on an exclusive journey into Kylian Mbappé's garage, providing an up-close encounter with his unique collection of luxury cars. Explore the embodiment of his automotive passion and the distinctive stories each vehicle within his collection has to tell.
Kylian Mbappé's extraordinary garage, valued at over a million euros, boasts an impressive collection of nine cars—remarkable in itself. 
The Frenchman has the luxury of enjoying this collection at his leisure, although, with a slight irony, only from the passenger seat. At the age of 24, as of 2023, Mbappé still lacks a driving licence, acknowledging it as one of the downsides to his early success.
Admitting to always having had drivers at his disposal, Mbappé considered obtaining a driving licence a non-priority. 
Upon joining PSG, he benefited from the services of a butler, a cook, and a driver who chauffeured him wherever he needed to go. While the purchase of luxury cars is a common indulgence among footballers, some may question the rationale behind such acquisitions in the absence of a driving licence.
Kylian Mbappé's net worth and financial prowess allows him the indulgence of acquiring luxury cars, a penchant revealed by colleagues at GQ, evident upon a cursory exploration of his private garage.
Among his fleet, Mbappé proudly houses three Volkswagen models: a Tiguan (estimated at around 57,000 euros), a Touareg (valued at 120,000 euros), and an MUV. 
The Volkswagen Tiguan features a 2.0-liter gasoline engine, generating 187 horsepower and 320 Newton-metres of torque, coupled with a 7-speed dual-clutch transmission and an all-wheel-drive system. 
The Volkswagen Multivan, equipped with a 2.4-liter four-cylinder engine, carries a price tag of 92,290 US dollars within the star's collection.
However, the collection doesn't end there. Mbappé's garage also boasts two Ferraris: a 488 Pista (priced at 500,000 euros) and a 458 model. 
The Ferrari 488 Pista, equipped with an 8-cylinder twin-turbo engine boasting a 3.9-liter capacity, produces an impressive 711 horsepower and 769 Newton-metres of torque. This symbol of Italian elegance and sophistication comes with a price tag of 330 thousand US dollars, marked by the iconic horse-capped logo.
In aggregate, combining the values of these automotive marvels, Kylian Mbappé's collection surpasses a million euros, a mere fraction (1/128th) of his estimated net worth—an intriguing anecdote.
Mbappé's fleet also includes a Mercedes-Benz GLE Coupé, an Audi A6, a Mercedes-Benz V Class, and a Range Rover. The Mercedes V-Class, powered by a diesel engine with 4 cylinders and a 2.2-liter capacity, generates 161 horsepower and 380 Newton-metres of torque. 
Paired with a 7-speed automatic transmission, it accelerates from 0 to 100 km/h in 11.2 seconds, reaching a top speed of 195 km/h, with a price tag of 76,670 US dollars.
At a glance, Kylian Mbappé's car collection includes the following vehicles:
Volkswagen Tiguan: Valued at around 57,000 euros.
Volkswagen Touareg: Priced at approximately 120,000 euros.
Volkswagen Multivan: Estimated cost of 92,290 US dollars.
Ferrari 488 Pista: Worth around 500,000 euros.
Ferrari 458: Priced at approximately 75,722 US dollars.
Mercedes-Benz GLE Coupé: Valued at around 120,700 US dollars.
Audi A6: No specific details on the model or price.
Mercedes-Benz V-Class: Priced at 76,670 US dollars.
Range Rover: No specific details on the model or price.
For Kylian Mbappé, his luxury car collection is not just a pastime; it is a lifestyle, an art of living that reflects his success and passion for exclusivity and luxury. Each vehicle is a unique piece that mirrors his discerning taste for exceptional cars and unwavering love for automobiles.
In terms of philanthropy, Mbappé has demonstrated a generous spirit. He directed the bonus he earned from the 2018 World Championship, exceeding 350,000 euros after tax deductions, to the Premiers de Cordée association, as reported by RTL. 
At the time, the association, comprising only three employees, focused on providing sports activities for hospitalised children, schoolchildren, and employees.
Even before his World Cup triumph, Kylian Mbappé consistently donated his match bonuses with the French national team directly to various charitable organisations, a practice he initiated from his early selections, according to Le Parisien. Additionally, the footballer assumes the role of a benefactor with the 'Inspired by KM' association, introducing sporting and cultural activities to underprivileged young residents in the Île-de-France region. 
In January 2020, PSG player Kylian Mbappé inaugurated his foundation, "Inspired by KM," located in Seine-Saint-Denis. 
The primary goal of this initiative is to introduce sports and cultural activities to 98 young residents, aged 9 to 16, hailing mainly from modest backgrounds in the Île-de-France region. 
The project, funded by Mbappé himself along with contributions from some of his sponsors, originated from an idea proposed by his mother Fayza, who boasts an extensive background in the social sector, as reported by Europe 1.
Bondy, the town where Mbappé spent his formative years, also benefited from his philanthropy in the form of a miniature football field, colloquially known as a "city stadium." 
Nike, one of his sponsors, presented this facility in September 2017 to commemorate Mbappé's transfer from AS Monaco to PSG. 
The sports apparel giant further paid tribute to Bondy two years later by launching a collection of shoes, jerseys, jackets, and balls under the name "Bondy Dreams," adorned in the green hue associated with AS Bondy, where a young Kylian Mbappé began his football journey.
Demonstrating a compassionate response to the challenges posed by the pandemic, Mbappé made a substantial contribution to the Abbé Pierre Foundation to assist the homeless. 
Out of respect for the player's privacy, the exact amount of the donation remains undisclosed, with the Abbé Pierre Foundation acknowledging it simply as a "very large donation" in a press release issued on March 27, 2020, at the request of Mbappé's family.