Neville, Pele, Mbappe, LeBron, football greats sympathise with Ronaldo after WC exit
Former teammate Gary Neville described Cristiano Ronaldo's exit from the 2022 World Cup as "horrible" after seeing a video of him crying in the tunnel.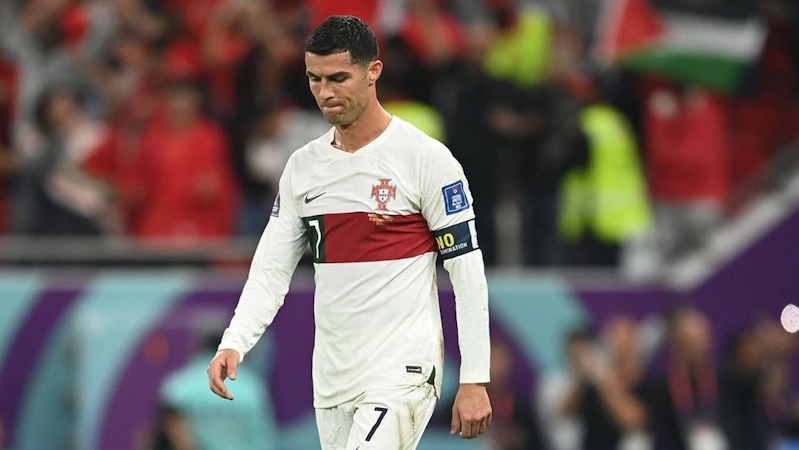 The Portuguese national team crashed out of the 2022 FIFA World Cup on Saturday in a tie against Morocco in the quarterfinals, ending their hopes of winning the most-wanted trophy.
The match, which ended in a 1-0 defeat to the Portuguese national team, saw Portugal head coach Fernando Santos leave Cristiano Ronaldo out of his starting lineup as he featured hat-trick hero Goncalo Ramos ahead of the legend.
Though Ronaldo was brought on in the second half of the game when his side were already trailing following a late first-half goal from Moroccan striker Youssef En-Nesyri, he could not help his country grab a much-needed equaliser against the very dogged African nation.
CR7 couldn't help but break down in tears in the Al Thumama tunnel, as his dream of winning the World Cup with A Seleção vapourised into Arab night sky.
Following Ronaldo's humiliating exit from the 2022 Qatar World Cup, his former teammate Gary Neville has described the scene as "horrible," sympathizing with the legend.
"That is that moment where he knows his dream of winning the World Cup for his country has gone," Neville told Sky Sports. "We have all been there at the end of our careers, but he is one of the greatest, if not the greatest, players of all time." It was "horrible" to see him like that. "He has had a tough couple of months."
Ronaldo has taken to social media to express his pain following their exit, stating he has always supported and wanted the best for his national teammate.
"Winning a World Cup for Portugal was the biggest and most ambitious dream of my career," Ronaldo wrote. "Fortunately, I won many titles of international dimension, including Portugal, but putting our country's name on the highest foot in the world was my biggest dream.
"I fought for it. I fought hard for this dream. In the 5 appearances I scored in World Cups over 16 years, always by the side of great players and supported by millions of Portuguese. I gave my all. Leave it all out on the field. I never turned my face to the fight and never gave up on that dream.
"Sadly, yesterday, the dream ended. It's not worth reacting to heat. I just want you all to know that much has been said, much has been written, and much has been speculated, but my dedication to Portugal has not changed, not for a moment. I was always one fighting for the objectives of all, and I would never turn my back on my colleagues and my country.
"Not much more to say for now. Thank you, Portugal. Thank you, Qatar. The dream was nice while it lasted... Now, it's hoping that the weather will be good advisor and allow each one to draw their own conclusions."
Ronaldo received similar messages from various football legends, including one of the most respected ex-footballers of all time, Pele, who responded to Ronaldo with a heartfelt text, "Thanks for making us smile, my friend."
In another comment, former AC Milan player Alexandre Pato expressed his heartfelt condolences to Ronaldo following his departure.  
"You are an example," Pato wrote. "You inspire people and children around the World. The same one that criticizes are the one who wants the same success as you. You are a giant. Congratulations."
Kylian Mbappé and Basketball legend LeBron James were also among the athlete who consoled Ronaldo following his exit from the 2022 World Cup.
Ronaldo will now concentrate on the final days of his waning club career, after his contract with Manchester United was terminated earlier this month. The 37-year-old received a world record offer from a Saudi Arabian club, and, with his World Cup journey with Portugal now over, he can now decide on his future.