Osimhen to wear mask as trademark throughout carer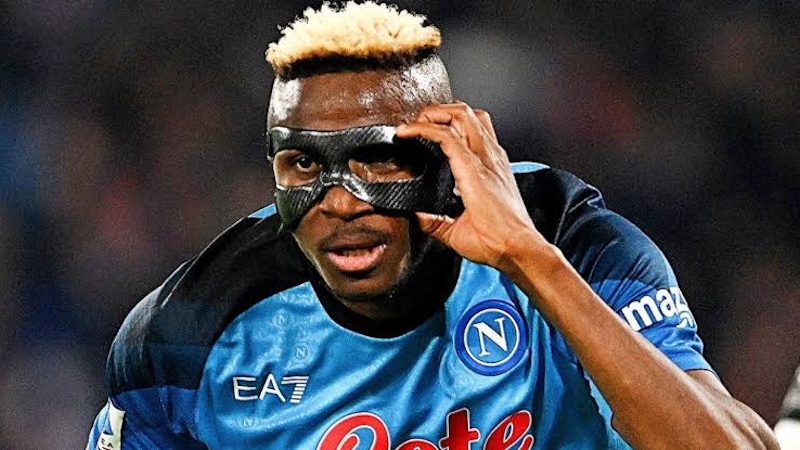 Clacified have uncovered exclusively from sources close to the player that Victor Osimhen will continue to wear his protective mask for a long time, not just for medical reasons but as a trademark.
Since November 2021, when he sustained a facial injury in a league match against Inter, the 24-year-old has worn the mask despite being fully recovered.
Although the Nigerian stated in an interview with Brila FM that the mask is "nothing more than a sort of protection" that "helps me when I collide with players and goalkeepers," Clacified has learned that the mask has a deeper significance.
While Osimhen subtly admitted in the interview that "the mask has become his identity," our sources report that the Nigerian striker intends to wear the mask for the duration of his career as a trademark.
Osimhen's "9" mask is currently being sold as merchandise in several stores across Italy and by street vendors at the Diego Maradona Stadium. This is the beginning of an anticipated boom that is expected in the coming months, especially if his current form continues. 
How did Osimhen become injured?
Osimhen sustained the life-changing facial injury on November 21, 2021, following an aerial intervention concurrent with Skriniar's action, which resulted in a highly violent head collision between the two players, with the Nigerian coming out worse.
Osimhen was injured in the league game against Inter Milan after a clash of heads wirh Milan Skriniar
The player was severely handicapped by the impact's kinetic force, requiring a three-and-a-half-hour surgery with three incisions, six plates, and 18 screws to close the fractures.
The recovery prognosis of 90 days was a catastrophe since it prevented Osimhen from playing in the African Cup of Nations, a competition which Nigeria underachieved without their talisman.
Does Osimhen still need a mask?
Osimhen only takes off his mask in-game to celebrate
Osimhen was required to wear the mask for an anticipated number of weeks, starting in January 2022. His facial structure has since fully recovered, and with the bones having fused together, the Napoli man no longer needs a mask.
According to the mask's designer, doctor Roberto Ruggiero, on Italy's Radio Crc, prudence and precaution cannot be overemphasised in light of that really violent clash and subsequent injury.
"That was a really delicate process," said the medical expert. "It was believed that he had lost his eye. 
"He is healed and no longer needs it," the surgeon remarked, "but his anxiety is so great that he wants to protect himself."
Yet, the doctor also speculated that Osimhen's retention of the mask had some superstitious reasoning.
"The mask clung to his face, making him feel powerful and unconquerable, as if he had a superhuman ability.
"We develop and fabricate gadgets that must be body appendages; Osimhen opted to maintain the mask since it was pleasant and durable," the doctor noted.
How the mask has evolved since 2021
Today, Osimhen wears an entirely different mask from the one he was required to wear shortly after surgery.
When the Nigerian returned to the pitch after his injury, he wore a mask that covered his whole face, not just his eyes and half of his cheekbone. This protective mask was tailored to Osimhen using a 3D scan of the player's face.
Osimhen's first mask is very different from his current
Osimhen's current mask, on the other hand, is smaller, functions mostly as a shield, and covers just a piece of his face.
Osimhen's fractured cheekbone is already a distant memory, but at the conclusion of the season, Napoli's No. 9 will likely have to undergo surgery to remove the 18 screws used to heal the fractures. Until then, the Nigerian reigns supreme in Serie A as his club charges towards an unprecedented Scudetto triumph.