Spain set new World Cup record with Costa Rica drubbing
The Spanish national team got off to a good start in their 2022 Qatar World Cup campaign, thrashing Costa Rica 7-0 to set a new record.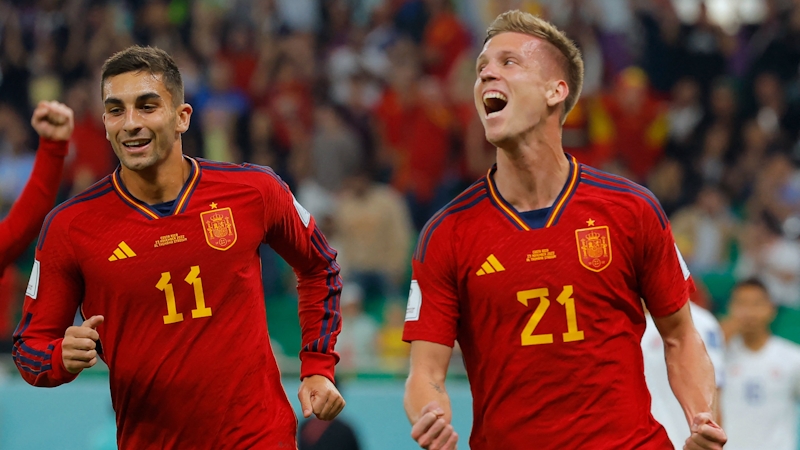 The Spanish national team, led by Luis Enrique, wasted no time announcing their presence in the 2022 FIFA World Cup in Qatar, opening their goal account with an 11-minute fine finish from Leipzig's talent, Dani Olmo.
Ten minutes later, Spain doubled their lead through a stunning strike from Real Madrid's Marco Asensio, who converted Jordi Alba's cross in the 18-yard box.
Enrique's side made it three in the 30th minute of the game with a well-taken penalty from winger Ferran Torres, who sent Keylor Navas the wrong way to slot home.
Spain took it to heart in the second half, with Ferran Torres doubling his score in the World Cup tournament, followed by Gavi and Carlos Soler, who scored their third and second goals for Spain in 2022, respectively.
Barcelona's Ferran Torres was one of the outstanding players in Spain's victory against Costa Rica
Costa Rica's woes were compounded in the 92nd minute when Spanish number nine Álvaro Morata produced a fine finish down the edge of the post to make it 7-0 against Los Ticos.
The stunning victory over Costa Rica propelled Spain to the top of Group E with a six-goal difference, ahead of Japan, who defeated Germany with a stunning comeback.
Spain also set a new record for the most goals they have ever scored in a single World Cup match, breaking their previous mark of 6-1 against Bulgaria in 1998.
On Sunday, November 27, at Al Bayt Stadium, Luis Enrique's side will face a tough test against Germany, who failed to secure victory against Japan.