Infinix Hot 30i price in Nigeria
Discover the Infinix Hot 30i price in Nigeria, a balanced mid-range option with its own strengths and trade-offs.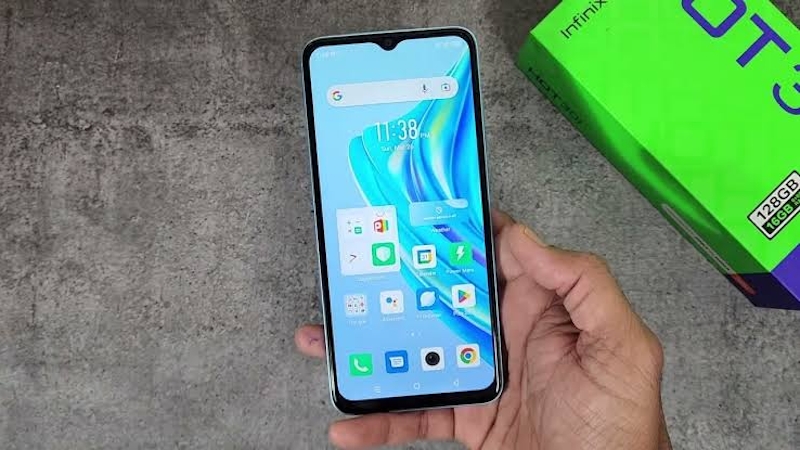 Costing only 88,200 NGN on Jumia, the Infinix Hot 30i price in Nigeria makes it a compelling choice among mid-range smartphones. 
This article delves into a comprehensive review of the Hot 30i, providing insights into its features, performance, and how it stacks up against competitors, including the Tecno Spark 10c. Let's explore what sets this device apart in the competitive smartphone landscape.
Infinix Hot 30i review: Is it worth buying?
What is the Clacified Value for Money Score?
The Clacified Value for Money Score (CVMS) reflects how much value a phone offers in comparison to the current market standards. To calculate the market price of the phone, you multiply its listed price by the Clacified Value for Money Score. For instance, a phone with a CVMS of 2.0 suggests that it's considered to be worth approximately twice its listed price.
The Infinix Hot 30i, released in March 2023, offers a balance of features and design elements. Its 6.56-inch IPS LCD display with a 90Hz refresh rate ensures smoother animations and interactions, although the 720 x 1612 pixel resolution might fall short of delivering the sharpest visuals.
The phone's body, composed of a glass front and plastic frame and back, brings a contemporary look but might lack the premium feel associated with other materials. 
The inclusion of dual SIM support and a dedicated microSDXC card slot provides flexibility for users needing additional storage.
Running on Android 12 with XOS 10.6, the Infinix Hot 30i utilises the Unisoc T606 chipset, featuring an octa-core CPU configuration combining Cortex-A75 and Cortex-A55 cores. While this setup might handle basic tasks well, it could face limitations in demanding applications.
The 128GB of internal storage and 4GB of RAM are suitable for daily use, and the UFS 2.2 storage standard contributes to smoother data access. However, considering the device's price point, these specifications seem somewhat standard.
The camera setup, including a 13MP wide main camera and 0.08MP depth sensor, delivers adequate performance for casual photography, supported by dual-LED flash, HDR, and panorama features. The 8MP front camera with dual-LED flash ensures decent selfie capabilities.
The Infinix Hot 30i's connectivity options are well-rounded, featuring Wi-Fi 802.11 a/b/g/n/ac, Bluetooth, GPS, NFC (limited to specific variants), FM radio, and USB Type-C 2.0 with OTG support. The inclusion of NFC caters to users who rely on contactless payment methods.
Security on the Infinix Hot 30i is enhanced with a side-mounted fingerprint sensor, and the phone offers standard sensors like accelerometer, proximity, and compass. The 5000mAh non-removable battery, complemented by 18W wired charging, should provide reliable battery life for everyday usage.
Pros of the Infinix Hot 30i
90Hz display enhances user experience
NFC variant available for contactless transactions
Adequate main camera performance with dual-LED flash
Decent battery life from the 5000mAh unit
Side-mounted fingerprint sensor for added security
USB Type-C 2.0 with OTG support
4GB RAM and 128GB storage
Cons of the Infinix Hot 30i
Little value for money
Plastic build might lack premium feel
Moderate screen resolution at 720 x 1612 pixels
Unisoc T606 chipset might struggle with demanding tasks
Limited depth sensor functionality (0.08MP)
Selfie camera performance could be improved
The Infinix Hot 30i positions itself as a mid-range contender, boasting a 90Hz display, competent camera performance, and sufficient storage. These features align with the preferences of budget-conscious consumers. 
However, a deeper analysis reveals its Clacified Value for Money Score of 1.2, indicating that its value for money proposition is notably lacking. While it offers certain appealing aspects, this score highlights that its price-performance ratio might not be optimal.
Infinix Hot 30i vs rivals
Embarking on a journey of comparison, we delve into the Infinix Hot 30i and its counterparts within the same price range: Samsung Galaxy A04e, Tecno Spark 10c, Xiaomi Redmi 12c, and Itel S23. 
With a spotlight on the Hot 30i, we'll scrutinise its strengths and shortcomings, unearthing how it competes in this dynamic landscape. 
As we navigate through the features and performance of these devices, a clearer picture emerges, guiding us to uncover the device that aligns with our preferences. 
Join us in this exploration as we evaluate the Infinix Hot 30i and its rivals, dissecting their nuances to reveal the choices that lie ahead.
Display
The Infinix Hot 30i's 90Hz display is a standout feature, offering smoother animations and transitions compared to the standard refresh rates of some rivals. This advantage contributes to a more visually appealing and responsive user experience. 
While the A04e, Spark 10c, and Redmi 12c also offer 90Hz displays, the Hot 30i positions itself as a strong contender for users who prioritise enhanced visual quality.
Size and Dimension
The Hot 30i's 6.56-inch display strikes a balance between usability and portability. Its slim and lightweight design complements the screen size, making it comfortable to hold and use. 
The A04e, Spark 10c, and Redmi 12c share similar dimensions, emphasising practicality and easy handling. The Hot 30i's glass front adds a touch of sophistication, enhancing its overall appeal.
Camera
Equipped with dual-LED flash and a 13MP main sensor, the Hot 30i's camera setup delivers satisfactory results for everyday photography needs. 
However, the Redmi 12c's 50MP main camera is a significant highlight, offering users the ability to capture finer details and higher-quality images. 
In addition, the Spark 10c's 16MP sensor holds its ground by providing a balance between camera performance and other device strengths.
Processor and OS
The Hot 30i's Unisoc T606 chipset provides decent performance for day-to-day tasks and applications. However, it faces stiff competition from the Redmi 12c's MediaTek Helio G85, known for its better processing capabilities and smoother multitasking experiences. 
The Spark 10c's Unisoc Tiger T606 suggests a competitive position, potentially standing up against the Hot 30i's processing power. 
Both the A04e and Spark 10c's use of the Android 12 OS ensures a modern and user-friendly software experience.
Memory
The Hot 30i's combination of 4GB RAM and 128GB storage strikes a balance between efficient multitasking and ample storage capacity for apps and media. 
While this configuration meets the needs of many users, the Spark 10c's impressive 8GB RAM and 128GB storage elevate its performance and storage capabilities, making it a more compelling choice for those who require higher multitasking capabilities and storage capacity. 
The Redmi 12c's 6GB RAM and 128GB storage offer a middle ground, catering to users seeking a balance between performance and storage.
Features
Both the Hot 30i and Spark 10c offer NFC variants, catering to users who prefer convenient and secure contactless payment options. However, the Spark 10c's standout feature lies in its impressive RAM and storage capacities, which directly influence its multitasking capabilities and the amount of content it can hold. 
This differentiation positions the Spark 10c as a device that can accommodate both productivity and entertainment needs.
Battery
The Hot 30i and Spark 10c share similar battery capacities, ensuring reliable usage throughout the day. This commonality aligns with the industry standard, providing users with a dependable battery life for typical usage scenarios. 
The A04e, Redmi 12c, and S23 also adopt non-removable 5000mAh batteries, indicating that the Hot 30i's battery performance is on par with its competitors.
Clacified Value for Money Score (CVMS)
Taking into consideration the Clacified Value for Money Score, the Infinix Hot 30i presents a score of 1.2, indicating its value for money might not be as strong as some of its rivals. 
When compared to the A04e's CVMS of 2.08, the Spark 10c's 2.06, the Redmi 12c's 2.5, and the S23's 2.99, the Hot 30i's CVMS places it at a relatively lower position in terms of the balance between its features, performance, and price. 
This score should be considered in the context of individual preferences and priorities when making a purchasing decision.
Verdict
In summary, the Infinix Hot 30i presents notable advantages through its 90Hz display and NFC capabilities, enhancing visual quality and offering convenient payment methods. 
However, it encounters formidable competition from counterparts like the Redmi 12c, leveraging its remarkable camera and processing power, and the Spark 10c, leveraging its remarkable RAM and storage capacity. 
Determining the optimal choice hinges on individual preferences and priorities, considering factors such as display preference, camera requirements, multitasking needs, and overall value for money as indicated by the Clacified Value for Money Score (CVMS).
Final verdict: Infinix Hot 30i
In conclusion, the Infinix Hot 30i emerges as a mid-range contender with its compelling 90Hz display and NFC capabilities. While it holds strengths in these aspects, its performance, camera capabilities, and overall value for money face challenges when pitted against its rivals. 
Interestingly, the performance of the Infinix Hot 30i finds itself either on par or outperformed by at least seven of the most affordable phones available in Nigeria, all priced below 50,000 naira. 
This observation highlights that not only does the Hot 30i fail to hold its own in the mid-range category, but budget-conscious consumers can explore alternatives that offer similar or even superior performance within a more economical price range.
Despite its drawbacks, the Hot 30i caters to users seeking smoother visuals and convenient payment options. However, its value proposition might not align with those who prioritise camera quality, processing power, and a well-balanced price-performance ratio.
Ultimately, as users navigate the realm of choices, individual preferences, and priorities will dictate whether the Infinix Hot 30i fulfils their expectations and needs. 
As with any decision, a careful consideration of trade-offs will guide users toward a device that resonates best with their personal requirements.