Best keyboard and mouse for PS4
Controllers are quite effective, but each of these best keyboards and mice for PS4 will take your gaming experience to the next level.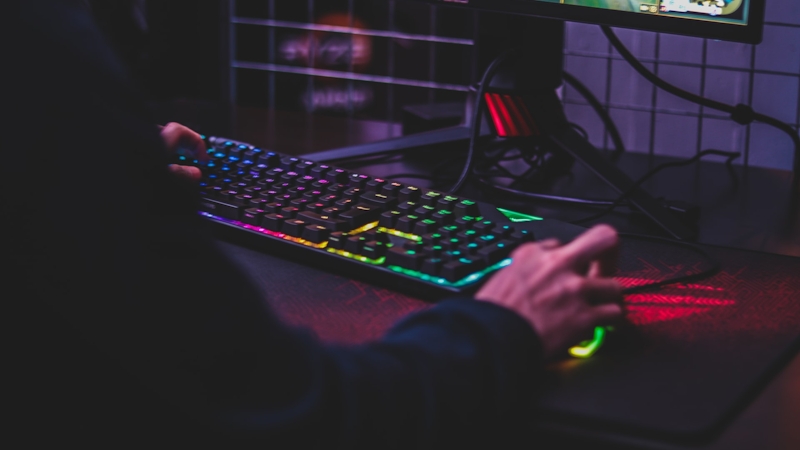 A gamepad is most times enough, but with a keyboard and mouse for PS4, you'll be transported to a whole new realm free of restrictions. Your moves will be more precise, you'll be able to perform feats otherwise impossible with a controller, and overall, you will have a unique gaming experience on your Sony system. If you think any of these keyboard-mouse combination borders on the high side, here are the best mechanical keyboards under $100.
You won't find a keyboard and mouse for PS4 with superior performance than the TAC Pro M2, and for good reason, as it is officially licensed by Sony.
This mini mechanical keyboard, manufactured by Hori, with 20 completely customizable keys and touchpad comes equipped with switches and ergonomic wrist rest to make it snappy and comfortable to use.
The mouse, on the other hand, has a fairly simple design, but it boasts a DPI of 3200 and two buttons for adjusting the sensitivity on the fly. The keyboard is compatible with any other gaming mouse, so you can quickly replace it with a more advanced one if it exhibits latencies.
In summary, the Tactical Assault Commander PRO (Type M2) keyboard by Hori is the best substitute for your PS4 controller due to the unique gaming experience it gives.
2.
Spirit Of Gamer Xpert G900
This list continues with a keyboard and mouse combination that console enthusiasts will like. The Spirit of Gamer Xpert G900 is compatible not only with the PS4, but also with all other consoles, including Nintendo, Switch, Xbox One, PS3, and Xbox 360.
The Xpert G900 eliminates the need for a controller, since it is ultra-complete. It is equipped with an opto-mechanical keyboard that has an analogue joystick in lieu of the WASD keys and 4 macro recording buttons.
This keyboard and mouse for PS4 is ideal for FPS, MMORPG, and simulation gamers.
The G900 Mouse is equipped with an optical sensor for precision aiming and precise gaming control, and its resolution is configurable up to 3200 DPI.
Add a stylish mouse pad, RGB lighting, an ergonomic wrist rest, and a 100 percent anti-ghosting feature, and this combo is the closest to gaming bliss. 
One drawback: despite being one of the best keyboard and mouse for PS4, this combo lacks the V (melee attack) and G (grenade) keys for first-person shooter games.
3.
BlueFinger Gaming Keyboard and Mouse
The design of keyboards and mice for PS4 are known to be very eye-catching, and the BlueFinger keyboard and mouse set is no exception. Its blue, red, or purple backlighting will highlight your gaming area with its electrifying appearance.
This gaming keyboard is still one of the best for PS4 due to its sturdy ABS plastic construction and soft-touch finish. It features 19 conflict-free keys, and you may deactivate the numeric keypad to concentrate on other important keys, such as those for capturing a screenshot.
The icing on the cake is that the keyboard is waterproof, which is a particularly crucial feature given that every game has at one time or another been rendered unplayable owing to an accidental spill.
With a DPI of up to 2000, the accuracy of this mouse will astound you in terms of performance. In addition to being quiet, the keyboard's keys are responsive, pleasant to the touch, and silent.
Also, this keyboard and mouse combination is not only suitable for PS4 gaming but also business work. 
4.
Empire Gaming Armor S-100
Empire Gaming's Armor S-100 is a complete keyboard and mouse set, and is arguably the best cheap keyboard and mouse for PS4. In addition to the gaming mouse and keyboard, this bundle includes a wide mouse pad and a very comfortable circumaural audio headset.
The game keyboard is equipped with 105 semi-mechanical keys, 19 anti-ghosting keys, and 12 multimedia shortcuts. The keyboard's rainbow lighting will enable you to continue playing at night.
However, it is not customizable, which is a deficiency compared to other high-quality keyboards and mice on this list, but for the price, it is a top-notch PS4 gamepad substitute. 
The mouse features six RGB options and a comfortable grip. Equipped with a 6400 DPI-adjustable, high-precision optical sensor, the Armor S-100 is very efficient!
This Empire Gaming production is a terrific option if you're seeking for an affordably-priced, aesthetically pleasing combine.
5.
Orzly RX250 Gaming Keyboard and Mouse
Orzly's keyboard and mouse for PS4 is a full and very attractive bundle kit for modest budgets. The illumination of the keyboard has three changeable colour settings, and the backlighting of the mouse is likewise configurable.
The membrane-based keyboard includes 19 anti-ghosting keys and is quiet. This inexpensive bundle includes a headset and a mouse pad. The headset is of reasonable quality for the price, but it requires an adaptor for the microphone to function on PS4, making the Orzly RX250 the most cost-effective keyboard and mouse.
The mouse features a curved shape for a comfortable grip and is equipped with a 3200 DPI-adjustable optical sensor. However, it remains on even after the console is off.
In summary, the quality-to-price ratio of the Orzly RX250 keyboard and mouse bundle for PS4 is excellent. It will be ideal for novice gamers or those who do not want to spend a lot on equipment, without compromising in terms of quality.
How to select a keyboard and mouse for PS4
Before purchasing a keyboard and mouse combination for your console, it is vital to examine a number of factors.
How to choose the right mouse for PS4
Captor and DPI
If you're looking for a high-performance gaming mouse, the sensor and DPI should be your first consideration. The sensor will decide its performance and accuracy, since it is responsible for tracking our motions in order to transmit the signal.
Therefore, the higher the DPI, the greater the sensitivity. Players of first-person shooters, for instance, will like a DPI between 800 and 1200 since the mouse will be more accurate.
Although there are no substantial differences between optical and laser sensors, the laser sensor is somewhat more precise, allowing you to be able to play on reflecting surfaces such as a glass table or a plastic mouse pad. 
Dimensions, form and weight
The size, weight, and shape of your PS4 mouse will have a significant impact on your gaming performance. Not all mice accommodate your hand size, and grip designs vary across models.
In general, gaming mice are very universal, but if you are a fan of first-person shooters, it is preferable to have a lightweight design, as it will be more accurate and will not cause arm strain.
How to choose the right PS4 keyboard
Membrane keyboard or mechanical
A mechanical keyboard is preferable for PS4 gamers because key switches are more responsive, macros can be recorded, and illumination is often changeable.
Conversely, a membrane keyboard has the benefit of being quiet!
Shape
There are three primary types of keyboards:
Full-size keyboard with all required keys, including letters, numbers, function buttons, and a numeric keypad.
TKL (TenKeyLess), sometimes known as lacking a numeric keypad.
60% of devices lack a numeric keypad or function keys.
Your taste will determine your option, however for console gaming, the TKL is often preferred. It contains all the required features without taking up an excessive amount of space.
Wired or wireless?
Bluetooth offers the benefit of allowing for more mobility. However, you run the danger of losing your connection in the midst of the game, and the batteries drain rapidly, leaving you without a keyboard mid-game.
How to play on PS4 with a keyboard and mouse?
Unfortunately, not all keyboards are compatible with your Sony system, but there is a workaround!
Thanks to a PS4 keyboard and mouse adapter, you will be able to abandon your controller. Adapters differ, therefore consult comparison tests to choose the most suitable.
To play on PS4 with a keyboard and mouse, simply connect it to the USB port of your PS4 console and wait for it to recognise the device.
How to use a keyboard and mouse on PS4 without an adapter?
To play PS4 without an adapter, the keyboard and mouse must be compatible with the system. To find such, you only need to choose your desired combination from the list provided above.
Are all PS4 games keyboard and mouse compatible?
Without an adapter, the answer is unfortunately no. However, the following games are compatible with a keyboard and mouse:
Can I be banned if I use a PS4 keyboard and mouse?
The question may seem silly, yet some games may not value the usage of the combination. The rationale is straightforward: having a keyboard and mouse makes you more competitive. This advantage may be interpreted as cheating.