Top 10 best antivirus software 2022
At the end of this article you are sure to understand what an antivirus is, get a detailed data on the top 10 best antivirus software in 2022, and Understand what to look out for in any antivirus software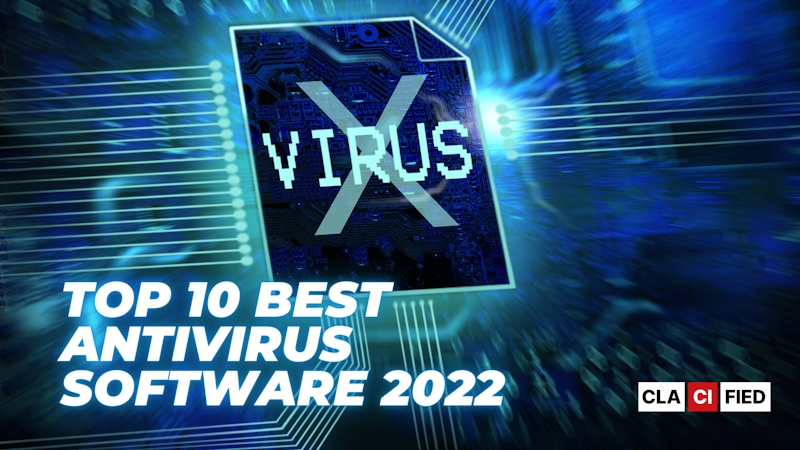 The contemporary world is now a world of the internet and cybersecurity. The ease of the internet also clears the ground for cyber intrusion and internet crime.
Hackers employ various means to access private data, files, and servers. Some known methods they use are computer viruses, worms, spyware, ransomware, trojan horse, etc. Some hackers have also deployed stealth and effective means of accessing credentials through email attachments and phishing.
Unethical hackers also spread computer viruses through pirated software programs; they intrude on users' privacy by exploiting unfixed bugs in a software program. The issue is even more complex when it comes to websites where many focus on deploying malicious content to steal users' data as they surf the web. Dishonest developers also use bots to scrape data from the web.
The issue is how users can control their data and deny unwarranted access to computer viruses and other malicious scripts. This solution can be achieved using the best antivirus software in 2022.
This article will highlight the top 10 best antivirus software in 2022. With the best antivirus software, you have the upper hand on how to improve data security and protect computers against viruses and malware.
A computer virus is a code deployed to implement spurious actions by inserting its code in other programs with the sole aim of modifying these programs. However, these questionable actions can be halted using the best antivirus software tools. In summary, a computer virus can:
Steal your data,
Corrupt your file
Prevent accessibility,
Crash your network and even computer systems, etc
Below is the list of the top 10 best antivirus software in 2022.
1.
Defencebyte antivirus Pro
The Defencebyte antivirus is an antivirus software developed by an Australian-based company. Defencebyte antivirus tops the list as the best antivirus software to use in 2022.
Defencebyte antivirus protects computer systems against malware, ransomware attacks and phishing. Defencebyte uses a file shredder tool to protect personal information like bank and credit card details while making payments online.
The antivirus software offers real-time protection through the generic and heuristic detection model to protect computers while surfing the net. It utilizes the quick scan function of its software to prevent loophole attacks and intrusion by an automatic update.
The antivirus software extends its malware protection when devices connect to a system's network. Defencebyte antivirus scans the available devices to prevent any viral intrusion.
Users' experience was prioritized here as it was developed with a simple interface to accommodate users who lack the technical know-how. It also does not cause lag on computer systems. Instead, it optimizes the memory by closing unused software and useless files in the background.
At the moment, Defencebyte antivirus software is available for Windows-enabled systems only. However, it can support multiple Windows devices.
Defencebyte supports Windows XP, Windows Vista, Windows 7 and its higher versions (32 or 64 bits). The CPU requirement is 1 GHz 32-bit (x86) / 64-bit (x64), the RAM requirement is 1 GB (32-bit) or 2 GB (64-bit), and it requires 400 MB of free space on a hard disk.
The antivirus comes with a pro version that offers a free trial before subscription and offers subscription plans for a single computer device that starts at $39.9.
Bitdefender is a cybersecurity company founded in 2001 and located in Romania. Bitdefender ranks among the best antivirus software today because of its mode of operation. It combines a massive database, machine learning and artificial intelligence to combat computer viruses and other malware.
Apart from its defence against computer viruses, Bitdefender offers other cybersecurity services that include:
Protection against ransomware
Internet Shield Monitors and protects online purchases and other web-based transactions
Password management
Bitdefender is available on Android, macOS, iOS and Windows systems.
This antivirus software uses cloud-based scanning, ensuring virtually no strain on computer systems, even on dull disk scanning.
Bitdefender plays a crucial role on the world stage regarding internet security; the company advises Europol's European Cybercrime Centre (EC3) in investigations against cybercrime. They are also part of the cybersecurity tech accord for a safer online world.
With its Bitdefender plus package, Bitdefender offers entry-level access for users who are not tech-oriented.
A one-year home security package on Bitdefender costs between $29.9 to $99.8 though Bitdefender charges an additional subscription fee for a Virtual Private Network (VPN) and offers a 30-day free trial for subscribers.
Norton Lifelock is an American software company responsible for the Norton antivirus. Norton antivirus is among the best software in 2022 because of its many features.
The Norton antivirus was founded in 1991 as an inclusion to the Norton family of software security products. It uses the Signatures and heuristics model of virus detection to protect computer systems from malware invasion.
You will probably need to worry less about lags since Norton utilizes only about 24MB of a computer's RAM for a full-system scan.
Norton antivirus is used for malware prevention, password management, identity theft, etc. Once a virus is detected, it is removed by moving it into the pandemic definitions file.
Norton antivirus software offers support for Windows, macOS, Android, and iOS and comes with the following:
Firewall protection
VPN
Webcam protections
Dark web monitoring
Cloud storage
PCWorld placed Norton antivirus in the first position after it carried out a test on some security software in 2009.
The yearly subscription to Norton AntiVirus Plus costs about US$19.9, while the Norton 360 Deluxe is US$49.99/per year.
McAfee is the 4th on the list of the top 10 best antivirus software in 2022. McAfee is an American software security company that has been in the software security business since 1987 and is also listed on the Nasdaq.
The McAfee antivirus software uses an encrypted storage system to prevent virus intrusion on computer systems. You might find the password manager useful and utilize it for proper management. McAfee also assures you of a secured internet connection by providing a Tunnelbear-powered VPN.
McAfee offers users different package plans to meet unique needs. For instance, the McAfee Total Protection Family package supports up to 10 devices suitable for families with kids. It also offers complete parental control on devices.
One year subscription on McAfee's total protection package for a single device costs about $29.9, while the family plan subscription costs up to $39.9.
Trend micro is an American-Japanese multinational company founded in 1988. Trend Micro developed the Trend micro antivirus software, which is among the best antivirus software to use in 2022.
Trend Micro antivirus is one of the best tools against phishing attacks or intrusion. Trend micro antivirus software uses advanced AI systems to detect ransomware and other virus attacks. It also uses a cloud-client content security infrastructure to protect users from online threats and employs global threat intelligence to prevent malware, phishing, email and mobile attacks.
Trend Micro entered a collaboration with Panasonic in February 2018 to build more secure systems to protect electronics in automated cars. In April of the same year, Trend Micro released a new AI tool to detect individuals' writing styles and prevent email fraud.
Though effective in protecting against phishing attacks, Trend Micro antivirus has been noted to slow down the computer system when in use. Most Trend micro antivirus software packages are meant for windows systems only.
The Premium Security Suite package in Trend antivirus software can support up to 10 devices and costs $59.95.
Kaspersky is a Russian cybersecurity corporation that was founded in 1997. The company owns the Kaspersky antivirus software, rated highly among the best antivirus software in 2022.
Kaspersky lab produces antivirus and other cybersecurity software, whereas the latter offers internet security and password management services.
Kaspersky antivirus has many features; for instance, it comes with a Safe Money feature that typically detects when a user is about to make a payment online (or access any banking website) and then launches a safe browsing window that cannot be intruded on by malware or spyware. Kaspersky antivirus also gives you a virtual keyboard that allows users to type, handle online payments and prevent keyloggers.
Around early 2010, Kaspersky exposed numerous government-sponsored cyber attacks. They discovered malware like Stuxnet, Duqu, etc.
The Kaspersky premium subscription is a good fit for parents who wants access to parental control software. It costs about $24.99/year.
Avira antivirus software is an American cybersecurity software that NortonLifeLock acquired in January 2021. Avira antivirus is on the list of the best software in 2022 due to its many functionalities. Avira antivirus uses the heuristic model of virus detection to find unknown computer viruses and malware. The antivirus software offers:
Real-time scanning for computer viruses
Cloud-based scanning (to avoid slowing down the computer system)
Dedicated firewall
Automated software update (to keep all apps up to date)
privacy tools
Avira antivirus offers a free version of malware protection for its users. However, it comes with limitations. The pro version of the Avira antivirus software houses loads of necessary features that you may want.
After a lab test in 2021, AV comparatives rated Avira antivirus software as one of the best. Wikipedia reported that as of 2012, Avira antivirus has about 100 million users supported on iOS, Android, Mac and Windows devices.
ESET is a Slovak internet security company that produces antivirus and firewall protection software. ESET antivirus was founded in 1992 and ranked as one of the best antivirus software.
The available features in ESET's NOD32 version may not be the best for beginners, but it certainly gives much room for tech-savvy users. NOD32 is configurable. Thus, it gives tech experts a high level of control. ESET antivirus has a quality system footprint; this feature is a good treat for the heuristic detection and URL filtering model.
ESET antivirus still offers users premium packages to meet high-end needs. Users can also use ESET antivirus for smart and internet security.
The antivirus software also has endpoint security for Windows, Linux, Mac and Android. It also offers services in encryption and parental control.
Gartner Peer Insights recognised ESET in the 2019 Customers' Choices on the "Voice of the Customer". The above is why ESET antivirus is one the best antivirus in 2022.
The NOD32 package costs about $39.9, while the ESET smart security premium is $59.9 per year.
K7 total security is an antivirus and antimalware produced by K7 computing LTD. K7 antivirus software was founded in 1991. With its many features, K7 antivirus made the Clacified a list of the top 10 best antivirus software in 2022.
Like many other antivirus software, K7 uses the signature and heuristic detection model to identify and remove computer viruses. There is also other features in spam, firewall and phishing protection. K7 mode of operation involves employing machine learning programs for more effective actions with a low impact on a computer system during on-scanning.
According to the company's website, K7 antivirus is in 27 countries. It is also among the top antivirus software in Japan and over 40 million devices use K7 antivirus software at press time.
Total AV is antivirus software. Total AV is last but not least on our list of best antivirus software to use in 2022. It made the list of the top 10 best antivirus software because it uses Avira technology. Total AV antivirus software provides services as:
Anti-malware
Anti-spyware
Anti-ransomware
Total AV antivirus software provides real-time protection in computer systems; it reduces start-up time and lags in computer systems.
The services render services to increase battery life by shutting down some background applications. The VPN offered by Total AV will help users to surf the web more securely and prevent intrusions.
According to its website, Total AV has more than 25 million users. Total AV has been known to participate in malware protection testing. The results have led to favourable awards from independent testing agencies. Total AV has received 3-star ratings from AV comparatives in October 2020, march 2021 and April 2021.
There are other top-notch antivirus software and tools in the market, but Clacified can only afford to mention a few to help users make the better choice.
The list of the top 10 best antivirus software in 2022 is a guide that contains the necessary information and features for each antivirus software. Most antivirus software often uses the same method to protect computer systems. This proves that each computer system can do with only one antivirus software at a time.
In the course of choosing the best antivirus software to use, Clacified will advise users to put all factors into consideration. Factors like price, model of detection, and the type of engine that powers the antivirus software are important when choosing the best antivirus software to use.
Users can always test-run this antivirus software by trying out free packages before going premium.
On the last note, you should know that one of the easiest steps in keeping computer systems secure is constantly updating all application software - this is the first and golden step users can take to ensure data security.