Twitter launches gold badges (soon to launch grey) in major verification overhaul
Several official Twitter accounts have been popping up with gold badges in a first wave of verification overhaul by Elon Musk, while plans are still in place to roll out the third verification badge color - grey.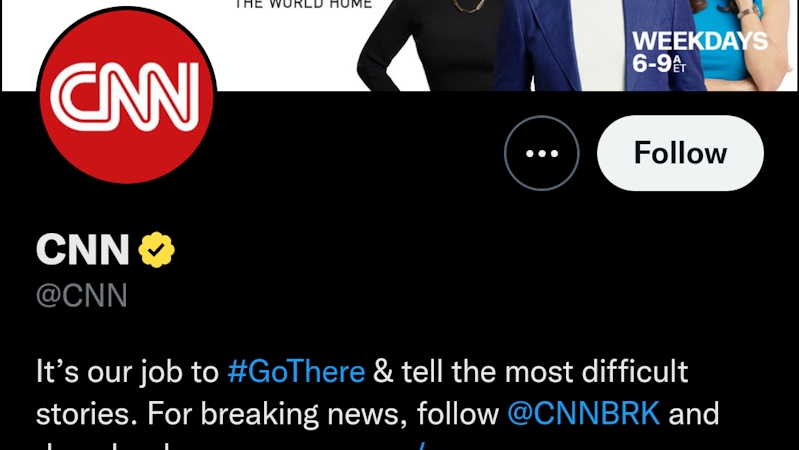 As a result of Elon Musk's reform of the network's authentication method, the official Twitter profile for Real Madrid is one of several companies on the social media platform to display golden badges. The Spanish football club, which published a screenshot of their golden certification accompanied with a delighted emoji, joins a lengthy list of multinational companies, like Amazon, Forbes, Gmail, etc., that have been certified by Elon Musk's new Twitter verification system.
This page provides in-depth information about Twitter Gold verification badge and the newly redesigned Twitter Blue.
What is Twitter's gold verification badge?
According to hints from Elon Musk and the Twitter help website, the new golden verification badge will replace the "official" designation on business accounts. The yellow or gold verification badge, which has already been rolled out, is used to authenticate official, corporate, or media Twitter accounts. 
This new regulation was implemented so that companies and media outlets may be distinguished from people who purchased Twitter Blue with the intention of proliferating nuisance or fraud.
If you access the gold-verified profile and click on the badge, a popup will appear stating that the account is "verified because it's an official business on Twitter."
Gold will not be the only new checkmark on Twitter since grey badges, an insignia for government entities, have yet to be distributed.
Elon Musk has shown a very specific management style for his organisation, and these newest actions are no different. In November, the CEO of Tesla made it apparent that the social network will debut a new three-colour verification method, but many operational specifics remain unknown.
According to the firm, Twitter Blue for Business, or Twitter Gold, is a new service for business companies that is still undergoing testing.
What is Twitter's blue badge?
The Twitter blue badge identifies a verified personality belonging to one of the following three groups: 
This account is verified because it's notable in government, news, entertainment, or another designated category,
This is a legacy verified account. It may or may not be notable,
This account is verified because it's subscribed to Twitter Blue.
Twitter Blue returns with new verification system
Twitter revived the Twitter Blue membership feature on Monday, a month after the initial effort, which was marred by identity theft and general disarray, hence the discontinuation.
According to the official website, the monthly membership fee for Twitter Blue is $8. If bought via the App Store or as an in-app purchase, members pay $11 per month, as Musk wants to offset Apple's 30 percent charge with an increase of his own.
According to Musk's tweet, in the new remodeling, anyone who pays for Blue and wants a verified tick on their profile must first supply a phone number.
Any change to the display name or profile picture will remove the insignia until the account has been validated again. This is to prevent users from enrolling frequently and then altering information for identity theft.
The Verge earlier claimed that Musk informed Twitter personnel that the Twitter Blue badge would not return until Twitter was certain that no other limitations existed.
Advantages of Twitter Blue
The first advantage of Twitter Blue is the blue verification check, which was previously restricted to public figures. 
In addition, users can modify their Tweets, post videos in 1080p full HD resolution, and use reading mode. There is also the chance that paying users can compose tweets up to 4,000 characters.
Twitter Blue has additional functionality like folders for storing items, unique app icons, and a theme system. Also integrated is a customizable navigation system that allows users to choose between two and six features to keep in the menu bar: a shortcut to the most shared articles in their network, and the ability to undo tweets to amend them.
A prospective benefit of Twitter Blue is that subscribers' tweets, replies, and mentions will be prioritised, thereby increasing their exposure on the social network's search engine.
What of the Twitter grey verification badge?
In addition to the gold badge for businesses, Elon Musk said on November 25, 2022, that a grey badge for government accounts will be introduced. However, at the time of this, the platform had yet to implement this change.
This avalanche of changes has sparked a wave of excitement among Twitter users that was nonexistent a fortnight ago.
Elon Musk Twitter: The journey so far
"Let it sink in," stated Elon Musk in a video during his formal onboarding into Twitter's San Francisco offices on October 27, 2022, while holding a sink in his hands. The next few weeks would be no less dramatic, as it became evident when Musk's first substantial step the following day was to dismiss the majority of the senior management.
As of November 2022, Twitter was losing $3 million per day, but under Musk's guidance, the social network underwent sweeping changes in several areas, with the main objective of restoring profitability.
Initially, the managerial level was trimmed before Musk drastically downsized the total staff, a move premeditated before his takeover.
A few days later, there were further layoffs when the new CEO of Twitter expelled critical voices, particularly staff who had done this openly on the site. One of those faced with the axe was developer Eric Frohnhoefer, who was dismissed directly and publicly through a Twitter post. 
This conduct initially contrasted sharply with Elon Musk's intention to make Twitter a platform for free expression, but his objective soon became clear: the billionaire wanted to create a new Twitter with a devoted, future-focused crew.
Shortly after the departure of specific workers, Musk sent an internal email to all staff with an ultimatum for Twitter 2.0. Each team member was to decide, within a day, whether to accept overtime and "high intensity" or be terminated with a severance payout. This includes a prohibition on working from home.
As a result of this new restriction, Twitter laid off over half of its workers, leading to social media warnings, even on Twitter itself, of a likely server breakdown. From one day to the next, whole teams were either understaffed or dissolved.
Musk also intended to save money on infrastructure in order to achieve a neutral or positive balance in the end. As a result, expenses for cloud service providers and redundant servers decreased.
Internal Reuters sources condemned the heavy reduction proposal as fanciful and irresponsible in light of major events such as the US midterm elections, which typically boosts Twitter traffic significantly.
The midterm elections passed, yet Twitter remained online.
A former Twitter administrator attributed the absence of outages to Twitter's architecture, which is built on robust automation and pre-caches commonly used modules. This enables visitors to access the website with as little lag as possible, since automation and redundant data centres can substantially intercept malfunctions and mistakes. However, if Musk saves more, the possibility of failure might grow.
Nevertheless, despite the doom-laden predictions, Twitter appears to have successfully navigated the first few months of Elon Musk's administration, with an even more promising calendar year on the horizon.