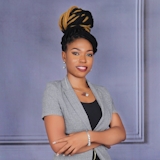 Joy Emeh
Writer| Editor| Content Strategist
Joy is a basic medical scientist and a prolific writer with years of experience in the health writing industry. Joy also derives pleasure from writing about lifestyle and entertainment and discussing business and educative matters.
As a professional writer and content strategist, Joy creates SEO-friendly content for websites and brands. She has ghostwritten health ebooks on different health and nutrition topics for clients from various parts of the world.
Using her excellent writing skills, Joy engages and educates her audience. Aside from writing and editing for Clacified, Joy has also worked with other brands/websites, such as KompleteCare, HuffPost, Naija Music, Giddy, and Dentistry Brands LLC. She currently works as a health contributor at Healthgrades and a health editor at K Health. Joy is the senior health content editor at SemicHealth, a partner website.
When free from work, Joy would most likely be found reading, learning something new, doing a chore or seeing a movie. Joy talks a lot about freelance writing, health writing, SEO, career growth, health and lifestyle, design, business and investments, relationships and life generally.