BBNaija Cee-C: Cynthia Nwadiora biography, net worth, husband & Tobi
Unveiling Cee-C's inspiring biography: From explosive fame to a thriving net worth, her quest for a husband and complex relationship with Tobi revealed.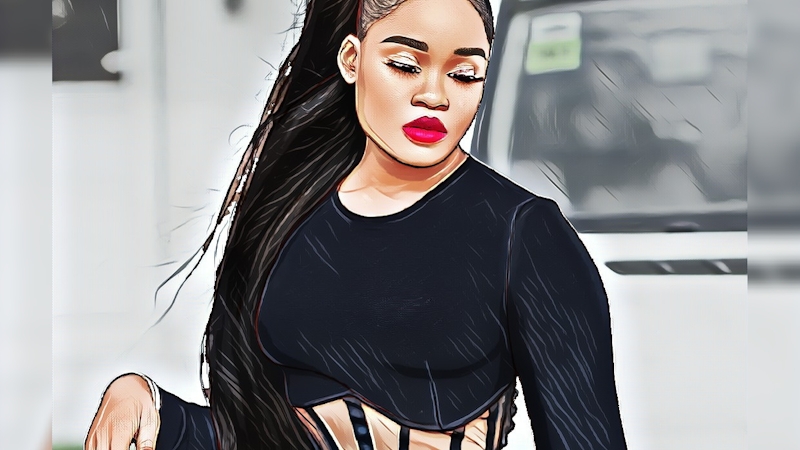 In the annals of Nigerian entertainment, few personalities have left an indelible mark like Cynthia Nwadiora, fondly known as Cee-C. Rising to fame as a formidable housemate in Big Brother Naija Season 3: Double Wahala, this enigmatic screen diva has since carved a path of unparalleled success, transcending the boundaries of reality television and becoming a force to be reckoned with in the realms of entrepreneurship, modeling, and acting.
Hailing from Enugu, Nigeria, Cee-C's journey is one characterized by determination, resilience, and the unwavering pursuit of her dreams. From her formative years in school to her rise in the corporate world as a lawyer, and ultimately, her trailblazing presence in the entertainment industry, each chapter of her story is infused with the essence of her explosive personality and fearless spirit.
In this comprehensive biography, we delve into the multifaceted world of Cee-C, exploring the pivotal moments that shaped her trajectory, the controversies that defined her public image, and the inspiring endeavors that have solidified her place as a cherished icon among her millions of fans.
This article also uncovers Cee-C's soaring net worth, her unwavering search for a life partner, and the complex relationship she shared with fellow housemate, Tobi, during her time in the Big Brother Naija house.
Join us as we unravel the extraordinary life of Cynthia Nwadiora, the influencer, reality television star, entrepreneur, and role model who has taken the Nigerian entertainment landscape by storm. 
From her audacious exploits on screen to her flourishing ventures as a brand ambassador and business owner, Cee-C's tale serves as a testament to the boundless possibilities that await those who dare to embrace their true selves and dare to dream beyond the ordinary.
Cynthia Nwadiora, widely known by her moniker Cee-C, is a multi-talented Nigerian personality, recognized for her diverse roles as a lawyer, entrepreneur, influencer, reality television star, actress, model, and social media sensation. 
Born November 6th, 1992, and raised in Enugu, Nigeria, Cee-C grew up alongside her brother and sister, forming strong family bonds that have played a significant role in shaping her life.
Her educational journey began at the Federal Government Girls College in Ibusa, Delta State, where she completed her secondary education and earned the West African Senior School Certificate. 
With a passion for law, she continued her academic pursuits at Madonna University in Okija, where she graduated with a bachelor's degree in Law. Subsequently, she pursued her legal career by attending the Nigerian Law School, where she successfully obtained her law degree, laying a solid foundation for her future endeavours.
Before breaking into national consciousness, Cee-C ventured into the corporate world, working as a secretary at Esmic International Limited in Lagos before her determination and drive for success led her to take on additional roles as a trainee at prestigious legal firms like Fidelis Oditah & Co in Lekki Phase 1 and Sterling Partnership Legal Practitioners in Lagos State.
However, her life took a remarkable turn when she came across an Instagram ad for the 2018 edition of the highly popular Nigerian reality television series, Big Brother Naija, themed "BBNaija Double Wahala." 
Intrigued by the opportunity, she decided to audition and successfully secured a spot as one of the housemates, setting the stage for her meteoric rise to fame.
Inside the Big Brother Naija house, Cee-C garnered attention and acclaim for her explosive, outspoken, and uncensored nature. Her presence and strong personality captivated audiences, leading her to be regarded as one of the standout contestants in the show's history. 
Many fans and observers noted that her bold approach influenced future participants, such as Erica and Tacha, shaping the dynamic of the show for seasons to come.
Although she did not clinch the winning title, Cee-C's journey as the first runner-up left an indelible mark on the show and significantly boosted her prominence across various social media platforms.
With a massive Instagram following of over 3 million, she leveraged her newfound fame to explore various creative avenues, becoming an accomplished actress, internet sensation, and sought-after Instagram model. Throughout her career, Cee-C has collaborated with numerous brands, solidifying her position as a powerful influencer in Nigeria.
Despite her success, Cee-C faced challenges as well. In 2020, she was involved in a motor accident in New Haven, Enugu, after her car experienced brake failure. Thankfully, she survived the incident, demonstrating an archetypical resilience and determination to overcome adversity.
Throughout her journey, Cee-C's sister, Belinda Nwadiora Onwuchekwa, played a vital role in managing her social media handles during her time in the Big Brother Naija house, showcasing the strong support and bond between the siblings.
Cynthia Nwadiora, aka Cee-C, continues to inspire and entertain her fans and followers with her multifaceted talents, from her legal prowess to her captivating on-screen presence and influential social media persona. 
With her unwavering determination and charisma, Cee-C remains an influential figure in the Nigerian entertainment industry and beyond. Her story stands as a testament to the power of embracing one's true self and fearlessly pursuing one's passions.
Cee-C BBNaija season 3: Double wahala
Cee-C's journey in the Big Brother Naija Season 3: Double Wahala house was nothing short of a rollercoaster ride, filled with drama, controversy, and unforgettable moments. After deciding to attend the audition following an Instagram advert, she succeeded in securing a coveted spot as one of the housemates, propelling her into the spotlight.
Over the course of 85 entertaining days, Cee-C's explosive and outspoken character kept viewers on the edge of their seats, teetering on the brink of disqualification at times due to her unfiltered nature. 
Her bold approach and no-holds-barred attitude made her one of the most newsworthy and talked-about personalities not just during the show but long after its conclusion, cementing her as one of the most controversial housemates in the history of Big Brother Naija.
Despite not clinching the ultimate title, Cee-C's powerful presence and strong fan base earned her the position of the 1st runner-up in the competition.
Her journey in the house, a testament to her popularity and the impact she had on the show, was evident that many viewers resonated with her unapologetic personality and unique style.
Throughout the season, housemates and finalists often had opportunities to win sponsored tasks that came with monetary rewards.
While some of her fellow contestants managed to secure these lucrative gifts, Cee-C's luck in this regard did not align, and she did not receive any monetary rewards during her time in the house.
However, Cee-C's devoted fans, who admired her tenacity and unwavering individuality, rallied together to ensure their favorite housemate did not go home empty-handed.
After the show's conclusion, they declared her their "BBNaija 2018 Winner" and presented her with a generous N2 million cheque. This heartfelt gesture showed that her impact extended far beyond the confines of the reality TV show.
Despite an acerbic attitude, Cee-C's journey in the Big Brother Naija house was a memorable one, leaving a lasting impression on viewers and securing her status as one of the most influential and talked-about contestants in the history of the show. 
Beyond the glitz and glamour of the reality TV world, she continued to captivate audiences with her multifaceted talents and genuine personality, ensuring her place as a beloved figure in the hearts of her fans.
A strategic partnership that turned romantic, Cee-C and Tobi's relationship was an in-house fling that navigated a tumultuous dynamic filled with accusations, arguments, and emotional turmoil.
During their time in the Big Brother Naija house, Cee-C and Tobi's relationship was marked by intense highs and lows, drawing significant attention from viewers and even leading to disciplinary actions from Big Brother. 
The complexity of their feud reached a peak when Cee-C accused Tobi of sexual assault during one of her anger episodes. Tobi vehemently refuted the allegations, leading to a definitive end to their relationship in the house.
Throughout BBNaija Double Wahala, Cee-C continuously tortured Tobi with false accusations and mind games, while Tobi often apologised for perceived wrongdoings, creating an increasingly volatile atmosphere between them. 
Their relationship hit further rocky ground when Tobi started forming close bonds with other housemates, particularly Anto and Alex, further infuriating Cee-C.
The long-awaited kiss between Cee-C and Tobi, which viewers had anticipated, eventually happened. However, even then, Tobi confessed that he felt uncertain about the genuineness of the gesture, considering Cee-C's previous behaviors and games.
Cee-C's claims of being a virgin sparked debates, with Tobi expressing skepticism due to her apparent knowledge about sexual positions.
Their relationship remained under scrutiny even after leaving the house, as viewers continued to weigh in on their interactions during media tours and interviews. 
In the aftermath of the show, Cee-C has expressed regret for emotional outbursts and choice of words towards Tobi, and when asked in a Punch interview what other line she would tow if given a second stint in the house, she singled out "maturity."
While the two housemates shared a complicated history, it is evident that Cee-C and Tobi's time together in the Big Brother Naija house left a lasting impact on both their lives, sparking discussions and speculations long after the show's conclusion. 
Cee-C in BBNaija All Stars
After her remarkable stint in Big Brother Naija Season 3: Double Wahala, Cee-C's popularity continued to soar, making her one of the most sought-after personalities in the Nigerian entertainment industry. Her immense fan base and enduring appeal never left the attention of the show's organizers, who saw an opportunity to capitalize on her star power in 2023.
As a testament to her impact on the franchise, Cee-C was among the select few contestants who were recalled for the highly anticipated eighth edition of the show, titled "BBNaija All Stars." 
This edition brought together twenty of the most memorable and influential former housemates from previous seasons to compete once again for the ultimate title.
With her explosive personality and memorable moments from her previous season, Cee-C's return to the BBNaija house in the All Stars edition generated significant excitement among fans and viewers. 
Her presence is guaranteed to add an extra layer of drama, entertainment, and intrigue, as audiences eagerly anticipated her interactions with other iconic contestants.
So far in the "BBNaija All Stars" edition, Cee-C has once again showcased her wit, intelligence, and strong character, reminding everyone why she was such a standout in her initial season. 
Her journey in the All Stars edition is billed to further solidify her status as a fan favourite and an enduring force within the Big Brother Naija franchise.
Cee-C kissing Mawuli Gavor in a promotional stunt for her clothing line
While Cee-C has been open about her desire to find a life partner with God-fearing characteristics, as of now, she remains unmarried. Her quest for a husband with strong values has been a topic of interest to her fans and followers, who eagerly await updates on her personal life.
During her time in the Big Brother Naija house, Cee-C's personal life became a subject of public interest, and rumors about her romantic relationships were constantly making headlines. One such instance involved her being caught on camera making out with fellow housemate Tobi.
Also, in April 2020, Nigerian musician Peruzzi had to deny any romantic involvement with Cee-C, clarifying in an interaction with followers and fans during a live Instagram chat with an On-Air Personality that the alleged romance between them was merely a publicity stunt to promote his single 'Majesty.' 
The music video for the song featured Cee-C as his love interest, but Peruzzi clarified that it was all part of a strategic marketing move and not indicative of any real romantic relationship between them.
Despite her public image and the scrutiny she faces, Cee-C has managed to keep certain aspects of her personal life private, including her romantic relationships. 
As a public figure, she understands the importance of balancing her personal and professional life, ensuring that she maintains a level of privacy that she is comfortable with.
Considering her business ventures, brand endorsements, and entertainment endeavors, Cee-C's net worth is estimated at approximately 360 million Naira. As she continues to build her brand and explore new opportunities, like in the BBNaija All-Star edition, her net worth is likely to evolve further. 
One of Cee-C's notable accomplishments includes the launch of her athleisure brand, Cegar, in 2019 which one was initially designed for women before she expanded the collection to include 'his and hers' attire in 2020, catering to both men and women. Cee-C's brand received significant love and attention from her fans and customers, contributing to her growing net worth.
Throughout her career, Cee-C has also ventured into the world of brand endorsements. In 2018, she became the Brand Ambassador for House of Lunettes, an eyewear store. Additionally, she was unveiled as the brand ambassador for Royal Hairs Company, a deal that came with a brand new Mercedes Benz car.
Cee-C's influence expanded into the entertainment industry as she made her Nollywood debut in the 2019 comedy TV series titled 'Fake Liars,' where she starred alongside veteran actors like Nkem Owoh (Osuofia), Hafiz Oyetoro, Charles Okocha, Caroline Danjuma, and Broda Shaggi. This foray into acting further bolstered her visibility and income.
With her charisma and rising popularity, Cee-C also secured endorsement deals with notable brands, including NairaBET, a sports betting brand.
In addition to her successful ventures and brand endorsements, Cee-C has made significant strides in the world of entertainment and modeling. She starred as the bride in the music video for Peruzzi's hit song "Majesty," further showcasing her versatility and appeal as an actress and model.
As her popularity soared, Cee-C's impact caught the attention of the media and fashion industry. The 50th edition of La Mode Magazine featured her with the theme "New Year 2020 Cee-C Breaks New Ground!" highlighting her growing influence and accomplishments.
Taking on various roles and partnerships, Cee-C was announced as the brand ambassador of Delta Soap in 2019, further expanding her roster of lucrative endorsement deals.
As of 2023, Cynthia Nwadiora, also known as Cee-C, has established herself as a multifaceted entrepreneur, brand influencer, actress, and model. 
Her achievements in the business world, coupled with her success in the entertainment industry and numerous endorsement deals, have contributed to her growing net worth and cemented her status as one of Nigeria's prominent personalities. As she continues to explore new horizons, her net worth is likely to see further developments.
Cee-C: The pace setter of modern Nigerian influencing
The biography of Cee-C has offered a fascinating glimpse into the life of a Nigerian powerhouse who has defied expectations and risen to extraordinary heights. 
From her explosive fame on reality television to her ventures in entrepreneurship and modeling, Cee-C's journey exemplifies the power of determination, authenticity, and unwavering ambition.
With a substantial net worth of 360 million NGN that reflects her numerous successful ventures, Cee-C has become an influential figure in the Nigerian entertainment industry, leaving an indelible mark on fans and followers alike. As she continues to explore new horizons and expand her brand, it is evident that her impact will endure for years to come.
Beyond her professional achievements, Cee-C's quest for a husband with God-fearing characteristics adds another dimension to her public persona, highlighting her desire for a meaningful and fulfilling life beyond the glitz and glamour.
Throughout her journey, the complex feud with Tobi served as a compelling narrative that captivated audiences during their time in the Big Brother Naija house. Their tumultuous relationship showcased the highs and lows of human emotions, leaving viewers engaged and invested in their dynamic.
As we conclude this exploration of Cynthia Nwadiora's life, it is clear that Cee-C's story is one of resilience, courage, and the unyielding pursuit of greatness. Her journey serves as an inspiration to all who dare to dream big and embrace their true selves, breaking barriers and charting their own path in life.
In the ever-evolving landscape of Nigerian entertainment, Cee-C stands as a symbol of strength and authenticity, reminding us all that with passion and perseverance, one can achieve the extraordinary.
Her legacy will undoubtedly endure, inspiring generations to come to chase their dreams fearlessly and leave an indelible mark on the world, just as she has done.