Obi Cubana net worth, businesses and cars
Have you heard of the Cubana empire and the King of Nightlife? Obinna Iyiegbu, aka Obi Cubana, is the man who controls this million-dollar empire in Nigeria. Clacified looks into Obi Cubana's net worth, businesses, and cars.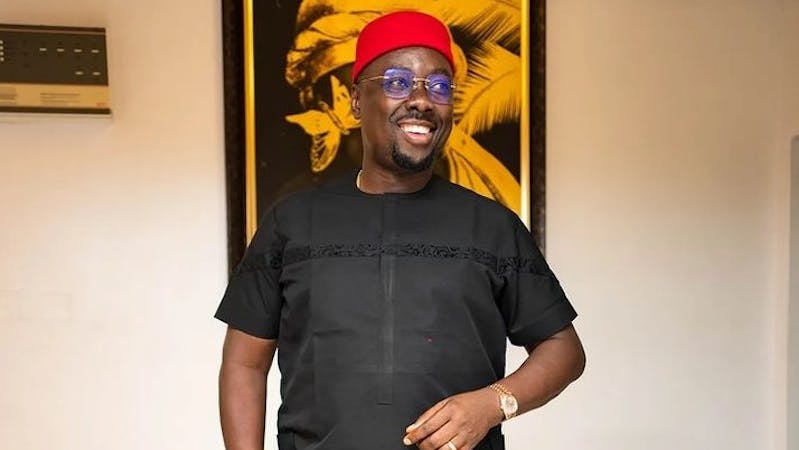 When news began circulating about a major event going down in Oba Anambra state in July 2021, many Nigerian's interests began to pique at the thought of who the host was. It was no one else but the chairman of one of Nigeria's foremost hospitality and entertainment businesses, Cubana Group, Obinna Iyiegbu.
Obinna Iyiegbu, also known as Obi Cubana, shut down social media during the burial ceremony of his mother with several videos of displays of gifts and cash bundles. The event was embroiled in luxury and public display such that Obi Cubana's mother's burial has been tagged the highlight of July 2021.
Clacified draws deep into Obi Cubana's net worth, source of income and assets of one of Anambra's richest businessmen, Obi Cubana.
Obi Cubana net worth
Nicknamed the King of nightlife, Obi Cubana, whose net worth runs in millions of dollars, has been the focus of the EFCC. However, the business mogul has maintained his stance of hard work, consistency, and people network as the standard for success.
Obi Cubana may not be among the richest people in Nigeria, but he is sure one of its most influential personalities and entrepreneurs. Obi Cubana engaged in a series of business opportunities and has been able to earn a substantial amount, which is why Obi Cubana's net worth is estimated to be $500 million
Obi Cubana's net worth is highly linked to his business decisions and career choice, which has been a constant source of income for this media personality.
Obi Cubana Biography

| Real name | Obinna Iyiegbu |
| --- | --- |
| Nickname | Obi Cubana |
| Age | 47 (2022) |
| Date of birth | April 12, 1975 |
| Hometown | Oba, Anambra |
| Local goverment | Idemili South |
| Spouse | Ebele Iyiegbu m.2008 |
| Children | |
| Occupation | Business mogul, socialite, entertainment promoter |
| Company | Cubana Group & Odogwu bitters |
| Net worth | $500,000,000 |
Obi Cubana business career and source of income
Obi Cubana attended the University of Nigeria Nsukka, where he graduated with a Bachelor of Arts degree in Political science before starting his National Youth Service Corps (NYSC) in the same year.
The 47-year-old entrepreneur disclosed that although unemployed, he made his first N1 million from selling property in Abuja. A client had asked him to furnish a house, and after the job, the impressed client dashed him N500,000  plus his profit of N600,000.
Obi Cubana stated that he channelled his energy into getting more house contracts. Obi Cubana's profit from contracts with PPMG and other brands led to his establishment of Ibiza Club in 2006. Ibiza Club recorded great sales; by 2009, Obi Cubana founded Cubana hospitality services.
Nigeria hospitality manager and business owner, Obi Cubana.
Initially, Cubana was established in Imo, Owerri but has expanded to Lagos, Abuja, Portharcourt, and other states in Nigeria.
The Cubana Group, owned by Obi Cubana, provides entertainment and hospitality services. As research has shown, the hospitality industry is one of the fastest-growing markets in the world today.
Obi Cubana owns a chain of business ventures, some through investments and others by direct ownership. Obi Cubana's interest in the hospitality industry has undoubtedly enriched his pocket.
Based on his properties, assets, and businesses. Obinna Iyiegbu's Cubana empire chain of business has branches in major cities of Nigeria, such as;
Rolex Hotels – Lagos Cubana Leisure Outfits
Pablo Cubana – Lagos
Crave Cubana – Abuja
Grand Cubana Hotels – Abuja
Opium Cubana – Owerri
Cubana Night Clubs – Lagos
Gustavo Cubana- Enugu
The billionaire revealed in a recent interview that he is expanding the business to serve the market in Dubai and real estate.
Often mixed up with his manager, the Cubana Chief priest, Obi Cubana had at some point run one of his businesses alongside Cubana Chief Priest. He managed some of his entertainment conglomerates around the country.
Obi Cubana is wealthy and has been known to keep himself company with an elaborate lifestyle in the form of cars, houses, etc.
Obi Cubana's Cars and assets
Like most rich men, living a luxurious lifestyle comes with the job. Obi Cubana is no exception. As you can see, his wealth and affluence are displayed in the worth of the vehicles he drives and the houses he owns.
Obi Cubana's assets include cars and house properties around the country.
2022 Mercedes Benz S580 - N250,000,000
Lexus LX 570 - N65,000,000 - N70,000,000
Mercedes Benz S450 4Matic- N35,000,000 – N40,000,000
Rolls Royce Wraith - N340,000,000
Toyota Land cruiser - N65,500,000 - N95,000,000
2022 Mercedes-Maybach GLS 600 SUV - N250,000,000 – N300,000,000
Obi Cuban's wealth and net worth have led fans and well-wishers to compare his net worth with one of the richest musicians in Nigeria, Davido.
Who is richer between Obi Cubana and Davido?
There is a debate that centres around two media personalities; the debate borders on who is richer between Obi Cubana and Davido.
Bearing that these two icons are of different fields, the common factor between them appears to be based on the fact that they are both of the upper echelons.
The DMW president, David Adeleke, comes from a wealthy and influential family and has made a name and earned a high net worth of around $29 million. Meanwhile, Obi Cubana's net worth is about $500 million. The margin is clear and shows that Obi Cubana is richer than Davido.