Oga Sabinus comedy: net worth, biography, wife, state of origin
Nigerian comedian, skit maker and content creator, Oga Sabinus is one of the fast rising talents in the entertainment industry. Oga Sabinus' grass to grace story is uncoventional leaving an indemnable mark of laughter on every fan or listener.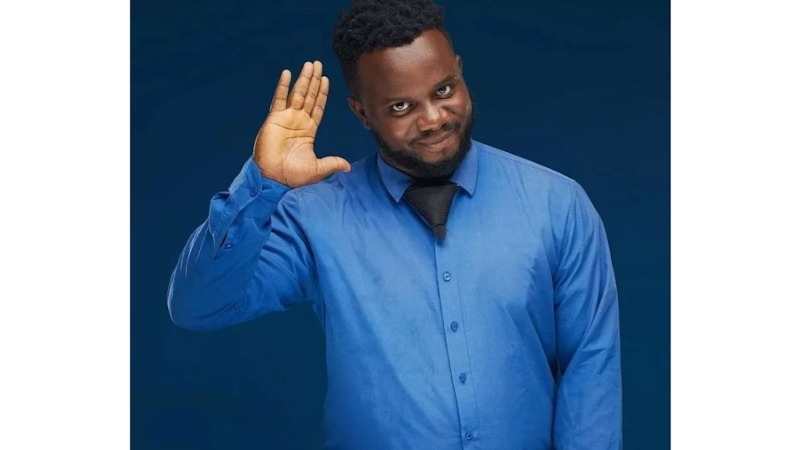 Nigeria's comedy industry has witnessed an unprecedented shift from stand-up comedy to digital skit-making. Ranked as the country's third largest entertainment industry (worth over N50 billion), it's no wonder skit makers like Emmanuel Chukwuemeka, aka Oga Sabinus, have risen through the ladders.
Unlike the richest comedians in Nigeria who became popular for their live shows and stand-up comedy nights, Oga Sabinus became a social media sensation and bagged several endorsement deals after his "something hooge" phrase went viral.
Oga Sabinus comedy whose net worth is estimated at $500,000(N222.33 million) is treading to be on par with some of the country's richest actresses and richest musicians in Nigeria.
Recognized for his royal blue shirt, black trousers, and silly exclamations, Oga Sabinus also known as Mr Funny - began to trend in 2019 when influencers like Tunde Ednut and Don Jazzy started sharing his skits on Instagram.
Mr Funny aka Oga Sabinus initially entered the comedy game in 2015 but did not gain recognition till 2019. Yet in 2022, he bagged the African Magic awards as the Best Online social content creator of the year.
The "something hooge" skit maker, Oga Sabinus has also been involved in lawsuits with a few brands about his comedy slang. This article discusses the net worth, biography, wife and every detail about Mr Funny, aka Mumu man, aka Oga Sabinus the investor comedy.
Oga Sabinus/ Mr Funny profile summary

| Full name | Emmanuel Chukwuemeka Ejekwu |
| --- | --- |
| Nickname | Mr Funny (Sabinus Mr Mumu man) |
| Date of birth | 30 January 1995 (age 27 years old) |
| Place of Birth | Port Harcourt |
| State Of Origin | Rivers State |
| Occupation | Comedian, Media Personality, Content creator and Skit maker |
| Relationship | Engaged |
| Years active | 2015- Present |
| Networth | N222.33 million |
Oga Sabinus early life/ personal life
Emmanuel Chukwuemeka Ejekwu was born in Port Harcourt, Rivers State, on January 30, 1995. The young Sabinus had his early education in Port Harcourt and proceeded to his bachelor's degree in Linguistics and Communication Studies from the University of Port Harcourt.
According to Sabinus the comedian, his father had initially preferred he study Law at the University. But Oga Sabinus claimed that he instead opted for Linguistics.
Soon, his inclination towards comedy blossomed into professional practice. Known as the class jester, Oga Sabinus delved into standup comedy and online skits in 2015.
However, Oga Sabinus left Port Harcourt for Lagos to seek greener pastures. On arrival, Oga Sabinus started making skits and soon- one of Nigeria's richest musicians and talent manager, Don Jazzy, reposted Mr Funny's content.
Blogger and Public figure Tunde Ednut also began reposting Oga Sabinus' comedy skits, marking the tipping point for the comedian.
Although Oga Sabinus' comedy has enjoyed fame, many have wondered if the comedian is married or has a wife.
Oga Sabinus's marriage status
Oga Sabinus has tried to keep details of his love life under wraps but the comedian is reportedly in a serious relationship and engaged. According to a now-viral video, an eyewitness shared a video which was secretly recorded during the engagement which took place in Era, Ojo area of the state.
The video showed his Mercedes Benz at the location with the singer walking into the house. The video also showed Oga Sabinus kneeling while being addressed by his fiancee's parents.
At that moment Sabinus turned to see the man recording, the guy withdrew and ended the video.
In an earlier post on Instagram the skit maker, Oga Sabinus had earlier shown off the backside of his lover in a post on his social media page.
Oga Sabinus comedy career
Oga Sabinus comedy career
Mr. Funny aka Oga Sabinus broke into the comedy industry in 2019. In no time, Sabinus amassed a huge online network and fans. His popularity soon earned recognition, nominations awards and endorsement.
In 2021 Oga Sabinus' comedy won the DENSA awards for the most creative social media comedian and in 2022 he won the Africa Magic Viewers Choice award for the Best Online social media content creator.
The tipping point for Oga Sabinus aka Mr Funny was when celebrities began reposting his skit. As a result, several brand deals started trickling in, with Oga Sabinus currently a brand ambassador for popular betting sites, Oddstackr and many others.
Oga Sabinus also has a thriving career in the Nollywood industry movies such as 'Billionaire's Bride', 'Man of War' etc. In the face of Oga Sabinus' comedy and new fame, he has been involved in a few legal battles with some Nigerian companies.
Oga Sabinus sues Nigerian Food companies
In May 2022, Oga Sabinus sued Friesland Foods Wamco Nigeria Plc, and UAC for using catchphrases and his image without permission during its Peak and Gala advert respectively.
According to the pre-suit notice dated May 27 2022, signed by his lead counsel Mr Stanley Alieke, the comedian Oga Sabinus requested a N500million compensation for the unauthorised use of his intellectual property and another 500m for damages for the "emotional, physical, psychological and mental trauma our client has suffered for the trademark theft and the infringement of his intellectual rights property".
Oga Sabinus also sued UAC for using an animated alteration of his image. Oga Sabinus's talent manager, however, disclosed the management agency sued the companies on behalf of the comedian.
The 27-year-old's legal battles with these two food companies did not impede brand endorsements and adverts from 1Xbet, Shawn exchange and other companies. These endorsements and adverts have fattened up Oga Sabinus' net worth in 2022.
Oga Sabinus comedy net worth
Oga Sabinus is worth N222.33 million in 2022. The comedian, content creator, and actor has made several investments in real estate and properties. Payments from comedy adverts, stand-up shows and Youtube views have contributed to his net worth in 2022.