Portable net worth, biography and controversies of Zazu coroner
Street hip-pop rapper, Portable has seen rapid success in the industry but never fails to trend for the wrong reasons. Clacified captures the net worth, biography, and controversy of his life.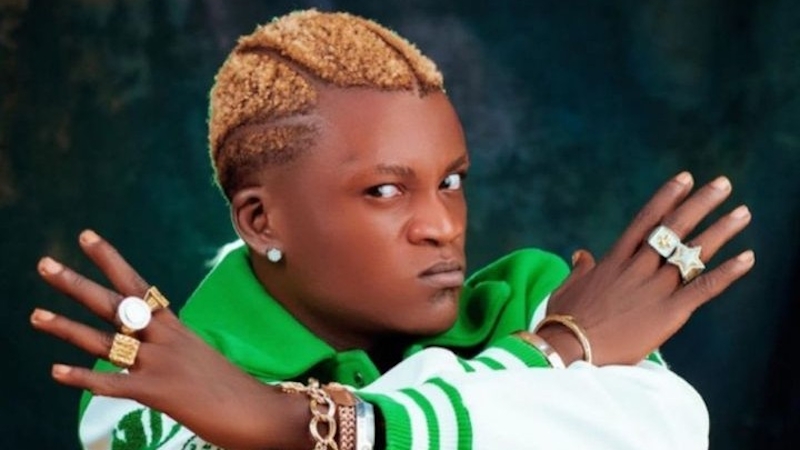 Habeeb Okikiola, popularly known as Portable Zazu, became a music sensation after he released his debut famous single-Zazu Zeh, featuring Pocolee and YBNL president Olamide, in December 2021.
The Yoruba rapper quickly became a household name as the Zazu Zeh chorus, and dance steps began trending. Since the song's release on December 14, 2021, it has amassed over 6 million views on Youtube. It wasn't long before the 28-year-old Portable shared the stage with "Somebody son" singer Tiwa Savage.
Portable performed with Tiwa savage at the Livespot X concert on Friday, December 17 2021. Following the concert, Portable landed his first major controversy in the industry.
Clacified delves into the Portable biography, net worth, and controversies of Nigeria's fastest-rising Yoruba rapper.
Portable profile summary

| Real name | Habeeb Okikiola Omolalomi |
| --- | --- |
| Stage name | Portable, Dr Zeh, Omo Shaku Shaku |
| Date of birth | March 12, 1994 |
| State of origin | Ogun State |
| Nationality | Nigerian |
| Occupation | Yoruba Street hip hop rapper |
| Years active | 2020-Present |
| Age | 28 |
| Wife | Bewaji Oluwaferanmi |
| Children | 3 |
| Net Worth | $20,000-$70,000 |
Portable Zazu at airline station in Paris.
Habeeb Okikiola, aka Portable Zeh, was born into Mr. and Mrs. Okikiola's humble family on March 12, 1994. Portable is an indigene of Ogun state in Nigeria and was raised in a Muslim background with his siblings.
Although, not much is known about the young rapper and his educational background. Portable Zazu decided to tread the music path after listening to songs by Nigeria's top rappers, including Lord Of Ajasa, Dagrin, Danny Young, Olamide, QDot, CDQ, etc.
Portable Zazu left his hometown for Lagos to pursue his dreams of making Yoruba rap music.
According to Portable, he struggled a lot before getting his big break with YBNL records boss, Olamide.
He released a hit track titled Zazoo Zeh, where he featured Olamide and Poco Lee. The word 'Zazu' is derived from a female name of Hebrew origin meaning 'Movement.' Portable's fame spread like wildfire in Nigeria. In no time, he was booked to perform at AY's show on Easter Sunday, April 17, where the publicity-loving Nigerian socialite E-Money handed him bundles of naira.
Portable's fame affords him opportunities with the big boys in music and other personalities. He has been spotted with Wizkid, Timaya, Burna Boy, and Olamide. Portable also met with the Ooni of Ile Ife, Adeyeye Ogunwusi, at the Ooni's palace.
Recently, Portable's new sponsor, E-Money, took the singer on his first United Kingdom tour, where he is expected to perform in three major cities in the UK, Peckham, London, Birmingham, and Manchester.
However, controversies began trailing the new rapper after his stint at the Livespot X concert; no one knew that this would be the beginning of the many controversies that would trail Portable Zazu.
Portable Zazu dancing during a performance.
Portable's mouth has been one loose canon that has led to pitfalls with his colleagues in the industry. Below are some highlighted events that rocked the internet.
1.
Portable drags Poco Lee for song hijacking and theft
After his rise to stardom which earned him the trust of street music enthusiasts. Portable began to grace different stages to perform and earn money as a young rapper, but it seemed like the new attention from the media sparked something in him.
The first incident happened during the Livespot conference on December 17, 2022. Portable Zazoo had accused Nigerian dance, Poco Lee, of attempting to defraud him and cheat him of his hard-earned money. The Ogun singer revealed that Poco Lee had taken all the money Wizkid sprayed him, about $3000, while on stage and given him a meagre amount of $600.
He added that Poco Lee had hijacked and taken credit for his hit song, "Zazoo Ze," released on December 14, 2021. The song credit indicated Poco Lee as the owner of the song, indicating Portable and Olamide as featured acts.
The hip pop-street rap singer narrated all this on a video online. His outburst on social media angered his show promoter, Kogbagid, who requested that Portable vacate the label's property where he lives.
Kogbagidi expressed his displeasure at Portable's "unruly" behavior and stated that he was embarrassed by the accusatory video which had circulated online.
In a turn of events, Portable Zazoo apologised to Poco Lee, Olamide, and Kogbagidi for all the trouble caused; he insisted they were his benefactors and begged for their forgiveness. The video of the reconciliation quickly went viral.
However, Portable was just getting started in the controversial cases he would put himself in.
2.
Portable allegedly sexually assaults woman in Kenya
On January 21, 2022, Portable Zazoo and his crew travelled to Nairobi, Kenya, for the "Portable Zazoo Reloaded Show" and allegedly assaulted and harassed some ladies sexually.
The incident was reported by a Kenyan radio personality, Maureen Imbai, Black Cinderella. According to Maureen, the singer and his crew asked the girls to sleep over at their residence, but the victims turned it down.
The victims' refusal triggered the crew, who allegedly harassed and wrongly accused the ladies involved of trying to cart away the singer's valuable items.
Portable apologised for the incident. Shortly after the allegations, the 27-year-old singer was seen making trouble again-this time; it involved his management.
3.
Portable exits Kogbagidi's label
In another event in the Ota area of Ogun State, Portable was seen yet again involved in a street fight with futile attempts by security officials to break it up.
The security guards tried to remove him from the incident scene, but Portable adamantly refused to concede. Later, he vacated the premises.
Based on reports, the fight broke out after he exited the record label owned by the show promoter Quadri Taoreed, aka Kogbagidi.
Portable had called out Kogbagidi on monetary disagreements, siphoning gifts from fans, and other problems that led to the deterioration of his relationship with Kogbagidi.
Following the drama that ensued with the fight, as seen in a viral clip, Kogbagidi dropped a cryptic message online. The message alluded to "pig fights." Stating that getting into altercations with pigs always ends both parties in the mud.
Portable's attitude has steered more boats of failed interactions with other people. Three months after sacking Kogbagidi, Portable fired his second management team.
In a video created by the singer Portable Zazu, he ranted about his manager, DJ and the show promoter over their constant demand for money and always wanting to restrict him from networking. According to Portable Zazu, his manager, DJ, and the show promoter do not contribute anything to the progress of his music career.
He revealed he was solely responsible for their welfare and thus felt cheated out of his hard-earned cash.
4.
Portable refused entry into Canada
Portable was scheduled as one of the guest musicians performing at a show in Canada. However, the Canadian-based Nigerian MC, Morris, said they decided to drop the singer because of his temperament.
According to the MC, Portable had sacked two managers in less than a year, which was not a good sign, and would no longer have him perform in his show. Morris disclosed he wrote to immigration to deny Portable's visa application. Morris, real name Maurice Imadu, was to organise the singer's international events prior to their painful fallout.
5.
Portable gets in fights at shows
Once again, Portable makes headlines for his series of fights. Reports say he allegedly fought with some Benin fans at a show in Edo State. Portable almost got into another fight with a DJ in a club. The singer got furious at how the DJ handled his song.
6.
Portable in police trouble over his "One Million Boys" statement
Portable's loose-mouthed statement on July 18, 2022, involved a notorious gang group, the One Million Boys, he claimed he founded.
The statement emphasised that he was the founder of the cultist group that goes around looting, maiming, and assaulting their victims in a video he shared.
In a quick response, the Lagos State Commissioner of Police ordered a probe of the singer. Following the development with the police, Portable withdrew his statement saying the one million boys were his fan base.
7.
Portable loses Headies nomination
Portable's uncouth personality and previous squabbles online resulted in the loss of nomination for the Headies Hip-hop award as the "Rookie of the year" and "Best Street Artist." According to reports in a video circulated, he threatened the lives of the other co-nominees in the same group.
In a statement by the Headies, Organisers, Portable had been dropped over his recent misconduct and affiliations to 'One Million Boys,' a notorious gang in Lagos and his death threat to fellow nominees.
The statement issued by the Headies reads, "We have notified the Nigeria police of Mr Okikiola's actions to fellow nominees. Also, demand for the immediate retraction of the video and a written apology to nominees in both categories and The Headies has been made."
Portable Zazu wife, Omobewaji Olorunferanmi
Portable Zazu girlfriend, baby mamas and marriage
Despite the singer's many troubles, Portable has remained relevant, amassed wealth, and found love too. The "Zazu" singer is a father of three from different baby mamas, as disclosed during an online interview. Nevertheless, his girlfriend, Omobewaji Oluwaferanmi, seems to have his heart. The duo has several loved photos and videos on social media.
The "Zazuu Zeh" crooner recently tied the knot with his baby mama, Omobewaji Feranmi, during the naming ceremony of their second child together in June. According to reports, the singer decided to deepen their relationship by getting married.
Portable's net worth 2022
Portable's net worth in 2022 is $20,000-$70,000. Based on his net worth, Portable Zazu can afford luxurious cars.
Portable purchased a Lexus ES 330; according to Jiji, a Lexus ES 330 costs between N3.5m-N5m depending on the year. He we t on to buy a Toyota Camry, which costs between N4.5m-N7m, according to Cars4.
Portable also owns a Land Range Rover, which costs between N5.4m-N33m. Despite Portable's net worth, there have been debates on ho has more money between him and YBNL newcomer, Asake.
Who is richer between Portable and Asake?
Many have made this comparison because Ahmed Ololade, aka Asake, is a fast-rising Nigerian singer and songwriter who hit the limelight with the release of his viral single, Lady.
Also, Asake has been topping Apple and Spotify charts wi h is songs, Terminator, etc. Both Asake and Portable were born between 1994-1995.
As st ted earlier, Portable Zazoo's net worth is betwee $2 0-$70,000. The estimates are not specific because most musicians do not declare all their assets. Meanwhi e, ake net worth is an estimated $1.5 million - $2 million, mainly through endorsements, partnerships, and other ventures. Asake became a social media sensation after signing to the YBNL record label.
Asake's fea ure n Fireboy's Bandana, on the top trending Naija songs list, recorded 6.17 million streams. His album, Mr Money with the Vibe, recorded one billion streams in less than 8 months.
Po tabl Zazoo's Youtube views, with an average of 10 million views in 10 months compared with Asake's recorded 30 million views on Youtube within 2 months for Fireboy's Bandana, stand no chance.
Based on this analysis, Asake is richer than Portable Zazoo because he has more hit tracks and streams, earning him more money than is available to Portable.