Bruno Fernandes denies rift with Ronaldo amid World Cup preparation
Manchester United midfielder Bruno Fernandes has denied a rumoured disagreement with Portuguese captain Cristiano Ronaldo in their World Cup preparation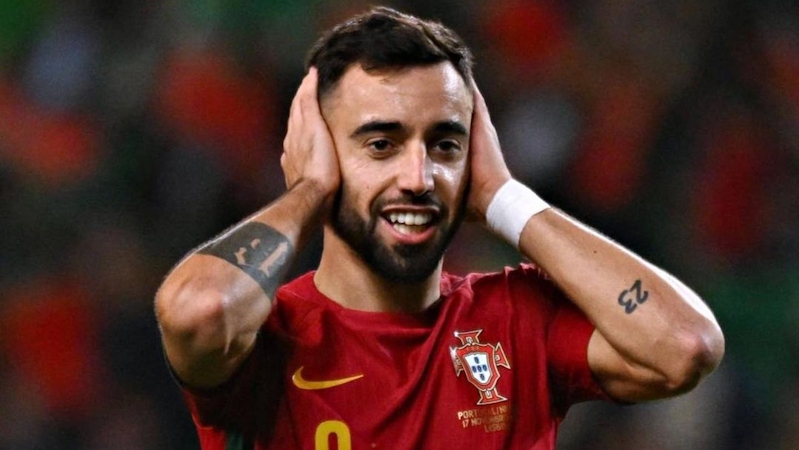 Bruno Fernandes was dragged on the internet with claims he had some disagreement with his compatriot after a frosty video of him and Cristiano Ronaldo surfaced online.
The Manchester United duo were said to have exchanged words in their dressing room following their return to Portugal in preparation for the 2022 Qatar World Cup.
The heinous allegation arose following Ronaldo's explosive interview with popular British journalist Piers Morgan, in which he accused Manchester United of mistreatment.
Ronaldo, suspended for three days for misbehavior in a Premier League match against Tottenham Hotspur, expressed disappointment with the club's decisions. The 37-year-old also stated unequivocally that he has no regard for Manchester United manager Erik Teg Hag after his decision.
Cristiano Ronaldo claimed that Manchester United's owner is uninterested in the club's progress
According to Ronaldo, he never had problems with any of his coaches throughout his career, and despite admitting to his wrongdoing, three days was too harsh of a punishment for him.
Bruno Fernandes has cleared the air following the "rift" accusation linked to Ronaldo's interview, terming it false information. According to the Portuguese talent, he only spoke with Ronaldo, and there was no disagreement.
"I have no problem with anyone," Fernandes said when asked about the incident.
Fernandes, currently on duty with his national team, stated that he was unaware of Ronaldo's interview with Piers Morgan, and he is okay with him.
The midfielder, who scored twice in Portugal's 4-0 friendly win over Nigeria, also stated that he focuses on the World Cup with Portugal and does not want to be distracted by club-related issues.
"This is the national team. Manchester United will be my focus after the World Cup," he added.
Portugal heads to the World Cup with an important victory against Nigeria after goals from Bruno Fernandes, Gonçalo Ramos, and Joao Mario saw them defeat the Super Eagles.
Seleção das Quinas will face Ghana in their first World Cup group stage match in Group H next week, on November 24, and will be hoping to kick off the tournament with a victory over the Black Stars.