Best ways to make money online in Nigeria
You can become a millionaire in Nigeria from the comfort of your home. Discover 16 proven ways to make money online in Nigeria.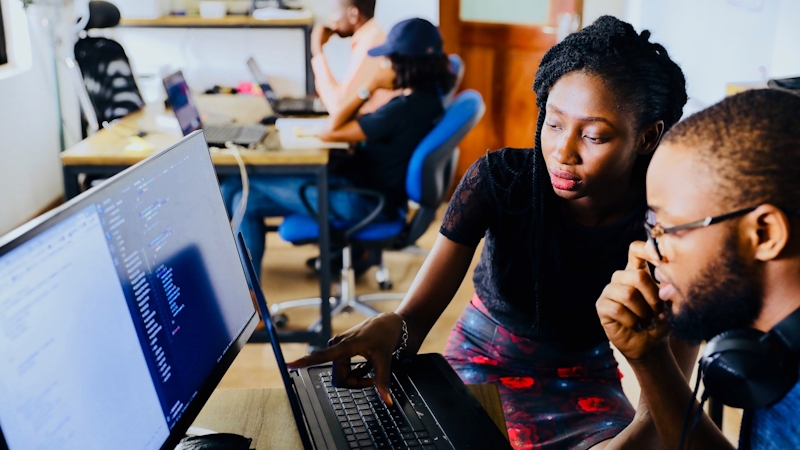 Since the onset of the worldwide COVID-19 epidemic and its devastation, many Nigerians have become aware of the internet's myriad advantages. Is it possible to make money online with your phone in Nigeria without engaging in fraudulent schemes? This article reveals how to make money online in Nigeria fast as a student, teenager or professional.
Although there are hundreds of ways to make money online, many are impracticable in Nigeria. Students, full-time housewives, and even working-class individuals who want to moonlight may use the internet money-making avenues described in this article.
The bulk of these ways to make money online in Nigeria may be engaged for free, but some may require an initial investment.  If you are short on cash, check out the best loan apps in Nigeria that suit your mobile lending demands.
To make money online in Nigeria, the tools needed are a functional smartphone, a reliable internet connection, and, sometimes, a computer system. If you're looking for high-quality mobile devices, choose from our list of the best Infinix phones.
The most effective ways to make money online in Nigeria are:
In addition to their affiliate programme, Jumia, one of the most popular retailers in Nigeria, provides a programme called j-Force that allows individuals to make money online in Nigeria.
This is possible by making purchases from your account for the benefit of others in exchange for fantastic commissions so as to earn money directly into your bank account in Nigeria.
In addition, users may run their online shop via Jumia, sell their items with ease, and take advantage of the shipping and payment options provided by Jumia. This is a long-term enterprise that offers everyone in Nigeria a consistent online income.
15.
Remote English Language Teaching (ELT)
Mastering the English language and providing individualised tuition to others trying to learn English in foreign nations is the 15th best way to make money online in Nigeria, despite its seeming improbability.
According to InternetWorldStats, English is the most widely spoken language in the world, making remote ELT one of the finest methods to earn money online in Nigeria as a student.
It should also come as no surprise that this profession enables you to travel the globe and take on more in-depth assignments once you're ready to begin freelancing.
Despite the fact that Instagram does not pay account holders, even if they have millions of followers, users with a sizable following have several opportunities to make money online in Nigeria for free.
How to make money online in Nigeria from Instagram
Select an area of expertise (we recommend choosing one you know and are passionate about).
Develop a professional Instagram profile.
Start publishing valuable content to get fans.
Continue sharing helpful content.
Start making money using third-party techniques, such as advertising items for firms, affiliate marketing, and directing readers to a site with Adsense advertisements.
Producing a podcast is one of the best ways to make money online in Nigeria and an exciting initiative to build a personal community of listeners who engage with your material often.
Due to the built-in audience and rating system of the Apple Podcast Store, you may be able to play your podcast to a significant number of listeners. In this case, you will ascend to the top of the rankings and get significant exposure.
Comparable to real estate investing, domain trading one of the most lucrative ways to make money online in Nigeria, involves identifying the right opportunity in domains and then holding on for a period of time to generate substantial profits.
Domains may be acquired for as little as 5,000 NGN, which is one of the distinguishing characteristics of this avenue.
Interested parties may get domains after thorough research and analysis, whether for a term for which you want to acquire appropriate domains or a project name.
After discovery, this domain may be purchased using domain reservation coupons, such as Godaddy coupons or Namecheap coupons. These discounts will allow individuals to acquire domains for less than 2,500 NGN for dot-com domains and less than 500 NGN for several other unique extensions, so as to make money online in Nigeria.
11.
Mobile application development
With the arrival of easy-to-use application creation tools that do not involve coding, creating and selling mobile applications is the 11th best way to make money online in Nigeria since it is a reasonably simple venture to start.
It is important that individuals not assume that any software will be an immediate smash just because they believe the concept will be effective. Creating appealing applications requires both art and science.
Making money online in Nigeria by developing mobile applications is facilitated by the availability of several templates for software creation. In addition, your free software may be monetized through in-app purchases, external sponsorships, and advertisements.
Web developers are in high demand as they are responsible for integrating new features, enhancing functionality, and fixing errors. Hence, web development, particularly contracts, is the 10th best way to make money online in Nigeria.
Once HTML, CSS, Ruby, or Javascript, have been mastered, individuals can start recruiting customers, make money online in Nigeria, and gradually launch their web development firm while keeping their current employment.
Online education platforms such as CodeCada, CreativeLive, Treehouse, and CodeAcademy are perfect for learning the fundamentals of web development.
For individuals with strong writing abilities and the capacity to establish a reputation in a certain industry, starting a blog is the ideal approach to making money online in Nigeria. 
How to make money online in Nigeria from blogging
Once you have a regular readership, there are several ways to monetise your website, including
advertising, 
e-books, 
online courses, and
personalised consulting services.
Individuals who want to make money online in Nigeria from blogging should always ensure that the material they provide for their audience is beneficial. This is the only way to develop a real connection with an audience and ultimately monetize them.
Forex trading, which involves purchasing a currency when its price is low and selling it when its price increases, has a leverage mechanism that makes it the 8th-best way to make money online in Nigeria.
Forex is an acronym for Foreign Exchange Market, which is a massive market for exchanging and trading foreign currencies, with daily turnovers estimated at billions of dollars. 
Its financial leverage technique enables the speculator to speculate with a trading value of up to $50,000 with just a $100 margin deposit.
Through the system of financial leverage, it is possible to employ a modest sum such as $100 to generate gains estimated in the hundreds of dollars; nevertheless, the $100 may be lost in an instant.
Although forex trading is one of the finest methods to make money online in Nigeria, it is not for everyone since it includes a great deal of disinformation and fallacies. As a consequence, many individuals incur losses as a result of poor preparation.
Others, however, earn millions of naira every month via forex trading.
7.
Import cheap and resell
Importing and reselling, which comprises sourcing things from AliExpress.com or eBay and reselling them on Jiji, Jumia, or Konga is one of the best ways to make money online in Nigeria.
A limitless number of items, which are neither subject to strong rivalry nor do they attract a large number of retailers, can be gotten on Chinese AliExpress or American eBay.
There are already hundreds of online opportunities accessible to freelance graphic designers. From sites such as Upwork and Freelancer to Behance, individuals can locate projects that match their design abilities and effectively make money online in Nigeria.
With the introduction of more user-friendly programmes like Canva, Visme, and even the more intuitive Adobe Creative Suite, it is easy for individuals to educate themselves with the fundamentals of graphic design in a very short period of time and utilise these powerful platforms to make money online in Nigeria.
Driving with Uber is a sure way to make money online in Nigeria quickly, as individuals may easily earn several thousand or even millions of naira every month.
This is a viable option provided interested parties have a reliable vehicle, live in an urban setting, and are familiar with their city's road network. Although this doesn't guarantee overnight wealth, it helps individuals cover their expenses comfortably.
Affiliate marketing is a time-honoured method of growing monthly revenue that has recently gone electronic and remains one of the best ways to make money online in Nigeria.
This well-known strategy involves advertising a product or service and receiving money for each sale. Individuals effectively serve as mediators, and all they need to do to promote certain products and services is establish a robust network.
Affiliate marketing is a simple method to supplement one's income if, for instance, you operate a blog or have a significant presence on social media. Affiliate marketing is one of the finest methods to make money online in Nigeria for free since it can be conducted via Facebook and WhatsApp.
This method of internet money-making is comparable to that of historical dealers or salespeople who provided free samples of cigarettes, cosmetics, or other products in exchange for a commission on each sale.
How to make money online in Nigeria from affiliate marketing
Affiliate marketing does not need any upfront money investment. Signing up for a convenient service (there are thousands of such platforms online) is sufficient to begin marketing products and services.
Since new startups and established organisations must distinguish themselves in today's competitive industry by providing their consumers with perfect experiences, web design, which facilitates this, is the 3rd-best way to make money online in Nigeria.
In Nigeria, web design becomes an inexhaustible source of online income through building website or app experiences that result in more engagement, higher purchase rates, or higher subscription rates.
Organisations like General Assembly and Skillcrush provide online programmes that can teach individuals the fundamentals of web design in a short amount of time and serve as a foundation for launching their own web design company outside of their normal job hours. From there, the road to making money online in Nigeria becomes bump-free and smooth. 
As a freelance writer, you can make money online in Nigeria after building a clientele on freelancing platforms.
Interested parties just need a mobile device (or, in certain circumstances, a computer system), a robust list of permanent employers, and a reliable internet connection. Freelance writing is undoubtedly the best option to make money online in Nigeria as a student.
Building a solid client base may be the most difficult aspect of a writing profession. Still, if this obstacle can be overcome by creating an appealing company profile and mastering advertising techniques, interested parties will be well on their way to a prosperous writing career.
1.
TikTok content creation
The best way to make money online in Nigeria is via TikTok, where individuals can generate between 70,000 NGN and 1,300,000 NGN monthly. The greater a person's popularity, the higher their earning potential. 
TikTok is also the ideal platform for making money online in Nigeria without paying a dime since it requires no certification, verification, or capital and does not have an age restriction.
TikTok is a superior medium for making money online in Nigeria than Twitter and Instagram due to the greater likelihood of hitting virality. On TikTok, it is far easier to amass millions of views without an active following than on any other social networking site.
Although there is no raw data on the number of subscribers, the Nigerian population on TikTok has exploded since 2020.
Given the widespread interest in students' everyday lives and activities, TikTok is also one of the easiest platforms for students to make money online in Nigeria.
Today, hundreds of Nigerians on TikTok make a substantial income owing to their enormous following or numerous views.
The strategy is appropriate for content creators and specialists to market their services, and the audience is large enough to include everyone. Content creators whose main interest is singing will benefit from these 15 drinks that give good, clear vocals.
Why learn how to make money online in Nigeria
Understanding how to make money online in Nigeria has become more important since the deterioration of the country's economy, which has caused the naira to lose its reputation as one of Africa's strongest currencies.
Due to the economy's hyperinflationary nature, a large number of working-class Nigerians have sought alternate or secondary sources of income, making generating money online not just a side job but a modern necessity.
According to a poll conducted in 2020, 29.9 per cent of Nigerian women identified as "housewives," making this the most popular occupation among Nigerian women.
This number was corroborated by INEC's continuous voter registration statistics in 2022, which revealed that over 23 per cent of newly registered women were homemakers.
With a higher proportion of Nigeria's female population without a stable source of income, it is vital to understand how to make money online in Nigeria using the strategies outlined in this article.
The frequent ASUU strikes, which have deprived at least 2.5 million students of Nigeria's highest-paying jobs, are another compelling incentive to learn how to make money with your phone in today's Nigeria.
How can I earn money from Google in Nigeria?
Individuals interested in making money online in Nigeria should consider Google, as it provides several tools and services to people worldwide.
Google controls the world's most popular web browser, Google Chrome, as well as the world's two biggest search engines, Google.com and YouTube.
It is sufficient to note that these huge search engines rely on the majority of the world's population, and as a result, Google offers Nigerians several opportunities to make money online.
The best Google-based strategies to make money online in Nigeria are: 
Adsense revenue from websites
Adsense revenue via YouTube
Website SEO
Freelancing and Google's marketing tools 
Publication of apps on the Google Play marketplace
How can I make money online without any investment?
TikTok content production is the most lucrative investment-free method of making money online in Nigeria. As one of the most popular apps in the world today, advertisers are willing to pay large sums to TikTok influencers to showcase their brand to a small audience, especially if the company does not have a large advertising budget.
For the most popular Nigerian accounts on TikTok, deals range from 25,000 NGN to 1,000,000 NGN, and sometimes the amount is higher based on the number of views. 
Profits on TikTok are heavily dependent on the influence of a user or account.
How can I make money while I sleep?
Individuals may make money online in Nigeria while they sleep using Google AdSense, since dealing with Google is one of the safest and most lucrative money-making avenues.
Individuals may benefit from Google advertisements and Google Adsense by building a blog online that specialises in authoring articles or e-books.
Can a Nigerian make money from TikTok?
Yes, making money on the TikTok platform in Nigeria is entirely possible, even with minimal investment. This is due to the fact that making money online in Nigeria is unquestionably simpler than it was in the last few years, and it has become strongly associated with marketing.
How to make money on Whatsapp in Nigeria
You may have been directed to short links in the past, and you may have even clicked on them without knowing that the person you recommended is earning money from them. The approach of using short links is one of the simplest methods to earn money on Whatsapp in Nigeria. 
When you shorten a link on one of the sites and post it on your site or any other site, you will get paid based on the number of times the shortened link is clicked. 
There are several paid URL shortening services accessible online, including Adf.ly, Short.st, and others. Simply choose a site from the list, register on it, and then explore the web for stuff that will pique the attention of your WhatsApp contacts, whether it's a picture, a humorous video, a game, the latest news, or anything else you find intriguing.
Copy and shorten the URL using the site to get a short link, then broadcast it on WhatsApp, either as a group or by distributing it to each individual. 
When your friends click on this link, they will see an ad for a specific amount of time before being sent to the platform you shared, and you will get a fee.
How can I make money using Facebook in Nigeria?
Affiliate marketing is one of the most effective methods of making money on Facebook in Nigeria since it is the finest platform for publishing affiliate links.
When a product is promoted on Facebook in Nigeria, a commission is received based on the product's profit value.
Simply register on an associate website, such as Amazon, eBay, or others.
Choose a product from any of these sites and attempt to choose things that are needed on a regular basis, such as clothing, smart gadgets, and computers.
Then, copy the product's short URL and paste it into Facebook. When the product is bought using the link you provided, you will get a share of the proceeds.