WAEC offices in Nigeria, addresses and contact details
A complete list of different West African Examination Council, WAEC offices in Nigeria, their numbers and contact address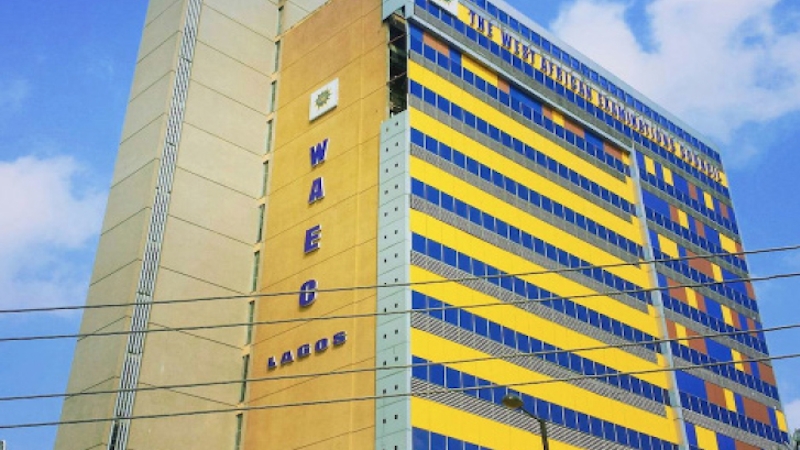 Here is your complete guide to the list of different West African Examination Council, WAEC offices, addresses and contact details in different parts of Nigeria.
If you want any service from the West African Examination Council, WAEC, you do not have to stress yourself or walk a long distance for that.
You need immediate solutions to your answers, which has been made possible by creating many WAEC offices in different states in Nigeria.
Check our list of WAEC offices in Nigeria and get the nearest WAEC office around you to solve your problem.
We see it as a point of duty to provide you with relevant information to help you sort out your issues. Hence, this post covers different WAEC offices, addresses, and contact details.
The list contains the address of WAEC offices in the six geo-political zones of Nigeria, including places the WAEC offices are located in each state.
The List of WAEC Headquarters and National Office Address with Contacts

WAEC Headquarters/ National Offices

Address

Contacts

WAEC International Office, Lagos

No 3 Watchtower Avenue, Onipanu, Somolu, Lagos Private Mail Bag 1076. Yaba, Lagos, Nigeria

Tel: (234-1)-5820266,

5820704,7915675,

7914351-6 Fax: (234-1) 5820265 Email: waechqrslagos@yahoo.com

WAEC Nigeria National Office

21, Hussey Street, Yaba.

Private Mail Bag 1022, Yaba, Lagos.

Tel: (01) 7305150,

961016,

2136455,

8974569

Email: hnowaeclagos@yahoo.co.uk,

hnowaeclagos@waecnigeria.org

websites:

www.waecdirect.org

www.waecnigeria.org

www.waeconline.org.ng
List of WAEC Zonal Offices Address and Contacts

WAEC Zonal Offices

Address

Contacts

Abuja Zonal Office

Secretariat Road, Gwagwalada, P.M.B 67, Garki, Abuja-FCT.

Tel: 08131622534

4836173 Email: zcabuja@waec.org.ng, waecabuja@yahoo.co.uk

Benin Zonal Office

Exams Council Avenue Off Benin-Auchi Road (Opp. Water Reservoir) P.M.B 1234, Benin City, Edo State.

Tel: 052-875481;

876483;

875484 GSM: 08025383319 Email: zcbenin@waec.org.ng, waecbenin@yahoo.com

Enugu Zonal Office

22, Aguleri Street, Independence Layout, PMB 1040, Enugu, Enugu State.

Tel: 042-823384,

823375-9 Email: zcenugu@waec.org.ng, waecenugu1@yahoo.com

Ibadan Zonal Office

1/3 Akintoye Adesina Way, Ijokodo, PMB 5260, Ibadan, Oyo State.

Tel: 02-8707227; 8735717; 2007079; 2008394 Email: zcibadan@waec.org.ng, zcwaecibadan@yahoo.com

Ikeja Zonal Office

Plot 18,18 & 20, Ijaye Road,Ogba Estate,

P.M.B 21582, Ikeja, Lagos State.

Tel: 01-7731743,

8939438,

8939460 Email: zcikeja@waec.org.ng, zcwaecikeja@yahoo.com

Maiduguri Zonal Office

Bosco Line, Off Kashim Ibrahim Road, PMB. 1218, Maiduguri, Borno State.

Tel: 076-940615, 960204, 970187 Email: zcmaiduguri@waec.org.ng, waecmaid@yahoo.com

Jos Zonal Office,

Yakubu Gowon Way, Along Buruku Road, P.M.B. 2251, Jos, Plateau State.

Tel: 07030131944, 07055592580 Email: zcjos@waec.org.ng, waecjos@yahoo.com

Kaduna Zonal Office,

Zaria Road, Adjacent Kano Post Office, P.M.B. 2135, Kaduna, Kaduna State.

Tel: 062-889257, 07028351188 Email: zckaduna@waec.org.ng, waeckaduna@yahoo.com

Owerri Zonal Office

11/13, Isiukwuato Street, Aladinma Housing Estate, P.M.B. 1478, Owerri, Imo State,

Tel: 083-230879; 233325;

08101480421,

08135788384,

08118918951 Email: zcowerri@waec.org.ng, zcowerri@yahoo.co.uk

Port-Harcourt Zonal Office,

Plot F/26 Diobu,2, Sam Wobo Street, Off Sanni Abacha Road GRA Phase 3. P.M.B. 5326, Port-Harcourt, Rivers State.

Tel: 084-901205-9 Email: zcportharcourt@waec.org.ng, bcportharcourt@yahoo.com

Sokoto Zonal Office,

1B Tsafe road, Opp. Army Barracks, P.M.B. 2288, Sokoto, Sokoto State.

Tel: 060-232198, 239618 Email:zcsokoto@waec.org.ng, waecsok@yahoo.com

Uyo Zonal Office

Ikot Ayan Ikono, Abak Road P.M.B. 1099, Uyo AKWA IBOM STATE

Tel: 08169364425,

08169364458,

08169364479 Email: zcuyo@waec.org.ng, uyobc@yahoo.com
The List WAEC Branch Offices, Addresses and Contacts in Nigeria

WAEC Branch Offices

Address

Contacts

Abeokuta Branch Office

Onikolobo, P.M.B 2161, Abeokuta, Ogun State

Tel: 08020838496, 08043124594 Email: bcabeokuta@waec.org.ng, waecabeokuta@yahoo.com

Ado-Ekiti Branch Office

Omolayo Printing Press, Off Ikere/Ado Ekiti Road, PMB 5451, Ado-Ekiti Ekiti State.

Email: waecadoekiti@yahoo.co.uk, waecadoekiti@yahoo.co.uk

Akure Branch Office

Behind INEC Office, Alagbaka Qtrs, p.m.b 798,akure, Ondo State.

Tel: 07098707977, 07098806459 Email: bcakure@waec.org.ng, waecakure@yahoo.com

Asaba Branch Office

WAEC Road, Behind Federal Secretariat, Off Okpanan Road,

P.M.B: 1020, Asaba, Delta State.

Tel: 056-870840 Email: bcasaba@waec.org.ng, waecasaba@yahoo.com

Awka Branch Office

Amawbia-Agulu Road Nise

P.M.B. 6005, Awka, Anambra State.

Tel: 08026211147

Email: bcawka@waec.org.ng, waecawka@yahoo.com

Bauchi Branch Office

Birshin Fulani, Opp Federal Poly Staff Qrts, Dass Road, P.M.B: 0222, Bauchi, Bauchi State.

Tel: 070-34609590 Email: bcbauchi@waec.org.ng, bcwaecbauchi@yahoo.com

Calabar Branch Office

230/232, Murtala Muhammed Highway, P.M.B. 1362, Calabar. Cross River State.

Tel: 07055044114 Email: bccalabar@waec.org.ng, bcwaeccal@yahoo.co.uk

Gusau Branch Office

New Central Market Road PMB 01062, Gusau, Zamfara State.

Email: bcgusau@waec.org.ng, waecgusau@yahoo.com

Ilorin Branch Office

Kaima Road, Oko-Olowo, Oloje Area. Via Federal Government College, P.M.B 1500, Ilorin, Kwara State.

Tel: 031-810610, 07087514751 Email: bcilorin@waec.org.ng, waecilorin@yahoo.com

Kano Branch Office

Dawakin Dakata, P.M.B 3124, Kano, Kano State.

Tel: 064-310081, 317194, 201697, 08118918981-2 Email: bckano@waec.org.ng, waecofficekano@yahoo.com

Katsina Branch Office

Katsina-Kaita road, Kofa Sauri, P.M.B. 2110, Katsina, Katsina State

Tel: 08118918897, 08118918898

Email: bckatsina@waec.org.ng, waeckatsina@yahoo.com

Lokoja Branch Office

Area 8, Hassan Usman Katsina road,

PMB 1050, Lokoja, Kogi State

Tel: 058-222568, 09034917511 Email: bclokoja@waec.org.ng, waecikj@yahoo.com

Markudi Branch Office

41, Kashim Ibrahim Road, P.M.B. 102390, Makurdi, Benue State.

Tel: 07011581205 Email: bcmakurdi@waec.org.ng, waecmakurdi@yahoo.com

Minna Branch Office

Km 6, Paiko Road, beside College of Education

P.M.B. 85, Minna, Niger State

Tel: 09096385690 Email: bcminna@waec.org.ng, waecminna2@yahoo.com

Osogbo Branch Office

Alekuwodo Area, Behind Govt Technical College, P.M.B. 4473, Osogbo, Osun State.

Tel: 035 – 207067

Email: bcosogbo@waec.org.ng, waecosogbo@yahoo.com

Umuahia Branch Office

Government layout Behind CBN

P.M.B. 7090, Umuahia, Abia State

Tel: 09034644992, 09030433834 Email: bcumuahia@waec.org.ng, bcumuahia@yahoo.co.uk

Yenagoa Branch Office

Off Winners' way, opposite Silverbird Galleria, Swali

P.M.B. 134, Yenagoa, Bayelsa State

Tel: 08140061631, 08148808467, 08118918941 Email: bcyenagoa@waec.org.ng, waecyenagoa@yahoo.com

Yola Branch Office

Yola-Fufore Road, Beside Adamawa Broadcasting Corporation (ABC), P.M.B. 2246, Yola, Adamawa State.

Mobile: 0803-492-0081, 0708-335-8876 Email: bcyola@waec.org.ng, waecyola@yahoo.co.uk

Nassarawa branch office

Behind Government Science School, Lafia

P.M.B. 153, Lafia

Tel: 07066812295

Email: bclafia@waec.org.ng, waeclafia@yahoo.com

Abakaliki branch office

55, Udemezue Street, P. M. B. 042, Abakaliki, Ebonyi State.

Tel: 07083468494 Email: bcabakaliki@waec.org.ng, bcwaecai@yahoo.com
The List WAEC Satellite Offices, Addresses and Contacts in Nigeria

WAEC Satelite Offices

Addresses

Contacts

Ikorodu Satellite Office

Ebute Road, Igbogbo

P.M.B 1024, Ikorodu, Lagos state

Tel: 01-7378156 Email: oicikorodu@waec.org.ng, bcwaecikorodu@yahoo.co.uk

Ojo Satellite Office

Off Olojo Drive, Behind Awori College, Ojo Town. P.M.B 033 Festac Town, Lagos State.

Tel: 01-7378155

Email: oicojo@waec.org.ng, waecojo@Yahoo.Com