Don Jazzy net worth 2023
Explore Don Jazzy's journey from a barber to a music mogul, entrepreneur, and brand ambassador, with a net worth estimated at $52 million.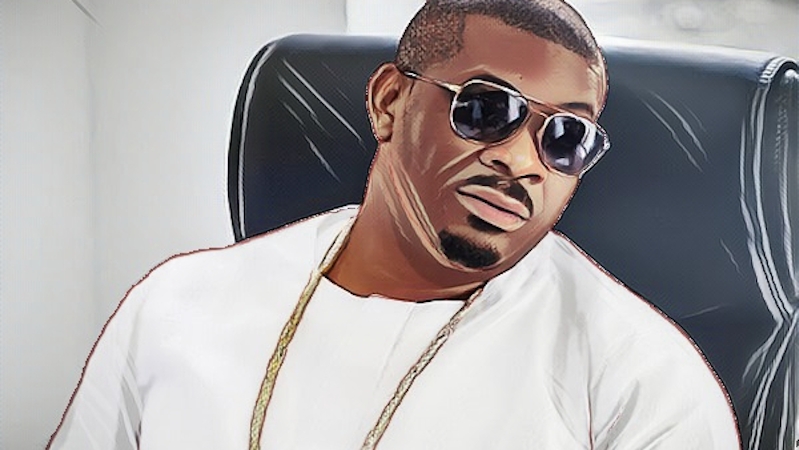 Don Jazzy's journey in the music industry is truly remarkable. Before his successful career in music, he was a barber and owned a salon in Iyana Ipaja. Fast forward to today, and he has amassed an impressive net worth of $52 million, making him Nigeria's richest musician and one of Africa's wealthiest artistes. 
Don Jazzy served as the CEO of the now-defunct but highly successful record label MO-Hits. This label, co-founded with D'Banj, became a beloved brand among music enthusiasts, corporate entities, and the media. MO-Hits housed a talented roster of artists, including D'Banj, Dr. Sid, Wande Coal, D'Prince, Terry G, and Ikechukwu.
His journey as a music producer began in 2004 when he received his first full production credit for the Nigerian singer D'Banj's track "Tongolo." He continued to make significant contributions to D'Banj's career by producing his first studio album, "No Long Thing," which was released in 2005.
By 2011, Don Jazzy had already earned the title of Africa's Number 1 Producer. 
His impressive production credits included tracks for Dr. SID, D'Banj, Wande Coal, Emeka Infiniti, D'Prince, Darey, Naeto C, Olakunle Excel et Zanga, Sauce Kid, Ikechukwu & Tiwa Savage.
Don Jazzy's involvement in the music industry has been marked by numerous significant collaborations and achievements. 
In 2011, he had the privilege of collaborating with two global icons, Jay-Z and Kanye West, on the production of the track "Lift Off," featuring Beyoncé. This track was part of the critically acclaimed album "Watch The Throne," which was released on August 8, 2011 and Don Jazzy's contribution to this project solidified his reputation as a world-class music producer.
Additionally, in 2011, Don Jazzy and JJC teamed up to produce the mega-hit single "Ijoya" by Weird Mc, further establishing his influence in the music industry.
A few years before, Don Jazzy achieved another remarkable feat by producing Wande Coal's debut album, "Mushin 2 Mohits." This album went on to become one of the best-selling Nigerian albums of all time. Wande Coal, a Nigerian musician, praised Don Jazzy's multifaceted talents, referring to him as not only a phenomenal producer but also a skilled writer. 
"Mushin 2 Mohits" was a resounding success, featuring a string of hit songs, including "You Bad," "Bananas," "Se Na Like This," "Kiss Your Hands," "Who Born The Maga," and "Bumper to Bumper." Even today, it remains one of the standout albums in the Nigerian music scene.
In 2013, Don Jazzy reached new heights as he emerged as the richest musician in Nigeria, according to Forbes' ranking of the top 10 musicians in Africa. This accomplishment placed him ahead of musical heavyweights like P'Square and 2Baba. 
Forbes not only recognized him as the richest musician in Nigeria in 2013 but also ranked him as one of the most bankable artists in Africa, placing him second only behind Senegalese star Akon.
While Don Jazzy may not acknowledge himself as a recording artist, his contribution to the music industry extends beyond production. 
He often provides background vocals for the artists he produces, and at times, he contributes complete verses to songs. This versatility and multifaceted talent have not only earned him recognition but also contributed to his growing net worth. 
His musical dexterity is evident in his beats and well-calculated vocals, which he lends to artists like D'Banj, Sauce Kid, Dr. SID, Ikechukwu, Kween, and D'Prince. Don Jazzy's musical influence even reached international artists, as he collaborated with Jay-Z and Kanye West on their track "Lift Off," featuring Beyoncé.
In 2011, Don Jazzy and JJC teamed up to produce the mega-hit single "Ijoya" by Weird Mc, further establishing his influence in the music industry.
The split from MO-Hits led to a significant dispute between D'banj and Don Jazzy regarding the ownership of the record label. In an interview with US-based Ebony magazine, D'banj asserted his ownership of Mo Hits and referred to Don Jazzy as "my artiste." 
He stated, 
"Coming from Africa, I'm my own manager. I have my own label called Mo' Hits with my artistes Dr. Sid, Wande Coal, Don Jazzy, D'Prince, and K-Switch. I own Mo' Hits, and we've won numerous awards by the grace of God."
However, there is conflicting information about the label's origins. Mo Hits Records, according to its website, was founded in 2004 by prolific music producer, singer, and songwriter Michael "Don Jazzy" Ajereh.
The label's first recording artist was D'banj. An article on the Mo Hits label, written in Nigeria Music Movement in October 2009, also credits Don Jazzy as the brainchild behind the label, highlighting his work as a music producer in the UK and his decision to support the music industry in Nigeria.
To shed more light on the matter, checks at the Corporate Affairs Commission (CAC), the Nigerian government agency responsible for registering companies, revealed that Mo Hits Records Limited was officially incorporated on May 12, 2006. 
The company was registered as a limited liability company with an initial share capital of 100,000 ordinary shares. The records show that both Dapo Oyebanjo (D'banj) and Michael Ajereh (Don Jazzy) were allotted 30,000 shares each, indicating a fifty-fifty ownership between the two.
This legal documentation from the CAC supports Don Jazzy's claim to co-ownership of Mo Hits Records and contradicts D'banj's assertions. 
Following this, in 2012, Don Jazzy took a significant step in his career by launching a new record label, which he named "Mavin Records." This move marked a new chapter in his journey as a music producer and entrepreneur. 
Notably, he announced the signing of Tiwa Savage, one of Nigeria's most prominent vocalists, to the Mavin family. 
This signing was seen as a major coup for the budding record label, and Don Jazzy excitedly informed fans that there were more exciting talents to be introduced by the label in the near future.
As of October 2023, Don Jazzy is exploring various options, including a potential sale or investment for Mavin Records. 
Notably, there have been substantial bids from industry giants like Universal Music Group (UMG) and HYBE. 
The estimated value of the deal is significant, ranging between $125 million and $200 million. To facilitate these negotiations, Shot Tower Capital, an independent investment bank, is actively involved in the process.
Mavin Records' strategic move to consider a sale or investment is primarily aimed at raising funds to support its growth, particularly in light of the expected global prominence of the African music industry in the coming years. This aligns with the broader trend of African music gaining recognition on the global stage.
In 2023, Mavin Records achieved a notable milestone with the "Calm Down" remix featuring Selena Gomez, as it became the first African artist-led track to accumulate a billion streams on a music streaming service.
The original version of the song had already garnered over 480 million streams on the platform, showcasing the international appeal of Mavin Records' music.
Furthermore, Mavin Records expanded its presence beyond the music industry. Following the success of the box-office hit movie "Introducing The Kujus," TMPL Motion Pictures released a sequel titled "The Kujus Again." 
Notably, Don Jazzy, the chief executive of Mavin Records, made his first-ever feature film appearance in this production, adding an extra layer of charm to the movie and further showcasing his diverse talents and contributions to the entertainment industry.
Don Jazzy's real estate ventures and investments have played a significant role in his financial portfolio. Together with D'Banj, he co-owns the MO-Hits Mansion, situated in Maryland, Ikeja, and a property in Lekki Phase 1, which they moved into in 2011. 
However, the dynamics of their relationship changed following an acrimonious split, leading Don Jazzy to move out of the shared five-bedroom duplex in Osaron Isokpan, Lekki Phase 1, in 2022. He temporarily stayed with Dr. Sid at 1004 before eventually relocating to a nearby apartment in NICON estate, Lekki.
Today, the music mogul boasts at least two houses in Lagos, collectively valued at over 500 million naira. In 2012, reports indicated that Don Jazzy had acquired a mansion worth N160 million in Lekki Phase 1, Lagos. 
Initially, he rented the mansion and moved in after parting ways with D'Banj, but by the end of 2012, he had completed the purchase of the house. This stunning property is located in the upscale area of Lekki Phase 1 and is characterised by its eye-catching golden brown colour.
In 2020, Mavin Records made a noteworthy announcement regarding a multi-million dollar equity investment and a global strategic partnership deal with Kupanda Holdings. This move demonstrated Don Jazzy's commitment to growing his music label on a global scale.
During his 37th birthday celebration, Don Jazzy revealed his impressive new Mavin Studios on Instagram. These studios are located in Victoria Island and Lekki, Lagos, and consist of two creative space buildings and one corporate office building.The corporate space is situated in Victoria Island, while the creative studio buildings are in Lekki, Lagos. This expansion reflects his dedication to providing top-notch facilities for his record label and artists.
In 2021, Don Jazzy continued to expand his real estate holdings by acquiring a new luxury mansion in the highbrow area of Lekki, Lagos. This demonstrates his ongoing commitment to investing in prime real estate properties as part of his financial portfolio.
Don Jazzy's car collection has been a symbol of his success and affluence over the years. In 2007, he made a significant acquisition by purchasing a customised Range Rover valued at N15 million. This vehicle proudly bears a custom plate number, showcasing his distinctive style and identity.
During an interaction with his fans on the social media platform Twitter in 2013, Don Jazzy disclosed that his most expensive car at the time was the Porsche Carrera GTS.
This high-performance vehicle came with an impressive price tag of £76,758 and boasted remarkable specifications, including a top speed of 190 mph and a 0-62mph acceleration time of just 4.6 seconds.
In addition to the Porsche Carrera GTS, he also owns a Bentley, which set him back approximately N100 million. These luxury vehicles represent his taste for opulence and his penchant for driving in style.
Don Jazzy's car collection extends further with the inclusion of a Range Rover Sport, a vehicle known for its blend of luxury and off-road capabilities, with an estimated price of $60,000. 
Another addition to his collection is a black Cadillac Escalade, which is valued at around $70,000. These cars reflect his appreciation for both luxury and functionality, ensuring he travels in comfort and style.
Don Jazzy's financial activities and investments have extended beyond the music industry. In 2013, he acquired a lavish 18ct Yellow Gold iPhone 5, adorned with diamonds, showcasing his penchant for luxury items.
Additionally, he has diversified his investments by owning a substantial number of fuel tankers in the oil industry, which is another testament to his financial ventures outside of music.
In the same year, Don Jazzy had an extraordinary experience when he was treated to a bottle of the world's most expensive champagne by its creator, luxury brand designer Alexander Amosu.
This exceptional bottle of champagne, known as "Gouts de Diamants" or "Taste of Diamonds," boasts a staggering value of 1.8 million dollars (or approximately 2.06 billion naira when considering today's black market exchange rate). Don Jazzy proudly claimed the privilege of being the first consumer to obtain a bottle of this luxurious champagne in Nigeria.
Not only does Don Jazzy have a taste for opulence, but he is also generous in gifting. He presented a brand new 2014 model Land Cruiser Prado as a wedding gift to Dr. Sid and his wife, Simi Osomo, at their white wedding in Lagos. 
Furthermore, he gifted a Prado SUV to Tiwa Savage on her wedding day, demonstrating his generosity and support for the artists associated with Mavin Records.
In 2023, Nigerian music journalist Joey Akan revealed insights into the financial aspects of Mavin Records, which is owned by Don Jazzy. The record label had spent a total of $225,000 to produce and release songs for five of its signees in the first three months of 2023. 
These signees included Ayra Starr, Boy Spyce, Rema, Crayon, and Magixx. The breakdown of the expenditure, approximately N170 million, included expenses related to specific songs such as Boy Spyce's "Folake" and Ayra Starr's 'Sability.' This revelation provides a glimpse into the financial commitments and investments made by Don Jazzy to nurture emerging talent under the Mavin Records label.
Don Jazzy, the CEO of Mavin Records and a prolific music producer, has been involved in various business ventures beyond the music industry. 
In 2013, he ventured into the nightlife scene by opening the night club "PoP" in Victoria Island. However, he made the decision to close the club down just a few months after its opening, reportedly due to the realisation that it wasn't generating the expected profits. 
Some patrons would visit the club solely to take photos with him and then depart, while others would consume drinks without settling their bills. As a result, he opted to shut down the club and redirect his focus toward his music label.
In 2017, Don Jazzy embarked on a new business initiative by launching "Flobyt," a free WiFi service available at partner locations across Lagos, including eateries, parks, taxis, buses, restaurants, and cafes. This initiative aimed to provide convenient and accessible internet connectivity for the public.
In 2021, Don Jazzy expanded his business portfolio by introducing "Sapio Funds," a crowdfunding platform designed to assist individuals in raising funds for their various needs and projects. This platform facilitated the process of seeking financial support for a range of causes and endeavours.
Don Jazzy's entrepreneurial spirit also extended to the world of cryptocurrencies. In 2021, he revealed that he had successfully earned $300,000 in just ten minutes by participating in the Non-Fungible Tokens (NFTs) market, showcasing his ability to harness digital assets for financial gain.
Furthermore, in the same year, he disclosed his involvement in the soap-making business. He highlighted the unique properties of his soaps, emphasising their anti-aging attributes, which contribute to firmer and more resilient skin. These soaps also act as potent antioxidants, enhancing cell renewal and turnover.
Beyond these diverse ventures, Don Jazzy delved into the oil and gas sector, reflecting his commitment to exploring multiple business opportunities. 
Additionally, he ventured into the food industry with "Jazzy Burger," showcasing his versatility and ambition beyond his role as a music mogul. 
Don Jazzy's endorsement journey has been marked by a series of lucrative deals with prominent brands. In 2014, he renewed his contract with MTN, a leading telecommunications giant, showcasing his continued association with the brand. 
He also collaborated with MTN to launch the Songstar Karaoke mobile app in 2013. This app allowed MTN customers to enjoy karaoke versions of their favorite songs, underscoring Don Jazzy's influence in the technology and mobile app space.
Following the Mo Hits split, Don Jazzy ventured into the world of technology and consumer electronics as the spokesperson for Samsung's "Built for Africa" products. His role as a brand ambassador for Samsung emphasized his significance in both the tech and entertainment sectors.
Don Jazzy's diverse portfolio of endorsements also includes his role as a Loya Milk ambassador, aligning with the brand's values and positioning him as a recognizable face in the dairy and nutrition industry.
In a milestone endorsement deal, Don Jazzy became N50 million richer after securing a partnership with Promasidor, manufacturer of Loyal Milk, when he turned 30. 
Don Jazzy's reach extended to the world of spirits and beverages in 2015 when he joined the global league of Johnnie Walker brand ambassadors. His role as the face of Johnnie Walker's JOY campaign in Nigeria demonstrated his standing in the world of spirits and beverages.
As a digital influencer and cultural icon, Don Jazzy extended his brand engagement with V Bank, a Nigerian digital bank in 2020. This partnership recognized his significance in the digital and financial sectors.
Back in entertainment and popular culture, Don Jazzy served as the BBNaija ambassador for Betway during the fourth season of the reality TV show.
Adding to his impressive list of endorsements, Don Jazzy became a Glo ambassador in 2020, aligning with one of Nigeria's prominent telecommunications companies.
In 2020, Don Jazzy also ventured into representing New Age Nigeria, a mobile phone accessories brand. 
In addition to his brand endorsements, Don Jazzy is celebrated for his generosity on social media, where he conducts giveaways that have solidified his connection with fans and followers. These giveaways have further established him as an approachable and beloved figure in the entertainment and social media spheres.
Don Jazzy: Nigeria's richest musician
In conclusion, Don Jazzy's journey to becoming one of Nigeria's most successful and influential music moguls is evidence of his exceptional talent, hard work, and business acumen. His net worth, estimated at $52 million, underscores his remarkable financial achievements in an industry known for its dynamism and competitive nature.
From his early days as a barber in Iyana Ipaja to his meteoric rise as the CEO of the now-defunct Mo Hits Records and the founder of Mavin Records, Don Jazzy's career has been marked by a string of chart-topping hits and numerous accolades.
His prolific production work, collaborations with international artists like Jay-Z and Kanye West, and the success of artists under his mentorship have solidified his status as Africa's number one producer.
Beyond music, Don Jazzy's diverse business ventures, including investments in oil, the food industry, mobile phone accessories, and even his own line of soaps, demonstrate his entrepreneurial spirit and his ability to leverage his brand to explore various sectors.
His numerous brand endorsements with major corporations like MTN, Samsung, Johnnie Walker, and V Bank have further expanded his financial portfolio, showcasing his broad appeal and marketability.
Additionally, Don Jazzy's commitment to social media engagement, giveaways, and philanthropic efforts have endeared him to fans and the public, reinforcing his reputation as not only a savvy businessman but also a beloved figure in Nigerian entertainment.