Dwayne "The Rock" Johnson net worth 2023
Dwayne Johnson (The Rock) net worth and path to wealth: Football to wrestling to Hollywood, wise career choices, and diversification. A lesson in financial acumen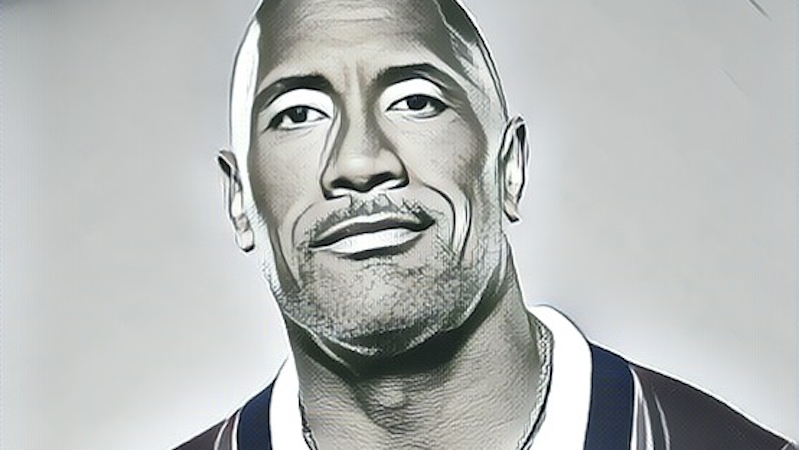 Dwayne "The Rock" Johnson's estimated net worth in 2023 stands at a staggering $800 million, according to Forbes, making him the third-richest actor in the world, yet this figure is contingent upon several assumptions. For instance, it hinges on the valuation of the Teremana tequila brand at $2 billion, with Johnson purportedly owning a substantial 30-40% stake in it. However, this assertion leaves room for uncertainty.
While it's indisputable that Johnson is affluent, the precise extent of his wealth remains elusive. We lack insight into the magnitude of his holdings in publicly traded companies, and to exacerbate matters, the evaluation of these companies' worth was not only subjectively conducted by those compiling the list of wealthy individuals across various categories but also fails to reflect the ever-fluctuating economic landscape.
Notably, the global economic climate in 2023 has exhibited signs of deterioration, casting doubt on the validity of assumptions made earlier. Teremana, once valued at $2 billion, could conceivably plummet in value to $500 million or even face bankruptcy if it becomes unprofitable. Moreover, if Johnson's other investments prove unfruitful, his fortune might shrink by a factor of ten or even more.
For instance, a case in point is Johnson's purchase of a Georgia mansion for $9.5 million in October 2019, which he subsequently sold for $7.5 million just 14 months later. The actual loss incurred was even greater, accounting for expenses related to housing and utilities, maintenance, and property taxes. 
Dwayne Johnson's house in Georgia
In essence, Dwayne "The Rock" Johnson's $800 million fortune presently attributed to him could easily dwindle in value, illustrating the volatile nature of wealth accumulation.
In terms of cash flow, Dwayne Johnson's financial situation appears to be exceptionally robust. In 2022, Forbes reported that Johnson amassed a substantial income of $270 million, more than even the world's richest footballers encompassing earnings from his diverse portfolio of investments, deductions, assets, and, naturally, his prolific acting endeavours. 
It's worth noting that the precise breakdown of this substantial sum remains undisclosed, leaving Clacified reliant on this publication's estimation as our best available source.
Dwayne Johnson's ascendancy to wealth can be primarily attributed to his illustrious film career. Over the years, he has cultivated a reputation as a multifaceted actor, adept at tackling a broad spectrum of roles. 
Initially, he was predominantly recognized as an action star during his early films. However, as time progressed, he demonstrated his ability to excel in both dramatic and comedic roles. A noteworthy example of this versatility is his acclaimed performance in the 2019 film "Fighting With My Family," which garnered favourable reviews from critics.
Furthermore, Johnson's success extends beyond the silver screen to the realm of television. In 2015, he assumed the role of host for the reality show "Hero," and in 2016, he not only produced but also starred in the series "Ballers."
A significant portion of his wealth can be traced back to his film projects and lucrative endorsement deals with prominent brands such as Under Armour and Ford.
Dubbed "The Rock," Dwayne Johnson earned the distinction of being Hollywood's highest-paid actor for both 2019 and 2020. Forbes estimated his earnings at $87.5 million for the period spanning from June 2019 to June 2020. It's worth noting that these figures exclude taxes and the customary deductions for agents, managers, and lawyers, which typically amount to 10%, 15%, and 5%, respectively.
On average, as of 2020, Dwayne Johnson was commanding an impressive $20 million per film with Netflix offering him the most substantial paycheck at that time. For his role as an Interpol agent in the action comedy "Red Notice," Johnson's fee amounted to a remarkable $23 million.
Beyond his film earnings, Johnson's income streams encompassed various sources. He pocketed a notable $8 million from his partnership with the Under Armour brand, attributable to his exclusive Project Rock clothing line. 
Additionally, he received a substantial salary from NBC for hosting the show "Games of the Titans" and secured significant compensation for his role in the superhero blockbuster "Black Adam."
Dwayne Johnson source of wealth
In this section, we delve into the diverse sources of his wealth, from his origins in professional wrestling to his booming Hollywood career and his ventures in business and media.
Discover how The Rock's intelligence, resilience, and knack for diversification have propelled him to become one of the world's wealthiest and most influential celebrities.
Movies
"The Scorpion King" (2002)
Dwayne Johnson's cinematic journey began in earnest with his appearance in "The Scorpion King" (2002). While he formally made his cinematic debut in the blockbuster "The Mummy Returns" (2001), it was in the subsequent prequel that he assumed the central role of the Akkadian warrior Mathayus, a character that allowed him to use English dialogue for the first time. 
In the movie credits, Johnson was listed as "The Rock," a moniker by which teenagers worldwide had come to know him.
His participation in "The Scorpion King" significantly bolstered Johnson's net worth, as he earned a substantial $5.5 million for his first leading role. This feat was promptly enshrined in the Guinness Book of Records as the highest fee ever paid for a performer's debut leading role.
The creators of the film made deliberate nods to The Rock's wrestling career, incorporating behind-the-scenes music he used in the wrestling ring and even having him perform his signature finishing move. However, some might argue they pushed the envelope a bit too far. 
"The Scorpion King" raked in an impressive $181 million at the global box office, although it fell short of the earnings of its predecessor, "The Mummy Returns," which grossed a substantial $443 million.
"San Andreas" (2015)
In the roster of the top ten highest-grossing films featuring Dwayne Johnson, "San Andreas" (2015) holds a prominent position. This disaster film unfolds the gripping narrative of an earthquake and tsunami wreaking havoc in California. Johnson substantially augmented his net worth through his portrayal of Ray, a pilot embroiled in a race against time to locate and rescue his daughter amidst the unfolding chaos.
Director Brad Peyton, known for his perfectionist approach, tasked the superstar with executing most of his stunts. Unfazed by the challenge, the former athlete wholeheartedly embraced it. 
He fearlessly leaped from great heights while harnessed to cables, mirroring the actions of real rescue specialists. 
To ensure authenticity in his performance, The Rock actively sought guidance from these specialists both prior to and during the filming process. 
He also invested considerable time with helicopter pilots from the Los Angeles Fire Department's search and rescue unit to grasp the nuances of their roles.
The film's success can be largely attributed to its impressive special effects and Johnson's compelling performance. These factors propelled "San Andreas" to an astounding box office gross approaching half a billion dollars.
Reflecting on the experience, the actor himself acknowledged the grueling nature of his training regimen. He revealed that it demanded him to develop muscles and skills he had never previously utilized, underscoring the immense physical and mental exertion required to bring his character to life convincingly.
"A Spy and a Half" (and other comedy flicks)
In the 2016 film "A Spy and a Half," Dwayne Johnson consciously followed in the footsteps of legendary action star Arnold Schwarzenegger.
While Johnson's characters occasionally bear a resemblance to iconic Schwarzenegger roles like Conan the Barbarian or John Matrix from "Commando" (as seen in nods to these cult classics in films like "Walking Tall"), The Rock's identity fundamentally stems from his wrestling roots and showmanship. 
It would be remiss not to tap into his trademark rugged sense of humour, which is an inherent part of his sporting persona.
Despite having the opportunity to take on leading roles in high-octane action blockbusters, Johnson has also willingly embraced supporting roles in comedies alongside top-tier actors. 
In "Be Cool!" (2005), he played a relatively minor role, sharing the screen with luminaries like John Travolta and Uma Thurman. 
In "Get Smart" (2008), he provided solid support to Steve Carell and Anne Hathaway. "The Other Guys" (2010) paired him with comedic heavyweights Will Ferrell and Mark Wahlberg, relegating Johnson to a relatively smaller part.
In cases where Johnson did secure the central role in comedies, such as "The Game Plan" (2007) and "The Tooth Fairy" (2009), the films achieved moderate success, but they paled in comparison to the blockbuster action flicks he's renowned for. 
"A Spy and a Half" stands out as his most triumphant comedic venture to date, with Johnson headlining the film. This comedy managed to rake in a commendable $217 million at the box office, despite having a budget of $50 million.
What's intriguing is that Johnson's action films serve as a platform for his burgeoning sense of humour. With each successive action film, his humour becomes more pronounced and engaging. 
Remarkably, his dedication to physical training in these roles also yields visible results, enhancing both his comedic timing and his action-packed performances.
"Jumanji" (2017, 2019) - The unexpected blockbuster sequels
The sequel to the beloved science-fiction film starring Robin Williams brought an unexpected windfall to its creators. While the original "Jumanji" amassed a commendable $260 million at the box office, its two sequels featuring Dwayne Johnson, collectively, reeled in a staggering sum exceeding $1.7 billion. 
This achievement remains impressive even when adjusted for inflation and the escalating production costs. 
The initial film had a production budget of $60 million, while its subsequent instalments saw budgets of $90 million for the second and $125 million for the third. Details regarding advertising expenditures remain undisclosed.
For Dwayne Johnson, these films provided yet another avenue to showcase his comedic prowess. His character, the intrepid archaeologist Smolder Bravestone, exists solely within a computer game, serving as the avatar for the once timid and scrawny teenager, Spencer. Consequently, the muscular and fearless Smolder comically recoils from even the most insignificant insects, and when confronted with larger adversaries, he's prone to fainting. 
The plot centers on Spencer's need to acclimate to Smolder's characteristics, harnessing his strength and determination. However, this transformation is fraught with numerous humorous (for the audience, if not for Spencer) mishaps and challenges along the way.
"Fast and Furious" Franchise (2011–2019)
Dwayne Johnson, aka The Rock, entered the high-octane world of the "Fast and Furious" franchise in its fifth installment, and his presence undeniably played a pivotal role in the series' explosive success. 
Collectively, these films, including the spin-off "Hobbs and Shaw," have raked in an astonishing $5 billion at the box office.
In this adrenaline-fueled universe, Johnson portrays Luke Hobbs, an elite special agent with a complex history alongside Dominic Toretto, the franchise's central, played by the equally wealthy Vin Diesel.
Initially, Hobbs is tasked with hunting down Dominic's crew, but he swiftly recognizes the advantages of collaborating with them within the chaotic realm of "Fast and the Furious."
Rumours have long swirled regarding a strained relationship between Diesel and Johnson, fueling speculation about The Rock's potential departure from the franchise. 
However, industry experts suggest that this purported feud might be nothing more than an ingenious promotional ploy to keep the film series in the spotlight.
The financial success of "Hobbs and Shaw" is a testament to the lucrative nature of this partnership, with box office earnings comparable to the sixth "Fast and Furious" instalment and even surpassing those of the fifth. 
In 2017, the year when the highly anticipated eighth film in the series hit theatres, Dwayne Johnson received a star on the Hollywood Walk of Fame, a remarkable accolade for someone who has never garnered a nomination for a prestigious film award throughout his career. 
This underscores his substantial impact on the entertainment industry and the enduring popularity of the "Fast and Furious" franchise.
Investments
XFL
In 2020, Dwayne Johnson, alongside a consortium of investors, took on the role of owner of the semi-professional American football league known as the XFL. 
This league, consisting of eight teams, operates as a minor league within the realm of American football. As of 2023, Johnson holds a significant stake in this enterprise.
Despite initial challenges, including the league filing for bankruptcy in 2020 due to the disruptive effects of the COVID-19 pandemic, Dwayne Johnson has resolute plans to resurrect the XFL in 2023. 
The precise financial status of the league remains undisclosed, given its private nature. Nevertheless, there are indications that the league may be running at a deficit. In 2020, reports emerged that the league's ownership sought a new investor who would be willing to acquire a 45% stake in the venture for a substantial sum of $125 million.
For Johnson, the XFL venture appears to be more than a mere financial investment; it represents a deeply rooted passion project. 
Having played football during his youth, this ownership role aligns with his personal connection to the sport and the aspirations to breathe new life into the league, despite the initial setbacks it faced.
Seven Bucks Productions (SBP): Dwayne Johnson's film empire
In 2012, Dwayne Johnson co-founded Seven Bucks Productions (SBP), a film production company that has played a pivotal role in the production and promotion of nearly all of Johnson's film and television projects since 2017. However, SBP's influence extends beyond The Rock's own endeavours, as the company was also involved in the creation of the first instalment of the comic book film "Shazam."
While specific details regarding the terms of SBP's collaborations with major studios remain undisclosed, active involvement in film production often entails a share of the film's box office earnings. 
This practice is commonplace in Hollywood, especially for A-list stars, who frequently negotiate not only substantial upfront fees but also a percentage of the film's gross revenue.
While we lack precise figures, it's possible to make an educated estimate of the revenue SBP might have accrued from its production activities. 
For context, Scarlett Johansson, the lead actress in "Black Widow," negotiated a 6.66% cut of the film's gross earnings. 
Considering that films associated with SBP have collectively grossed a remarkable $4.6 billion, it's plausible that SBP's earnings from this arrangement could be around $306 million or more, given their substantial involvement in film production.
Furthermore, taking into account that SBP employed only 15 individuals in 2019, including salaries and benefits for its staff, it's reasonable to surmise that The Rock and his partners likely received a significant portion of the company's earnings. 
SBP's impressive track record underscores its integral role in The Rock's multi-faceted entertainment empire.
Project Rock and Teremana: Dwayne Johnson's business ventures
Project Rock, a sportswear brand, is a collaborative effort between Dwayne Johnson and the company Under Armour, a specialist in athletic apparel. This joint venture was established in 2018, and it's worth noting that Johnson personally endorses all clothing produced under the Project Rock brand.
Teremana Tequila, on the other hand, represents another intriguing facet of Johnson's entrepreneurial journey. 
In addition to his acting career, he also invested in this tequila brand, which was launched in 2020. Teremana quickly gained traction, boasting impressive sales figures. 
In its debut year, around 300 thousand nine-litre sets were sold, and by the close of 2022, this figure had surged to approximately 900 thousand sets.
While Teremana's financial details remain confidential due to its status as a private company, some key figures have emerged. 
Richard Black, the director of Teremana, revealed that the brand rakes in approximately $350 million in tequila sales annually in the United States alone. However, whether the company operates profitably is not public knowledge.
Interestingly, Dwayne Johnson's association with Teremana might yield significant returns in the future. 
Drawing a parallel, consider the case of George Clooney, another of the world's richest actors, who capitalized on his Casamigos tequila brand. 
Clooney and his partners sold Casamigos for a staggering billion dollars, comprising an upfront payment of $700 million and an additional $300 million contingent on the brand's future sales performance. 
While precise details of Clooney's share are undisclosed, estimates suggest it could be in the ballpark of $233 million. It's worth noting that at the time of its sale, Casamigos was selling approximately 120 thousand nine-liter sets annually. 
Given the rapid success and growth of Teremana, it's not implausible to speculate that it could potentially be valued at $2 billion or even more in the future.
ZOA
Dwayne Johnson's foray into the business world extends beyond the entertainment industry, encompassing a diverse range of companies and startups.
One of his notable investments is ZOA, an energy drinks company that was established in 2021. In addition to Johnson's involvement, Molson Coors Beverage, a prominent manufacturer of alcoholic and carbonated beverages, plays a significant role in the production and distribution of ZOA products. Although the profitability of ZOA remains undisclosed, it's worth noting that the company achieved $100 million in beverage sales in 2022, indicating its promising presence in the market.
Dwayne "The Rock" Johnson's monumental earnings per film
Dwayne "The Rock" Johnson has recently shattered records with his astonishing payday for his role in the 2023 film "Red One." According to reports from The Direct, a reputable news site covering Hollywood and the film industry, Johnson is set to receive an unprecedented fee of $50 million for this project. 
This staggering sum not only marks the zenith of The Rock's cinematic career but also establishes a new benchmark as the highest payment ever made to an actor for a single film, excluding subsequent box office earnings.
To put this remarkable achievement into perspective, Johnson's previous highest earnings for a single film role were in "Jumanji: The Next Level" and "Red Notice," each bringing him a substantial $23.5 million for his participation.
The Rock's enduring appeal as an action star on the big screen is indisputable, with his films accumulating a colossal total of over $12.5 billion in global box office revenue over the past decade. 
Some of Dwayne Johnson's other notable film roles include "Fast and Furious: Hobbs and Shaw," for which he earned $20 million, "Jungle Cruise" at $22 million, and "Black Adam" with a hefty $22.5 million paycheck.
With his extraordinary $50 million fee for "Red One," Dwayne "The Rock" Johnson not only outstrips his own previous earnings but also surpasses industry titans like Robert Downey Jr., who earned $40 million for his role in "Captain America: Civil War," and Will Smith, who achieved the same figure for his performance in "King Richard." 
Dwayne "The Rock" Johnson's monumental payday cements his status as a cinematic juggernaut and a trailblazer in the world of entertainment.
Ex-wife Dani Garcia: Dwayne Johnson's valued business partner
In virtually all of his business ventures, ranging from his film production company SBP to various other enterprises, Dwayne Johnson finds a familiar and trusted collaborator in his ex-wife, Dani Garcia. Dani Garcia is not just an entrepreneur but also a bodybuilder, and her role in Johnson's professional life is significant.
While the precise details of their business partnership remain undisclosed, it appears that Garcia serves a pivotal role in Johnson's life, akin to Johnson's character, Spencer Strasmore, in the TV series "Ballers." 
It's plausible to infer that she actively seeks out projects for him to invest in and diligently safeguards his interests. 
In this context, Garcia, along with other business partners, likely plays a crucial role in managing and overseeing The Rock's various ventures.
Given the sheer breadth of Dwayne Johnson's enterprises and his thriving career in entertainment, it's reasonable to assume that these trusted partnerships, including the one with Dani Garcia, are instrumental in enabling him to effectively navigate and manage his multifaceted professional pursuits. 
Without their support and collaboration, it would be challenging for Johnson to maintain his impressive net worth and diverse portfolio of endeavours.
The path to Dwayne Johnson's remarkable wealth
Dwayne Johnson's journey to immense wealth is marked by his intelligence and foresight in navigating various career paths. It's a journey that highlights the importance of diversification and financial acumen.
In 1996, following the abrupt end of his football career when his contract was not renewed, Johnson transitioned to professional wrestling. This decision showcased his adaptability and resilience, recognizing that the window of opportunity in professional sports is relatively short-lived, especially for maintaining peak physical condition. 
Capitalizing on his fame in the wrestling world, Johnson wisely made the move to the world of cinema before reaching the age of 30, leveraging his star power and charisma to forge a successful career in Hollywood.
Over the past decade, Johnson has continued to broaden his horizons, venturing into the realms of business and media. 
This expansion into various sectors is a remarkable achievement in itself, underscoring his ability not only to earn but also to preserve his wealth.
In contrast, consider the cautionary tale of Johnny Depp, who lost his entire $650 million fortune accrued over his acting career, primarily due to the unscrupulous actions of his financial advisors. 
Depp's unfortunate experience serves as a stark reminder of the importance of prudent financial management and vigilance in protecting one's wealth.
While there may be gaps in our knowledge regarding the specifics of Dwayne Johnson's financial holdings, his story imparts a valuable lesson about the significance of diversifying investments and making astute financial decisions. 
Johnson's journey from football to wrestling, then to Hollywood, and eventually to business and media is a testament to his strategic thinking and serves as an inspiration for those seeking to secure their financial future through thoughtful planning and diversification.