Vin Diesel net worth 2023
Discover Vin Diesel's impressive journey to a $225 million net worth, fueled by blockbuster films, business ventures, and philanthropic endeavours.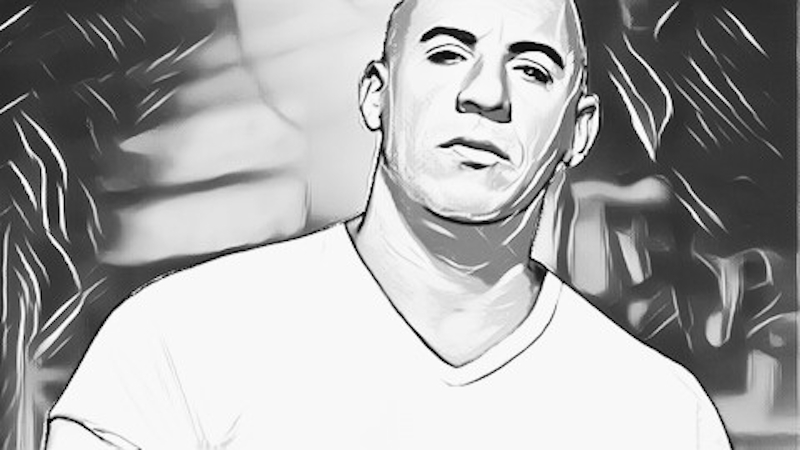 Vin Diesel, with his net worth of $225 million, has established himself as a prominent figure in Hollywood, solidifying his position as one of the most globally recognized, highest-paid film stars in the United States and wealthiest actors in the world. He achieved this through his involvement in various film franchises, ranging from "XXX" and "Chronicles of Riddick" to the immensely popular "Guardians of the Galaxy" and "Fast & Furious."
When you attend a blockbuster featuring Vin Diesel, you can anticipate non-stop action, a touch of heartfelt moments, and remarkable performances from an individual who seems to be following his destined path. 
While he is predominantly renowned for his on-screen work, Vin Diesel's influence extends far beyond his iconic role as Dominic Toretto. The California-born actor has ventured into other domains, including production, gaming, and music.
It comes as no surprise that in 2023, Vin Diesel's personal net worth is valued at $225 million, and this figure continues to rise, especially with major projects like "Fast and Furious 11" and "Guardians of the Galaxy 3" still in the oven.
From his breakout role as Dominic Toretto in the "Fast & Furious" franchise to his ventures as a producer, actor, and voice artist in renowned films, we unravel the story of how Vin Diesel has not only become one of the highest-paid actors in the industry but also established his legacy as a versatile entertainer.
Guardians of the Galaxy and Avengers
It comes as no surprise that a significant portion of Vin Diesel's earnings derive from his blockbuster films, with his movies amassing a staggering total of over $7 billion in global box office revenues.
One of his most notable paydays resulted from his role as Groot in both the "Guardians of the Galaxy" and "Avengers" franchises. 
Despite the character's limited vocabulary, consisting solely of the phrase "I am Groot," Vin Diesel's emotive portrayal added depth and resonance to each rendition. 
This performance, among others, substantially contributed to his financial success. By the time "Guardians of the Galaxy Vol. 2" hit theatres, Forbes estimated Vin Diesel's net worth to be a formidable $54.5 million.
Riddick
However, the road to stardom was not always adorned with glitz and glamour. In a 2013 interview with The Hollywood Reporter, Vin Diesel shared his experiences while making "Riddick," the third instalment in the "Chronicles of Riddick" series, without the backing of a major studio. 
He candidly revealed that he had to put his own house on the line to finance the project, emphasising that "If we didn't finish the film, I would have been homeless." 
His gamble proved successful, as the action film went on to gross $98 million worldwide, all while working with a budget of $38 million, as reported by Box Office Mojo, within a year. Vin Diesel's determination and willingness to take risks ultimately paid off, solidifying his status as a box office powerhouse.
xXx
Vin Diesel embarked on his journey as Xander Cage, a renegade turned National Security Agency spy, with his debut in the 2002 film "xXx," which was directed by Rob Cohen, known for his work on the "Fast & Furious" franchise. 
While the "xXx" series may not have achieved the same level of notoriety as the "Fast & Furious" saga, Vin Diesel's unwavering commitment to his projects is undeniable. 
Not only did he take on the role of the producer for all three films in this series, but he also acquired the rights to the franchise in 2018.
This action star possesses an innate understanding of when there's a demand for his unique expertise, and his remarkable abilities enable him to secure substantial paychecks. 
The financial success of the "xXx" franchise speaks for itself. The initial "xXx" film, according to Box Office Mojo, raked in an impressive $277 million in global box office earnings, while the most recent sequel, "xXx: Return of Xander Cage," hit screens in 2017, amassing an even greater $346 million in revenue.
Now that Vin Diesel holds the rights to the "xXx" films, his earnings won't be limited to box office and digital sales alone. 
He stands to gain substantial income from future franchise instalments, including the eagerly awaited fourth chapter, in which he will reunite with director D.J. Caruso, as reported by AP.
Fast and Furious
The "Fast & Furious" film franchise stands as the vehicle that propelled Vin Diesel into cinematic greatness. Despite his involvement in several successful franchises, the "Fast & Furious" series, which encompasses an impressive 11 planned films along with animated and gaming spin-offs, undeniably takes the crown as his most iconic.
In his portrayal of Dominic Toretto, Vin Diesel not only engaged in high-octane street races and had a blood-boiling feud with the equally wealthy Dwayne "The Rock" Johnson but also assumed the role of a world-saving hero on multiple occasions. 
As a producer for the franchise, he saw a progressive increase in his earnings with each subsequent film, a journey that commenced with the fourth instalment, aptly titled "Fast & Furious," a project that not only boosted his on-camera reputation but also set the stage for his producer role.
By 2020, Forbes acknowledged Vin Diesel as the fifth highest-paid actor in Hollywood, and this assessment was made prior to the release of the ninth "Fast & Furious" instalment, "F9," which hit theatres in the summer of 2021 and generated a staggering worldwide gross exceeding $700 million.
Certain sources have suggested that Vin Diesel's compensation for his role in the latest "Fast & Furious" film may have reached as high as $80 million.
Beyond his acting endeavours, Vin Diesel established his own production company, One Race Films, in 1995. 
This company not only produces "Fast & Furious" films but also maintains a first-look deal with Universal Pictures.
In terms of financial success, Vin Diesel's involvement in the "Fast and Furious" movies has generated a cumulative revenue of at least $124 million.
It is noteworthy to mention that Vin Diesel, in his conversation with the Los Angeles Times, discussed his initial refusal to star in "2 Fast 2 Furious," a decision that cost him $20 million. He expressed concerns that he might become pigeonholed in one role.
Yet, fate had other plans, as Vin Diesel would go on to become an integral figure in "The Fast and the Furious" franchise and even adopted the title of "Family Man" within it.
Here's a breakdown of Vin Diesel's compensation for each "Fast and Furious" film:
"The Fast and the Furious" (2001) - $2 million
"Fast & Furious" (2009) - Compensation unspecified
"Fast Five" (2011) - $15 million
"Fast & Furious 6" (2013) - Compensation unspecified
"Furious 7" (2015) - $47 million
"The Fate of the Furious" (2017) - $20 million
"F9" (2021) - $20 million
"Fast & Furious 10" (2023) - $20 million
Notably, as a producer for various "Fast and Furious" films, Vin Diesel enjoys additional sources of income beyond his acting fees.
Among all the "Fast and Furious" movies, "Furious 7" stands out as the highest-grossing instalment. 
Furthermore, the cumulative global box office revenue for the "Fast and Furious" film series has surpassed a remarkable $7.3 billion, ranking it second only to the "Avengers" and "007" franchises, which have approximately $7.7 billion and $7.8 billion, respectively.
Vin Diesel has been handsomely rewarded for his contributions to the Fast and Furious movies, with his income ranking him as the third-highest-paid actor in 2015.
Movie production
In 1995, Vin Diesel established the company One Race Films (ORF), which would go on to produce numerous notable films featuring the actor.
The first externally produced film in which Vin Diesel assumed the role of a producer was "XXx" in 2002, an action film that proved to be commercially successful. 
Despite having a budget of $70 million, the film generated nearly $210 million in revenue. In contrast, other films like the American-German action film "A Man Apart" (2003) and "The Chronicles of Riddick" (2004) didn't perform as strongly at the box office. 
However, each instalment of the "Fast and Furious" franchise from the fourth film to the ninth proved to be highly profitable, raking in hundreds of millions of dollars. Vin Diesel's foray into film production not only enriched his career but also contributed significantly to the success of these iconic franchises.
Vin Diesel's vast entertainment empire extends well beyond the realm of movies. His passion for gaming led him to establish his own video game production company, known as Tigon Studios.
Under the banner of Tigon Studios, several video games have been developed, drawing inspiration from Vin Diesel's iconic film franchises, including "Chronicles of Riddick" and "Fast & Furious." Additionally, the studio introduced a thrilling racing game titled "Wheelman."
In 2013, Vin Diesel revealed in an interview with ScreenCrush that a third instalment in the Riddick game series was in the works. 
For him, these games provided a unique opportunity to expand the rich universes of his films beyond the confines of the silver screen. 
As he articulated to IGN during the same period, "In some ways, we showed resourcefulness and harnessed a more cost-effective medium—video games, animation, and cinematic storytelling within video games—to broaden the universe."
Fast-forward to 2021, when GamesRadar+ inquired about the possibility of another Riddick game. Vin Diesel responded by acknowledging the success of "Escape From Butcher Bay" and hinted at a promising future. 
He stated, "Right now, it feels like an eternity ago. But I think we will use the gaming space to introduce a complementary chapter, even though the script for the fourth Riddick movie is already written." 
This suggests the potential for a new adventure featuring the enigmatic Richard B. Riddick, a prospect that has fans eagerly awaiting.
Tigon Studios boasts a team of skilled developers and animators dedicated to creating video games based on films starring Vin Diesel who lends his voice to these virtual characters, further immersing fans in the cinematic worlds he has helped create.
Vin Diesel in a Dodge commercial
While Vin Diesel undoubtedly possesses a substantial bank account, his financial prowess extends beyond movie roles. He has lent his charismatic presence to causes that he passionately supports. 
In 2017, he took on the role of appearing in three Dodge SRT commercials, where he showcased the Challenger Hellcat, unveiled the Durango SRT, and amped up the Charger Hellcat.
Although the precise details of his compensation for this advertising campaign remain undisclosed, it's widely anticipated that he received a substantial paycheck—or perhaps a stylish new ride—for his performances. 
The campaign's slogan, "Brotherhood of Muscle," elegantly aligns with the overarching theme of family in the "Fast & Furious" franchise, making Vin Diesel an ideal ambassador for the brand.
According to Motor1, Olivier François, Dodge's marketing chief, expressed that Diesel was the "perfect partner" for the campaign, underscoring the natural synergy between the actor and the automotive brand, emphasising their respective strengths.
Vin Diesel's house in Hollywood Hills
Turning to his personal life, Vin Diesel has maintained a degree of privacy regarding his residences. While he alluded to a remarkable compound in the Dominican Republic, which he described as a "campus" in a 2021 interview with Men's Health, the only property that has been publicly known is a modest 1,517-square-foot house located in the Hollywood Hills. According to Trulia, he acquired this residence for $562,500 in 2000 and listed it for sale at $1.4 million in 2016.
Nevertheless, wherever he chooses to reside, Vin Diesel does so with a touch of luxury. 
In 2012, the Daily Mail reported that his 1,100-square-foot trailer, utilised during the filming of blockbusters such as the "Fast & Furious" sequels, had a price tag of $1.1 million. 
Vin Diesel's luxurious trailer home
This two-story trailer boasts "$70,000 worth of technology" and even includes a dedicated "play area for his children." Notably, the trailer was manufactured by Anderson Mobile Estates, the same company responsible for crafting lavish trailers for celebrities like Jennifer Lopez, Will Smith, and Harrison Ford.
In 2014, Vin Diesel invested in a mansion located in Sandy Springs, Georgia, Atlanta. This substantial property cost him three million three hundred thousand dollars and spans nearly three and a half thousand square meters. 
It boasts an impressive array of features, including seven bedrooms, nine bathrooms, a gym, a wine cellar, a swimming pool, and a spa area. It's in this mansion that the actor and his family call home.
To portray the character of Dominic Toretto, a street racer turned superhero, in the "Fast & Furious" franchise, Vin Diesel's car collection has to be nothing short of legendary. 
In fact, it's so extensive that, as GQ notes, "It seems like no one knows how many cars Vin Diesel actually has." 
Over the years, he has acquired an impressive array of vehicles through personal purchases and from his involvement in the "Fast & Furious" film series.
Some notable highlights from Diesel's car collection, as highlighted in the GQ overview, include a 1963 Corvette Stingray Grand Sport, a rare and highly sought-after classic, with prices ranging from $6 to $8 million each. 
Another standout is the 1970 Dodge Charger R/T, a car that his character frequently drives in the "Fast & Furious" franchise.
In a gesture of generosity and camaraderie, Vin Diesel's Fast Family presented him with a shiny car as a birthday gift when he turned 52. 
While this particular car can be quite a significant expense, with an estimated cost ranging from $40,000 to $70,000, it's a testament to the close bond within the "Fast & Furious" cast.
Arguably the most exclusive gem in his collection is the 2014 Lykan Hypersport, considered one of only seven in existence. Vin Diesel acquired this exceptional car for a cool $3 million, as reported by GQ.
The Lykan Hypersport is powered by a 3.7-liter twin-turbocharged engine and boasts a design that exudes speed and extravagance. This exceptional vehicle showcases Vin Diesel's penchant for automobiles that are as unique as they are fast.
In his everyday life, Vin Diesel's preferred mode of transportation is the fifth-generation GMC Yukon, a full-size frame SUV. This road behemoth offers a sense of security that the actor greatly values.
Within the star's personal garage, a diverse collection of vehicles awaits, encompassing a wide range of segments.
This collection includes classic American muscle cars, hypercars, iconic JDMs (Japanese Domestic Market cars), and even buses, including a double-decker with a value exceeding one million dollars, which Vin uses as a mobile home during film productions. Among this extensive array, several models stand out:
1.
Toyota Supra 1994
Following his involvement in the initial installment of the "Fast & Furious" franchise, Vin Diesel was drawn to one particular vehicle from the film. This was the fourth-generation Toyota Supra, notable not only for its striking orange hue but also for its fiery performance characteristics. 
The 3.0-liter inline-six engine, equipped with twin turbochargers from the 2JZ-GTE series for the U.S. market, generated an impressive 321 hp. 
This, coupled with the substantial use of aluminum in the design, endowed the Japanese coupe with the requisite agility. It could accelerate from 0 to 60 mph in just 4.5 seconds and reach a top speed of 250 km/h. 
The Supra's remarkable stopping power was achieved through the collaboration of an ABS stabilisation system that acted on each wheel individually.
2.
Chevrolet Corvette Stingray Z06 1963
Vin Diesel driving the Chevrolet Corvette Stingray Z06 1963 in a Fast and Furious scene
The Stingray Z06 represents an extreme iteration of the second-generation Corvette, specially designed for racing. The Z06 featured a suspension twice as stiff as the standard model, robust brakes, and a 5.4-liter fuel-injected V8 engine that produced 360 hp. 
Even by modern standards, the Z06's dynamic performance, including a 0-100 km/h time of 5.6 seconds and a top speed of 237 km/h, commands respect. 
It's worth noting that only 199 units of the first-generation Z06 were produced, making it a rare and coveted addition to Vin Diesel's collection.
3.
Dodge Charger R/T 1970 and Chevrolet Chevelle SS
Vin Diesel performing with the Dodge Charger R/T 1970 in a Fast and Furious scene
The 1970 Charger R/T, bearing the iconic "Road/Track" nameplate, stands as one of the most revered muscle cars in the automotive world. It became Vin Diesel's on-screen partner in several "Fast and Furious" episodes and was a gift from director Justin Lin, who directed five parts of the franchise. 
The Charger R/T was equipped with a formidable 7.0-liter V8 Hemi engine, producing 425 hp. It could accelerate from a standstill to "hundreds" in just 6.3 seconds, with a top speed of 223 km/h. 
Vin Diesel expressed the sentimental value of the Charger, stating that "Obviously the Charger has sentimental value to me, but the 1970s Chevelle has always been important to me." 
Notably, the 1970 Chevrolet Chevelle SS, with a potent 7.4-liter V8 generating 550 hp, is even more exclusive and impressive, especially when adorned with black stripes on a red body, as seen in the film.
4.
Lykan Hypersport 2014
A true exotic, the Lykan Hypersport is a hypercar designed in Lebanon and produced in extremely limited quantities, with only seven in existence. 
Vin Diesel's association with this car began during the filming of "Fast and Furious 7," where ten Lykans were constructed using simplified technology. 
Vin Diesel, however, opted for the original and paid nearly $4 million for it. The Lykan Hypersport is powered by a 3.7-liter flat-six twin-turbo engine, boasting a remarkable 740 hp. 
It can accelerate from zero to a hundred in a mere 2.9 seconds, reaching an astonishing top speed of 395 km/h. Its stunning appearance further underscores its exclusivity.
5.
SpeedKore Tantrum
On his 52nd birthday, Vin Diesel received a remarkable gift from his friends—a vehicle reminiscent of the early 1970s Dodge Charger but hiding a beastly secret. 
The SpeedKore Performance studio from Wisconsin took an unconventional approach, installing a monstrous 9.0-liter twin-turbo V8 engine, delivering a staggering 1,650 hp. 
This powerhouse was mounted on an aluminum rear-wheel-drive chassis of their own design, originally created by Mercury Racing for racing boats. 
Remarkably, the SpeedKore Tantrum also features a 6-speed manual transmission, making it an awe-inspiring addition to Vin Diesel's collection. 
Vin Diesel's charitable endeavours also hold a special place in his heart. He has been a consistent supporter of philanthropic causes, including his involvement with the late Paul Walker's non-profit organisation, Reach Out Worldwide. 
Founded by Walker in 2010, this organisation deploys teams of medical experts and disaster relief specialists to provide immediate assistance during natural disasters around the world. 
Vin Diesel has joined their efforts on several occasions, highlighting his dedication to making a positive impact in the world.
In a live broadcast for the charity organisation in 2016, as reported by PopSugar, Vin Diesel candidly spoke about his deep connection with Paul Walker. 
He described Walker as "very, very instrumental in [his] transition into fatherhood" and shared that this profound influence was the reason he chose to name his daughter Pauline as a tribute to the late actor.
Beyond his accomplishments in film, Vin Diesel has also ventured into the world of music expanding his artistic repertoire. And no, we're not simply referring to his memorable rendition of Rihanna's "Stay." 
In 2020, Diesel unveiled his inaugural single, "Feel Like I Do."
Collaborating with the EDM luminary Kygo, operating under the DJ's label Palm Tree Records, this track achieved remarkable success, amassing over 8.2 million streams on Spotify as of the time of writing this article. 
Notably, Vin Diesel's musical endeavours have resonated with an audience of more than 34,000 monthly listeners on the streaming platform.
In November 2020, he further solidified his presence in the music scene by releasing a second single titled "Days Are Gone."
Reflecting on this musical venture, Diesel shared with People that "something about 2020 led me into this tropical house, feel-good style of music."
While there are no official updates regarding future releases from Vin Diesel at the time of writing this article, one can reasonably expect that this A-list artist will continue to make significant contributions to the world of music, much like he has in the realms of film and beyond. 
His multifaceted talents continue to captivate and entertain audiences across various artistic domains. broader world.
Vin Diesel's rise to fame
Vin Diesel, whose real name is Mark Sinclair Vincent, is a multifaceted American figure in the world of film, excelling as an actor, screenwriter, director, and producer. 
His mother, Delora Sherlin (Sinclair, Vincent in her second marriage), is an astrologer with a diverse heritage, encompassing English, German, and Scottish roots.
On the other hand, the identity of Vin Diesel's father, who remains somewhat enigmatic and "behind the scenes" in his son's fame, has given rise to various speculations regarding his nationality, including Arab, African-American, Dominican, Irish, Italian-American, and Mexican origins.
Despite his current status as an international superstar, Vin Diesel's journey began in a far more humble manner. Born in Alameda County, California, he and his twin brother were raised by his mother and stepfather in New York.
Mark Sinclair adopted the world-famous pseudonym during his youth, deriving it from a shortened version of his stepfather's surname, Irwin Vincent. 
The moniker "Diesel" was affectionately bestowed upon him by friends during his time as a bouncer at New York's nightclub, The Tunnel, a nod to his inexhaustible energy. 
It's noteworthy that during this period, Vin Diesel, in his quest for a more rugged appearance, engaged in numerous scuffles and eventually shaved his head.
Interestingly, prior to these transformations, the slender and left-handed Mark was subjected to teasing at school, earning him the nickname "Worm." 
Yet, through unwavering dedication and rigorous weightlifting, he underwent a remarkable physical transformation by the age of 17.
Vin Diesel maintained a robust physique for many years, which was the result of consistent training and a well-structured dietary regimen characterised by minimal fat content but rich in proteins and carbohydrates. 
Vin Diesel's journey into the world of acting owes much to his stepfather, Irvin Vincent, a theatre manager and acting teacher, who relocated the family from California to New York. 
He frequently exposed his children to the world of theatre and film by taking them to various theatrical productions and movie premieres. However, it was a peculiar turn of events, a criminal incident, that marked the young Mark's transition from a mere spectator to an aspiring actor.
At the age of seven, Mark, along with his twin brother Paul and their friends, inadvertently broke into the New City Theater. To their surprise, they had entered during a rehearsal. 
Instead of involving law enforcement, director Crystal Field displayed wisdom and invited the children to audition for a role in the production. 
Despite facing the challenges of dyslexia, which affected his ability to read and comprehend written texts, Vin Diesel excelled in the audition, earning a part in the play "The Door for the Dinosaur." This opportunity marked the beginning of a decade-long journey for him on the theatre stage.
Vin Diesel's early exposure to theatre, coupled with his unexpected entrance into the world of acting, played a pivotal role in shaping his future career in the entertainment industry.
The path to fame in the film industry for Vin Diesel was far from straightforward. While working as a bouncer, he pursued screenwriting studies at Hunter College, a part of New York University. However, without obtaining a degree, he set out to conquer Hollywood. 
His initial attempt proved unsuccessful, and after spending a year working as a television store salesman in Los Angeles, he returned to New York.
In 1990, Vin's luck appeared to take a turn when he landed a role in the film "Awakening," which received three Oscar nominations. However, his part in the movie was so minuscule that he didn't even receive credit for it. 
This setback could have been disheartening, but a thoughtful gift from his mother, the book "Making a Film on a Budget No More than the Cost of a Used Car," provided a turning point.
Taking the hint from the book, Vin Diesel embarked on his journey as a screenwriter. He first crafted the script for a full-length film titled "Vagabonds" and later, for the short film "Multi-Facial," which proved more manageable to produce. 
The latter film, in which Vin Diesel not only served as the leading actor but also took on the roles of producer and composer, gained recognition. It was selected for participation in the 1995 Cannes Film Festival following a private screening.
Nevertheless, it was only after the production of "Strays," which received positive acclaim at the American independent film festival "Sundance" in 1996, that Vin Diesel started to capture the industry's attention.
This recognition led to a pivotal moment in his career when the renowned director Steven Spielberg invited him to play a cameo role in the film "Saving Private Ryan" (1998), which went on to win five Oscars. 
Vin Diesel, along with the other cast members, received a nomination for the award in the category of "Best Performance by a Group of Actors." Reportedly, this opportunity marked a significant turning point in Vin Diesel's career, with a paycheck of $100,000 and a trajectory of increasing success.
However, it was his leading role in the science fiction film "Pitch Black" (2000), directed by David Twohy, where Vin Diesel portrayed the character of the criminal Richard Riddick, that truly propelled him to fame and recognition in the film industry.
Currently, Vin Diesel is immersed in the filming of two exciting projects. The first is an action-comedy titled "Muscle," directed by Gary Gray. 
He is also reprising his iconic role in the fourth instalment of the sci-fi series centred around the space criminal Riddick, titled "Riddick: The Fury," directed by David Twohy. Both of these highly anticipated films are set to hit theatres in 2024.
Furthermore, fans can mark their calendars for the premiere of "Fast and Furious 11" scheduled for April 4, 2025. Notably, Vin Diesel recently made an announcement about the forthcoming final chapter of the film saga, "Fast and Furious 12."