Empress Njamah cancels engagement, cries out on blackmail by fiancé
Actress, Empress Njamah who is battling with the death of her friend Ada Ameh, has come out to speak on her horror blackmail story at the hands of her fiance.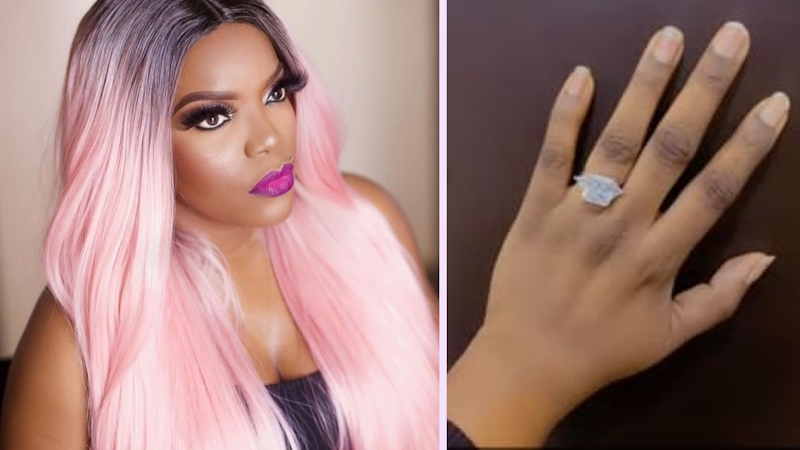 Following news of Empress Njamah's recent engagement video posted on her Instagram page, the Nollywood actress Empress Njamah has come out to say that her Instagram engagement video was a hoax set up by her fiance to cover his tracks.
In a lengthy video shared by Empress Njamah on Instagram, she said that her ex-fiance had been physically abusing her and syphoning funds from her account.
Teary-eyed, Empress Njamah narrated that the man, simply known as Josh Wade based on reports, came into her life when she was vulnerable.
According to the actress, she was still mourning the death of her friend and colleague, Ada Ameh, when her ex-fiance dubiously waddled into her life under the guise of consolation and care.
Empress Njamah cries out on domestic violence and blackmail
During the euphoria of Empress Njamah's engagement, some of her celebrity colleagues debunked the news, stating it was a scam. To clear the air on the matter, Empress Njamah narrated her ordeal at the hands of her ex-fiance.
She highlighted the major incidents in their relationship, from physical abuse to mental manipulation,
''I am a victim of blackmail, but thank God I am alive to tell you the story."
"He came into my life under the pretext of wanting to marry me, and I didn't know that he had other motives."
Empress Njamah further stated that her ex-fiance stayed with her all through her mourning period, and after she became comfortable with him, he gradually began to change.
Empress Njamah added that her ex-fiance had said he was robbed on arrival in Nigeria and did not have anything. He moved in with her in Abuja, and the moment he got her nude videos and pictures, he turned violent.
In Empress Njamah's narration, her fiance beat her on several occasions and monitored her every movement, and the moment she mentioned wanting to end their relationship, he blackmailed her with her nude videos. She disclosed that her fiance handles all her accounts, from Instagram to emails.
Moreover, her interactions and social energy dropped within the period, and her birthday was a sham. Empress Njamah said that, although her family tried to find out what was wrong, she hid it from them for fear of being disgraced publicly by the videos.
Empress Njamah said, "He wrecked me, wrecked everything." Empress Njamah revealed that her fiance had other nude videos of her colleagues in the industry.
She said she finally escaped after much thought and called her family through a mallam's phone in her area. "My brother came to pick me up from the hospital and brought me home."
The Nollywood actress appreciated her friends and family for standing by her through these tough times. Empress Njamah also pleaded with other victims to speak out, regardless of their fears of blackmail. According to her, she made the video to clear the air and encourage others to speak up.
A rich thespian worth considering in any wealth ranking of Nigerian actresses, Empress Njamah revealed that her fiance carted away her valuables and funds after he found out she had run away.
However, things have taken a different turn as the accused fiance has come out to reply to Empress Njamah's story.
Empress Njamah's fiance replies with threat
Empress Njamah's fiance replies with more threats
In a new video on Instagram, Empress Njamha's fiance has issued more threats to the actress following her confession.
According to reports, the Librarian man, Wade, in a video made for Empress Njamah, said, "doesn't know what's coming, trust me, I swear to God you do not know what's coming. Everything that I said to you, I think you consider a joke, but trust me, it is not a joke.
"I know your day-to-day activities."
He ended the video with a "thank you" and promised to deal with the actress severely.