Untold truth on Jim Iyke's wife, children, ex-lovers, and baby mamas
This is an exposé on Jim Iyke's wife, children, marriage, baby mamas, dozen ex-lovers and past relationships.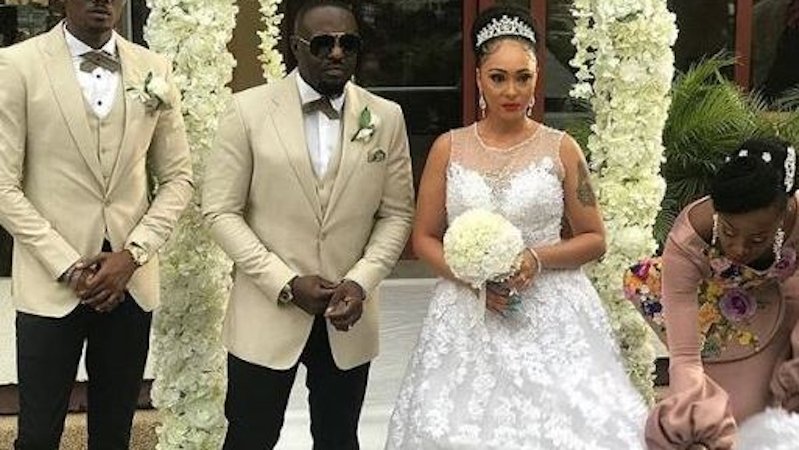 Having been involved in several affairs in his very long career, Jim Iyke is undoubtedly the Bad Boy of Nollywood, not just behind the cameras but in his personal life. Who is Jim Iyke's wife? Is Jim Iyke married to Nadia Buari? Does Jim Iyke have a child? These questions are comprehensively examined in this article. 
Is actor Jim Iyke married?
Nollywood legend Jim Iyke is currently single but was once engaged in a covert marriage which unfortunately failed. This was disclosed in an interview with Chude Jideonwo, where Jim Iyke confirmed that not all information about him is in the public domain. 
Jim Iyke presently portrays himself as a bachelor, and it is unknown who his ex-wife is. However, persistent rumours point to Dana Kinduryte with even a wedding photograph as evidence.
If this is the case, then the European is the secret spouse spoken of by Jim Iyke in the Chude interview.
Jim Iyke and Dana Kinduryte
US-based Lithuanian law graduate Dana Kinduryte is the mother of Harvis Chidubem, Jim Iyke's first son. The child was conceived to Jim Iyke at age 39, while Dana was 23, 16 years younger than the actor.
Harvis Chidubem was born on September 1, 2015, at Grady Hospital in Atlanta, Georgia, United States. Jim Iyke's greatest regret is his mom's not seeing his child before her demise.
Is Jim Iyke married to Nadia Buari?
Although Jim Iyke and Nadia Buari have been romantically entangled, they have never tied the nuptial knot.
In the immediate aftermath of his breakup with Keturah Hamilton, Jim Iyke commenced a relationship with Ghanaian actress Nadia Buari, with both actors confirming the romance on Twitter. 
The couple documented their relationship by publishing many photographs of themselves and by attending award ceremonies and award shows arm-in-arm.
As a consequence of this newly discovered connection, Jim Iyke was cast in Nadia's maiden directing effort, Diary Of Imogen Brown.
Jim Iyke proposed to Nadia Buari on his reality show, Jim Iyke: Unscripted, in March 2014, but admitted three years later that it was all a ruse to increase ratings, since he never dated the actress.
One year after his relationship with Nadia, he got embroiled in a war of words with the proprietor of the US-based radio station Nigerianfm.com and Nadia's ex-lover, Emma Agu. Agu accused Jim Iyke of being the cause of their breakup.
Does Jim Iyke have a child?
Jim Iyke and first son, Harvis Chidubem
Jim Iyke is father to three children, as disclosed by the actor in a 2021 interview with Chude Jideonwo. Jim Iyke's first child is Harvis Chidubem, born in 2015 to Dana Kinduryte in the USA.
Jim Iyke revealed on Instagram in 2019 that he had a second son, whom he referred to by the initials "JJ."
In the interview referenced above, Jim Iyke first indicated that he had two children before correcting himself to three.
This rare lapse from a parent might be construed as Jim Iyke's three children coming from various unions, or different baby mamas. According to this inference, Dana Kinduryte is not Jim Iyke's lone baby mother.
In 2012, an intriguing hypothesis about the identity of Jim Iyke's third kid arose. Jim Iyke was then alleged to be the father of an 11-year-old kid with Nkechi Benson, a UK-based Abia State University graduate whom he dated when he was 23.
As the couple had split before the inception of pregnancy, Jim Iyke hinted in a statement made by a publicist that he intended to confirm paternity of the child. Since then, this accusation has not been categorically refuted.
Timeline of Jim Iyke's relationships
Despite his larger-than-life profile, Jim Iyke's romantic affairs have been kept away from the media on many occasions. Several of Jim Iyke's relationships have only been brought in wake of conflicts or controversies. 
This is the timeline of Jim Iyke's affair currently accessible to the public: 
Jim Iyke and Rita Dominic
In 2004, rumours were rife that Jim Iyke was having an affair with actress Rita Dominic, since they had featured in over eight movies together in less than two years. Rita recognized the actor as nothing more than a "good friend" when questioned.
In subsequent interviews, Jim Iyke implied that there was in reality a romantic connection between the two, but that his bad boy image scuppered any progression.
Jim Iyke and Steph Nora Okere
Amidst this public frolicking with Nadia Buari, Jim Iyke's erstwhile lover, Steph Nora Okere, granted an interview where she admitted to a relationship with the actor. She stated that their relationship exemplified true love and called Jim Iyke "the best friend I have ever had."
Jim Iyke is said to have abandoned the Nollywood star in favour of Keturah Hamilton.
Jim Iyke and Keturah Hamilton
In 2008, Jim Iyke began dating Cuban-Jamaican-American model Keturah Hamilton, who at the time was one of New York's highest-paid models. He referred to her as the "woman of my dreams, [who] is the embodiment of all I have been looking for."
The relationship lasted six years before a tumultuous breakup following the first episode of Jim Iyke: Unscripted. Jim Iyke never "matured into the man I always wanted him to be," according to Keturah, who characterised their extended relationship as "years wasted."
Jim Iyke and Sandra Iyame
Malignant but very strong reports surfaced in 2005 accusing Jim Iyke of publicly assaulting his then-girlfriend, Sandra Iyame, daughter of former Taraba State governor Jolly Iyame, in a pub in London.  
Jim Iyke and Nkechi Benson
In 2012, Jim Iyke was alleged to be the father of an 11-year-old kid with Nkechi Benson, a UK-based Abia State University graduate whom he dated when he was 23.
The actor acknowledged the accusations but never denied them. 
Jim Iyke and Juliet Ibrahim
After the messy breakup with Keturah, it was said that Jim Iyke had a fling with model and actress Juliet Ibrahim.
Jim Iyke and Emeka Ike
In 2008, Jim Iyke was involved in a scandalous adultery triangle with actor Emeka Ike and a married American lady.
The well-documented controversy reportedly degenerated into a physical altercation between the two stars, fracturing their tight connection.
In 2011, at a ceremony in Abuja, the two performers buried the hatchet and reunited, signalling the white flag with a brotherly embrace. The peace-making is believed to have been arbitrated by Segun Arinze.
Jim Iyke and Tutupie Sheriff
In 2010, Jim Iyke's ex-girlfriend, Tutupie Sheriff, an on-air personality at Rhythm FM Abuja, put the knife in by accusing the actor of attempting to kill her by strangling her. She also claimed Jim Iyke was a possible kidnapper and scammer, charges she maintains.
Jim Iyke and Yvonne Nelson
In addition, rumours circulated that the actor was having an affair with Ghanaian actress Yvonne Nelson, who was forced to reject these charges while admitting that they were "close friends."
Jim Iyke and Solange Ojong
In 2012, Jim Iyke was linked to Cameroonian actress Solange Ojong after frequent visits to the West African country and an alleged visit by the actress to Jim Iyke's Abuja mansion.
Jim Iyke and Ruth Okoro
In 2015, Jim Iyke was once again the subject of extra-marital accusations when Ruth Okoro, the ex-wife of Philips Ehiagwina, who was then Ini Edo's husband, blamed the actor for "destroying her marriage." 
She claimed that Jim Iyke regularly attempted to court and solicit her, but after being rejected, attempted to frame her.
As well as her divorce, Ruth fingered Jim Iyke for dating American women to obtain a green card, adding that the US Immigration and FBI were investigating him as she had reported him. She further accused him of "setting up" Emeka Ike in the earlier mentioned adultery allegations.