Richest actresses in Nigeria 2023 and their net worth
The richest Nollywood actresses in 2023 are screen goddesses we've all come to love since early 2000s. Continue reading to find out who they are.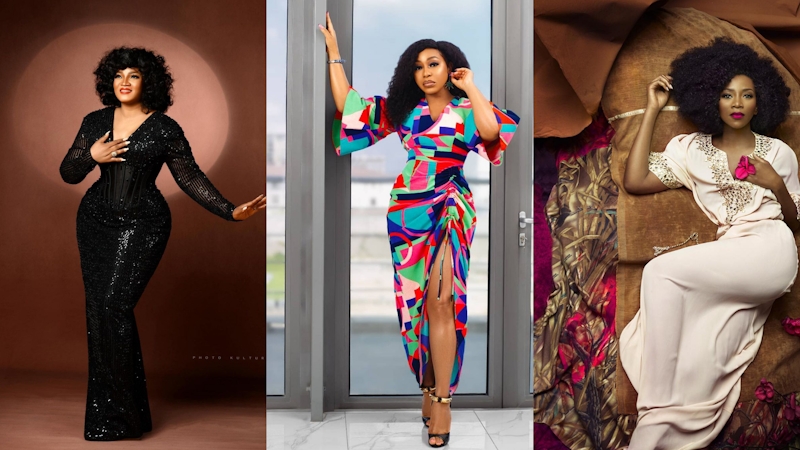 Although the Nigerian economy has suffered in recent years, with the naira lagging far behind Africa's highest currencies, Nollywood is globally recognised as the second largest film producer in the world.
The industry is a significant part of the Arts, Entertainment, and Recreation Sector, contributing 2.3% (239 billion NGN) to Nigeria's Gross Domestic Product (GDP) in 2016.
The Nollywood industry has produced all the famous actresses we have come to love and respect. From the delectable beauties to those exuding sweet-smelling, long-lasting fragrances that have been imbued into our memory, the Nigerian movie industry has it all.
Surprisingly, in the last 10 years, Nollywood has recorded explosive growth. Thus, giving rise to the arrival of young Nollywood actresses.
Boasting a thriving industry, Nollywood's old actresses, with a career log of 15-20 years, have maintained their stance in the industry even though they are no longer familiar faces on our screens.
Many of these old Nollywood actresses have made lots of money from acting, earning them the top spot of the richest actresses in Nigeria in 2023.
A few have starred in Hollywood productions, adding a golden mark to their acting careers. At the same time, others have been privileged to create blockbusters for international streaming platforms. While some have been recognized by Forbes as the most prominent actors to come out of Africa.
All of these have earned these top actresses the right to be named the top richest Nollywood actresses in Nigeria in 2023.
Please continue reading to find out who they are, their career, and their ever-increasing net worth.
Award-winning actress Genevieve Nnaji is the number one richest Nollywood actress and one of the highest-paid actresses in 2023 among the top 5 richest Nollywood females in Nigeria.
Based on a winning streak of awards and international recognition since her 2005 Africa Movie Academy Award for Best Actress. Genevieve has worked her way up the ladder of fame and wealth.
One of Nollywood's pioneers in the industry, the veteran actress has remained relevant and a source of inspiration to upcoming actors in the field.
It is no wonder that she has managed to build an empire of a thriving career, earning her the number one position as the richest female Nollywood actress in Nigeria.
Genevieve Nnaji was born on 3 May 1979 to parents Theophilus Nnaji and Benedetta Nnaji in Mbaise, Imo State.
The fourth of eight children, she was raised in a middle-class family; her father worked as an engineer, and her mother was a nursery school teacher.
Genevieve Nnaji's acting career
Nnaji began her Nollywood acting career at 8 years old in the then-popular television soap opera Ripples.
A graduate of the University of Lagos Creative arts, In 1998, at the age of 19, she was introduced into the growing Nigerian film industry with the movie Most Wanted.
In 2010, she starred in the award-winning film Ijé: The Journey. She has starred in over 200 Nollywood movies.
A Jack of many trades, Genevieve tried her hands at music. In 2004, Nnaji signed a recording contract with EKB Records, a Ghanaian record label, and released her debut album One Logologo Line.
She went on to win the face of Lux in 2004. 
By 2009, the beautiful actress was the highest-paid female actor in Nigeria. Genevieve had invested so much into the industry that in 2009, she was referred to as the Julia Roberts of Africa by Oprah Winfrey in an episode of her show.
Fast forward to 2015, Genevieve produced her movie Road to Yesterday, later winning Best Movie Overall-West Africa at the 2016 Africa Magic Viewers Choice Awards.
On 7 September 2018, Genevieve Nnaji made her directorial debut Lionheart, the first Netflix original film from Nigeria and the country's first Oscar submission. It was later disqualified for being too English. The movie had its world premiere at the 2018 Toronto International Film Festival.
Genevieve's Source of income
Popular for her billionaire status as Nollywood's richest actress-Genevieve's wealth stems from her acting, endorsements, and real estate income.
The 42-year-old actress has signed major endorsement deals with Amstel Malta(N40M), Citron Energy Drink(N45M), Polo(N75M) Etisalat(N100M).
The tipping point for the veteran Nigerian actress was when Genevieve joined the billionaire club after the sale of Lionheart to Netflix.
According to reports, she sold it for $3.5 million while still retaining full copyright and ownership of the movie.
In 2021, Genevieve's net worth was $9.2M, but according to Forbes, Nnaji is worth $12M as of the time of this article.
Credits to Instagram/@ibinabofiberisima
Ibinabo Fiberesima, Nigerian actress, the first President of the Actors Guild of Nigeria, ex-beauty Queen, and event manager, is our second richest Nollywood actress in Nigeria.
Apart from her acting career, Ibinabo is one of the most beautiful actresses in Nollywood.
Born on January 13, 1971, to a Nigerian father, Chief Dr Dawaridabo Babatunde, and an Irish mother, Mrs Bisola Fiberesima, in Dublin, Ireland.
The 51-year-old rich and famous actress, Ibinabo holds a Bachelor of Arts certificate in English Language and Literature, which she obtained from the University of Ibadan.
Currently brand Ambassador for Air Peace and Image Make-Up Nigeria. The beautiful Ibinabo Fiberesima has also been the National Director of the Miss Earth Nigeria Beauty Pageant since 2002. 
Ibinabo Fiberesima's controversies
In 2009, Ibinabo was charged with manslaughter and reckless driving after accidentally killing a certain Dr. Giwa Suraj in 2006. On March 16, 2016, Ibinabo was sacked as President of the Actors Guild of Nigeria and sentenced to a 5-year jail term by a Federal High Court sitting in Lagos.
She was, however, granted bail for ₦2 million and two sureties in like sum on April 7, 2016, by a Court of Appeal in Lagos, pending the determination of her appeal at the Supreme Court.
Ibinabo Fiberesima's source of wealth
With over 200 movies to her credit, Ibinabo Fiberesima has co-produced a couple of films. She is currently estimated to have a net worth of $ 8 million, according to statistics, thus qualifying her to be on our richest Nigerian actresses list.
Credits to Instagram/@funkeakindele
Famous Nigerian actress and producer Funke Akindele is the third richest actress in Nigeria in 2023.
CNN recognizes the renowned actress Funke Akindele as a Hollywood star for her role in the sitcom "I need to know" in 1998.
Funke was born on the 24th of August 1977 in Ikorodu, Lagos State, in the western region of Nigeria. She is the second child of a family of five (father, mother, and three children).
The 44year old actress boasts over a decade of acting history, placing her on par with Nollywood's richest females in 2023.
Her excellent work ethic and talent have cemented her in the sands of time and on people's minds.
She rose to fame for her role in the movie Jenifa, earning her the nickname Jenifa. Funke Akindele played the lead role in the show Jenifa's Diary, for which she was named the Best Actress in a Comedy at the 2016 Africa Magic Viewers Choice Awards.
Funke Akindele's Controversies
Funke sparked controversy in April 2020 when she hosted a house party for her ex-husband, JJC Skillz's birthday,, with people attending during the lockdown of the COVID-19 pandemic.
This act fuelled agitations from her fans and the government, which led to her arrest and penalty of 14 days of community service.
However, after the incident, Funke worked with Nigeria's Center for Disease Control video to create awareness about coronavirus( a.k.a COVID-19).
Funke Akindele's source of income
Akindele has received endorsement deals and achieved widespread acclaim locally and internationally for her TV series "Jenifa's Diaries." 
Ranked as one of Nigeria's richest actresses, Funke Akindele is the Ambassador to Dettol and Irokotv, Keystone Bank, and Waw Nigeria. This company manufactures detergent and bar soap.
Funke Akindele-Bello's box office hit 'Omo Ghetto: The Saga' emerged as Africa's highest-grossing film in 2021.
This significant milestone boosted her net worth, estimated at $ 7.6 million.
Nigerian actress, singer, philanthropist, and former model, Omotola Jalade Ekeinde is the fourth richest actress in Nigeria in 2023. Since her Nollywood film debut in 1995, Omotola has appeared in over 300 films, selling millions of video copies. 
Tagged "Omosexy" for her gorgeous figure, Omotola has made a name for herself in the industry alongside stars like Genevieve.
Omotola Jalade is easily one of the most beautiful actresses in the Nollywood industry.
The press has dubbed her as the real Africa Magic, a famous recipient of numerous awards.
She was born on 7 February 1978 to a family of five: her parents and two younger brothers, Tayo and Bolaji Jalade. Her mother, Oluwatoyin Jalade, worked at J.T Chanrai Nigeria, and her father, Oluwashola Jalade, worked at the YMCA and the Lagos Country Club.
The veteran actress is celebrated as an icon and was honoured in Time magazine's list of the 100 most influential people alongside Michelle Obama, Beyoncé, and Kate Middleton.
Omotola Jalade Ekeinde's career
Omotola made her acting debut in the 1995 movie Venom of Justice, directed by Reginald Ebere.  Omotola Jalade got her first significant role in the critically acclaimed film Mortal Inheritance (1995). 
Since then, she has starred in several blockbuster movies; Games Women Play, Blood Sisters, All My Life, Last Wedding, My Story, The Woman in Me, and others.
After a career-defining moment in Mortal Inheritance-Omotola bagged "Best Actress in an English Speaking Movie" and "Best Actress Overall" at the (1997) Movie Awards, the youngest actress in Nigeria at that time to achieve such.
The rich actress, Omotola made her cinematic acting debut with Ije in 2010. The film became the highest-grossing Nollywood film at the time. Thus adding feathers to her hat as one of the richest actresses in Nigeria.
Considered Africa's biggest box office actress, in (2015), Omotola Jalade celebrated her 20th anniversary in the entertainment industry. Omotola has appeared in over 200 movies so far.
Omotola Jalade's source of income
The primary source of Omotola's richest Nollywood actress status is her thriving acting career, and endorsement deals with brands such as; Knorr, owned by Unilever, Scanfrost ambassador, and BO16 hair range Ghanaian cosmetics giant Ghandour.
Omotola Jalade's net worth is estimated to be $7.2 million.
Credits to Instagram/@ritadominic
Multiple award-winning Nollywood actress Rita Dominic is the fifth richest Nigerian actress in 2023.
Regarded as one of the highest-paid actresses in Nigeria, Rita has remained driven and open to continue delivering value with her skills.
A co-founder of Audrey Silva Company and one of the highest-paid actresses in Nigeria. Rita Dominic is currently a GLO Ambassador and the CEO of Rita Dominic Productions.
The youngest of four children, the actress was born on 12 July 1975.
The 47 year old Rita is a graduate of Theatre Arts from Port Harcourt in 1999.
Rita Dominic's Career
Rita Dominic starred in her first movie – A Time to Kill, in 1998. Thus far, Rita Dominic has starred in over 100 Nollywood movie productions, such as:
Accidental Discharge – 2003
White Waters (This film received 12 nominations at the 2008 African Movie Academy Awards, winning 4 awards, including the awards for Best Cinematography and Best Sound) – 2008
Suru Lere (with Cameo) – 2016
76 – 2016
Mr. and Mrs. Chapter 2 – 2017
The Blindspot – 2018
Bound – 2018
Light in the Dark – 2019
The Big Fat Lie – 2019
Rita Dominic's source of income
Rita Dominic makes a lot of money from her acting career and the plethora of endorsement deals she has hinged.
The rich actress Rita Dominic's net worth is influenced by deals from BK Unique Hair (Canadian luxury hair), Flat Tummy Tea (herbal weight loss beverage), Zaron Cosmetics, Keystone Bank, and Intra-African Trade Fair (IATF) Goodwill.
Rita Dominic recently became the brand ambassador for LG electronics in 2021.
The veteran actress is worth $6 million.