20+ latest ankara short gown dress styles for ladies 2022
Stay up to date with the latest Ankara short gown fashion to rock your way through the rest of 2022.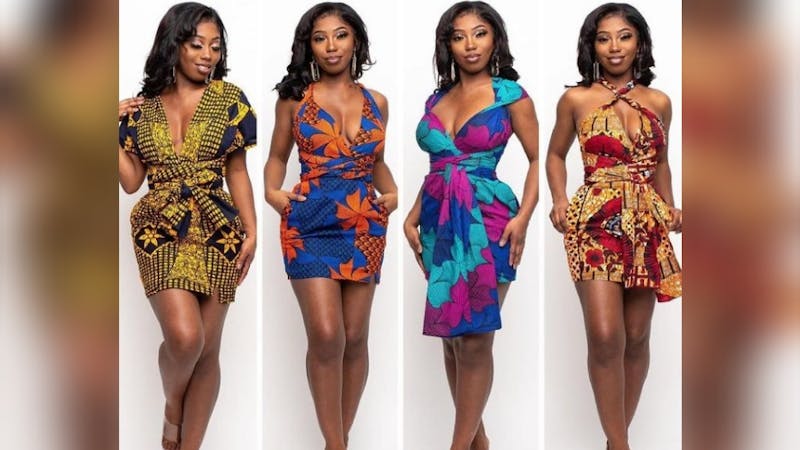 Today, the fashion world thrives on the latest, classic, and attractive outfits, ranging from silk and lace to indigenous ankara material. Of course, as long as it meets the style check, head-turning standard.
It's a man's world, they say, but in ankara fashion and the latest trends with short ankara gown styles to follow, it is a woman's world all the way.
If you are a woman reading this, then you understand the versatility that the latest ankara gown styles add to your wardrobe, especially on those days when you scramble for what outfit to rock to your friend's baby shower, beach hangout, or office party.
The fabric of your gown also matters, and when it is ankara, you have it all figured out. Ankara fabrics are a necessity because of their cotton-like nature and classic chic look, which is great for the warm African weather. It's no wonder they have become quite popular these days. The majority of the latest short gown styles for ladies are in Ankara.
Besides, short dresses are comfy, chic, and stylish. If you have great skin, this is a cool way to show off those long legs too, particularly as more women embrace body positivity.
You agree, right? Because you probably have a short ankara dress somewhere in your wardrobe too. And with the beauty trends and ankara fashion inspirations littered all over the internet, it is only a matter of time before you join the bandwagon of the latest short ankara gown slayers.
If you want to join the train quicker and are looking to spice up your fashion life, these stylish, classy, and latest ankara short dresses will put you on a good start.
Below are the latest trendy ankara short dresses and gowns for ladies in 2022:
1.

Drop shoulder drape ankara short dress
Try the ankara drop-shoulder drape shirt dress today. This attractive gown style lets your garment drape on one side of your body. Most times, it drapes from the thigh to the knee and is a chic style for every occasion.
Drapes are fashionable because the Ankara fabric enticingly hangs around your body, giving you an attractive boss lady look with a classy feel.
A pair of heels and a chic black bag are always a good choice.
2.

The ruffle-sleeved ankara short dress
If you love a bit of drama and some extra, then a ruffled-sleeved ankara short dress is great for you. With this amazing style, you can achieve a drop-dead gorgeous look. Paint the town red by adding your favorite block heels or boots to complement the look.
Go to that party or brunch and be the fashion inspiration for simple Ankara short dresses. If you are daring enough, adorn your wrists with bangles and beads.
3.

Halter neck ankara short dress
Turn on your beach vibes with this classy Ankara halter-neck short dress. The dress's clothing strap runs from the front of the garment to the back of the neck. Most of the time, the upper back is left bare.
The good thing about a halter-neck Ankara short gown is that you can rock it to a party, dinner, or a family hangout reunion. It lets off sultry steam with a mix of elegance. You can pair it with heels, gladiator sandals, or sneakers, depending on the occasion.
4.

The princess cut and collared ankara short dress
Spice up your wardrobe with a carefully cut, fitted, princess-cut, collared Ankara short gown. Princess-patterned outfits are cut in long panels without a horizontal join or separation at the waist.
The collar adds a hint of seriousness if you are looking for indigenous office wear. At the same time, it leaves you looking beautiful.
5.

The boat-necked ankara short dress
The boat neck short Ankara outfit is generally considered a bateau or Sabrina neckline. The flared or fitted Ankara boat-necked short dress has a wide neckline that runs horizontally, front, back and most times, almost to the shoulder points, across the collarbone.
An elegant style suited for all body types, the boat-necked ankara short dress is a must-have for all.
6.

Ankara short gown with bell sleeves
Bell sleeves as the name imply means ankara short gown with an A-shaped outline. This style is only differentiated by the sleeves.
Bells-sleeved ankara dresses are stylish whilst adding that dramatic flair to your outfit.
The bell sleeve is either short or long and fitted at the shoulder. It flares out from your lower arm all the way to your elbow or wrist to form the bell shape.
7.

One-shoulder ankara short gown style
Try the stylish and classy one-shoulder ankara short gown. Take up breathing room with this fashionista's killer style today.
The one-shoulder ankara short gown puts you on par with royalty. If your fashion stylist is quite good, you can ensure that the single sleeve has an elaborate bow with splashes of colours, sequins, and beads.
A pair of strapped-heel sandals and a cute purse should complete the look.
8.

Cold shoulder ankara short gown with knee-length ruffles
It is popular knowledge that off-shoulder or cold-shoulder ankara short gowns are effortlessly stylish.
It accentuates your neckline and gives you an attractive vibe that will make you look gorgeous. Whether you are a melanin goddess or your skin is like milk, baby girl, cold shoulders give you a royal majesty air that enchants everyone when they see you.
Call it the perfect attention grabber; cold shoulders leave room for your favorite jewelry pieces to complement the magical thrill.
Add a pair of heels to finish the look, wrap your hair into a ponytail, or let it flow down.
9.

Ankara short gown frocks
The ankara short gown frock is a loose, long garment with wide, full sleeves. Usually paired with a belt, the Ankara frock gown is one of the most sought-after designs for its comfort and simplicity.
It looks wonderful on children of any age group and can look great on pregnant women who desire comfort and classy fashion.
Frocks can go with any pair of heels or flats.
10.

Double-slit ankara short gown
This style is for ladies looking to try something sexy, stylish, and comfortable. The double slits may fall on both sides of the dress or both thighs. Usually, the double slit on the ankara short gown style is not longer than 2 inches.
You can add a long, plain kimono to the ensemble if you want, as well as a pair of shiny black boots.
11.

Short Ankara shift dress
The beauty of shift dresses is their shortness. A mini ankara shift dress is not complete until it stays above your knees and has short sleeves.
If your fashion designer is skilled, you could add patterns from the fabric design and request that it be beaded too.
The pocket feature in short ankara shift dresses adds all the ginger to this casual style. Of course, if you are heading out, it's the right time to wear your new pair of white or black sneakers to complete the look.
12.

Straight cut or pencil ankara short dress
The popular straight or pencil ankara short dress carefully carves out your well-sculpted shape.
This chic style works well with all body types, defining your curves and eyes no matter your body shape. It clings delicately to the right places and caves at your knees.
It is advisable that this ankara pencil short gown stop at thigh length because of its narrowness, so it does not impede movements.
You can also add a slight slit at the back or sides to increase ease of movement. A pair of sneakers or not-so-high heels should add elegance to this ensemble.
13.

Classy panel body con ankara short dress
The alluring, classy panel bodycon ankara short dress is a must-have in your wardrobe. Perfect for every occasion, this classy, elegant, fluid Ankara panel bodycon works for all body types.
You can add a chic angle by throwing in some beaded embroidery or a sleek brunch with sequins to make it perfect for any evening occasion.
14.

Ankara simple gown with wrap slit
The ankara short gown with wrap slit does not require a unique styling. The wrap feature adds all the attractive and classy details to it. This style wrap overlaps near the thighs in a V-shaped style to serve as a slit.
Ankara simple wrap-slit gown gives you that touch of unconventional. The length further adds to the unique feature of most women, the legs.
The idea of a wrap dress is to give the wearer some sort of control over how the fabric fits on the body. You can firm up the waistline too with the rope attached to the short dress.
15.

Ankara pleated A lined short dress
Stay in touch with fashion's latest trends and get yourself the ankara pleated A-line shirt dress.
This stylish short gown is a versatile piece and can be paired with sneakers, heels, sandals, slippers, and flats. It's easy and comfy to wear, not too tight or loose, and perfect for all shapes and sizes.
You can style it with a thin studded belt, a wide belt, or a brooch to add some finesse. If the dress is a hot mini, you can add some fishnet, pop socks, and throw in boots, a hat, and a pair of sunglasses.
16.

Tube ankara short dress
Show off your great neckline and collarbones, girl! The tube ankara short dress accentuates your torso, giving you a proportioned shoulder-to-hip figure.
If you are on the busty side, then it's a killer look to try on. You can make the neckline plunging or modest. Tube Ankara dresses give you a reason to explore neck jewelry and earrings.
Style it up with a shirt or a turtleneck if you want to avoid showing skin but still want a tube ankara shirt dress outfit.
17.

Mermaid body con ankara short dress
Make tongues wag with this gorgeous mermaid bodycon ankara short dress.
Particularly if you have a well-defined waist and hips that do not lie, the mermaid layer of the gown can start from below or above knee length to give you a princess-like look.
If the sleeves aren't so baggy, you can style them with denim jeans and rock with white or black sneakers.
Throw on a tote bag and bounce your way to that party. This look is great if you want something casual, cool, and chic.
18.

Layered ankara short gown style
Achieve the look of your dreams with this layered ankara short gown style. This is one of the most trendy Ankara short gown styles for ladies in 2022.
It features a thigh-length ankara dress with layered ruffles, flare, or pleats to give off that Cinderella look.
It is cute and stylish, especially with classy accessories and heels.
19.

Ankara butterfly sleeve short gown style
Try this ankara butterfly sleeves short gown style in 2022. It is a flared-sleeve dress with either a plunging or boat neckline.
Stay on trend with this ankara butterfly-sleeved dress. You can add sophisticated jewelry and a pair of flats or heels to give yourself a chic after-party look.
20.

Crisscross Ankara short gown
Unleash your inner party vibes with this crisscross ankara short gown. This simple style is effortlessly beautiful, so you can't go wrong when styling it for any party plans. It's the perfect outfit for an all-night party, weekend getaway, dinner, etc.
Style up this simple, classy outfit with a pair of black heels; add an oversized blazer or a hat, maybe. And top it off with a killer purse to add that sophisticated look to your office fundraiser or cocktail party.
21.

Spaghetti sleeve ankara short gown style
Talk about the ankara dress of the summer. A spaghetti-sleeved ankara short gown is your go-to dress on a sunny day when all you need is some fresh air blowing through your skin.
It's light, simple, and stylish. If you decide to attend that beach hang-out or go clubbing with your favourite girls, this is the right outfit for such events.
Pairing it up with some high-heeled slippers and a sling-along bag will do the trick. Then add some lip gloss and pack your hair into a bun, and you are all set to go.
If you love jewellery, you can make up for the almost nonexistent spaghetti Ankara short gown sleeves with a beautiful neck chain and large stud earrings.
Add a touch of sophistication by pairing with a blazer if you decide to attend a corporate event.
22.

Puffy-sleeved Ankara short gown style
If you are fashionably extra, then this Renaissance puffy-sleeved ankara short gown is your style.
Nothing is new under the sun, they say, and this puffy-sleeved ankara short gown is one of them, especially if you are familiar with historical foreign movies where puffy sleeves come to play.
So are you looking to channel your inner Queen Elizabeth style? Then you simply cannot afford to not own this puffy-sleeved ankara short dress. You can decide to make the gown flared or body con tight depending on what you like.
Pair them up with large hoop earrings and a neck chain, cute heels, and a small purse.
23.

Pinafore slit ankara short gown style
Are you a conservative bad girl? Lol. If you are, the pinafore slit ankara short gown style describes your personality. Take some bold steps with edgy fashion by adding a slit. So you are in between the cool and sassy good girl look.
You can get stylish by adding a bow, brooch, or ruffles where the slit ends to give the slit some extra vibes.
This style is good to go for product launch events, conference meetings, or a perfect office day look.
24.

Short ankara shirt gown style
If you are looking for a beautiful, sexy, boss-like look. Then the short ankara shirt gown style is the perfect fit for you.
Pair it up with gorgeous and stylish stiletto heels or block heels based on preference, and watch everyone in the room steal glances when you walk.
You can add a hoop earring accessory or studs with a chic bag to go. Ta-da! You are all set to turn heads and pepper everyone at the party, room, or even conference meeting.