Top 10 tallest women in the world 2023
Varying factors influence the science of gigantic genes and unusual height and body weight. These top 10 tallest women in the world have shown unprecedented willpower and endearing self-esteem regardless of their tall frame.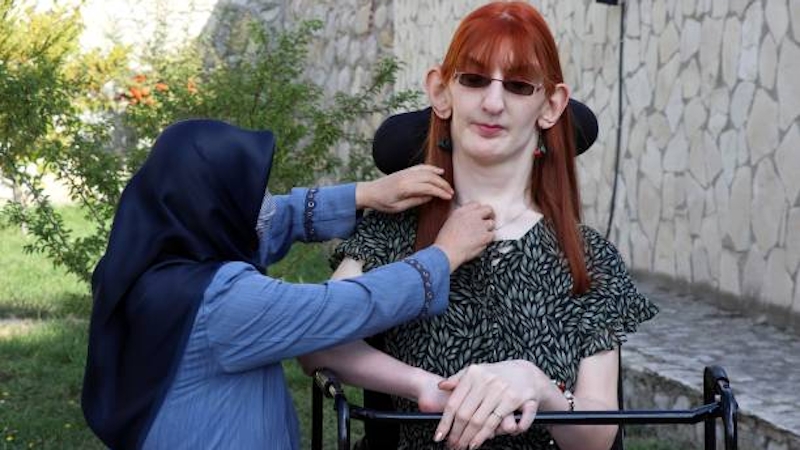 Regarding height and body weight, different variables are responsible for the variations in each individual. According to scientists, an individual's height is determined by a striking 80% of inherited DNA sequence variations.
That means that whether a person is tall or short is a result of the predominant DNA sequence they have inherited, so it's possible that both parents are short and a child winds up incredibly tall or dwarfed.
However, on the flip side, diet and overall improved nutrition can enhance certain growth hormones to cause a considerable change in height. "Nutrition is the most important environmental factor that contributes to height," says Chao-Qiang Lai, PhD, a molecular research biologist with the United States Department of Agriculture (USDA).
Drugs can also affect the genetic order or alteration of a person's DNA sequence. Generally, the average height for a man and a woman ranges between 5 "7-5 "10 and 5 "3 - 5 "6, respectively.
So if a person crosses or goes below the average, they are considered tall or short. Nevertheless, a few individuals have crossed this threshold and been labelled the world tallest; more interesting is that they break the stereotype of the height concept because they are women.
Of course, men have always been popular for being the taller gender, but these 10 women are making their mark as the world's tallest women alive in 2023.
This article will only focus on the tallest women alive in 2023.
At 25 years old, Turkish woman Rumeysa Gelgi is the World's tallest woman alive.
The Turkish advocate, researcher, and front-end developer conferred the Guinness world record as the tallest woman in October 2021.
Initially, she held the title of the tallest living female teenager in the world in 2014 at 18 years of age. She is 215.16 centimetres (7 feet, 0.7 inches).
Rumeysa Gelgi's unusual height is caused by a condition called Weaver syndrome, which enhances accelerated growth and other abnormalities, according to a statement by the Guinness World Records.
Due to her condition, she usually uses a wheelchair to move but can walk for short periods. Coincidentally, both the tallest woman and man title holders are from Turkey -- Rumeysa and Sultan Kösen (251 cm; 8 ft 2.8 in) -- in Guinness World Records history, this is an unusual occurrence.
Siddiqa Parveen is an Indian woman born in 1985 and was named in the 2014 Guinness Book of World Records as the new record holder after the 2012 death of Yao Defen from China, who, at 233.3 cm -7 feet 8 inches - was the tallest woman on earth.
According to Siddiqa's entry in the latest book: "The tallest woman living is Siddiqa Parveen of South Dinajpur, India. In December 2012, she was measured by Doctor Debasis Saha from Fortis Hospitals to be at least 222.25 cm (7 feet 3.5 inches).
The entry book stated, "Dr. Saha estimates her standing height to be at least 233.6 cm (7 ft 8 in)."
Weighing a massive 130kg, Siddiqa has enlarged hands and feet and underwent tumor surgery in 2014.
However, her problems are not just physical; doctors say she will need to be treated for a 'psychosocial crisis' - having been isolated for much of her life.
The Chinese 35-year-old will be one of the world's tallest women in 2023. Her height stands at 7"3 inches.
Sun Fang became the tallest woman in China after the death of the world's tallest woman in China, Yao Defen, on 13 November 2012. Yao Defen was 7"8inches. Sun Fang bears a similar physical resemblance to Yao Defen and is often mistaken for the deceased record breaker.
Standing at least 2.14 m (7 ft 0 in), Uljana Semjonova is one of the tallest women in the world in 2023.
The young Uljana was born on 9th March 1952 and became a prominent women's basketball player in the world during the 1970s and 1980s. Semjonova could only fit into a man's size 21 (US) / 58 (EU) shoe because of her large feet.
Semjonova was famous for having the largest feet ever in women's basketball.
Throughout almost her entire play career she was part of TTT Riga and Daugava Voluntary Sports Society. During her time with TTT, she triumphed in 15 championships in the Soviet Union and the European Champion's Cup 15 times.
The tall Russian female, Semjonova was also very prevalent on the international scene, winning two Olympic Gold medals while playing for the USSR in 1976 and 1980 and never losing a game in official international competition.
An outstanding mastery in basketball, she was vested the Order of the Red Banner of Labour in 1976, and by 1993 she evolved into the first non-US woman promoted into the Basketball Hall of Fame.
Griner's career was filled with multiple championships and has since retired. According to the records at the age of 70 years, Semjonova is the oldest and tallest living woman yet.
Elisany Silva-Brazilian model
Elisany Silva is a Brazilian and one of the wworld'stallest women at 66'9inches
The tall Brazilian woman put her height to good use as a model. In 2014 -she debuted as a model in a bridal dress in Belem 2015 and married her best friend and childhood sweetheart-who is 5 feet 4 inches tall.
Elisany was born on 27th September 1995 and ranked as the 5th tallest woman in the world. SShe'staller than her parents and siblings too. Elisany says she wants to have children but is worried about a tumor.
.
Carolina Welz was born on 6th June 1986, and at 6 feet 9 inches, she is the tallest woman in Germany and the 6th tallest woman in the world.
When Carolina was 7 years old she had a 1.5-meter growth spurt and was bullied a lot by her schoolmates. Carolina was one of the lucky women whose height brought gracious opportunities. She worked in the fashion industry as a model and tailor in Cologne Germany. Some of her other information include:
She sought to find a man as tall as her, and at the 2009 High People Internet Forum, she found her 1.92 meters, tall prince.
Rita Miniva Besa was born in Zambia but lived with her family in the United States, where she plays basketball. Given her height, she definitely has an advantage out on the court. For reference, the average height of a WNBA basketball player is 6 feet.
Brittney Griner of the Phoenix Mercury USA Women's Basketball League stands at 6 feet 9 inches, putting her at number 8th tallest living woman in the world.
With many awards and achievements in 2012, the three-time All-American was named the AP Player of the Year and the Most Outstanding Player of the Final Four.
Griner was named the nation's No. 1 high school women's basketball player in 2009. Standing 6 ft 9 in (206 cm) tall, Griner wears a men's U.S. size 17 shoe and has an arm span of 87.5 in (222 cm).
Unfortunately, in February 2023, Griner was imprisoned by Russian customs after cartridges holding less than a gram of hashish oil were discovered in her bags. She was later apprehended on drug charges. She had been entering Russia to play with the Russian Premier League during the WNBA off-season. Her trial began on July 1, and she pled guilty to the charges. Sadly on August 4, she was sentenced to nine years in prison.
Svetlana Singh and son, Karan Singh
Svetlana is from India and a practitioner of holistic medicine -naturopathy. She also played basketball like Gitika Srivastava(the tallest woman in India before her death).
Svetlana is reportedly the tallest woman in Meerut, India, at 6 ft 8 in (203 cm) in 2007. Married to her husband, who is 6 feet, 6 inches, they are parents to Karan Singh, who, according to Guinness World Records, was the world's heaviest toddler and was claimed to be 4 ft 5 in (135 cm) tall at the age of 2.5 years old.
In 2014, her son was 5 ft 7 in (170 cm) at five years old. He was claimed to be the tallest eight-year-old boy at 6 ft 6 in (198 cm) (only 2 inches (5 cm) shorter than LeBron James) in 2017(American basketballer standing at 6 ft 9).
Svetlana finds it difficult to board buses or walk around shopping. She is 6 feet 8 inches tall but contends she's more than that (7 feet 2 inches).
Please read
Nicknamed "King James," Lebron is widely considered one of the greatest players ever and is often compared to Micheal Jordan on debates over the greatest basketball player of all time.
Heather Greene in heels standing besides a man
Heather Greene can be described as a tall, bubbly woman who never saw her height as a limitation or abnormality.
Born in the United States, Heather Greene is one of the world's tallest women. Unlike many other women, she had always been tall. At age fifteen, she had grown to 6'5 12 inches.
Regardless of her towering figure, when Heather puts on her heels, this enormous woman reaches a height of more than seven feet. Heather enjoys photographing guys and women of average height and has her website.
Heatherhaven.com is a website where she displays images of herself, showcasing her height.
Popularly knowns as "the biggest lady," she enjoys various activities in her spare time, including water sports, traveling, painting, and skiing.